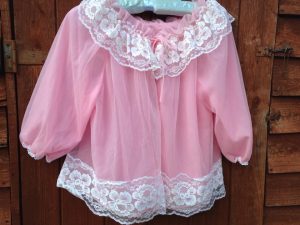 Thanks to everyone for reading & commenting on my first blog post! A little bit of sunshine & fresh air today have motivated me to put pen to paper, so to speak, again!
So, what was  I doing outside in the garden when I should be cracking on with the arduous task of selling vintage clothing? Well, top of my to-do list is to get lots more lovely items into my online shop  – www.etsy.com/shop/WakeUpLittleSusies – but I keep being hindered from this task by my inability to find somewhere handy for me to quickly & successfully take at least half decent photographs. Our house is completely full to busting with our own collections of everything under the sun, as well as all my stock & hubby Simon's art stuff so there really is no clear corner to set up a mannequin, & I've tried to photograph stuff on coat hangers  from the picture rail on the one clearish piece of wall I could find but to no avail as no matter what combination of lights off, lights on, blind up, blind down, flash on, flash off I try, I just can't get the light right!
So, when the sun came out today, I thought there's only one thing for it, let's take it in the garden! by far the best place around here for a bit of space and natural light, as evidenced by the shot of the pink frilly bed jacket (hanging on the shed) above that I prepared earlier (i.e. last summer) & this more arty shot of Simon modelling some PJs for me…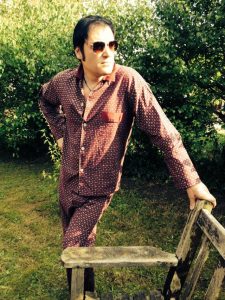 So, out in the garden I went armed with shears & rake to have a bit of a tidy up (in case something untoward creeps into shot) whilst congratulating myself for inventing an excuse to potter in the garden in the sunshine & still call it work. Once I'd decided on the bit that catches the best sun & clipped off the dead bits of that nice red stuff that looks great in the rockery but I don't know it's name, & noted that the periwinkle that I had just planted to fill in gaps in the hedge had spread a bit further than required, I was all set to bring out mannequin no. 2 (Betsy) with an item of frilly nightwear, & hey presto!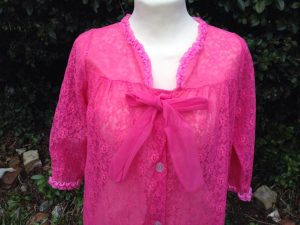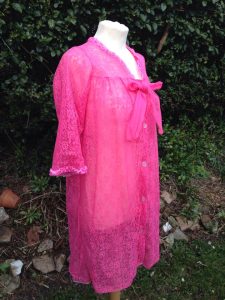 That's all I did for now as the sun had already moved round & it's still a bit breezy….but hey, it's a start! When the next sunny, non windy day rolls round I shall build up a stock of photos to list on rainy days!
At one point the neighbour's cat, Milly, passed by & I momentarily thought how fabulous & cute it would be to get the cat to 'accidentally' photo bomb my Etsy photos but I quickly thought better of it: that cat, fluffy as she may be, is a vicious predator & seems to feel compelled to kill anything that moves so I just imagined a gentle breeze causing a frothy '60s nightie to billow prettily, and then the horrifying onslaught that would follow when feline claws meet vintage nylon…..