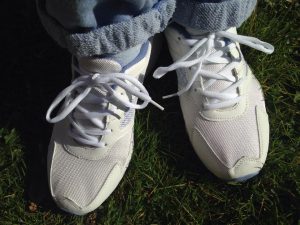 Today I went to my first Keep Fit class! This is actually quite a big deal for me as I haven't really done any 'proper' sports, exercise type stuff since I was in high school; I was actually quite OK back in those days at stuff like short distance sprints & long jump, but nothing that I felt the need to continue after the age of 16! Yes I walk about a bit & dance, but I've never counted marching to the shops on my lunch break or jiving whilst glammed up & in heels (when alcohol may also be involved) as actual 'exercise'.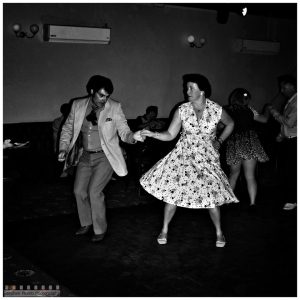 The closest I've got to 'sport' lately has been supporting my buddy Gemma,  RetroChick, at Roller Derby which has involved cheering on the NorfolkBrawds from the bleachers & trying to work out what's going on, or sitting behind a trader's stall drinking coffee & selling goodies! I do admit that the whole atmosphere at the Sports Park with people wandering around in keep fit gear, a slight smell of swimming pool, & folk running about outside seemed very alien to me, bringing back vague memories of high school P.E. lessons…
So, why me, & why now? As someone who was skinny as a rake all through my teens & young adulthood, I never had to worry about what I ate & assumed I would always be the same, so I have had no experience of serious dieting at all… then I guess a combination of age, having a sedentary job for years & an increasing love for food eventually take their toll & a whole lot of comfort eating over the last  2 or 3 years has seen me become a lot heavier than I would like to be with a whole wardrobe of clothes that don't fit & a general feeling of sluggishness, although whilst the reasons for the comfort eating were still there, I was at peace with that & happy to continue.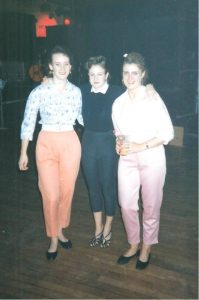 Me on the left in orange trousers – very slim about 20 years ago!
So why now? Well, it isn't rocket science, we all know that to lose weight one needs to eat less, eat differently & move about more, so it's easy, right? Anyone who has tried or even just thought about trying to shed some pounds will know that there's a lot more to it than that, being in the right mind-set & feeling emotionally strong enough really comes into it. It has been said to me that surely wanting to get back into my lovely frocks would be motivation enough but at that time it wasn't – now, however, 3 months into a major change in my life, I finally feel that the time is right for me to make some personal changes & getting fitter is definitely one of them, which if it has the added bonus of helping me back into some nice clothes, then all well & good. It seems important now that I'm my own boss to feel healthier, less tired & more motivated to achieve what I want to achieve.
So, when a Keep Fit Programme came up locally, run by someone I know & trust then hey, good timing or what?!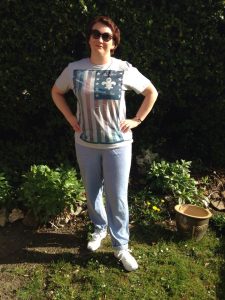 It suddenly occurred to me that I had nothing appropriate to wear so off I trotted to buy trainers, jog bottoms & a really loose T-shirt which, come the day, I felt really weird going out of the house in! I wouldn't normally go out in these kind of clothes so it kinda felt like I was off out in my pyjamas…
I will admit to a little apprehension – would I like it? would I even be able to do it? and  there would be at least a couple of other people there that I knew so I wondered would that help, or make me feel more self conscious?  But we ran about a bit, leaped about, waved our arms around, did squats, planks, bicep curls, lifted some weights & a load of other proper exercise stuff & we all supported each other, everyone was lovely, there was nothing I couldn't do & I felt great afterwards! (although I have been warned of some potential pain tomorrow morning…) Looking forward to the next session already, alongside a healthy eating plan, and REALLY looking forward to feeling fitter & healthier this summer. OK and yes, I would like to be able to get back into some of my lovely vintage frocks although I totally accept I'll never be the same weight as I was at 18 & I can look back on old photos with great memories but no sadness as I loved the young me, I love the 'now' me much more & I'm looking forward to the future me!