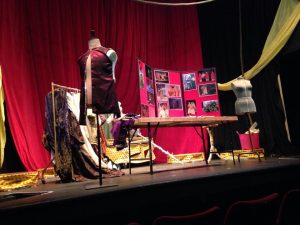 I had a very enjoyable night out with a difference at one of Norwich's beautiful theatres last Saturday when Mr P & I headed to The Maddermarket for a closer look at the costume department…
It all started a couple of weeks ago when I found myself waiting in the bar of The Maddermarket to see my hubby Simon appearing in a Norwich Players production of 'Antony & Cleopatra', which he had also produced an amazing poster for. I'd arrived early with Simon so what to do but relax with a glass of Chardonnay & have a browse through the brochure.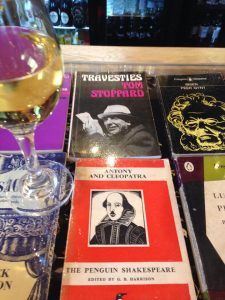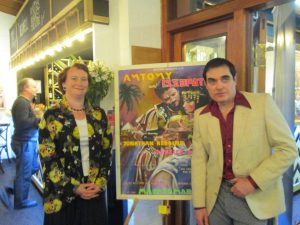 My proud face as we pose in the theatre bar with Simon's artwork!
When, lo & behold I spotted this!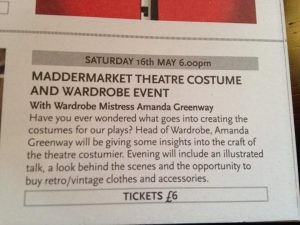 My initial thought was 'A great girls night out' but as it turned out, I didn't round up any girls & Simon was just as interested to go as I was, with his own interests in art & fashion and having also had a recent glimpse into this world. I must admit I was really looking forward to it as I thought it would be good research for my own involvement with vintage clothing, it might add a dimension to my recent dabbling with sewing & dressmaking, it would definitely be interesting & we'd also get a chance to buy stuff!
I definitely wasn't disappointed; we started out seated in the auditorium, around 25 of us in total which turned out to be just the right size group for an informal talk. As we waited for it to begin, we both remarked how different the stage looked from the last time we'd seen it, for 'Ant & Cleo', & I also admired the decidedly robust looking mannequins that, unlike my own ladies, didn't look like they'd fall over at the drop of a hat.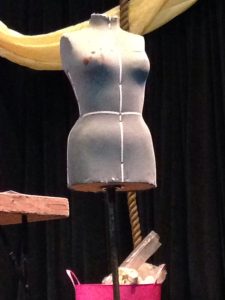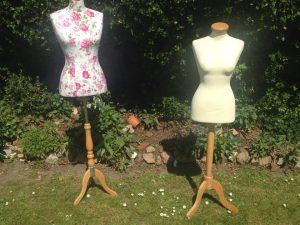 The hour long talk from Head of Wardrobe Amanda Greenway was very interesting & presented in an educated, but informal manner as she encouraged questions & discussion throughout & it was particularly nice that she passed the items of clothing that were under discussion around the audience so that we literally had a 'hands on' experience too, and could look close up at how the garments were constructed & simply marvel at the fabric. Yes I did consider stuffing the silk 1930s wedding dress into my hand bag – who wouldn't?!
A certain amount of costumes have to be made from scratch & the pressure of the job became evident as Amanda talked about the many things that impacted on her creations; working to a set brief, matching an outfit to a pre-designed poster, working within the restrictions of the set (one production's costume budget went nearly entirely on putting rubber bottoms on slippery shoes!), the necessity for speedy costume changes, lighting, timing, budget & no doubt many more things as each production is different.
I loved the concept that Amanda described of each costume needing to look like it 'belongs to that person' & not like a costume, i.e. it should look on stage as if they are wearing their own clothes.
All costumes are made to last as they are all kept, adapted & recycled over time as necessary, and are also available to hire. As well as creating & adapting costumes, another large part of Amanda's job is working with the theatre's huge collection of vintage clothing and accessories – The Maddermarket has been in it's current location since 1921 so there is very nearly a century's worth of donated items in the wardrobe which I find a very fascinating thought. Some items are simply too delicate or small to use themselves but can provide inspiration (as with the 1930s wedding dress) but lots are most definitely used, and Amanda described how they managed to dress the entire cast of 'We Happy Few' with original 1930s and 1940s outfits (yes folk, they have CC41 items & all sorts of goodies!)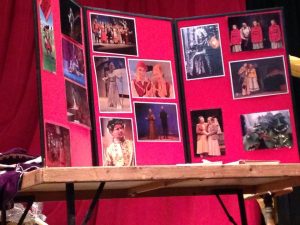 Lots of photos to illustrate Amanda's talk, which were also passed around.
I was very interested in the dilemma that working with donated vintage items can lead to – what about if something is really old, or what about if you know, or discover it's quite valuable? The general attitude seemed to be that it's not a museum, the stuff was donated to be used so let's just enjoy & utilise the history which was quite refreshing. Maybe a dilemma we all have on a slightly smaller scale – this '50s evening dress is really quite special & probably worth a few quid so do I store it away as an investment, do I wrap it up in tissue & save it for best or should I just wear it & enjoy it as clothes are meant to be worn & loved?
This really became evident when we were allowed in small groups to actually go up & look in the wardrobe department itself which was an absolute treasure trove of rails, boxes, shelves & piles of intriguing tins; what wouldn't I give for a few hours (OK, make it days) alone in that department trying things on!! I did ask if a knowledge of conservation was required although it was already pretty obvious that there was just too much there to be catalogued, labelled & stored in temperature controlled conditions. Made me feel a little happier about my own wardrobe that's haphazard these days to say the least!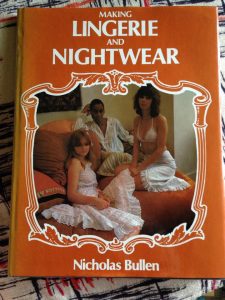 A recent idea is for the wardrobe department to start selling off some pieces in an attempt to create some space & to make money to put back into the department which has led to their monthly vintage sale (currently every second Tuesday of the month from 4.00 – 6.00), we made the first one in March but hadn't been back since so it was great to get an opportunity to browse & buy some goodies – I found the Nightwear book from 1979 above, a whole bunch of sewing patterns & a lovely summer 3 piece outfit (very Una Stubbs) that may make it's way onto my rail at one of the summer vintage fairs if I can't squeeze myself into it….Simon picked up a cool jacket & I noticed a good number of other people buying books, fabric & clothing too. All in all, a very pleasant & interesting evening, well worth the £6 ticket price & highly recommended if it comes up again. I'm even considering volunteering for the costume department….just to get a closer look at those rails….