This is the story of a very special skirt that I recently had made for me & those who follow me on Facebook have been getting teaser posts & waiting to see a proper photo of it for ages!
It began with a post on my FB page from a lady called Gemma with a photo of a skirt that she'd made for a customer & I was intrigued as a) She was from Norwich too but I hadn't come across her before & b) I really liked the skirt… I will say now that I don't usually buy 'reproduction' vintage style clothing & tend to mix up actual vintage with high street & charity shop finds to get my own unique look (although there is some great repro stuff out there these days). But, apart from the fact that this doesn't fall into this category as it's a one-off item from a small business, the main thing about this is the fabric & I'll just come right out with it, IT HAS ALFRED HITCHCOCK MOVIE POSTERS!!!!
As I say, I don't usually go for this kind of thing for myself but…the overall effect of the posters on the print looked to me like the kind of novelty fabric that you would have seen in the '50s (like these from my own wardrobe),
Also the colours really caught my eye particularly the orange & yellow on black & as a fan of Hitchcock movies I really felt drawn to this one. I had a look at the maker & found Gemma to be one half of a Norwich based company called Memento Amare that started in business last March, the other half being Gemma's partner Alex. They have a beautiful website which is how I found out that their charming name is Latin for 'Remember to Love', and they channel their own passions into creating & upcycling in order to give something old a new lease of life or to make a new & unique handmade item.
So, a few messages with Gemma & we had a plan! she was going to make me this really cool skirt to my exact measurements! This was pretty exciting too as it's no secret that a few years of comfort eating have left me with a heck of a lot of clothing that doesn't fit & yet still I buy things that are too small for me but 'I'll get into it soon when I've lost a little weight' so just for once, I was really looking forward to having something nice to wear that fits me now!
It also ties in well with my own Tippi Hedren impression at a Halloween party a few years ago…
Soon enough we arranged a fitting (the last (& probably only) time I had a proper fitting was for my wedding dress) & we went over to Gemma's to look at the skirt & see what the fit was like. This was a really nice part of the service that Memento Amare offer & I really appreciated it as I have so few things that fit well – I loved the skirt right away, the colours looked even more amazing in real life but we did all agree that even though the length I had given to Gemma was based on some of my original '50s skirts (yes,the ones with the 25″ waists) it seemed a little too long for this style so I had to leave it behind that day to be made perfect…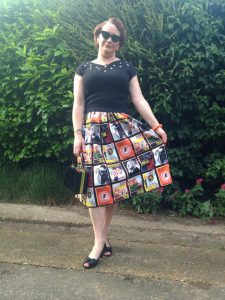 This is the final length, which suits the style & print.
More importantly, me & hubby Simon struck up an immediate rapport with Gemma & Alex as we found we shared many passions & interests so immediately we all knew a friendship had sprung from a skirt commission as we talked about films, fashion, history & Bettie Page. That visit for a skirt fitting made Memento Amare make perfect sense as I could see that everything these guys do in their business stems directly from their personal passions, & influences from popular culture & family members.
Next the wait! But not too long at all before my skirt was hand delivered, wrapped up all lovely, with a promise that any future alterations & repairs would be done for free as part of their desire to offer a garment that gives pleasure for as long as possible.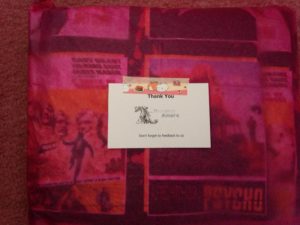 So, onto my main point – last weekend I actually got round to wearing it as I wanted to showcase it in real life situations! On Saturday night I had a 21st birthday party to go to so I added a net petticoat underneath to feel more like evening wear, some little heeled peep toe shoes that I bought in Spain earlier in the year, a black beaded '50s sweater (Ipswich charity shop!) & a black patent early '60s box handbag given to me by a friend of Mum's when I first started collecting vintage that hadn't seen the light of day for years but I thought went really well with the late '50s/early '60s vibe that I was feeling.
Love the orange so much that I dug out this bracelet & bought new nail polish too!  
It was great to wear, felt really comfy & I did dance in it although I don't think anyone caught a photo of it so you'll just have to take my word for it's danceability.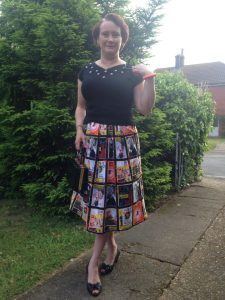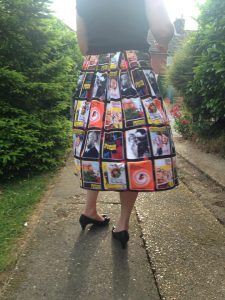 Well, I did twirl about a bit on the drive. 
Further skirt testing the following day when we were off to the I Make Fun Stuff Vintage & Craft Fair in Ipswich (see a previous blog for why I love Ipswich ) which is always a brilliant day out! To dress it 'down' for summer day wear I skipped the petticoat & stuck to flats & gave it a '50s look with a white gypsy top & a black waspie belt as well as matching it up with a bigger bag for shopping! It also goes great with my current favourite jacket.
Shopping at Easy Tiger Vintage & relaxing on St Peter's Street – a perfect day out! The skirt stood up to the rigours of train travel reasonably well, any creases dropped out quite quickly, it was more comfy without a petticoat & the pleats make it hang in a nice shape anyway. The long zip & smooth sides also made it look & feel flattering!
I think Gemma has got her eye on some more pop culture fabric & I would definitely commission something again for the great service, attention to detail, after care & a fab skirt that fits! At the moment Memento Amare runs alongside day jobs but I know that Alex & Gemma's dream is for it to be their full time living & I think they can make it happen – at the moment they can be contacted online & also sell some of their lovely goodies at the regular Norwich Makers Markets as well as having a permanent space at The Norwich Gift Emporium.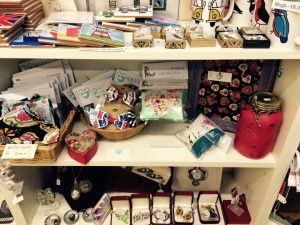 I think we'll all be seeing lots of them in the future & you'll definitely be seeing lots more of this skirt!