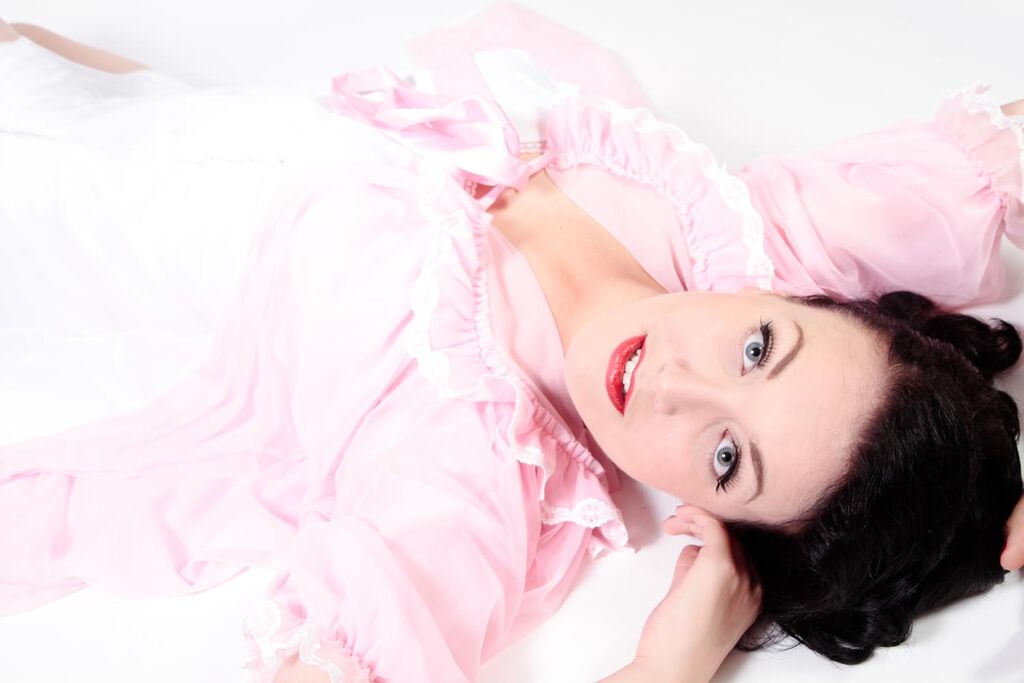 Model Roxie Roulette, image by Luminoso Studios
When I started to deal in vintage clothing (as opposed to just collecting it!), I decided to specialise in vintage nightwear as I've always loved cute PJs and floaty nightdresses myself, and probably because I've always immersed myself in 1950s popular culture which is full of pin-up & 'cheesecake'  images with the same intriguing combination of cute innocence & glamorous sexuality as the frothy baby doll nighties that I love to find & sell!
I enjoy the constant challenge of finding different ways to market all kinds of vintage nightwear from 'nightwear as daywear' to 'nightwear as festival dresses', from bridal wear to mixing & matching vintage with modern. But, this time when I was planning a photo-shoot to get some fab promotional images I decided to go back to my 1950s roots with an authentic 1950s cheesecake style.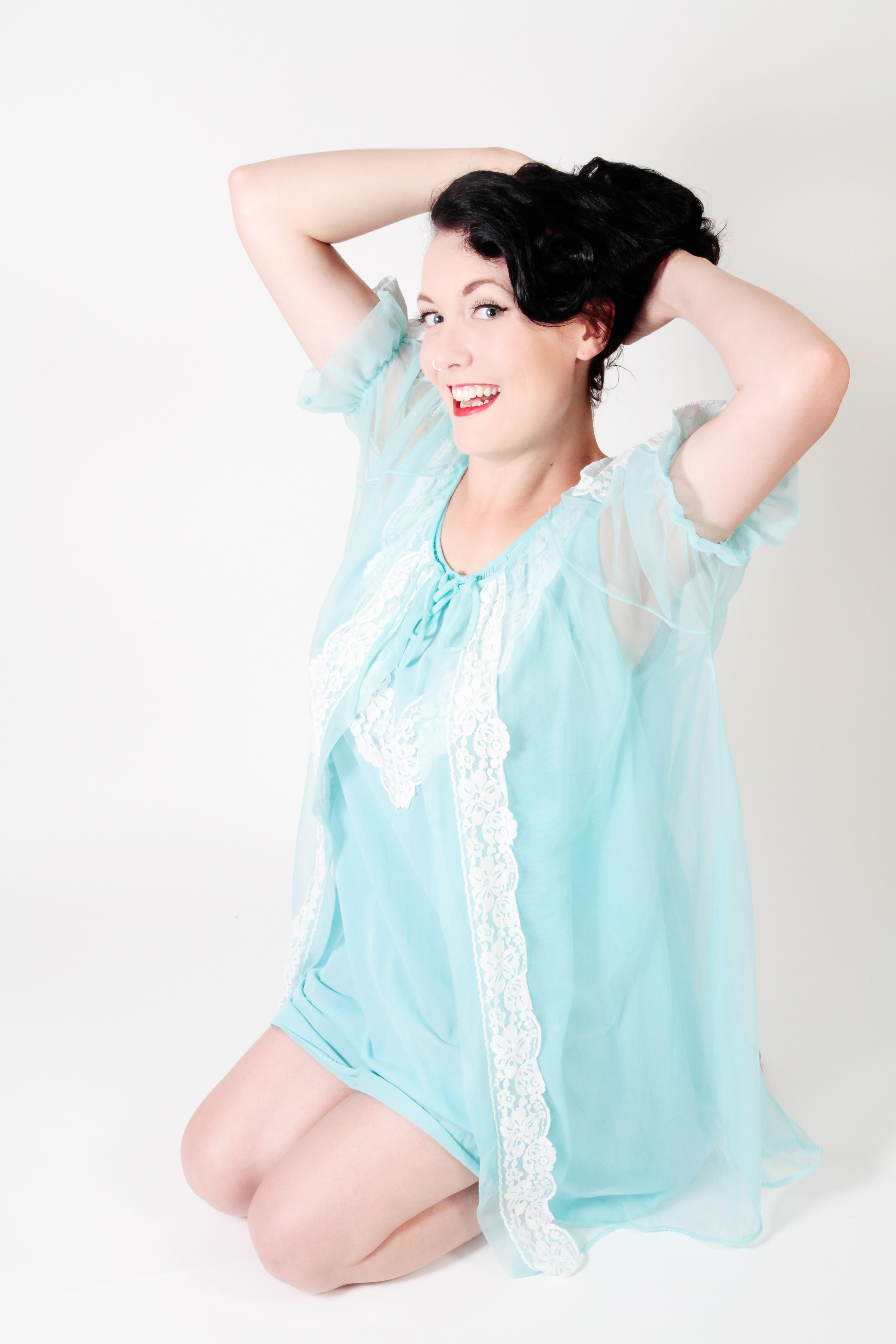 Model Roxie Roulette, image by Luminoso Studios
The origin of my own passion for vintage is the love of 1950s & 1960s Rock 'n' Roll music that started when I was a kid, which led into a love for all things '50s including fashions, movies & movie stars, art & decor, cars & so on. So, although I have an interest in & appreciation for a much wider range of pop culture now, 1950s fashions & styles are in my blood! The art of the pin-up was a big thing in the 1940s & 1950s, the basic idea being an attractive & ephemeral image to acquire & literally 'pin up' on one's wall and the pin-up girls of the day could have been glamour or fashion models, or movie stars.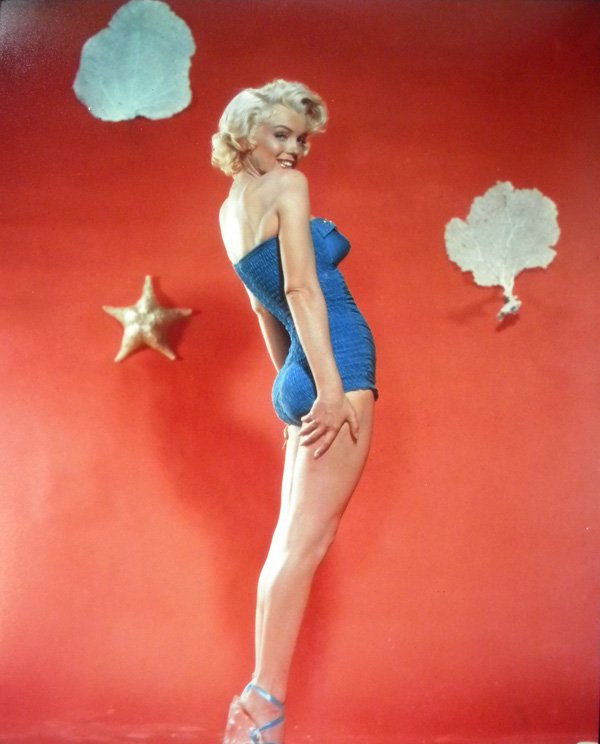 There are many fabulous pin-up images of Marilyn Monroe taken throughout her career, and '50s glamour model Bettie Page continues to have a huge following.
I always like to use the alternative description 'cheescake' which to me ecapsulates the kitsch cuteness & innocence (usually captured so well in the facial expressions of Bettie Page!) of these images that sits alongside the sensuality. A current day pin-up girl who captures this perfectly is American model & fashion designer Bernie Dexter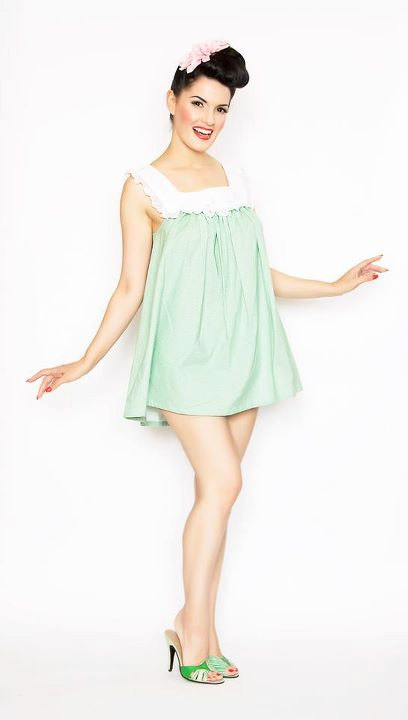 The same sweet yet sexy vibe also resonates in artwork from the 1950s by artists such as Varga, George Petty & Gil Elvgren, & naturally nightwear is often featured  in these images.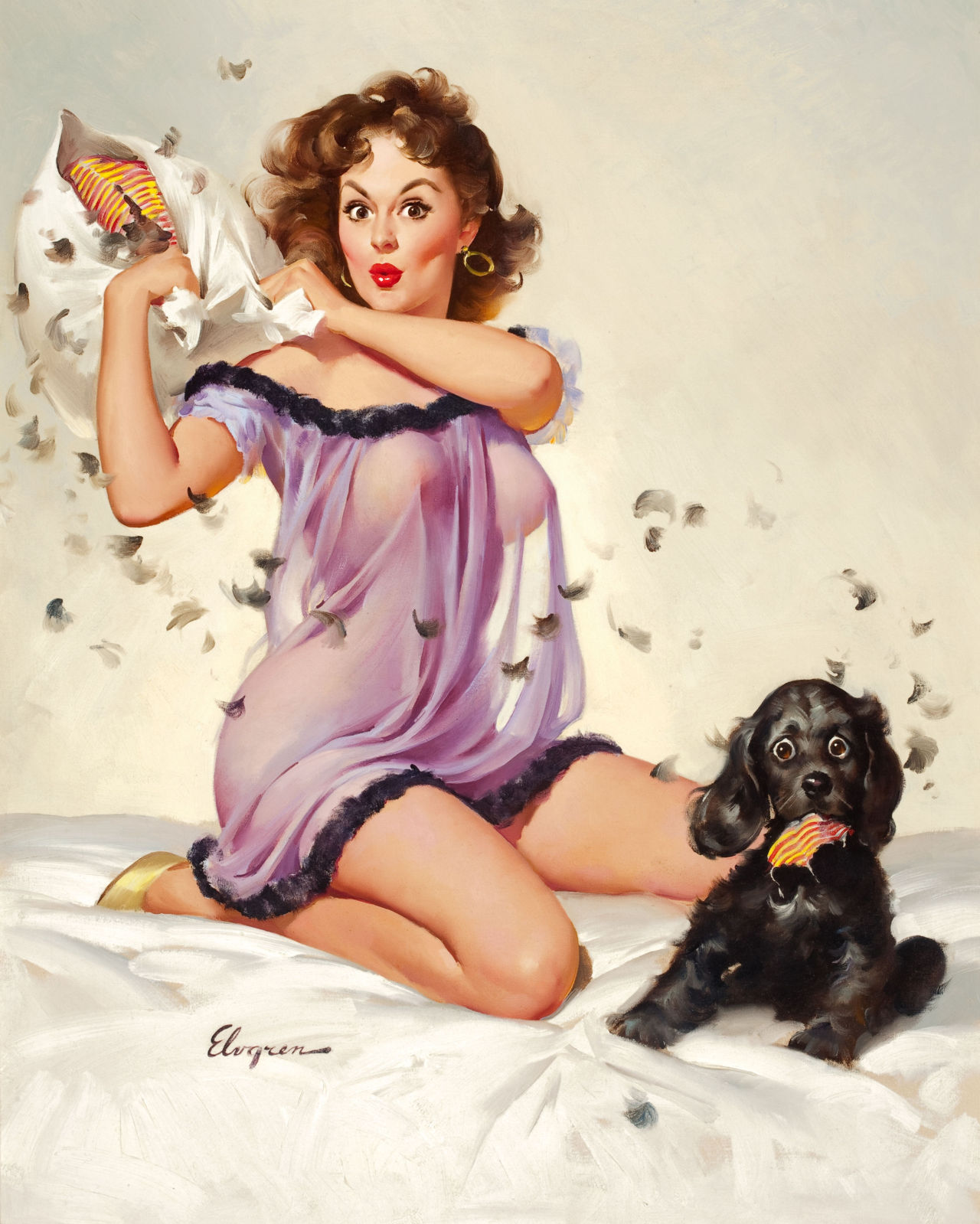 Pin-up remains a popular theme with artists and collectors, and pop culture artist Simon Pritchard, Artbeat64, has produced many authentic cheesecake images alongside his pop music & movie related pieces.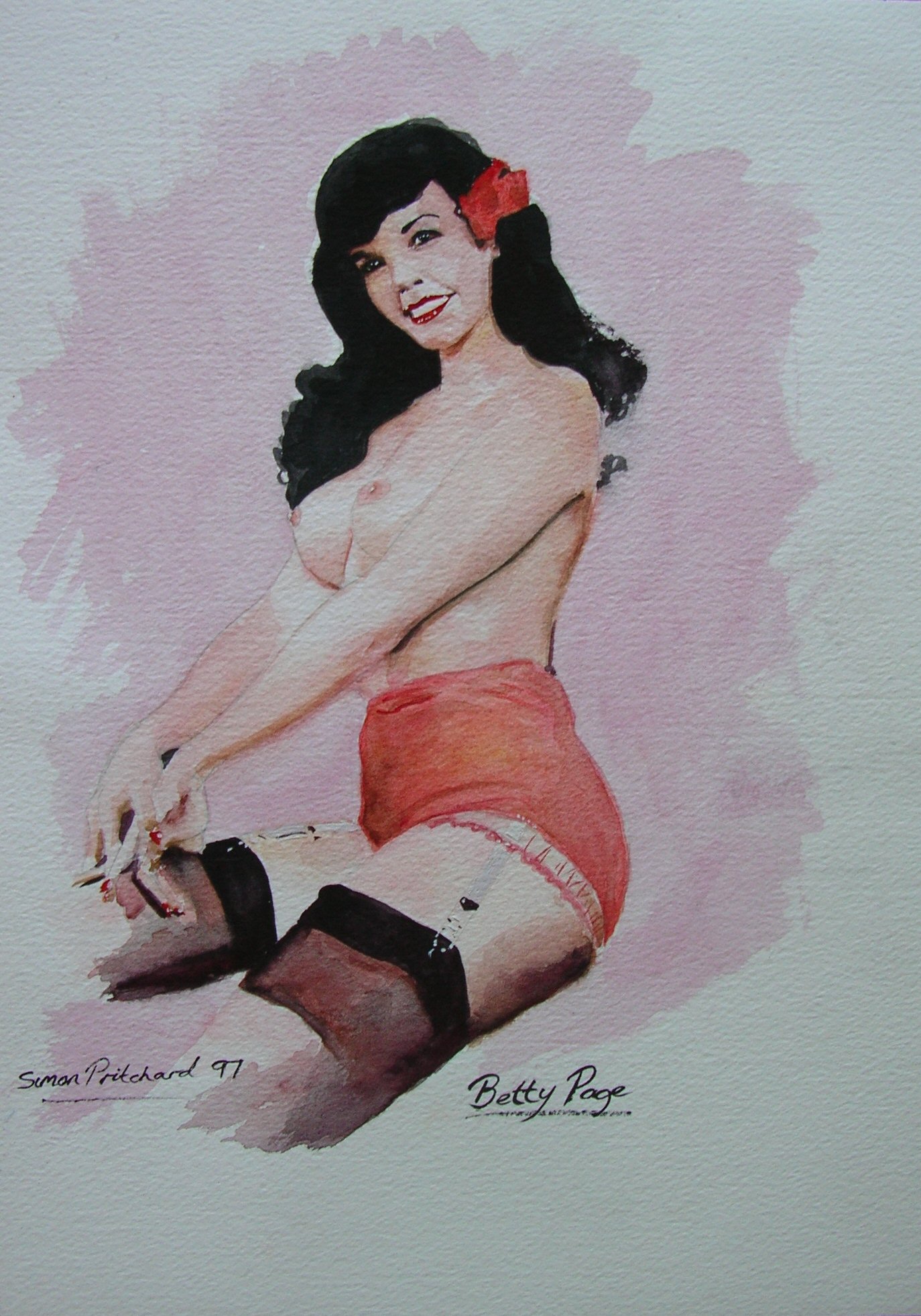 So, for my own shoot?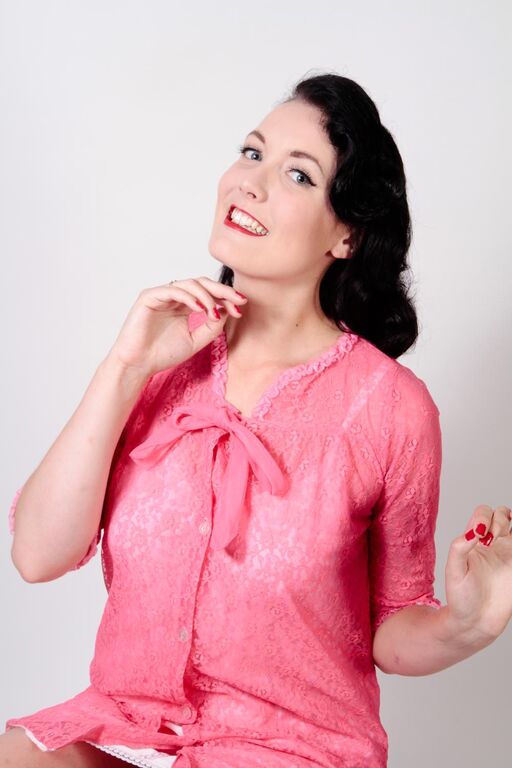 I already knew of local model Roxie Roulette , I love her pin-up style and I also knew that as a fellow product of the 1950s Rock 'n' Roll scene she would 'get' the look that I wanted to capture with my vintage nightwear with little direction (as it turned out, hardly any at all!) & that she's a dab hand at getting her own hair & make-up just right! (look at those perfect eyes…) with Stef from Luminoso Studios on board we had a perfect team as Stef has specialised in boudoir style photography. The shoot was a dream & I'm thrilled with the results, which will be appearing on social media, business cards & a website near you very soon! Of course the items that Roxie modelled for me are all available to buy so look out in my Etsy shop too.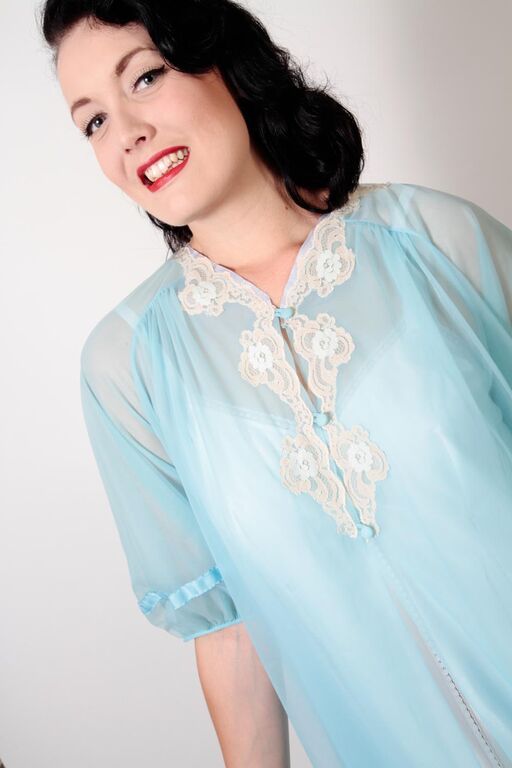 So, if it's a 1950s pin-up look you're after, Wake Up Little Susie has the vintage nightwear you need! For more about Roxie Roulette, follow her Facebook page and check out her blog too.
Sweet dreams!