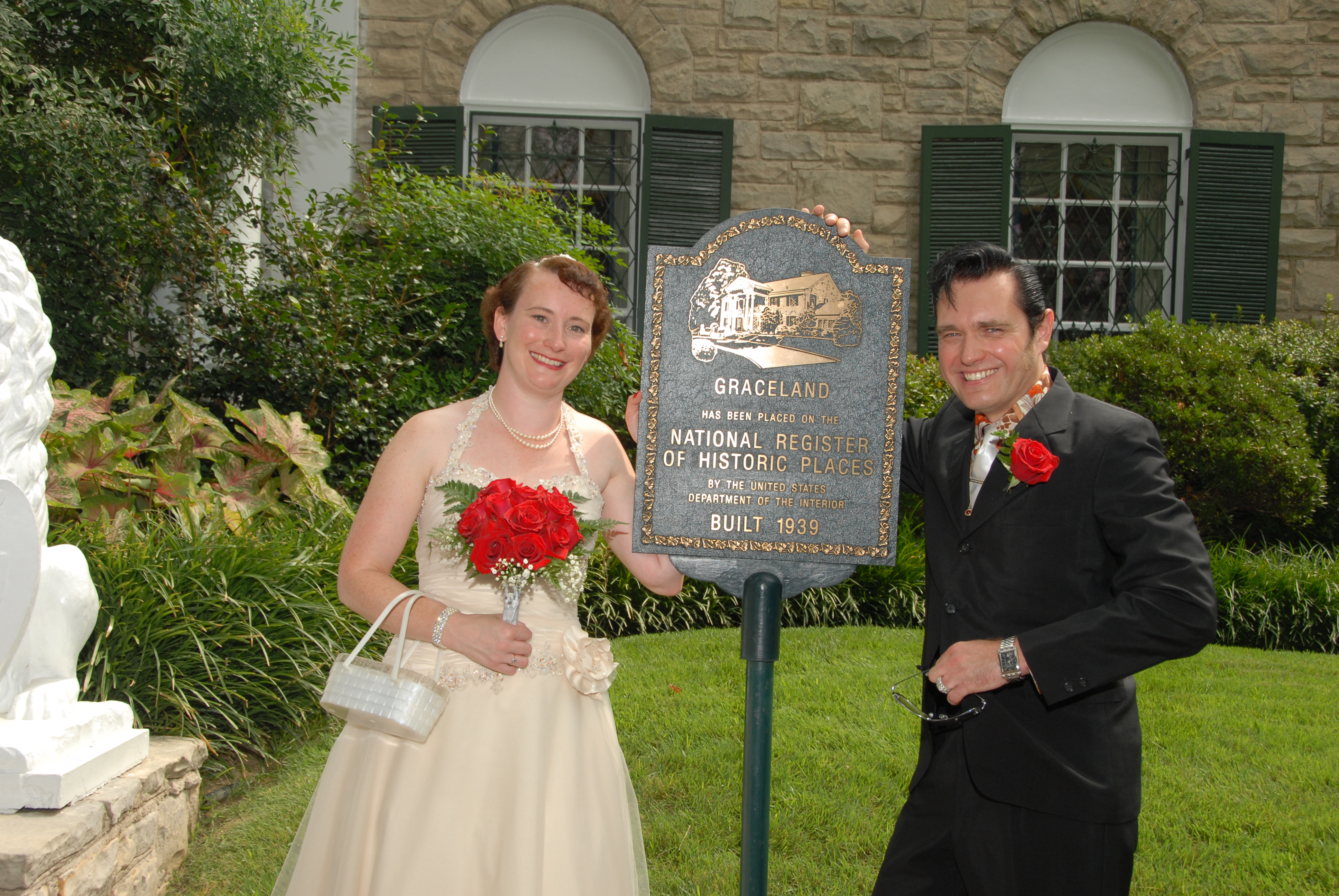 It was our wedding anniversary earlier this month & I usually mark the occasion by sharing some of my fave pics on my Facebook page, and I generally get comments about my 'vintage' outfit and always smile to myself because, in fact very little of it actually was vintage so, as we celebrate 8 years 'together', I will tell you the story of my outfit…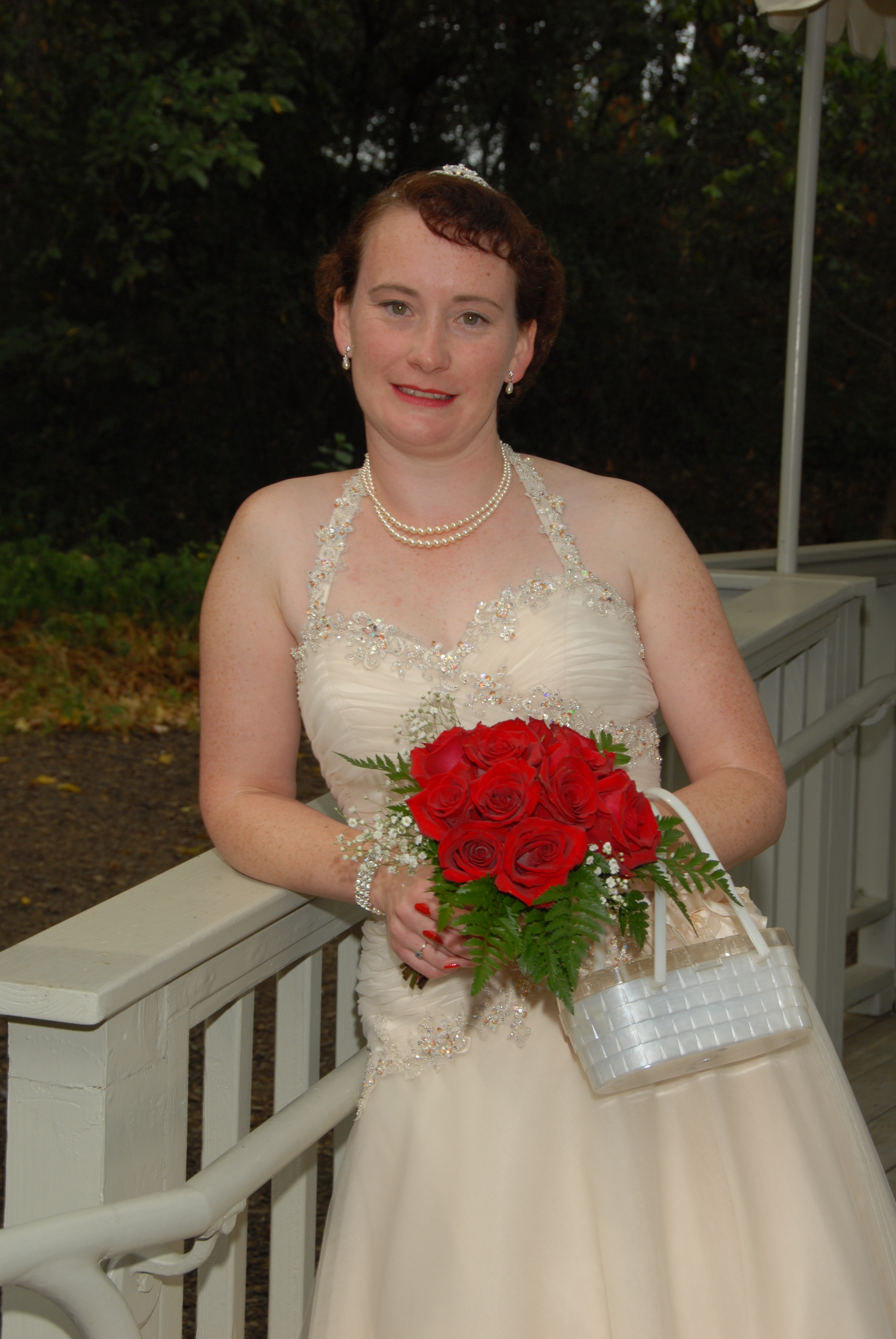 For a start, it was all a bit short notice…well not in the sense we had already been together for 16 years & engaged for 15 by the time we got hitched in 2007, but in the sense that once we had decided to go for it, we left ourselves just 6 months to plan everything, including a fortnight in Tennessee, as it turned out!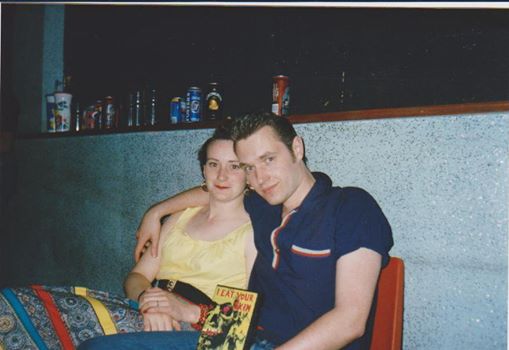 We got together in 1991 & engaged exactly a year later at the same place we had met, the Rock 'n' Roll weekender at Hemsby, where this pic was taken in the early '90s. At that time, we fully intended to get married in another year or so but life happens, you rent a house, spend money on furniture, run a classic car, buy an unmodernised house, spend money on house & cars, go to a lot of music festivals, then realise that even though you both know you'll get married one day, you're actually quite happy as you are & it's not THE most important thing in the world.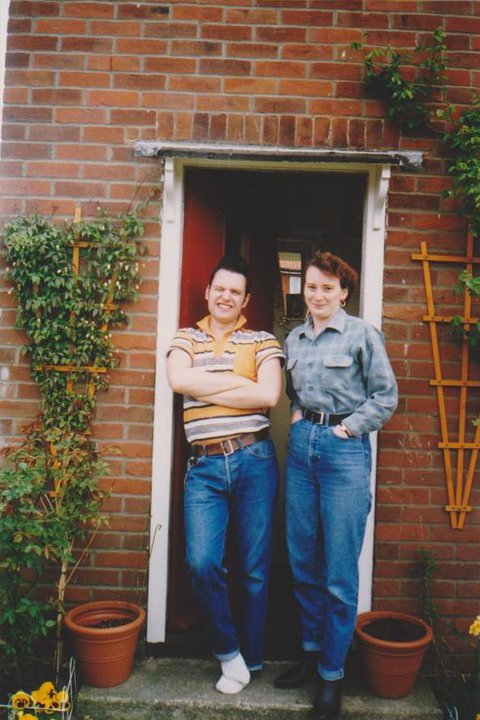 Early '90s with an unmodernised 1930s ex council house
In fact I was so sure that we would get married that I bought a wedding dress sometime in the early '90s, from a local fleamarket mainly because I saw it, it fit & was the kind of '50s dress I assumed I would wear – very Grace Kelly! It came in the box it was delivered in, postmarked 1958,  as authentic as you can get.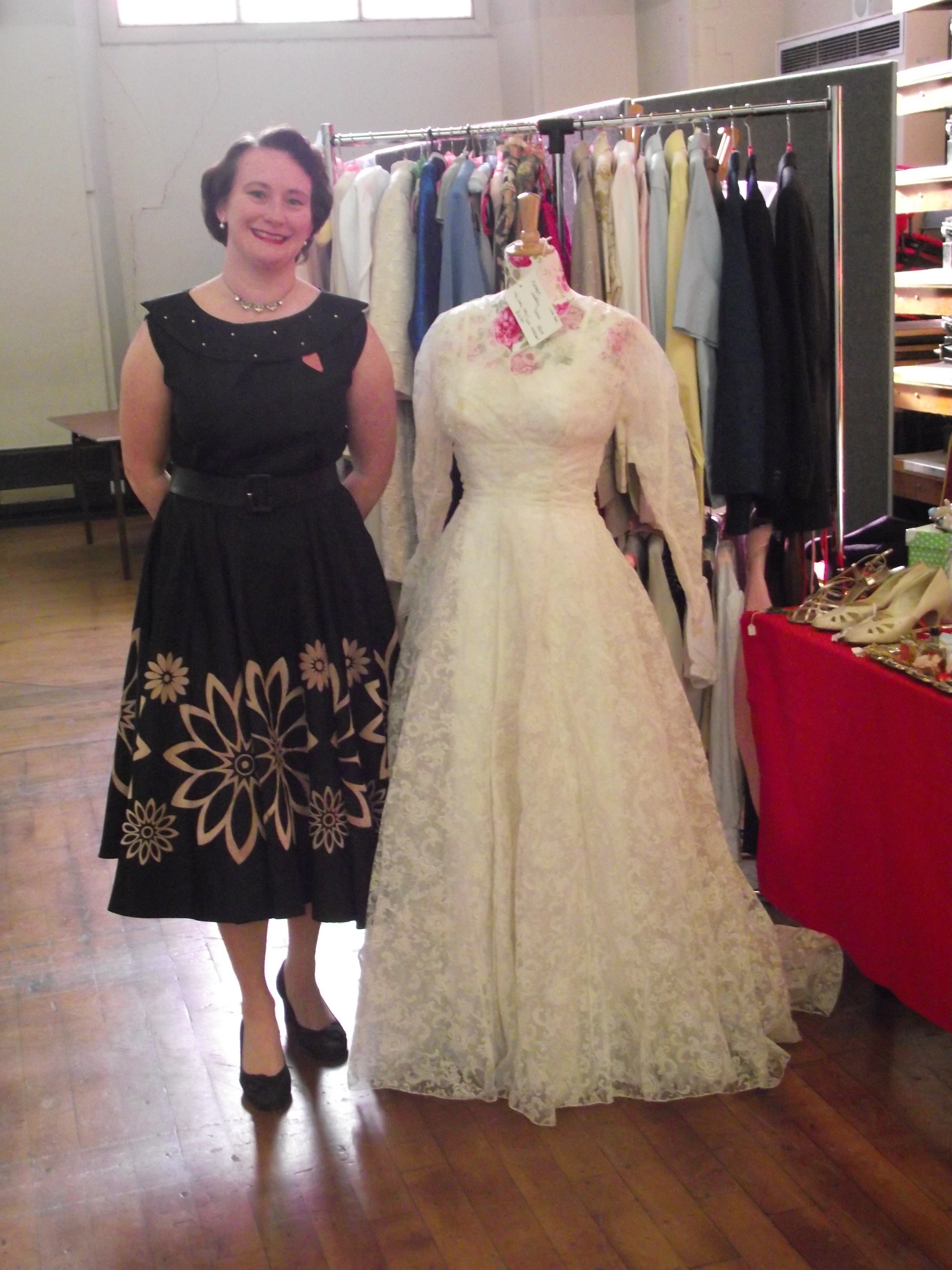 Me trying to sell the 1958 dress I never wore at a wedding fair in 2012, it's currently residing in my loft. (See previous blog for details of the fab '50s dress I am wearing!) 
So, we started to spend our money on travelling to the States rather than on getting married, namely Memphis & Nashville, and it was while we were planning a trip that we were studying the website for Elvis Presley's Graceland  and spotted the Chapel In The Woods , where you can get married! But, it seemed too incredible that we could do such a thing – actually get married in the grounds of the famous Graceland mansion in Memphis, where our mutual Rock 'n' Roll idol lived & died? But then, why not? We thought about it, broached it to my parents (who had spent 'my wedding fund' on an American pick-up truck ages ago), contacted the lovely Betty in Memphis who planned these things & arranged to meet her & look at the chapel on our next trip.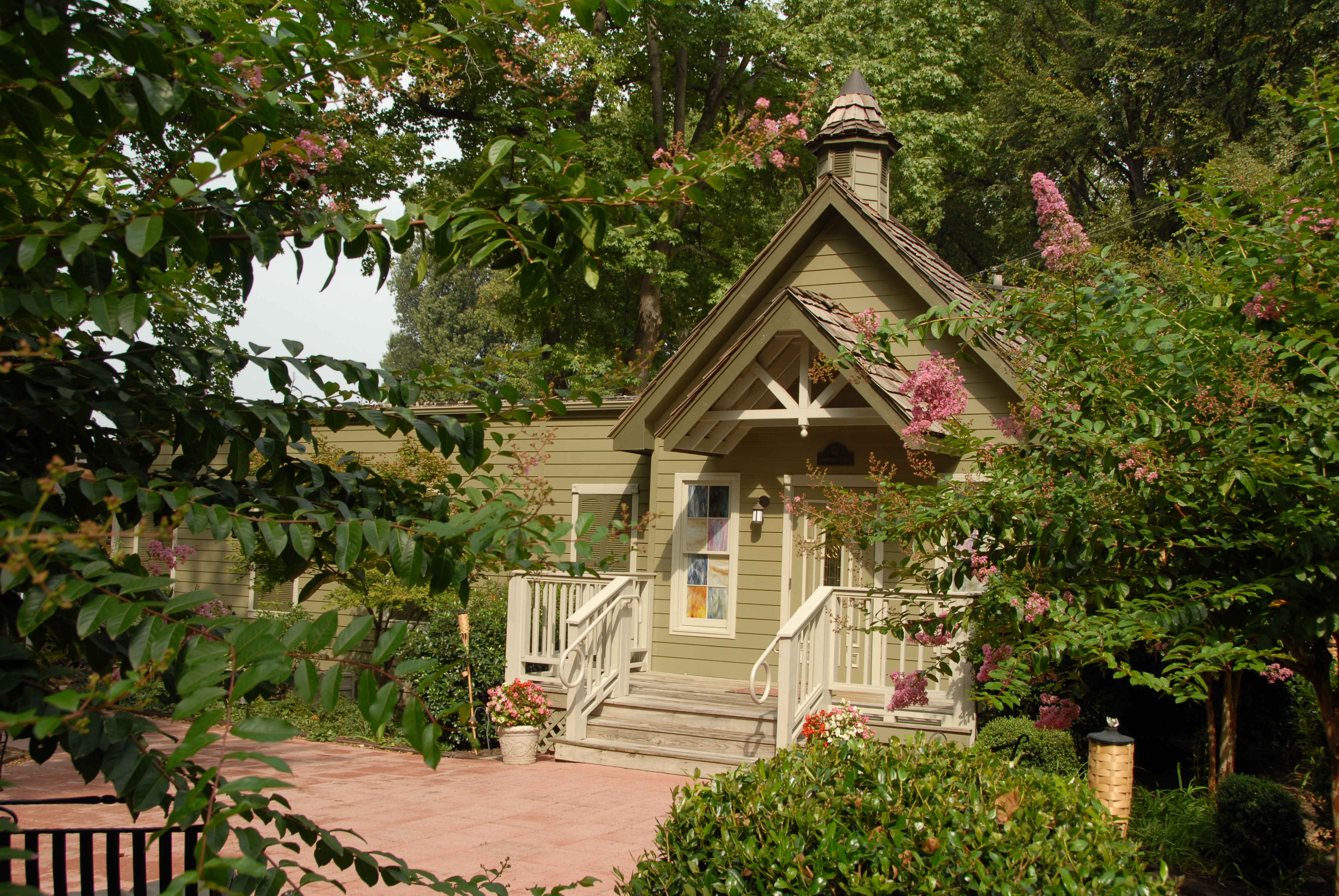 We loved the chapel, Betty & the whole special idea, and made the decision to go for it in April with a date of early September. So, what to wear….by then the '50s dress in the loft was too small & being floor length with a train no longer fit the bill as we were planning to spend the rest of our wedding day looking around Graceland & there was also the question of the big party when we got home, when I wanted to be able to dance in my actual wedding dress without changing. So, ballerina length it needed to be. We frantically looked around the local vintage shops for a genuine 1950s dress and I scoured Ebay for a prom dress that would work but no joy (as I realised that prom dresses are generally small because they are made for girls…)
In a panic one day we decided to hit actual wedding dress shops & check out their prom rails (when I say 'we', I must clarify that I controversially took my intended dress shopping as it's his opinion that I value the most!)  I eventually found a champagne coloured halter neck, ballerina length dress with lots of sparkly things that seemed the best bet & once I had explained to the staff that I needed that particular dress NOW, not one made to order like it in another 18 months time, a few alterations & fittings later & the dress was in the bag!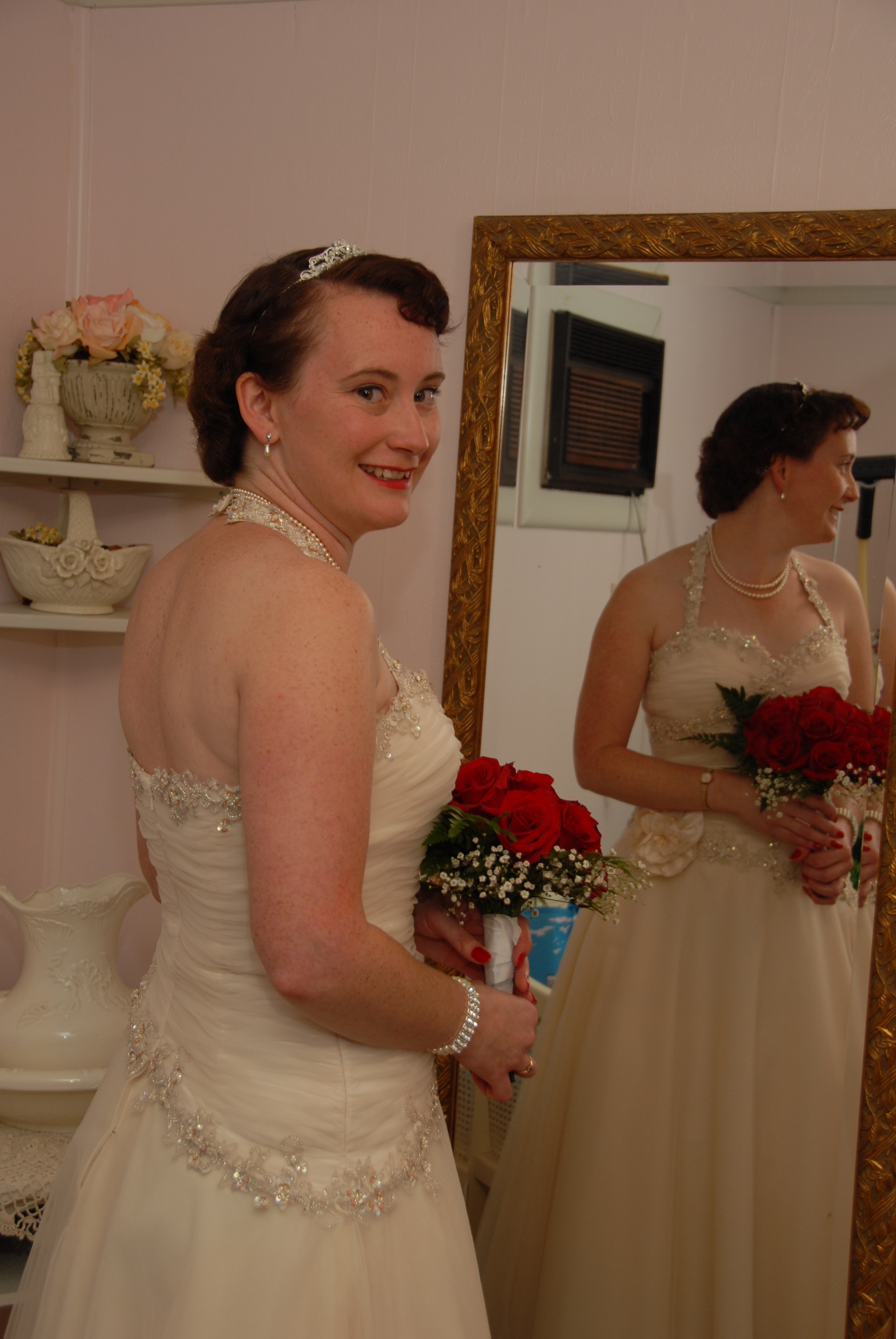 Now to accessorise! Jewellery was made easy when my Nan lent me a double string of pearls that my late Grandad had bought her ages ago so that became my 'borrowed' as well as my 'old' together with the 1950s dress watch that my parents & brother had given me for my 30th. I matched the necklace with some pearl earrings already in my collection & the sparkly bracelet was brand new because I spotted it on a market stall & it matched. I had always fancied wearing a tiara (like a '50s prom queen & because our own HRH is one of my fashion icons!) so I picked a cheap costume one to see how it looked & ended up wearing it on the day as again, it matched!
I have never been much of a collector of pretty little 1950s bags, always preferring bucket bags because of the amount of stuff you can get in them, so Ebay came in to win me this dear little plastic bag that I used that day & never again. Flowers were easy – provided by Graceland, I just had to pick the colour & red was a no-brainer for me!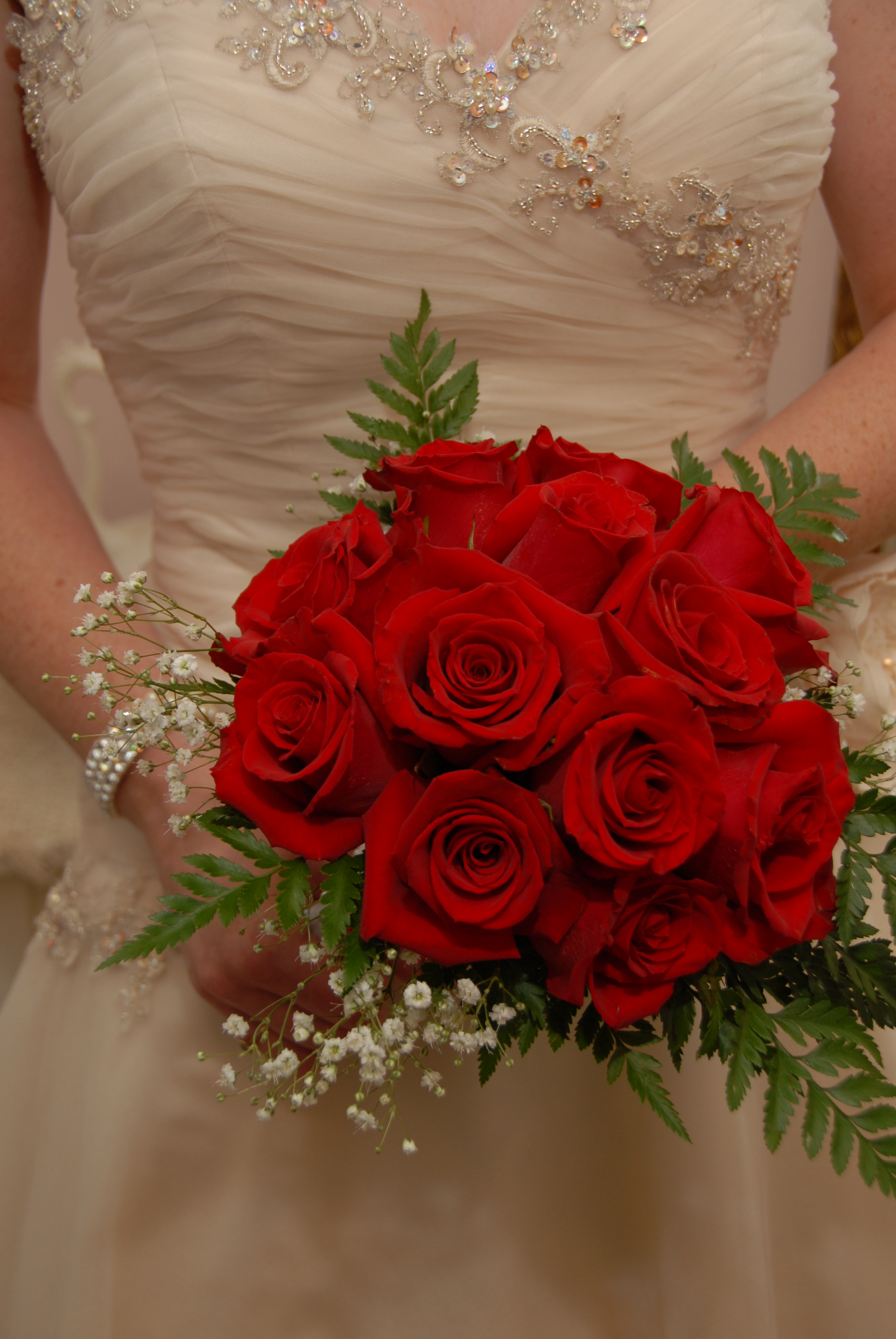 My shoes were also new, little gold sandals picked up in Norwich that worked beautifully, & I could also walk & dance in them. So, I had 'old', 'new' & 'borrowed' but what about 'blue'? Let's just say it's surprising what you can pick up with a picture of Elvis on…
Matching button holes provided, Mum in a lovely dress that was a terrible trauma to buy (but that's another story) & my Dad, quite coincidentally, matching my outfit beautifully!
Oh yeah, & I had a husband…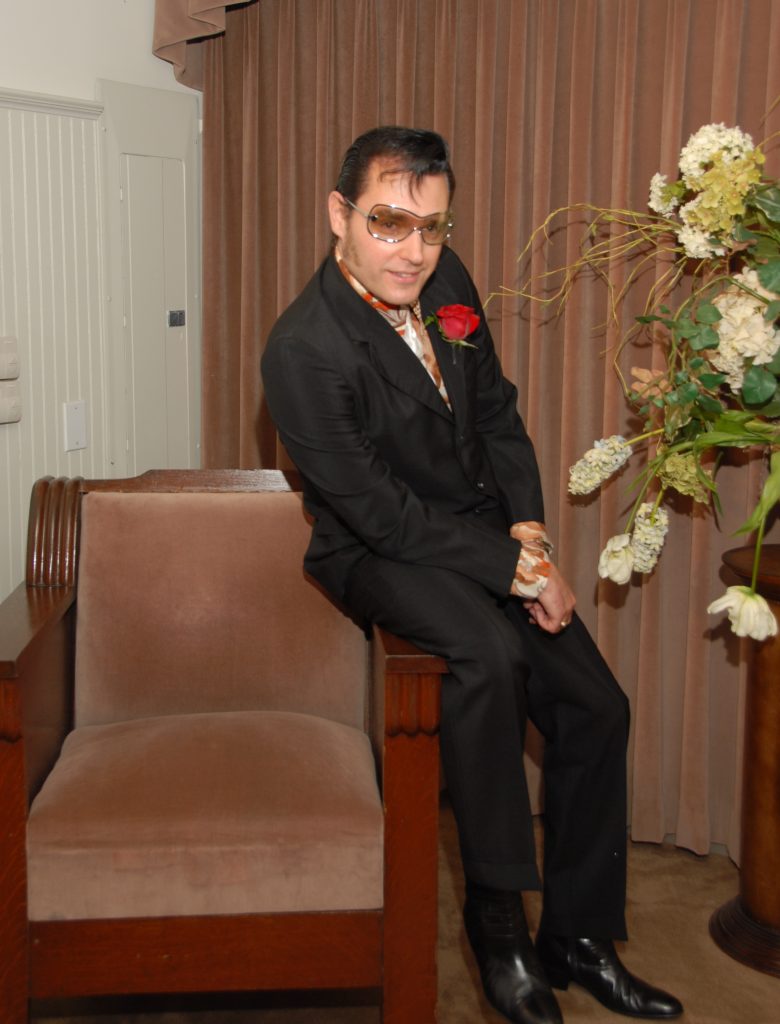 Vintage suit from 1967, the year that Elvis married Priscilla, 1970s shirt with white silk tie, 1960s/70s boots & sunglasses bought on Beale Street in Memphis a few days before. Rock 'n' Roll.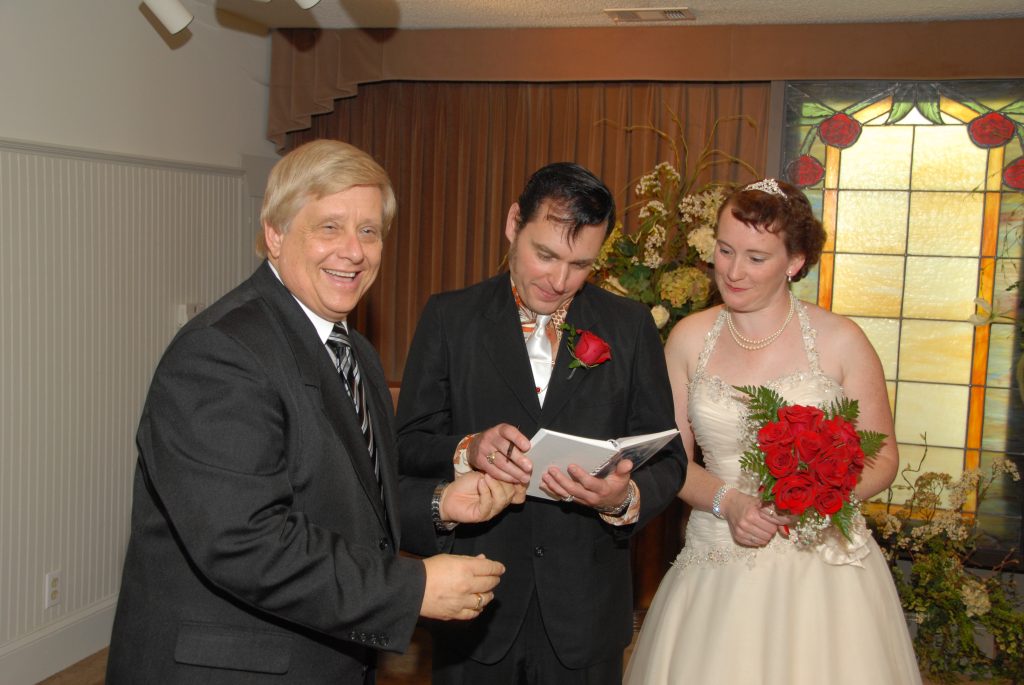 With the minister David Mayer, lovely to be married by someone with a Tennessee accent….as for our rings, mine was a textured gold one from the 1970s bought in Norwich (sitting nicely with my 1920s sapphire engagement ring) & Simon's is a replica of Elvis's own wedding ring.
The finishing touches: me in the chapel dressing room, & Simon with a little help from Betty.
There was a lot more to our special day but I'll just leave you with this, the reason we're glad we didn't get married in 1993.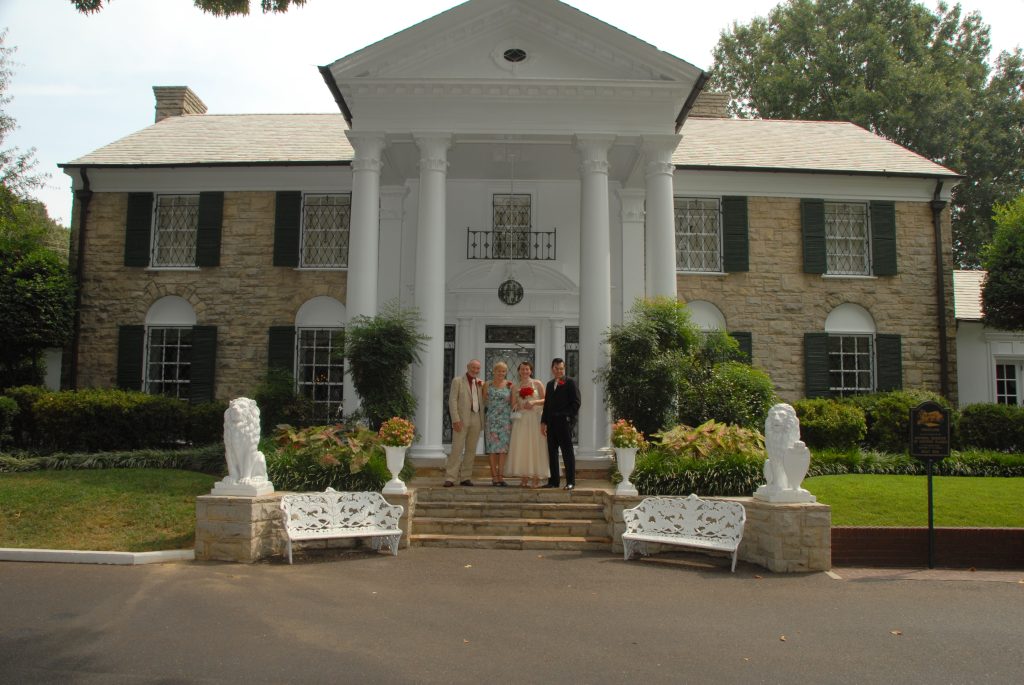 Please check out my Events List to see when I am next displaying & selling my collection of vintage nightwear including wedding fairs, and see my blog about building a vintage trousseau.
xxxxxx