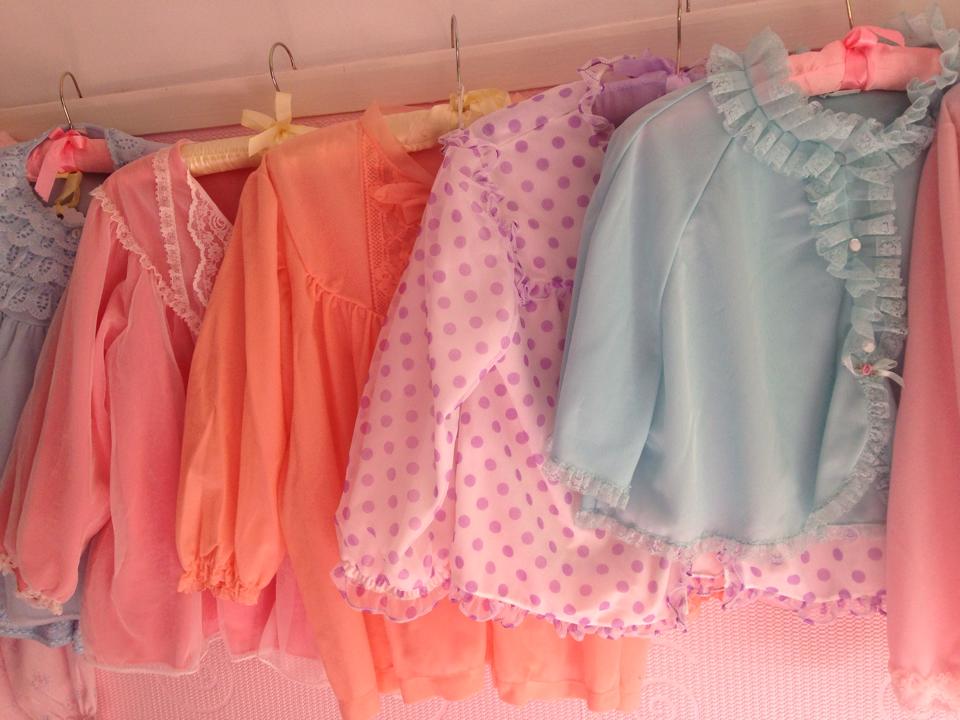 While sorting out some vintage bed-jackets for my nightwear & lingerie only stall at the Godwick Great Barn Most Unusual Wedding Fair this weekend, I got to thinking as usual about how pretty, delicate & colourful they all are, especially displayed together, & isn't it a bit of a shame that they could easily be dismissed by some as just old fashioned night garments? and how else could they be worn & appreciated?
Well, the origin of the bed-jacket is of a garment made for additional warmth, in the days before modern luxuries like central heating & double glazing, which is probably why there are so many 1940s & '50s knitting patterns for these little jackets as this was still a time when an extra layer was no doubt very welcome, even though by then they were being designed with some element of style too.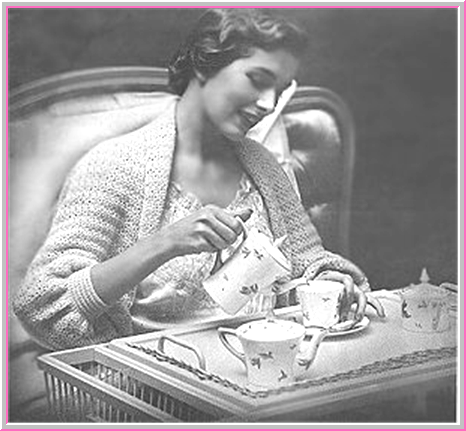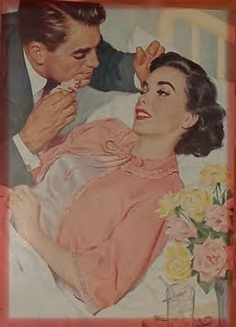 Absolutely perfect for breakfast in bed, definitely for duvet days and for when you're not feeling well but want to retain a vague air of glamour…
Indeed even by the 1930s, such garments as bed-jackets, wraps & robes had taken on a decidedly floaty & sheer feel in the glamorous setting of Hollywood movies & were being designed for allure rather than warmth.
Many of the prettiest bed-jackets to pass through my hands have been from the '60s & '70s, beautifully sheer, lacy & synthetic with more of a lean towards prettiness than insulation….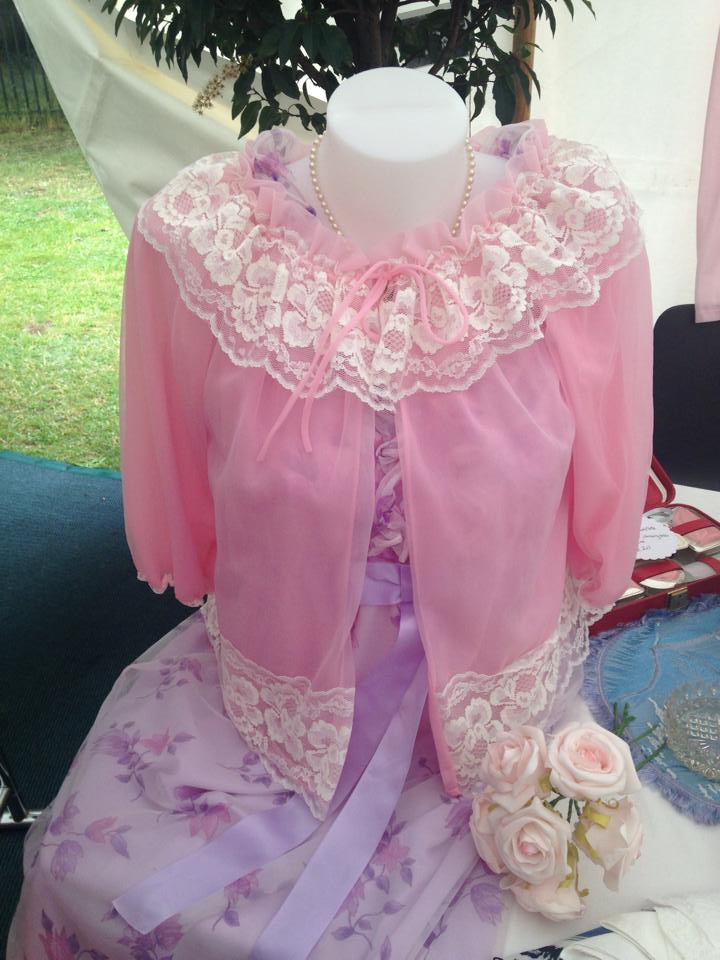 This lovely example seen here over a coordinating '70s nightie has found a home with one of my top customers Sam, making full use of it here to stay cute & glamorous while getting ready to go out! I know Sam loves to wear her frothy vintage nightwear for lounging too, ideal for those lazy days in with movies & snacks!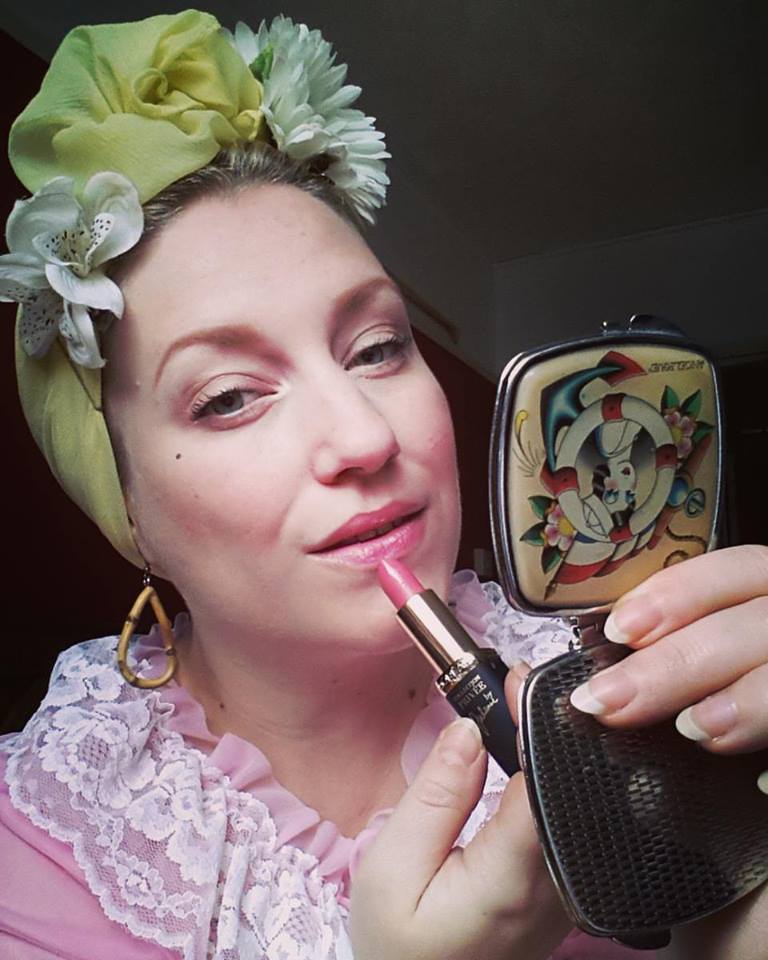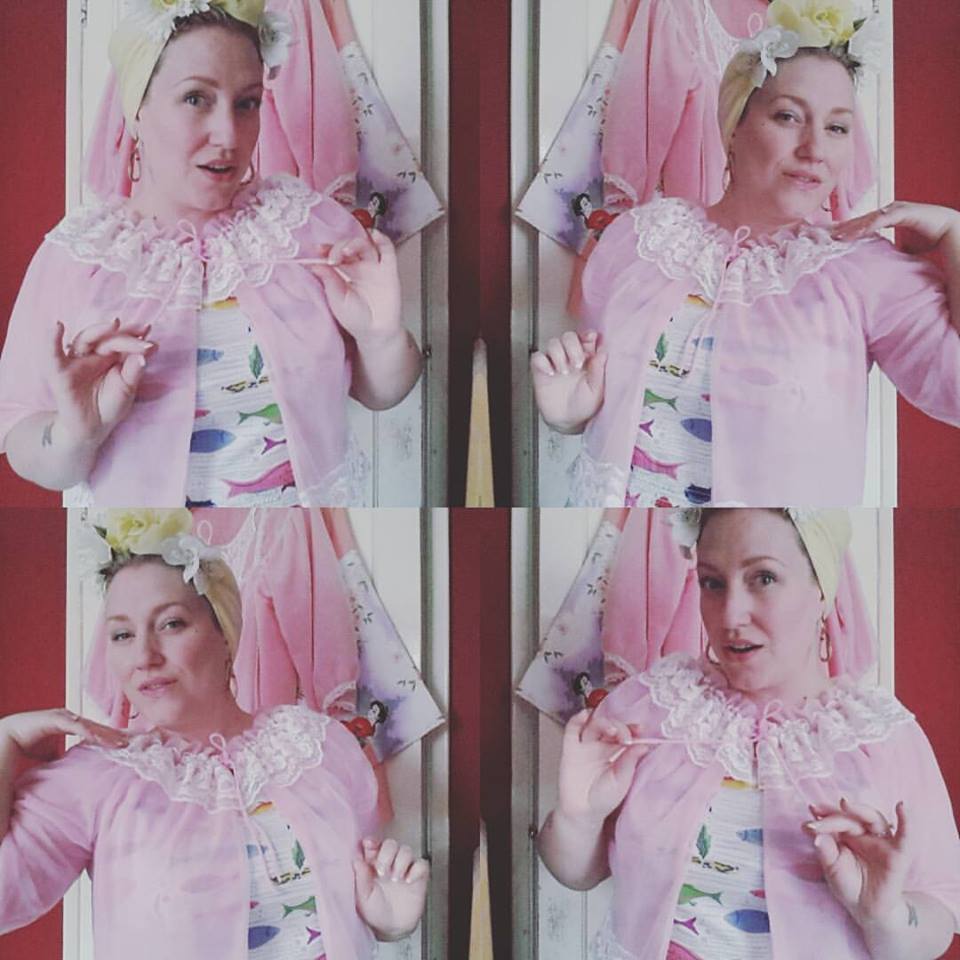 I do think they are ideal for popping over your nightwear or even your actual clothing whilst you are fixing your hair & make-up as you get ready to go out – it starts to set a tone of glamour for the evening ahead much more than your T-shirt or fleecy PJs will & if your friends or date call for you before you're quite ready then hey, you already look presentable & really cute!
Here are a couple more of my fave girls here doing just that with bed-jackets they've bought from Wake Up Little Susie in the past.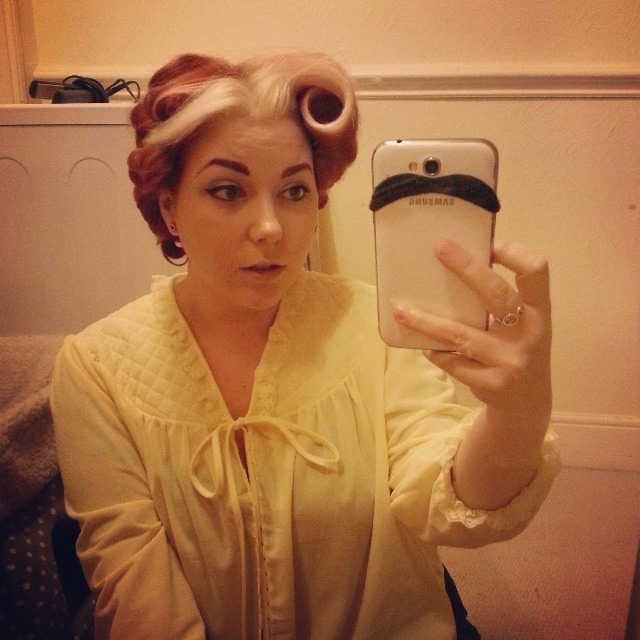 Lovely Zoe setting her pin curls in a little yellow bed jacket bought from my very first Vintage Nightwear Party…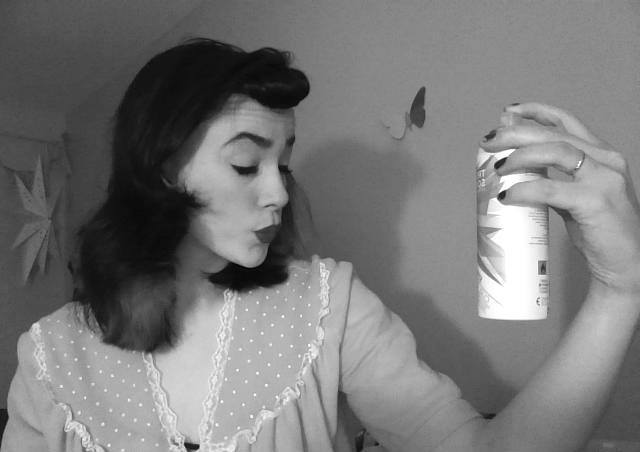 …and lovely Joni doing a hair styling demo in a powder blue bed-jacket with polka dots also picked up at one of my parties! They protect your clothing from make-up & hair products so great to slip on over your going out gear, & also look fab!
Can they be worn as actual, outside day wear? Well, in my early days of collecting & wearing 1950s clothing, I picked up a lovely little white hand knitted wrap from a charity shop which in hindsight, was most definitely a bed-jacket with it's fine knit & ribbon tie, and I wore it a lot as it was just the thing with '50s strappy sun dresses so I say yes! wear your bed jacket over your dress! Some of the more sheer ones really would make a stylish & unusual wrap to go over an evening dress, vintage or otherwise.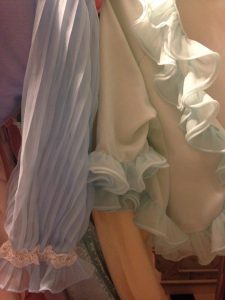 Just look at the fabulous sleeves……
Let's not forget slumber parties & sleep-overs, these two images from Stephen Plumb Photography are from a photo shoot I did a while back called 'The Slumber Party' with Heather here trying different outfits on while waiting for her friend Marie to arrive so they could play some records, dance, make each other up & enjoy some girlie chat!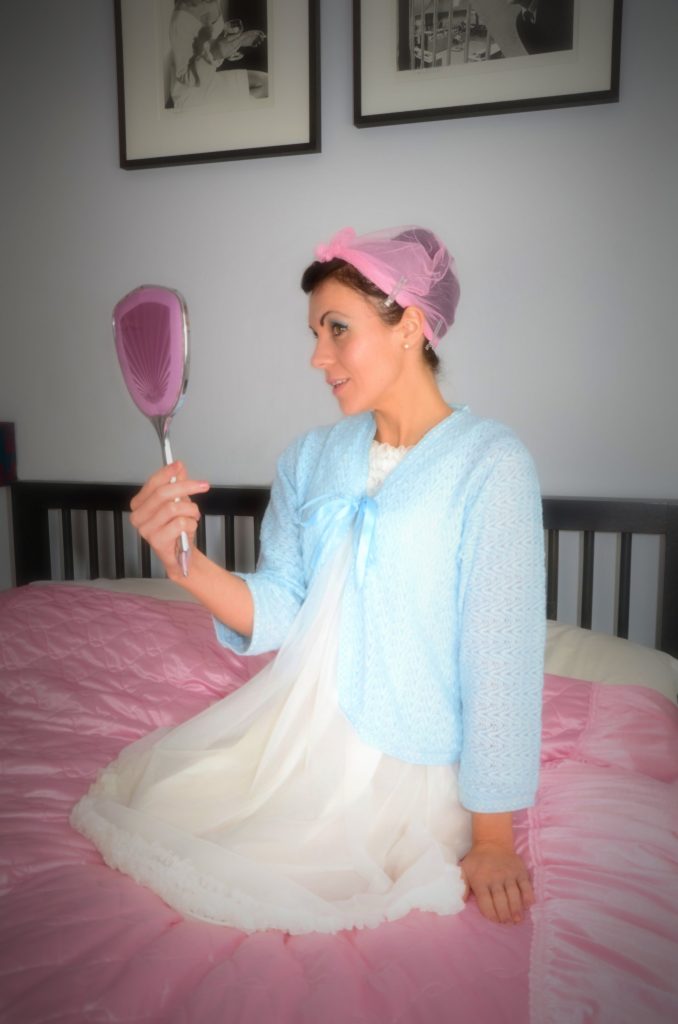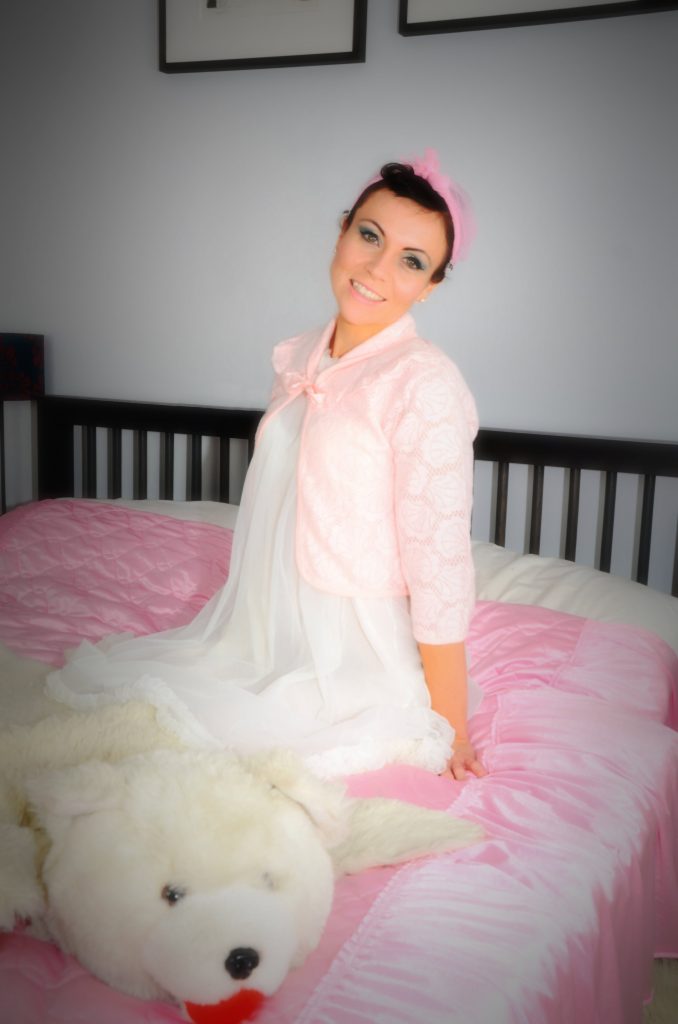 I also think that the lovely  bright coloured bed-jackets would be absolutely great for hen-night pamper parties, and general get-togethers & how about your wedding morning? Bride & bridesmaids having breakfast & getting ready together, making a lovely photo opportunity….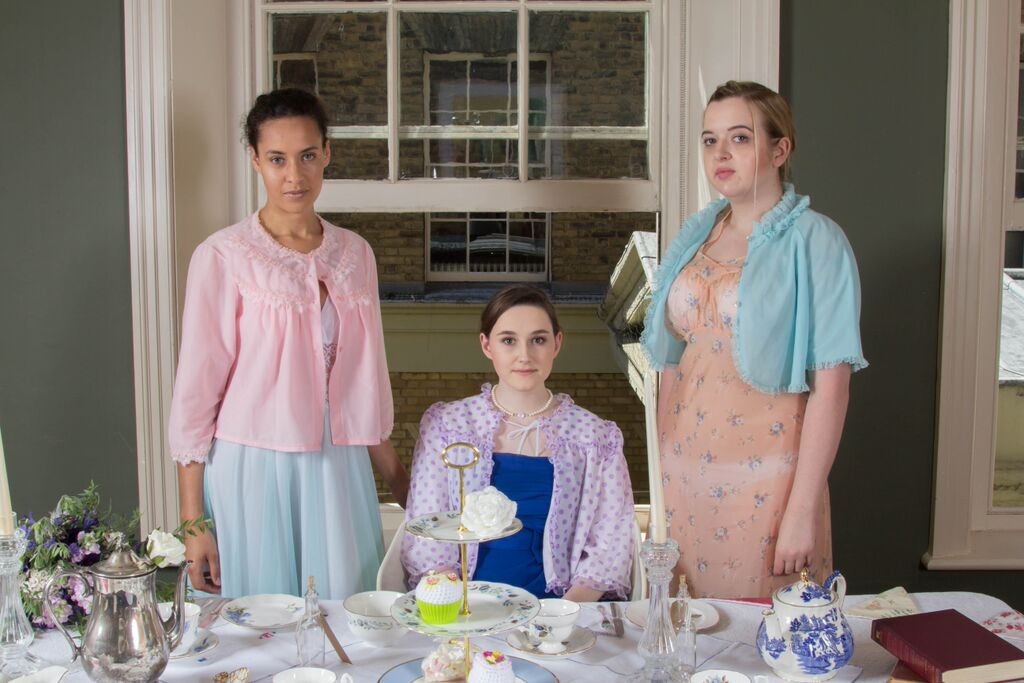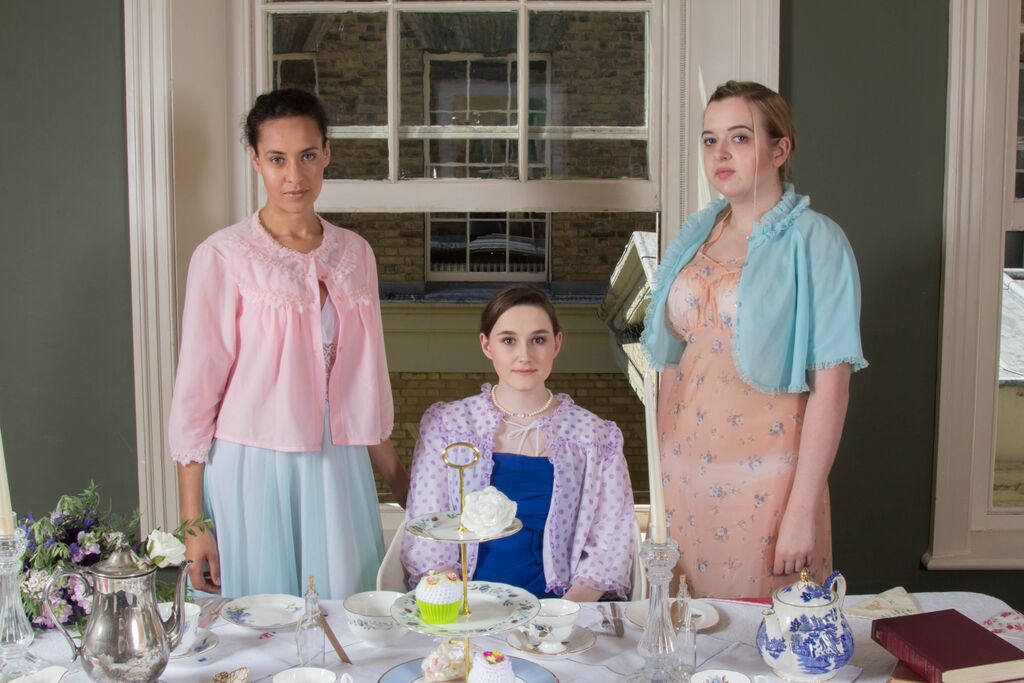 Like these three ladies here in a promotional shot from Simon Watson Photography.
And some more gratuitous knitting patterns, just because….
I love these dear little things more and more, as do many of my customers so I can guarantee I will always have lots of bed-jackets, & knitting patterns, in my online shop and always a good selection on my stall at fairs &  events, and of course a bulging rail of them at my Vintage Nightwear Parties!
So, wear your bed-jackets how you please and with pride and do let me know, how do you wear yours?!