I only started to write blogs this year so this is my first year end as a 'blogger' and more importantly, it is the end of one of the most challenging years of my life which makes it very important for me to take a look back, and remind myself of all the good things that have happened in my business and all that I have achieved, amidst all the tough & emotional times!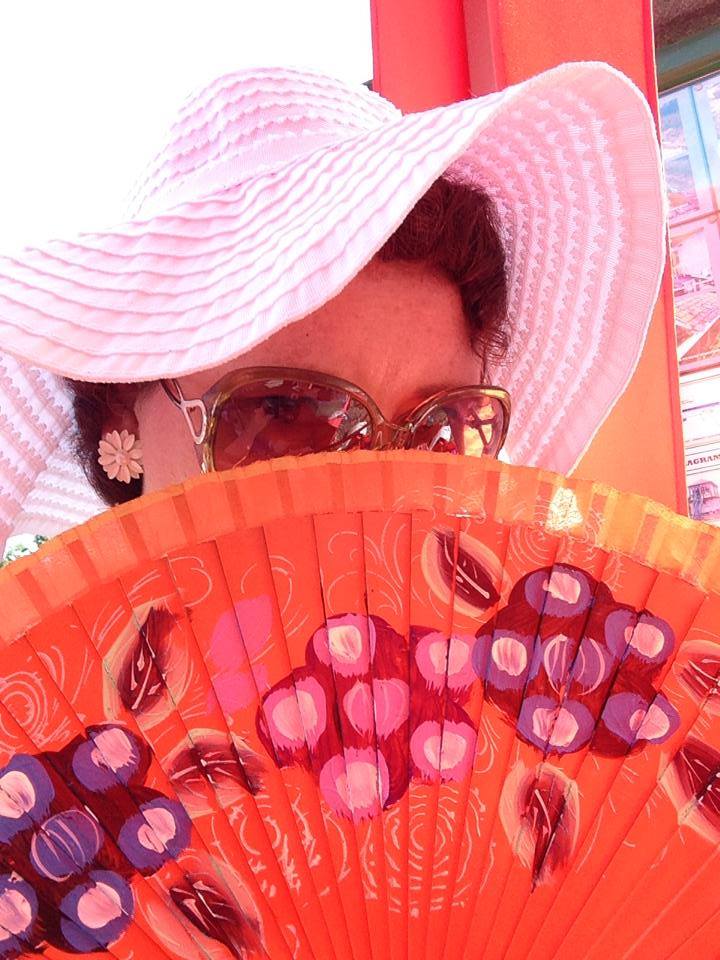 One of my favourite pictures of me from 2015, taken by me!   
For anyone who doesn't know, I was made redundant at the end of 2014 from a job that I'd been in for 24 years and I admit it has been a culture shock, I have genuinely missed aspects of my job, and adapting to working from home hasn't always been easy. However, I've been determined to grasp the opportunity to expand the little vintage business that I started up as a sideline in 2010 and looking back over the last 12 months, I feel proud of the successes I've had, with a lot of help & support from friends, family & of course my long suffering hubby Simon who has also had his life turned upside down…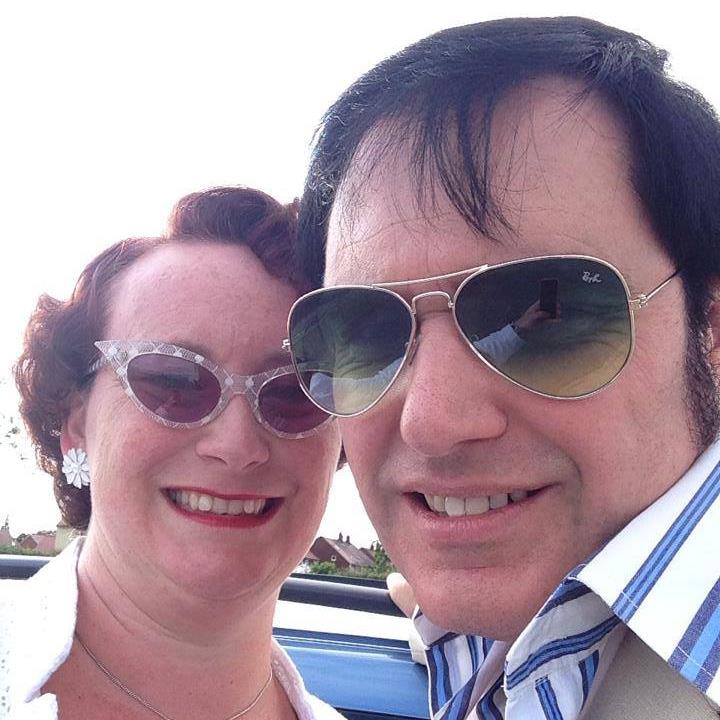 We're still smiling!   
My first job of 2015 was to finally get that website set up and thanks to Gemma, aka Retro Chick, I now have a website that I am really pleased with – www.wakeuplittlesusie.co.uk – and which I plan to do more work on in 2016. This has enabled me to keep an up to date Events Calendar and allowed me to start blogging which I have absolutely loved! Because Gemma is very clever, she also linked my existing online shop to my website to make it even easier to find me & buy my stuff!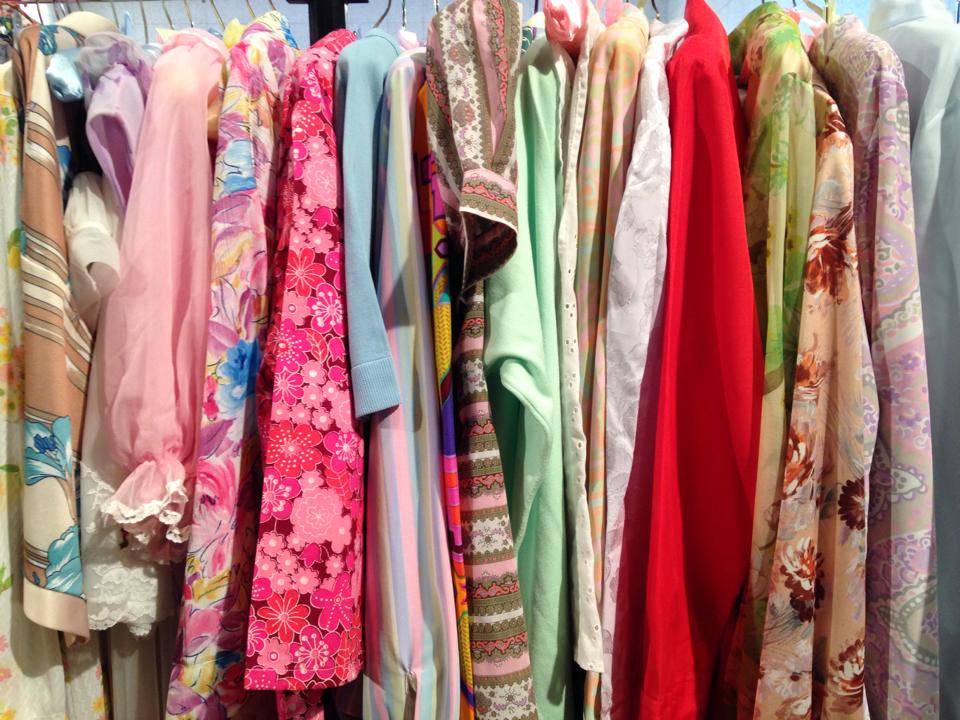 Extra time meant I could sort out a lot of stock that I'd bought in readiness, so was pleased with this display of new & brightly coloured stuff at my first Little Vintage Lover Fair of 2015 at Blakeney Village Hall.
I have bought a lot of new stock during 2015 which will be making it's way to my Etsy Shop as soon as possible in the New Year, as well as appearing at sales & events.
The early part of 2015 was dominated by the amazing event that is Norwich Fashion Week and for once I was actually able to go along to the promotional shoot for the vintage show (rather than just dropping off the clothing) so I could witness the magic of photographer Joe Black creating images such as this one of model Anna showcasing my vintage robe…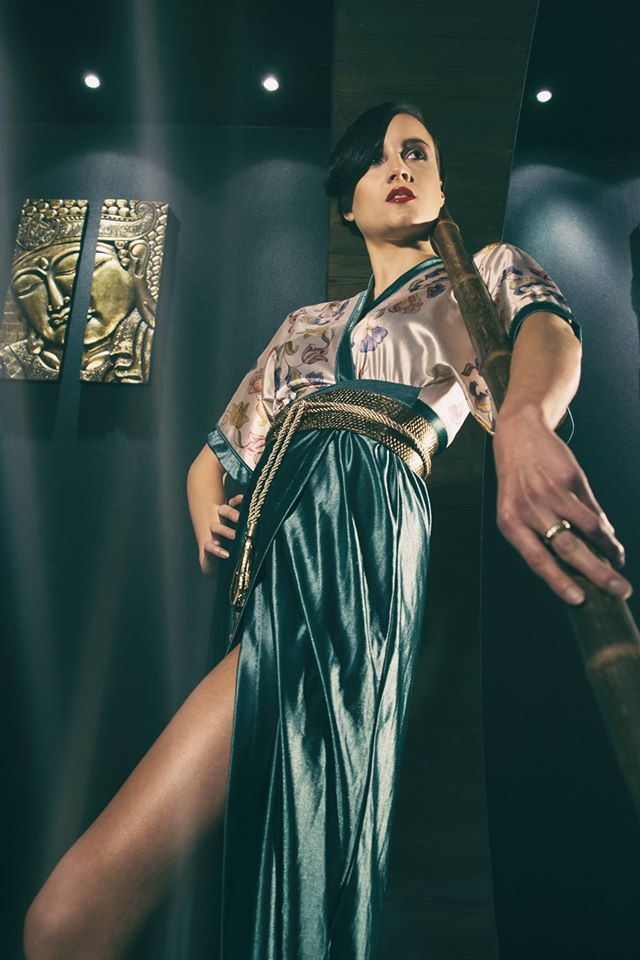 The NFW vintage show with it's oriental theme was a huge success for me in terms of how my collection was received, the great press coverage I got, sales too ( I sold pieces straight off the catwalk!) and the inspiration I got from it, as well as thoroughly enjoying the whole experience. Too many great images to choose (there is a whole album on my website) but here are a couple of favourites that show my whole men's collection (by Julia Holland of all-about-image)…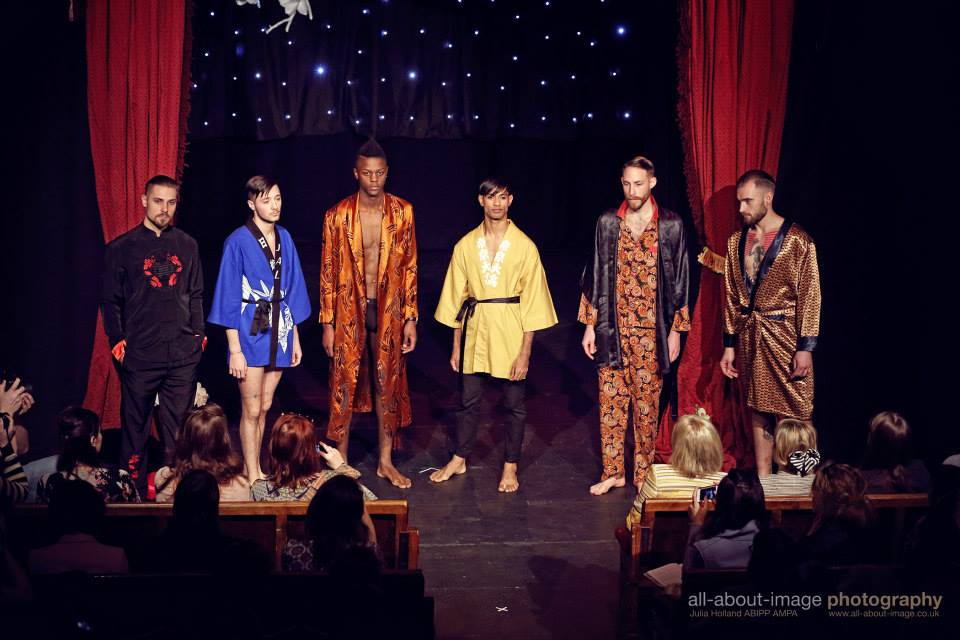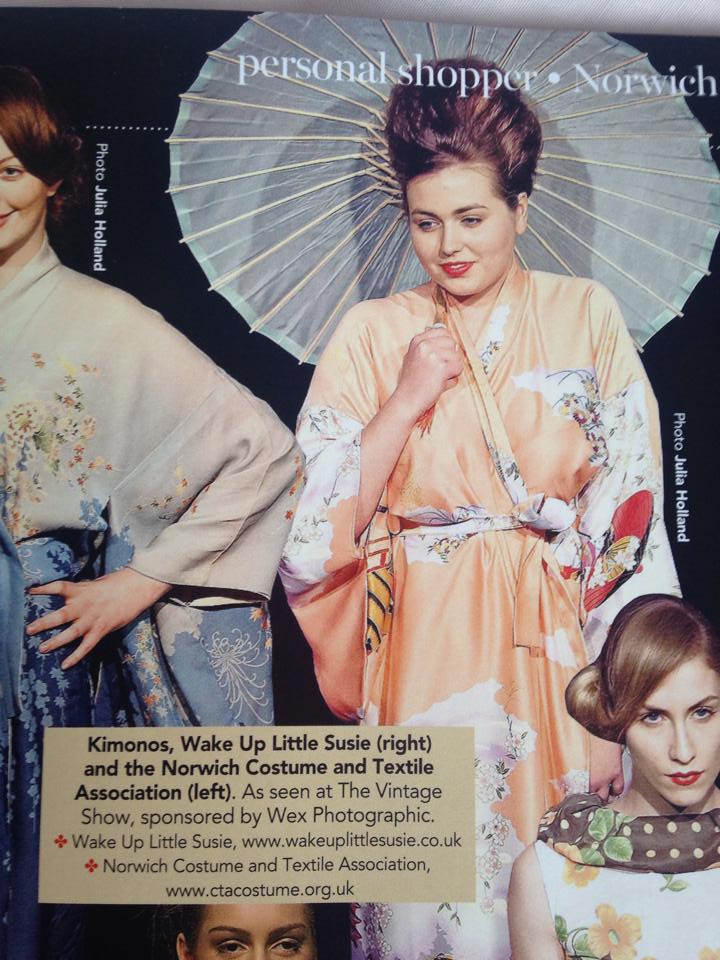 …and this nice piece from the Norwich Resident shows one of my popular kimonos.
I'm currently planning for and looking forward to Norwich Fashion Week 2016 so watch out!
I got to work with some great photographers and models in 2015 and a collaboration with Kerry Curl and Simon Pritchard early in the year led to some brilliant images showcasing my vintage men's lounge wear…
I was also really pleased to get to do a shoot with my buddy pin-up model Roxie Roulette, with Stef of Luminoso Studios doing the honours behind the camera. Here are a couple of my faves from our shoot, but take a look at my 1950s Cheesecake blog to see more.
To promote a big event I was planning with a friend for later in the year, Fly Me To The Moon Vintage Fashion Showcase we did a promo shoot with the wonderful Simon Watson Photography on location at The Library Restaurant in Norwich…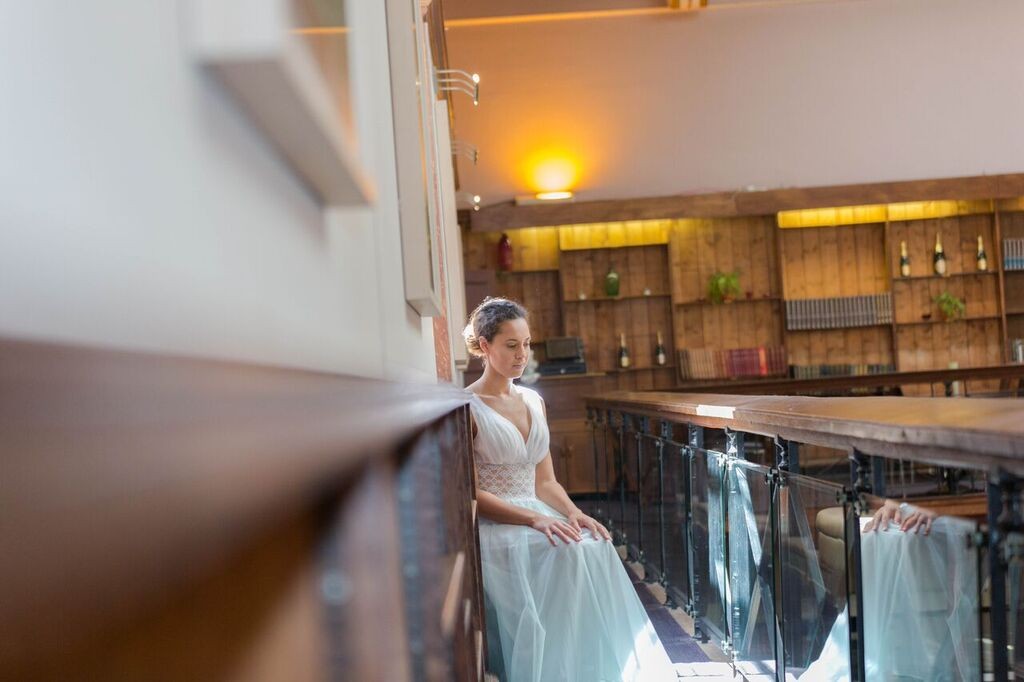 Model Hailz Bombailz.
And caught up with Simon once again when we held a try-on & rehearsal session…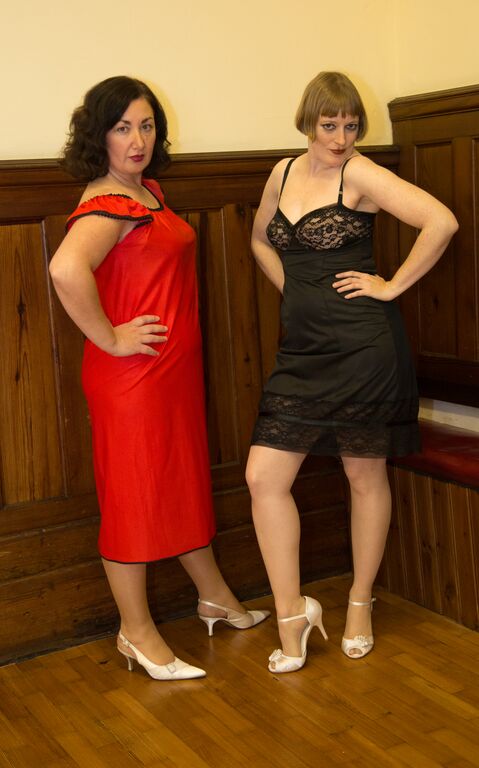 Models Eve Layzell & Beth Reeks.
More about Fly Me To The Moon later…
The vintage fairs & events continued apace and the Wake Up Little Susie stall ventured outside Norfolk for the first time with a couple of events in Ipswich, which also inspired me to write about how much I love Ipswich…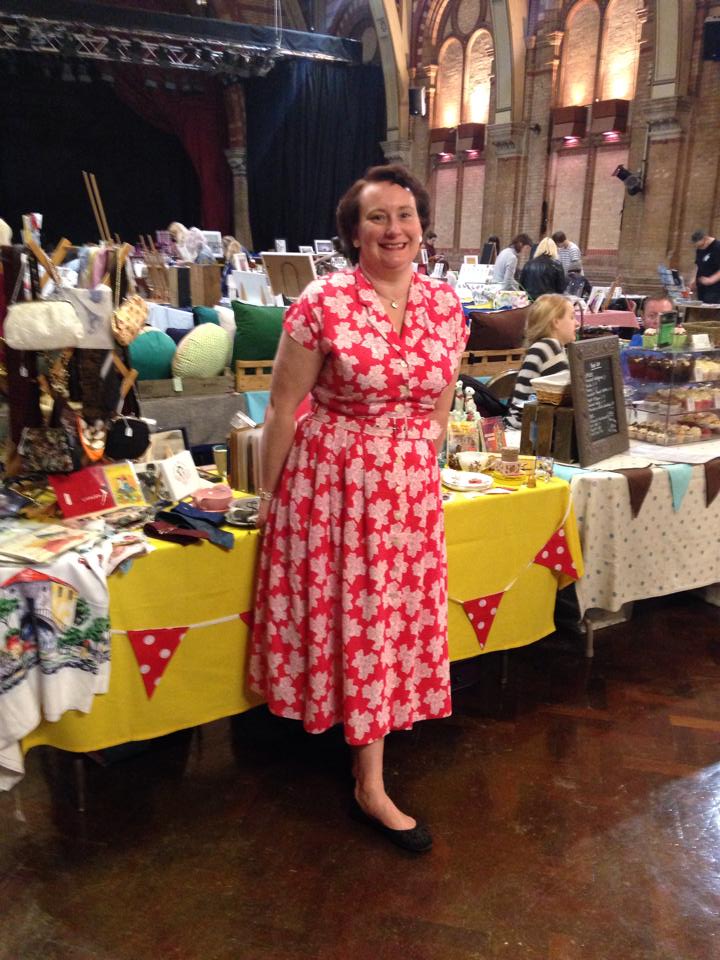 In Ipswich Town Hall for the I Make Fun Stuff market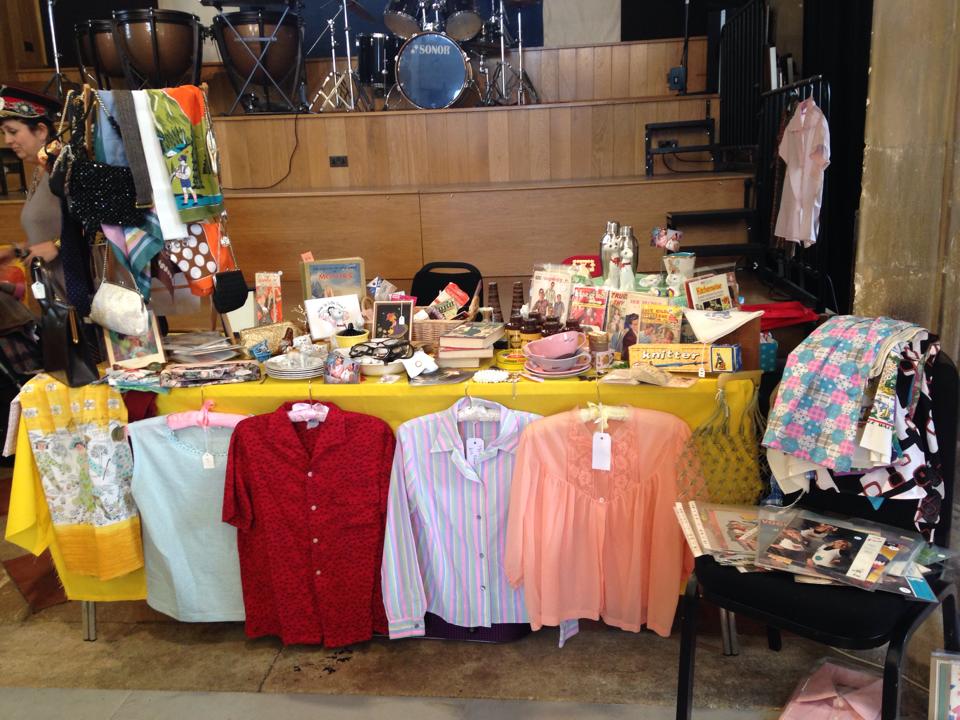 All set up at St Peter's Church in Ipswich for the Peachy Keen Vintage Fair.
I also tried my hand at a vintage nightwear and lingerie only stand at a couple of wedding fairs in 2015…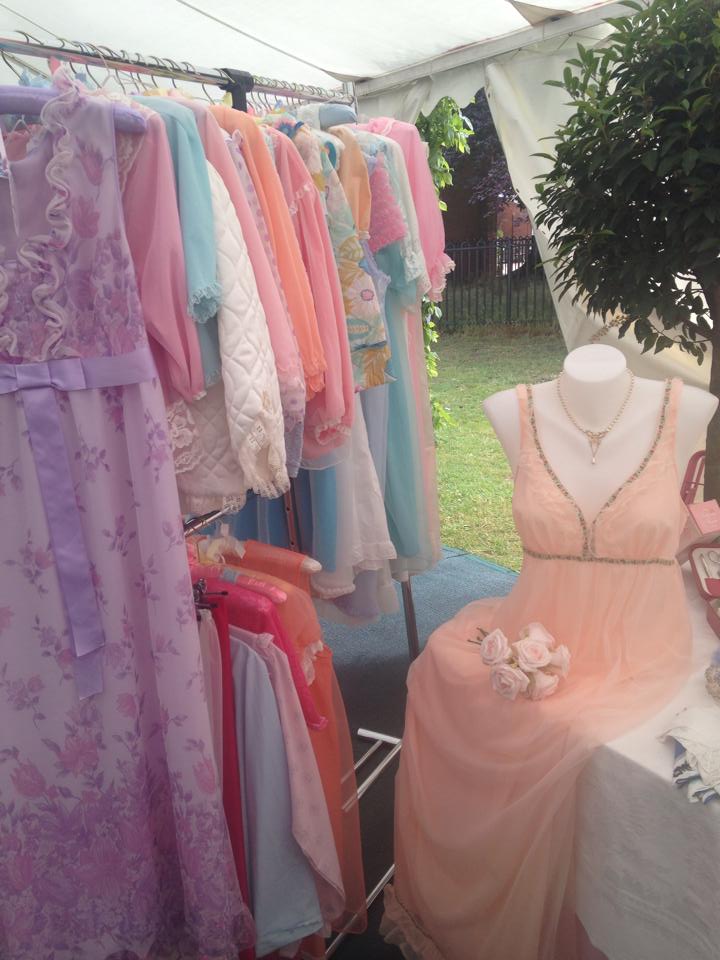 Loved my display at Gressenhall, and did it all again at Godwick Great Barn.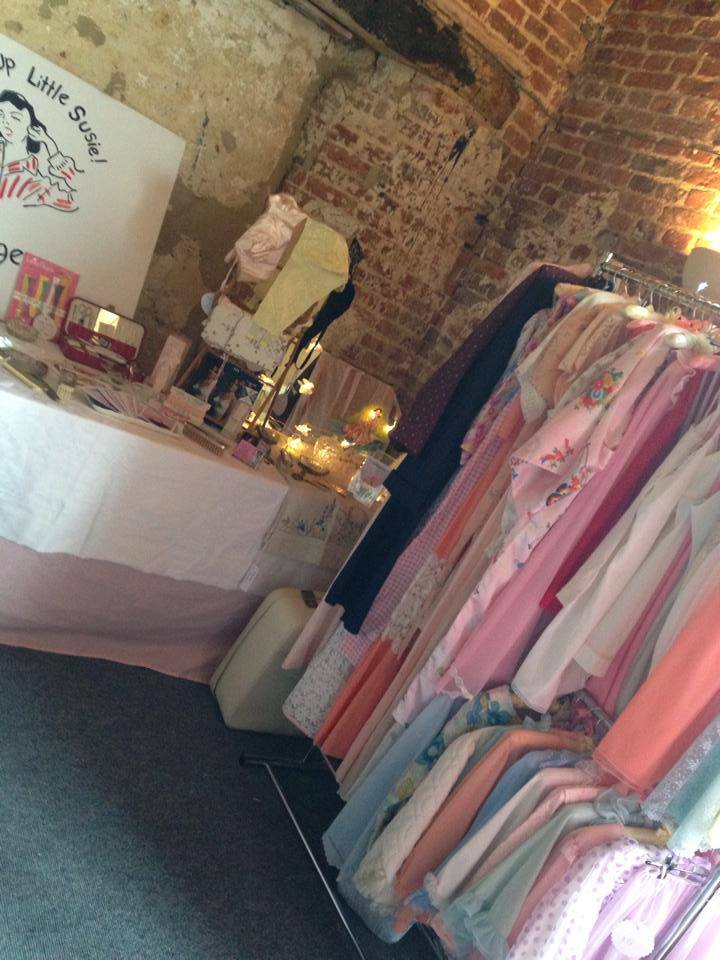 If you want to peruse nothing but rails of pretty nightwear & lingerie, I'll be at  A Most Curious Wedding Fair in Norwich on 20th March 2016 with a new collection of delectable vintage pretties.
I took part in lots more vintage events and sales, and one of my favourites as usual was the Little Vintage Lover Fair in the North Norfolk village of Heydon…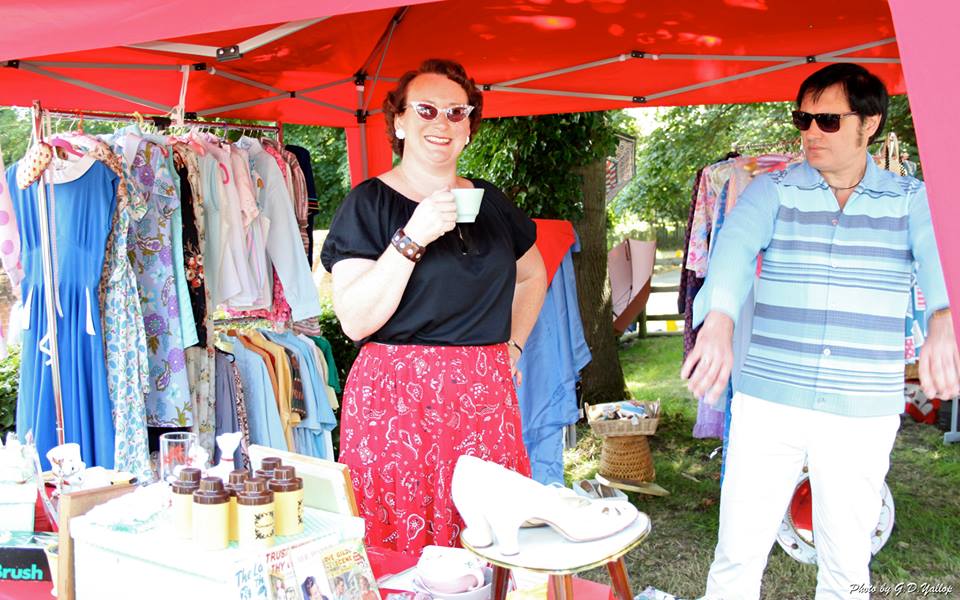 Here I also got to team up with Ed of Swingoramic as I sub-let some of my stall space to show off his fantastic American lawn furniture…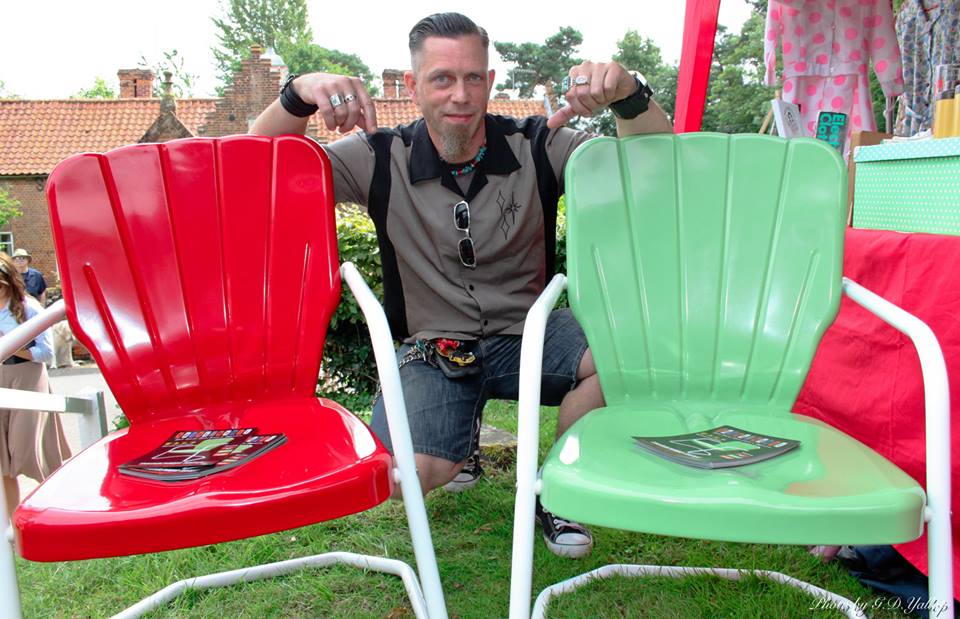 (and I did get to sit on them, a bit) 
All photos of the Heydon event by Gary Yallop of G. D. Yallop Photographer
A sequence of events in 2015 led to my volunteering to help out at the Maddermarket Theatre Wardrobe Department, by assisting the wardrobe mistress Amanda Greenway with their vintage and costume sales which has been so fun & rewarding! lovely to make new friends and watch grown-ups play at dress-up…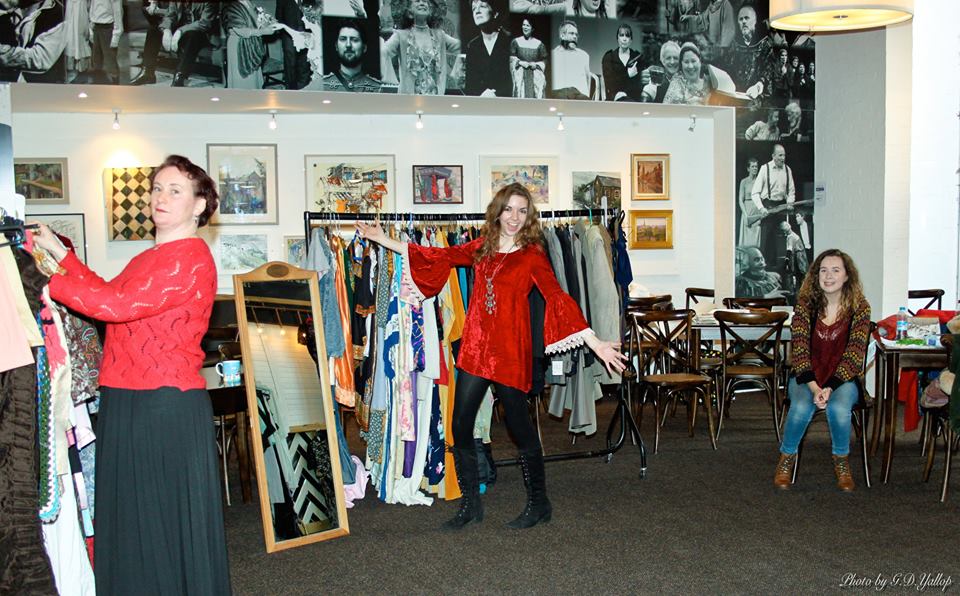 Photo by G. D. Yallop, featuring me, Liz of Dizzy Miss Lizzy's & Aimee. 
Hey! I got a skirt specially made for me by a brilliant company in Norwich called Memento Amare, an Alfred Hitchcock skirt!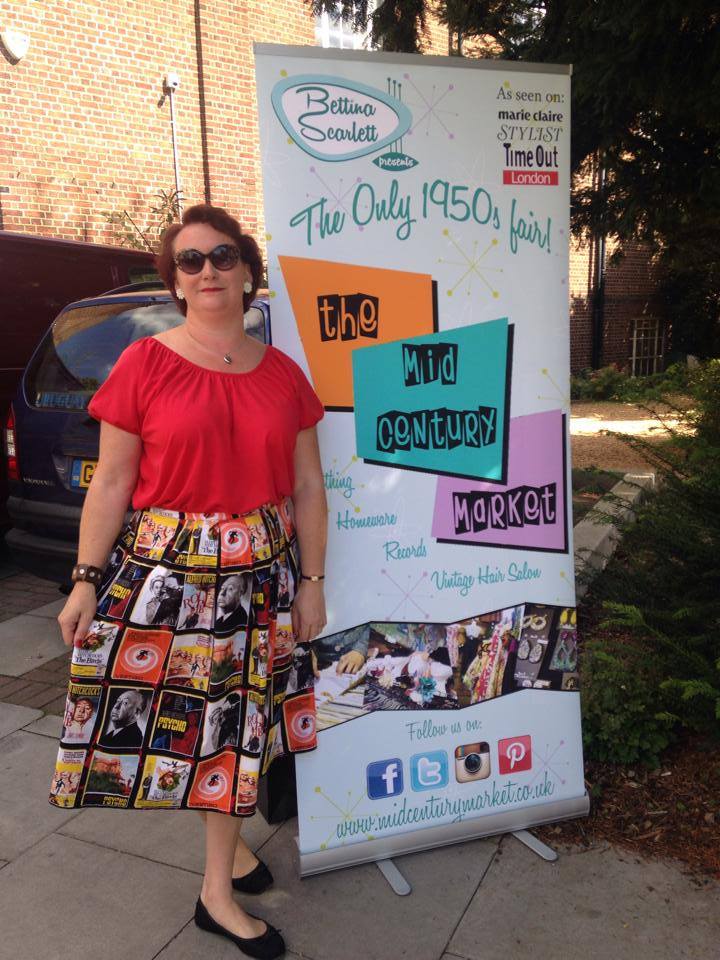 Got to wear my Hitchcock skirt at the Bettina Scarlett Presents Mid Century Market in London, part of a fabulous weekend where we saw Jerry Lee Lewis & the Frank Sinatra show at the Palladium, shopped a lot and was lucky enough to see the new Dita Von Teese vintage inspire lingerie collection in Selfridge's, and yes I made some purchases – watch this space for more details!
An unexpected surprise was to have a Bernie Dexter dress named after me!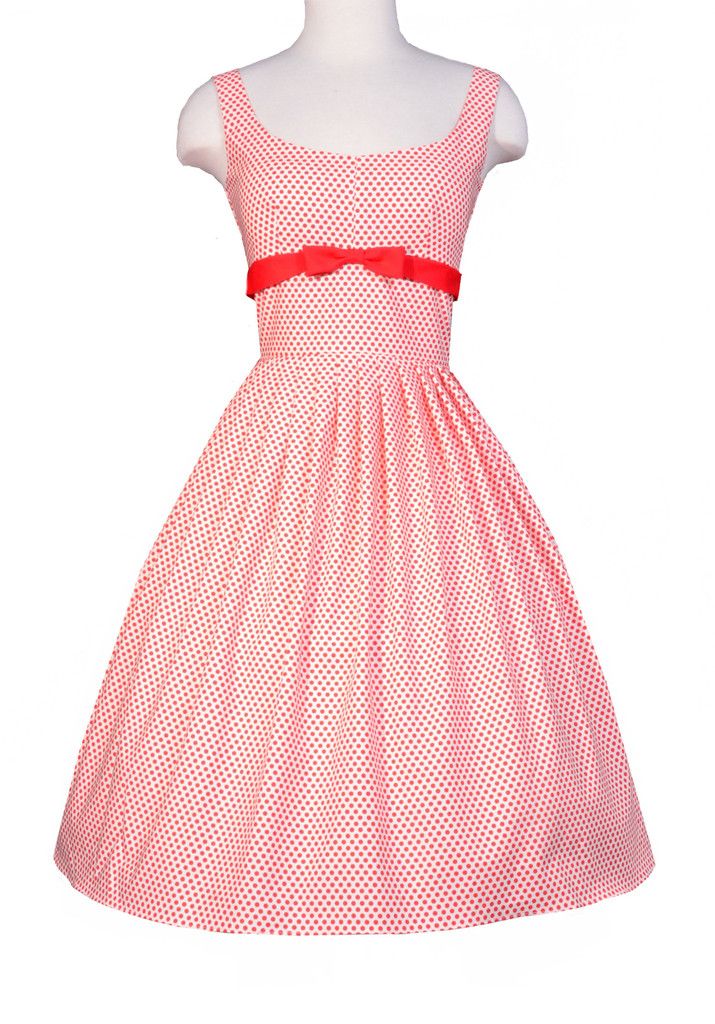 More about the 'Susie' dress next year.
As well as my own events & shoots, my clothing has been out & about on loan – some of my vintage beachwear hit the catwalk at this year's Rhythm Riot weekender in Bettina Scarlett Presents' fashion show
Photos by Daz Wilson, models Eeva Splendid-Harryman & Lucy-Mae Donnelly.
And some of my bestest nighties have been with models Coco Von Vintage and Blair Amy Rowland, but we're all going to have to wait to see those images – exciting!
My big event for 2015 has been Fly Me To The Moon, a collaboration with my friend Sarah from The Wedding Shed in which we held a vintage fashion show featuring 28 models, a Team of hair & make-up artists, a fab historic venue & I'm guessing over 100 outfits…it was a big one, and a great achievement as the final result was brilliant! So far I have covered the planning and build up to this event in Part 1 and Part 2 and Part 3 about the day itself will follow next year.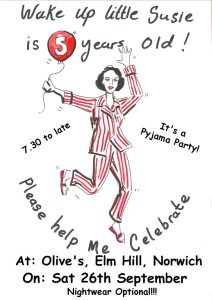 October 2015 marked the 5th anniversary of my first vintage fair as Wake Up Little Susie, so party time! Yep, I got my friends in matching PJs again & we had a pyjama birthday party to mark this milestone!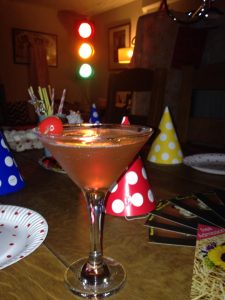 Also in 2015 I made my radio debut on Harbour Radio's Vintage Hour with The Baker Boy Collective which was good fun and much more scary, I got to go on telly!!
Having a lovely time on Mustard TV, talking to Dan Bancroft & Beth Davison.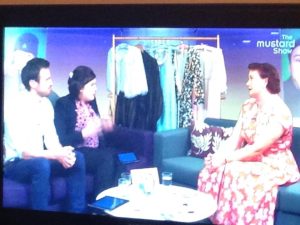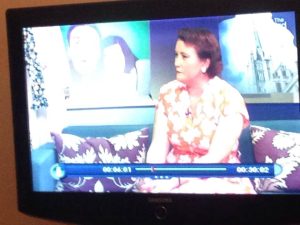 Such a lot of great  things happened! I'm sure I'll suddenly remember later something else really important too… Lots of plans for 2016 running around in my mind as we speak but until then, I'll leave you with some of my favourite images from Fly Me To The Moon featuring my vintage nightwear taken by Simon Watson & John Newstead of the amazing Simon Watson Photography.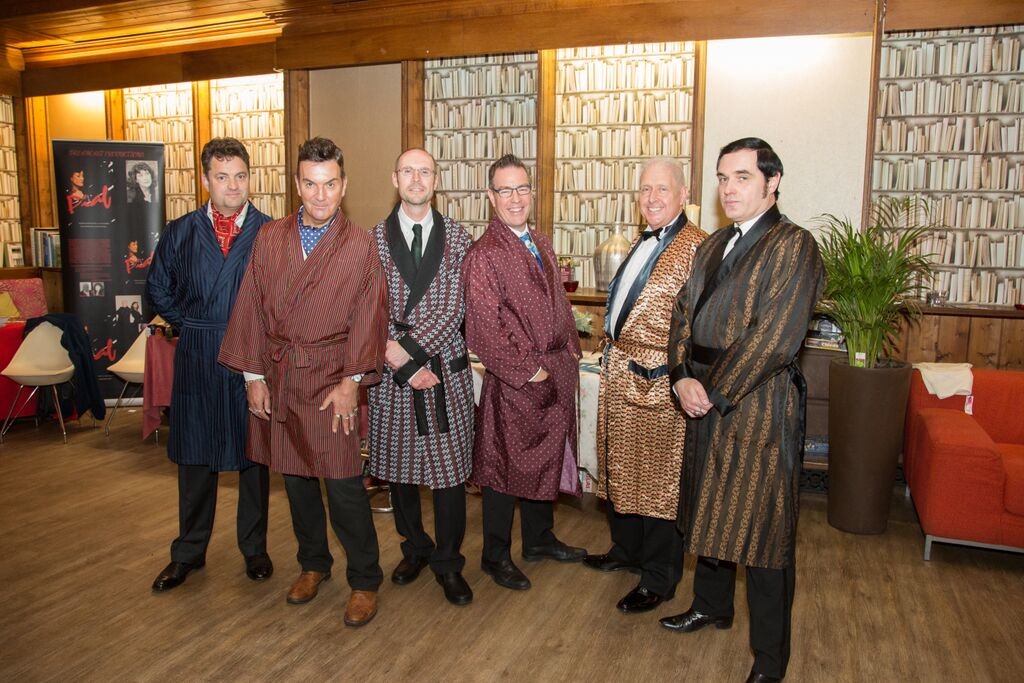 Love some men's lounge wear – with Jonathan Redding, Patrick Johnson, Simon Bekker, Mark Benfield, David Rees & Simon Pritchard.   
The girls waiting to go on…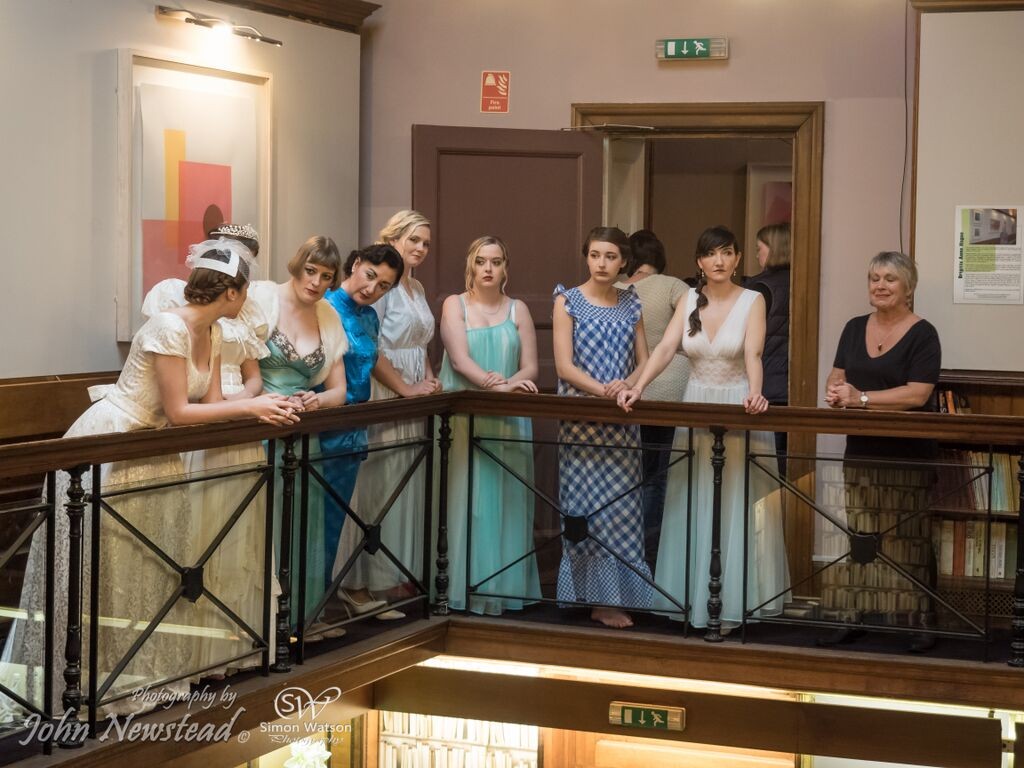 Featured models – Emily O'Dell, Liza Marie Dunnell, Gerda M-Blondie, Isobel Henry & Laura Landamore.
There are so many more great images to share but you'll have to watch this space!
In conclusion, what a great year it has been after all! It really has flown, but I'm looking forward to building on my successes of 2015 next year and hope you'll all stay on board!
Happy New Year! Love Susie x