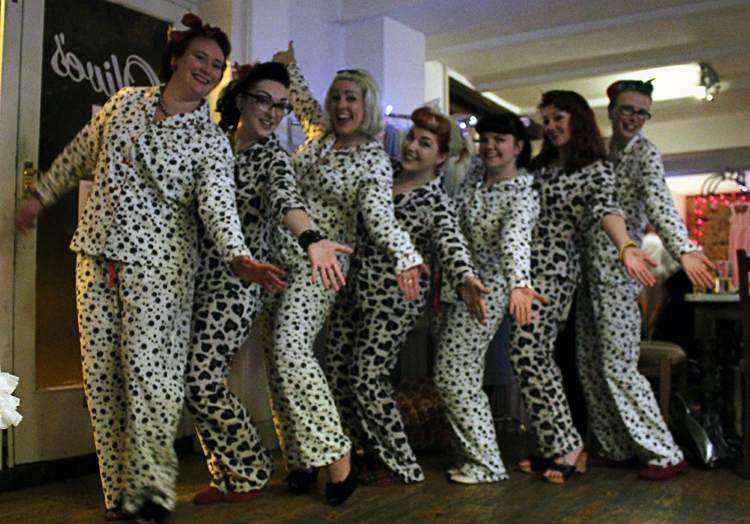 Today I will explain how to get six of your best friends to come out for the evening in their pyjamas to serve cakes, hand out goody bags, drink cocktails & much more…
So, five years ago I decided to set up my own business selling vintage clothing and when I got my first set of business cards printed, something (maybe my own love for a floaty nightie or a comfy PJ!) made me add very tentatively 'Specialising in Vintage Nightwear'. I didn't know how this would work out, but gradually the nightwear aspect of my business really took off, particularly when I moved from selling just at vintage fairs to much more of an online presence which allowed me to really build my brand & get my own  personality 'out there'.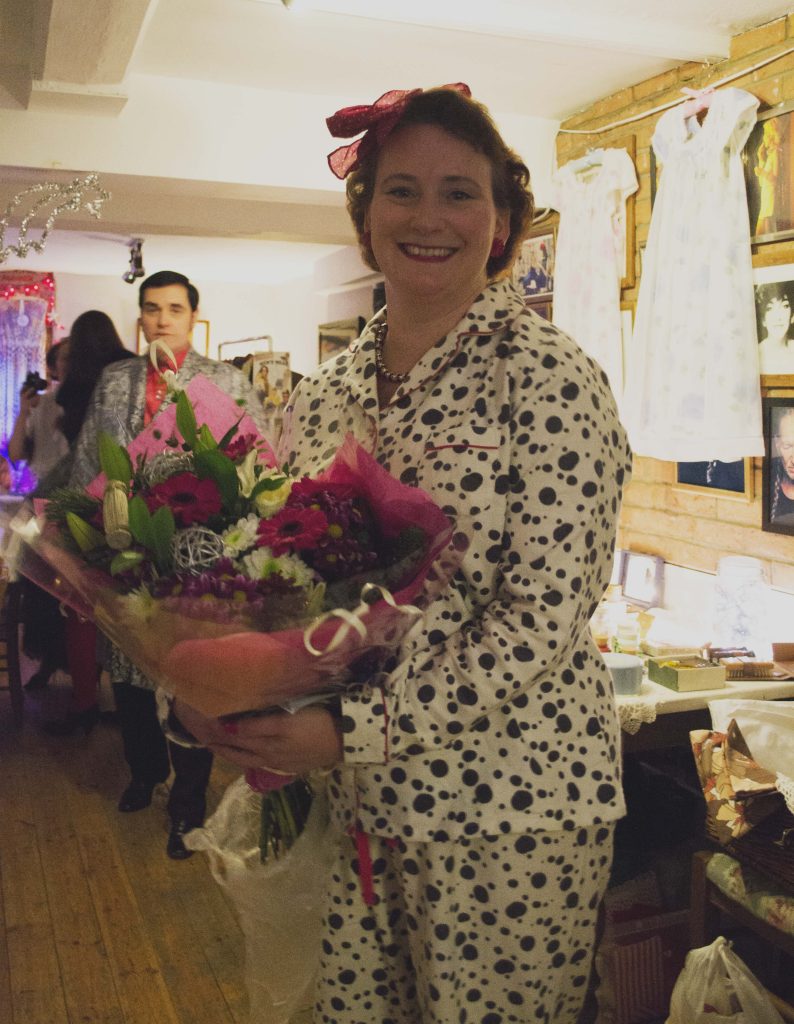 After a while I had amassed quite a big collection of vintage nightwear, including many frilly, frothy Baby Doll Nighties & Bedjackets which look so lovely displayed together en masse & with the thought of things like Tupperware parties in mind, two years ago I had an idea to plan a Vintage Nightwear Party! I envisioned a venue all swathed in frilliness & pretty lights for people to come and marvel at whilst drinking cocktails & listening to Lounge music, and I also hoped that it could be quite a good promotional tool to get more people to know about what I do…(although I think 'Prettiness' always won out over 'Promotion' when it came to making decisions!)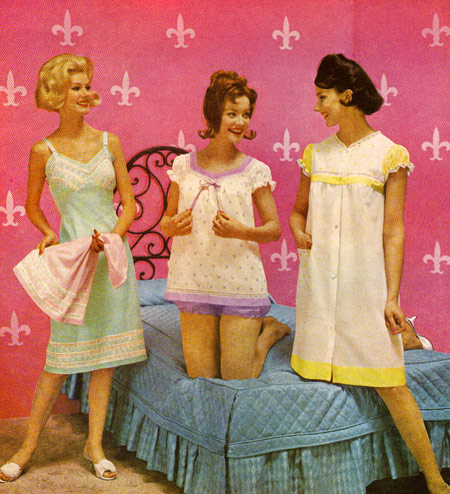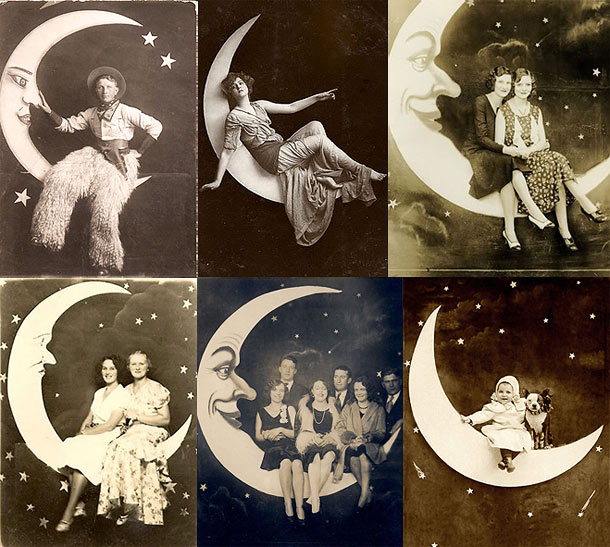 I spent a long time thinking about this and collecting ideas & images around the idea of slumber parties and night time in general and eventually hit upon a name for my event – 'Twilight Time' – from the beautiful song by the Platters. In fact, it was a fully formed plan in my mind before I even started to sound out friends, I had every aspect of the evening covered – in my head! I realised how much this would rely on the support and help of friends & hoped they would all go along with my schemes…
For my venue I opted for Olive's in Norwich, coffee shop by day & intimate cocktail lounge by night, as it was already familiar to me from events by my good buddies The Historical Sauces & Fabulous Miss K and what a good choice it turned out to be as they were so easy to deal with & let me do what I wanted in order to turn their place into some kind of sparkly boudoir full of stars, lights & nighties! (although Mick the owner did comment that it wasn't good for his macho image…)
Then on to all the stuff I wanted my friends to help with….If I asked about six girls to dress in matching pyjamas to act as hostesses & enhance the atmosphere, maybe a couple will say yes? Well whadya know, they were all up for it & I will love them forever, here are some of my amazing PJ girls…Zoe, Jess & Chip and I still can't get over how brilliant they all looked!
 What else did I need?….music of course! My friend Graham had recently set up in business as a DJ under the name Three Bits of Rhythm & was becoming popular at local Swing events but what I asked him to do was play vintage lounge & pop music, alongside my hubby Simon contrasting with some '50s & '60s pop, featuring as many tracks as possible that referenced moon, starts, night-time etc, whilst wearing vintage dressing gowns! They not only did it, but did it with style as you can see!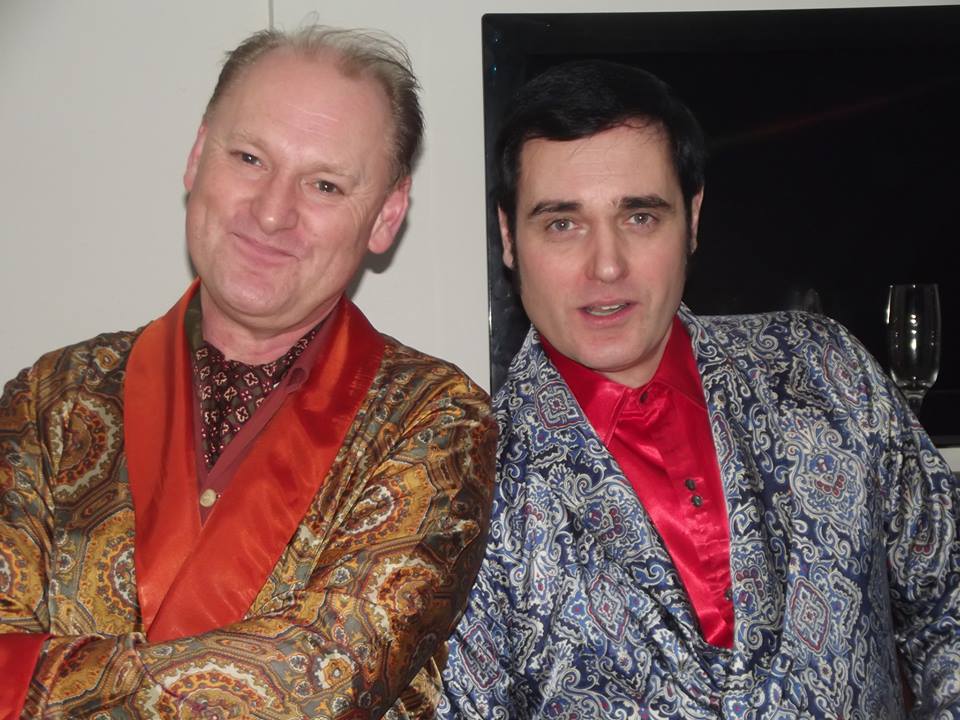 Food & drink are always a staple part of a good night out, Olive's had the cocktails covered and in keeping with the theme, I commissioned Cupcakes by Jess to make me some mini cupcakes with moons & stars which were beautiful, and I backed these up with mince pies (it was nearly Christmas!) plus After Eights, mini chocolate stars (I had given this a lot of thought!) & marsh mallows!
Jess handing out cakes whilst Karen, Fabulous Miss K, socialises wearing a negligee and bed jacket as it if it's the most normal thing in the world…..(well, in my world it's quite normal!)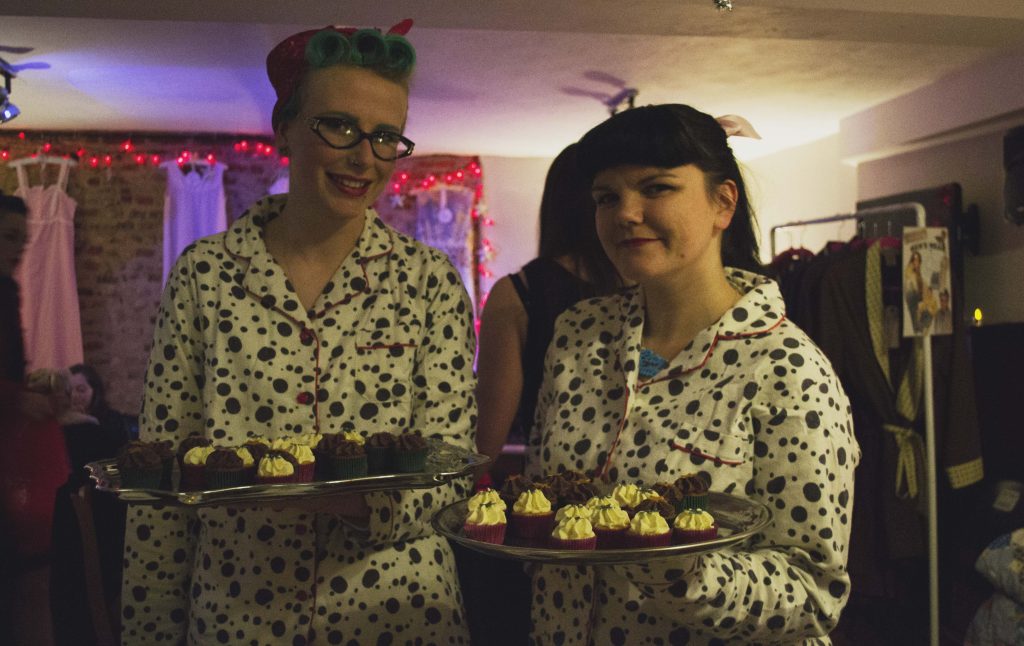 Jess & Siofra – PJ Girl Hostesses!
Ooooh, I had to have goody bags for all! I put a lot of thought into these too & again thinking of a 'bed-time' theme, everyone went home with hot chocolate & marsh mallows!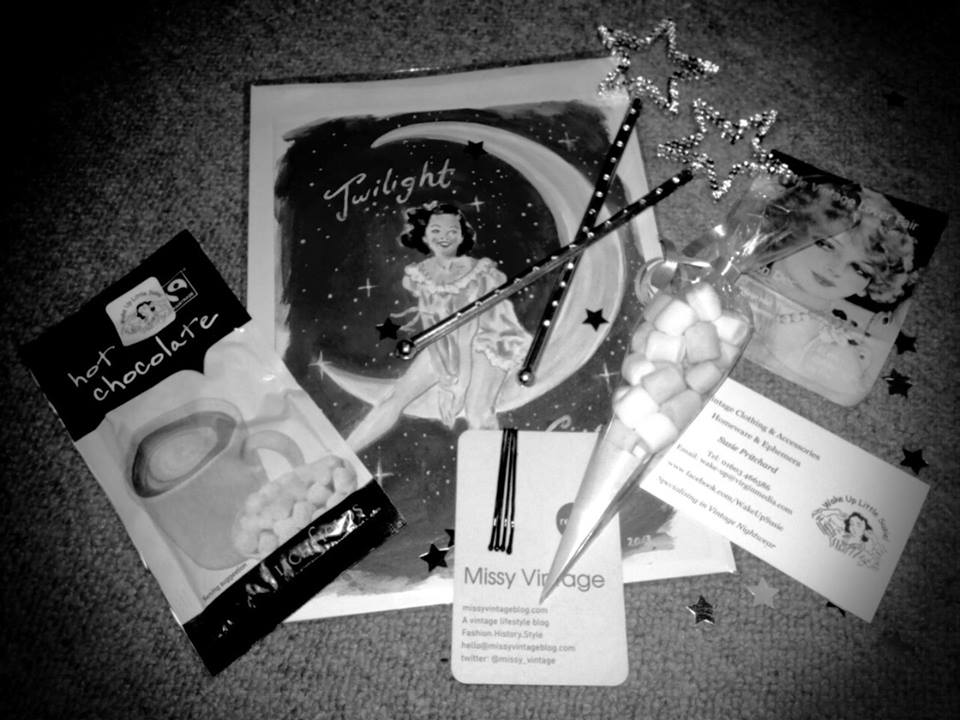 You can also spot here the wonderful artwork that my husband Simon created for the event (check him out over at Artbeat64) I'm not sure how much he enjoys doing work for me as I am VERY particular about what I want but I think this is one of the most perfect things he has ever done & I still love this little lady to bits.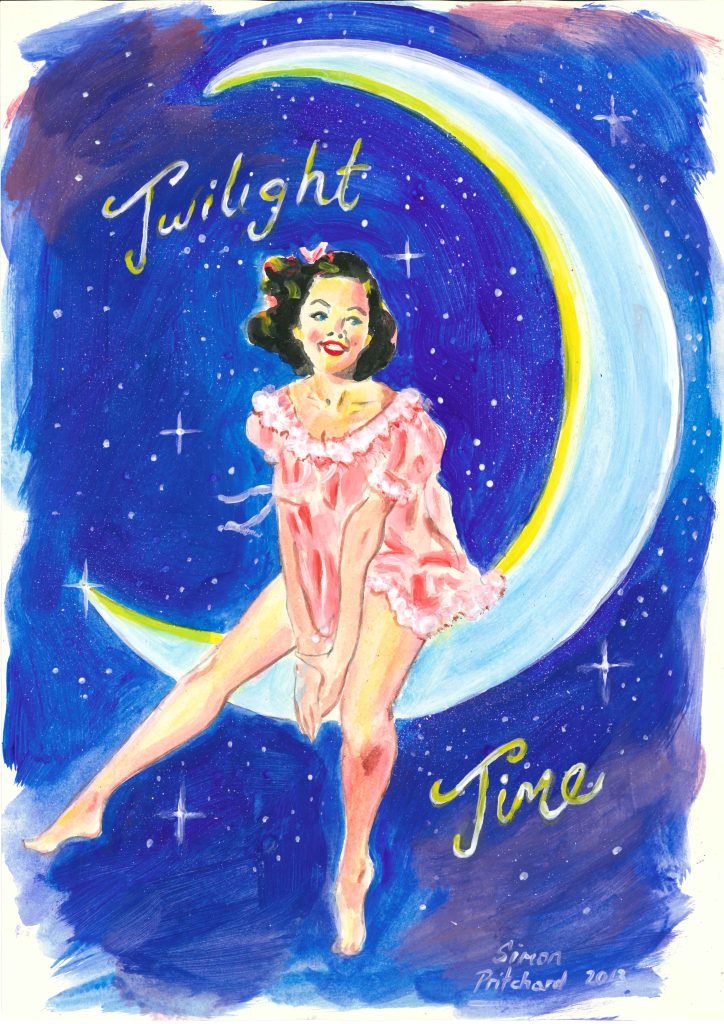 So, apart from all my beautiful friends, the stars of the show were my pretty things, and as well as rails of nightwear, I also followed the thread through with boudoir accessories & vintage bedding, which all made a lovely display.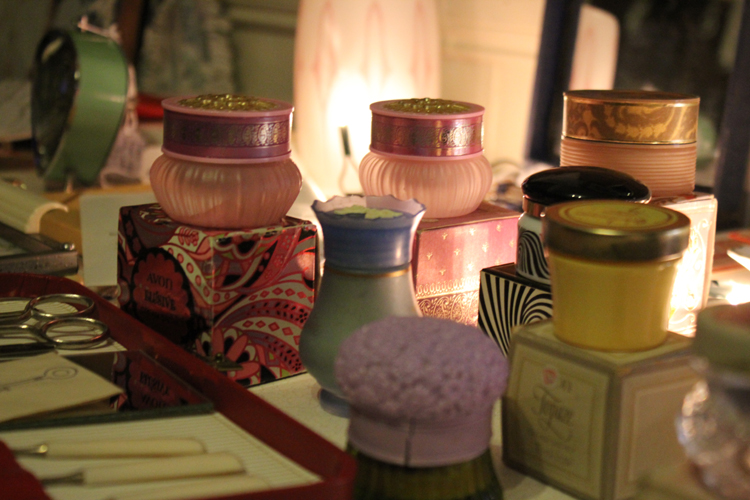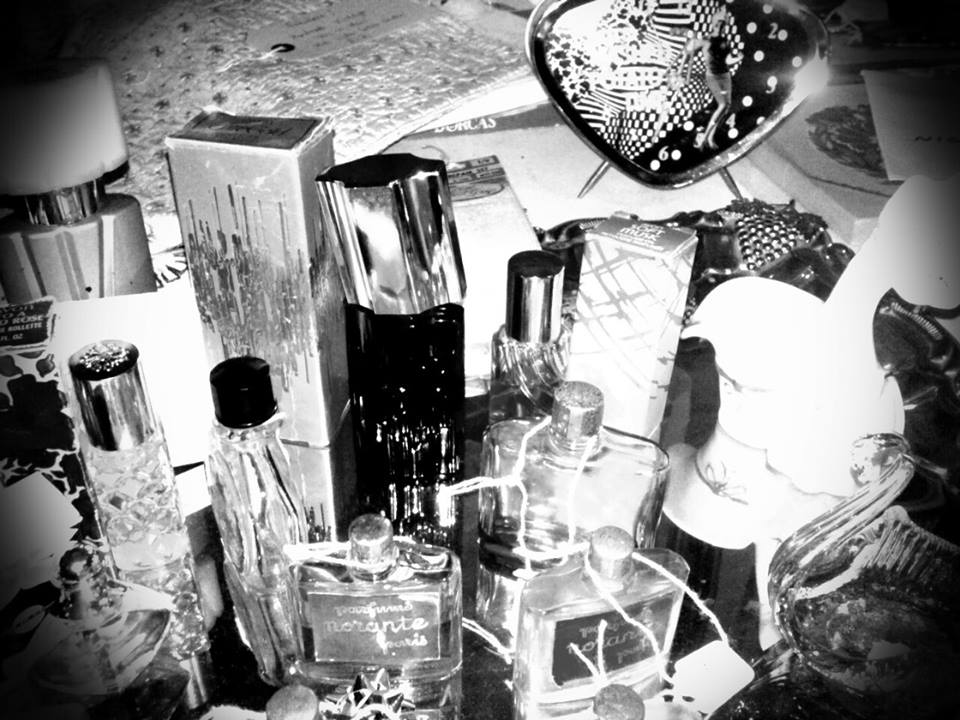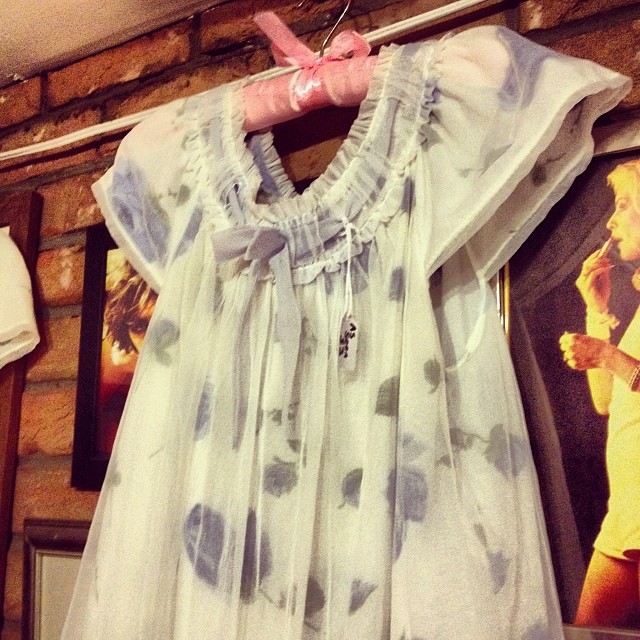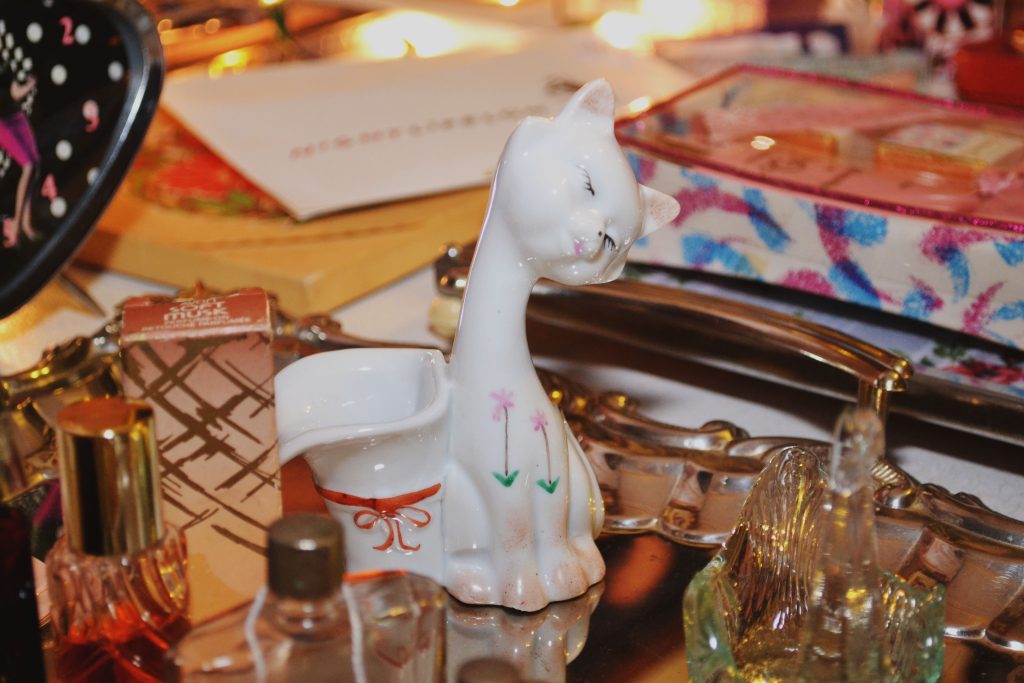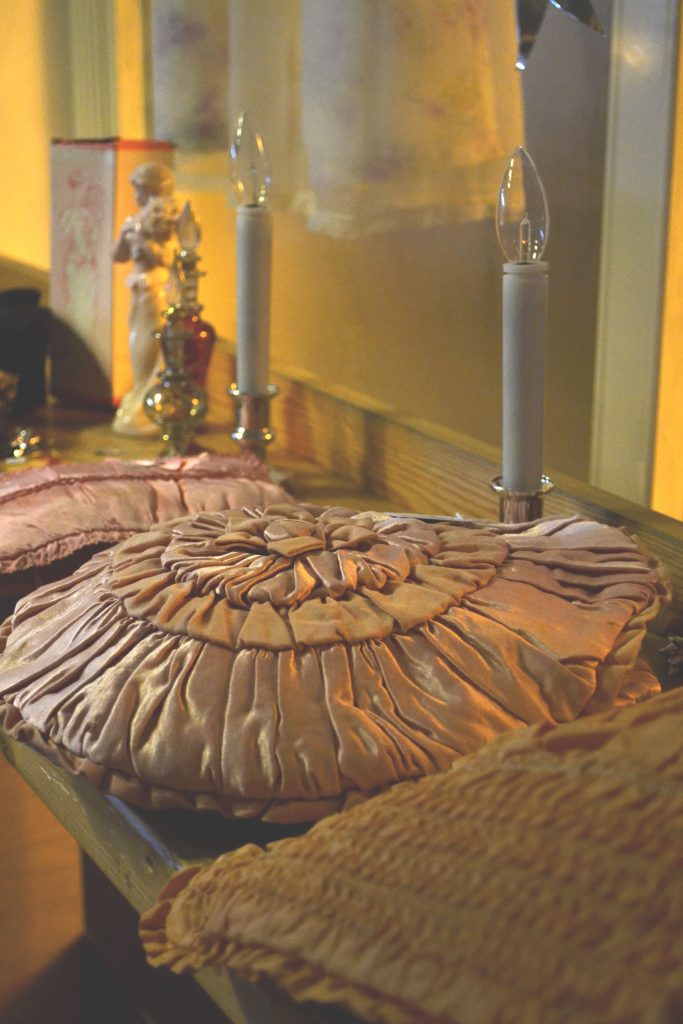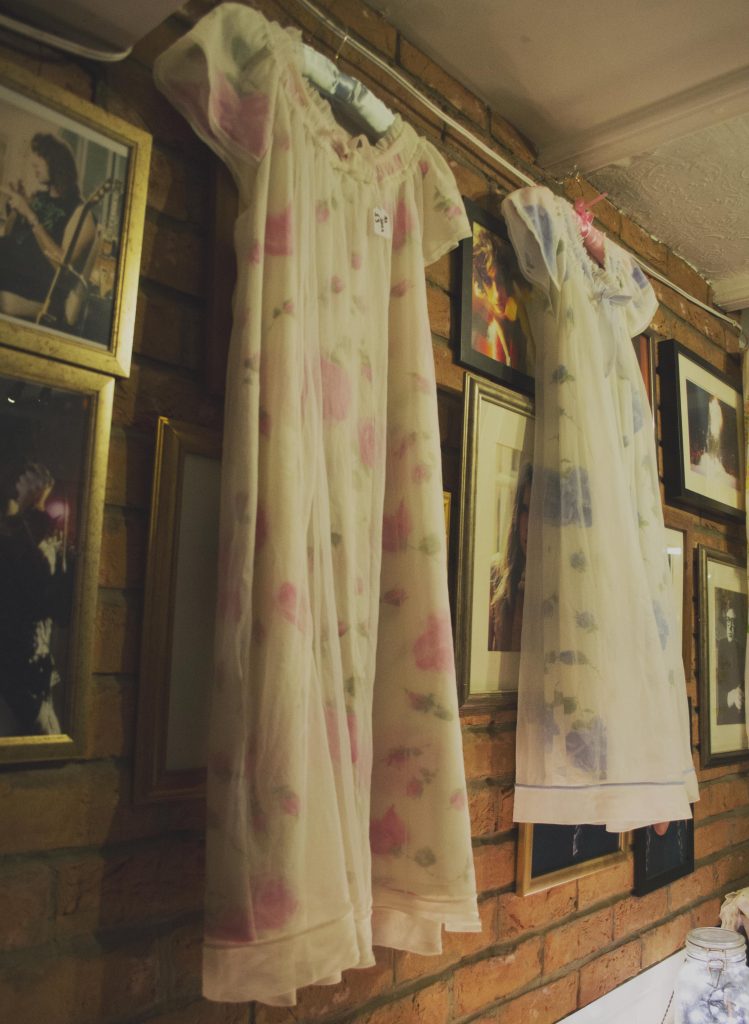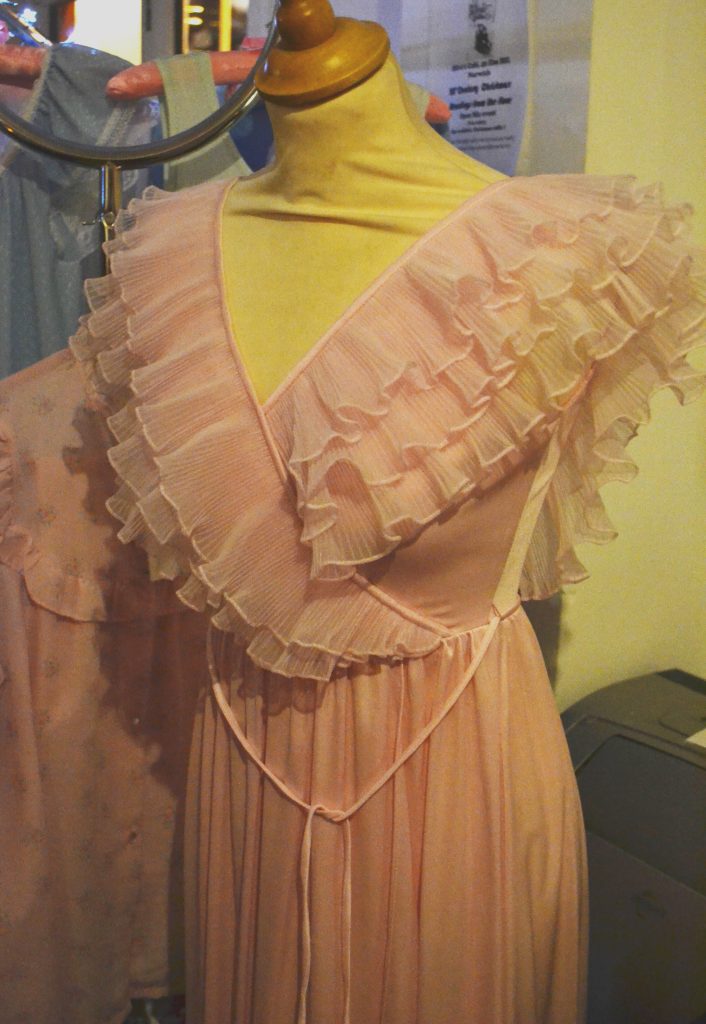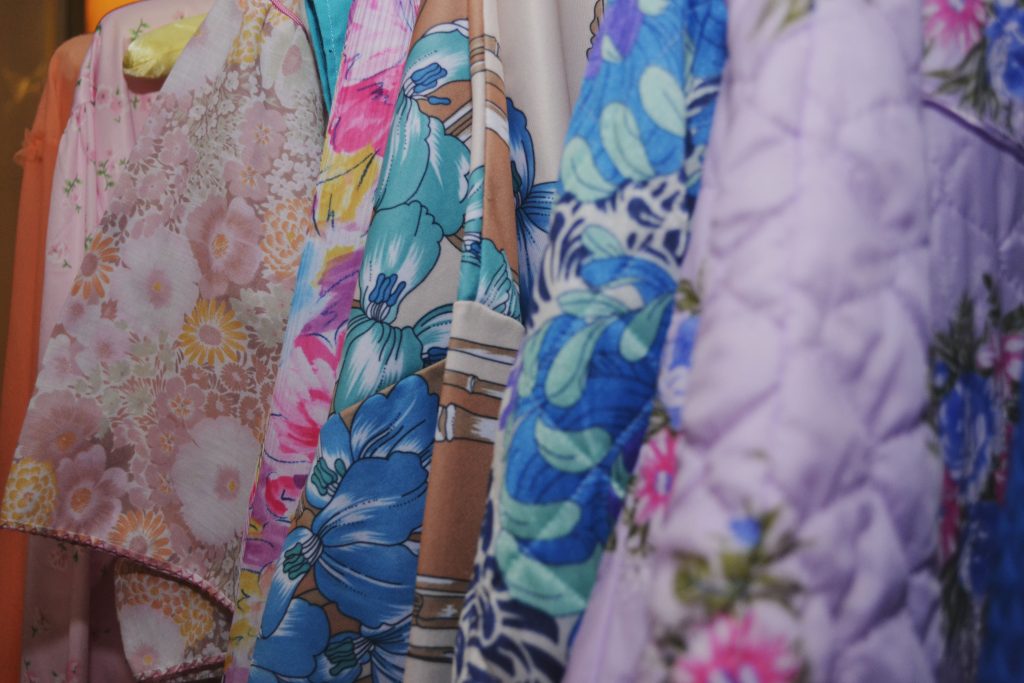 All I needed were some guests! my friends, family & customers all did me proud, the place was packed & buzzing all night, my brother came in with a big bouquet for me, cocktails & nibbles were enjoyed, nightwear was purchased & we even ended with a spot of dancing. Here a few snaps of people enjoying the night!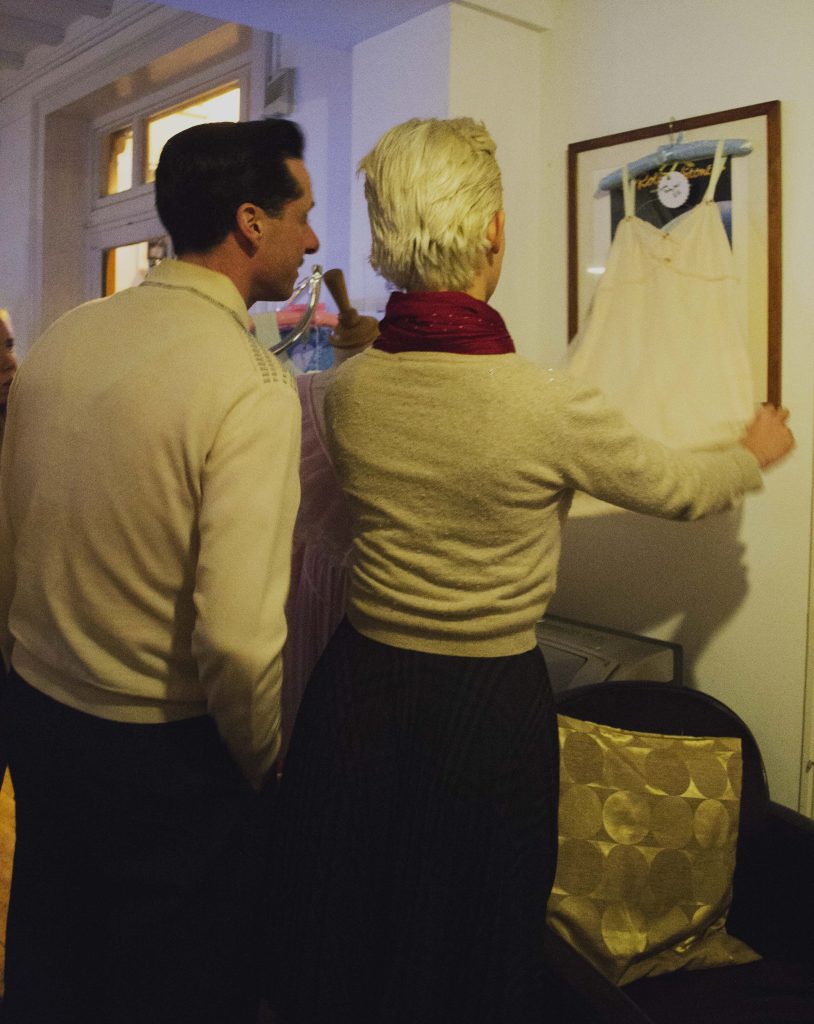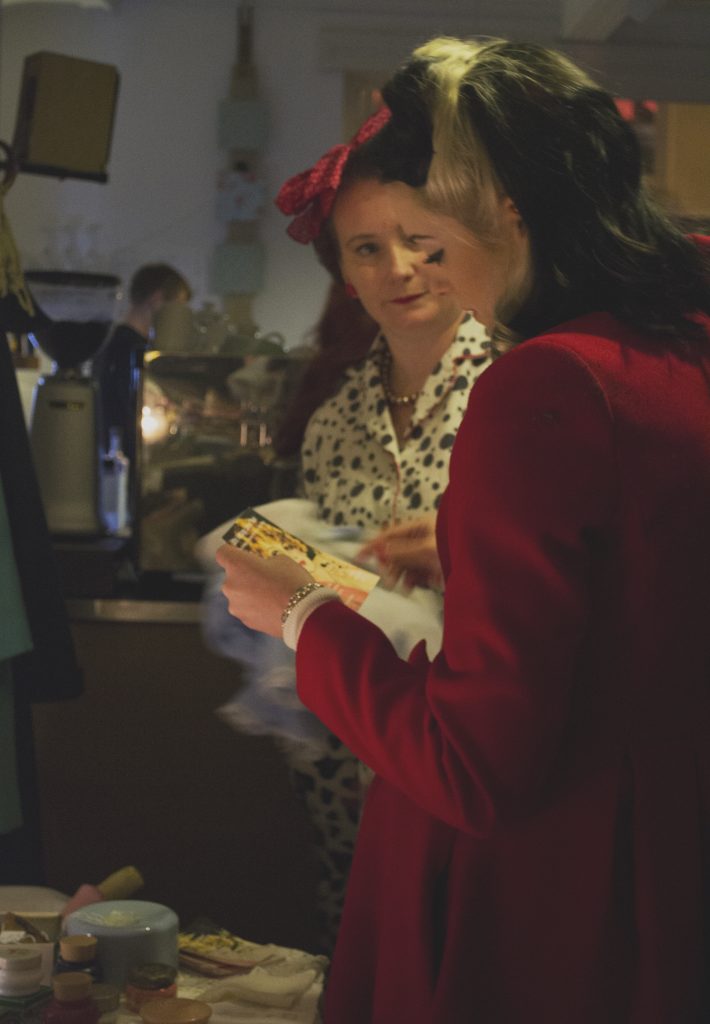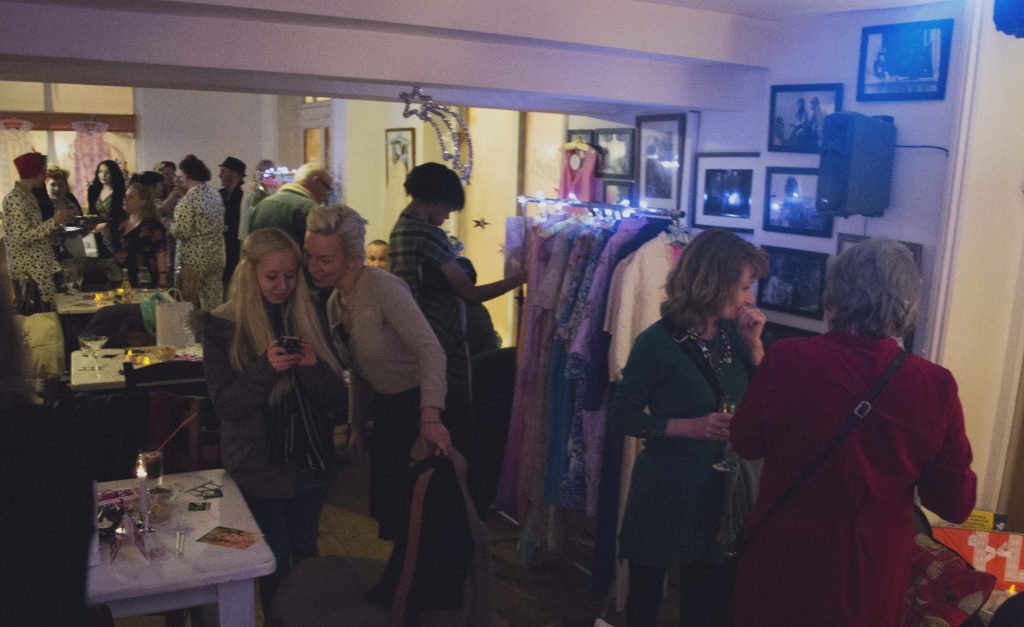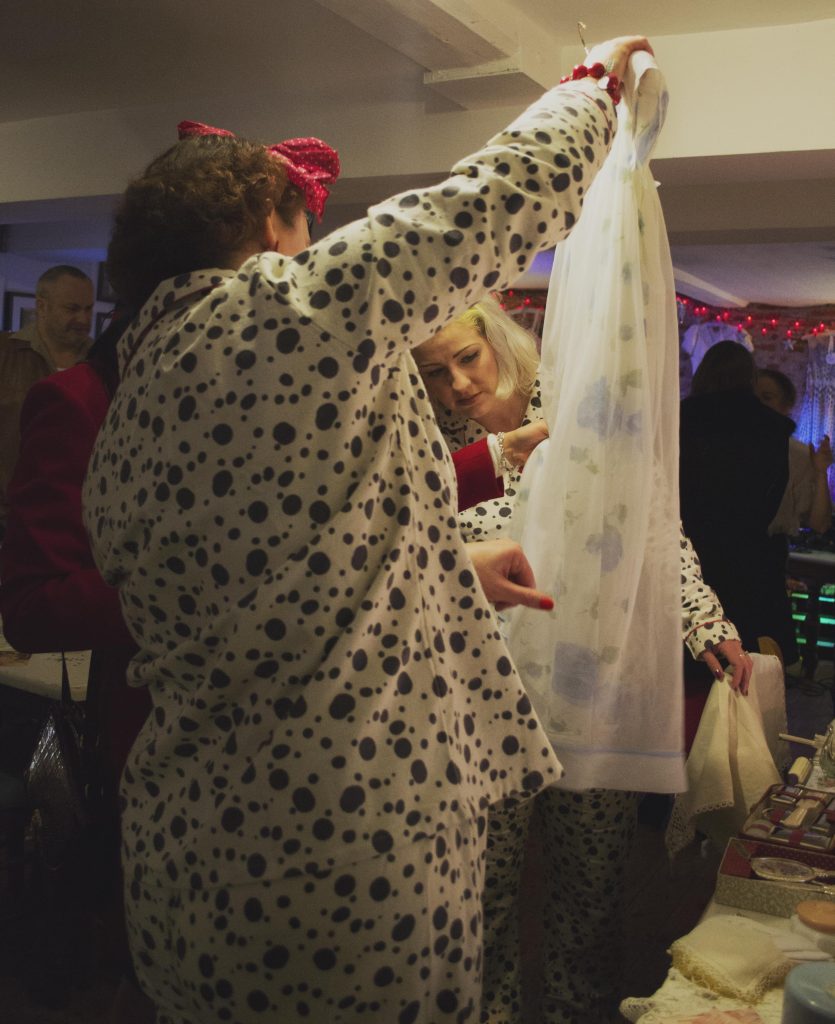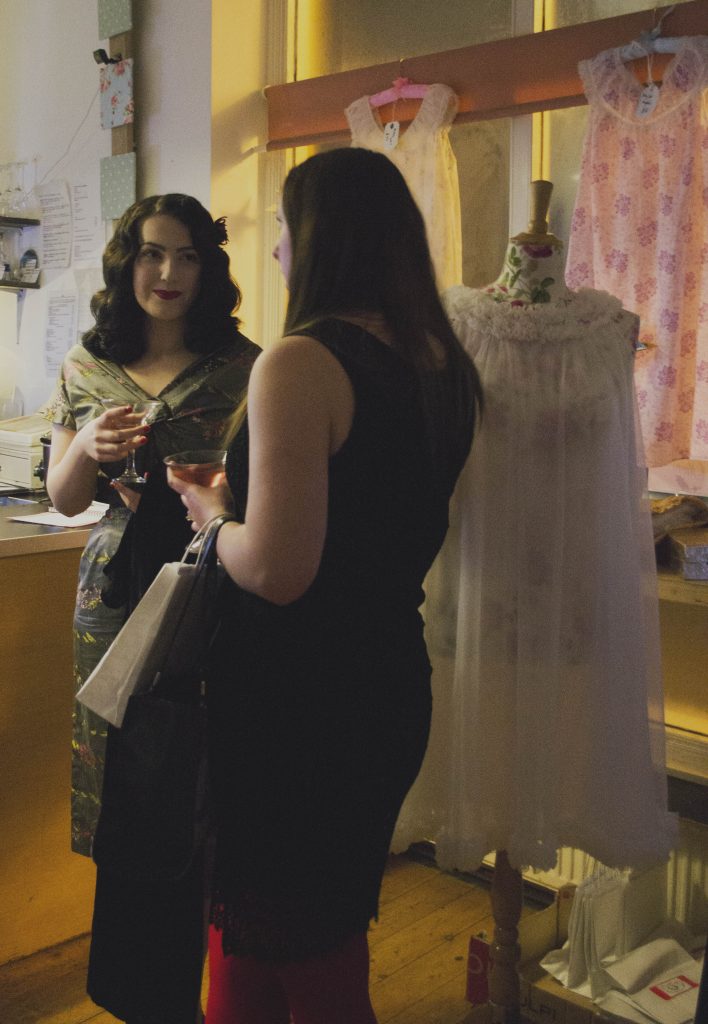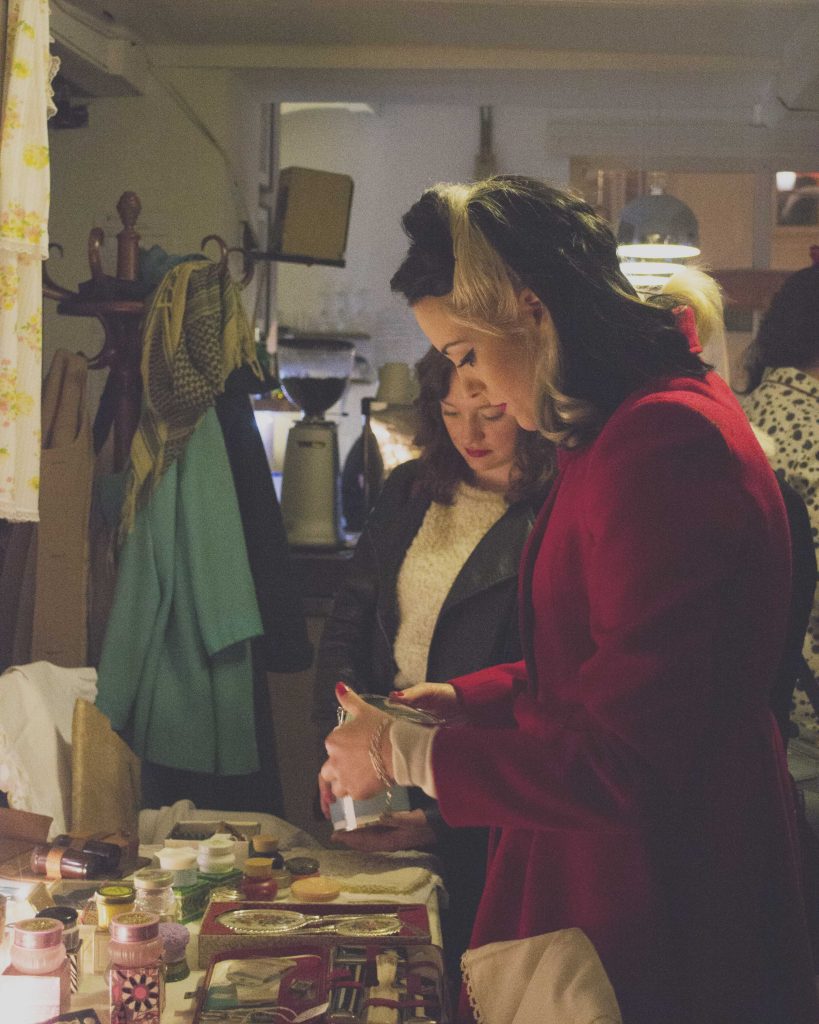 This was my very first solo event and I was so pleased with how well it went, I really enjoyed the night and it gave me confidence & inspired me in my future events and business life in general.
Many thanks to everyone who was part of it, the photos here were taken by a variety of people with Kerry Curl Photography being my official snappers this time.
Big thanks to my PJ girls Mel, Siofra, Jess, Chip, Zoe and Gemma aka Retro Chick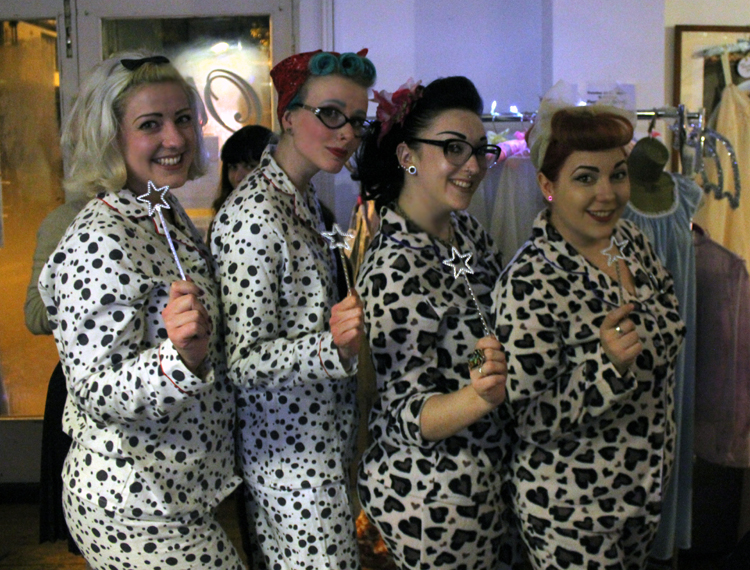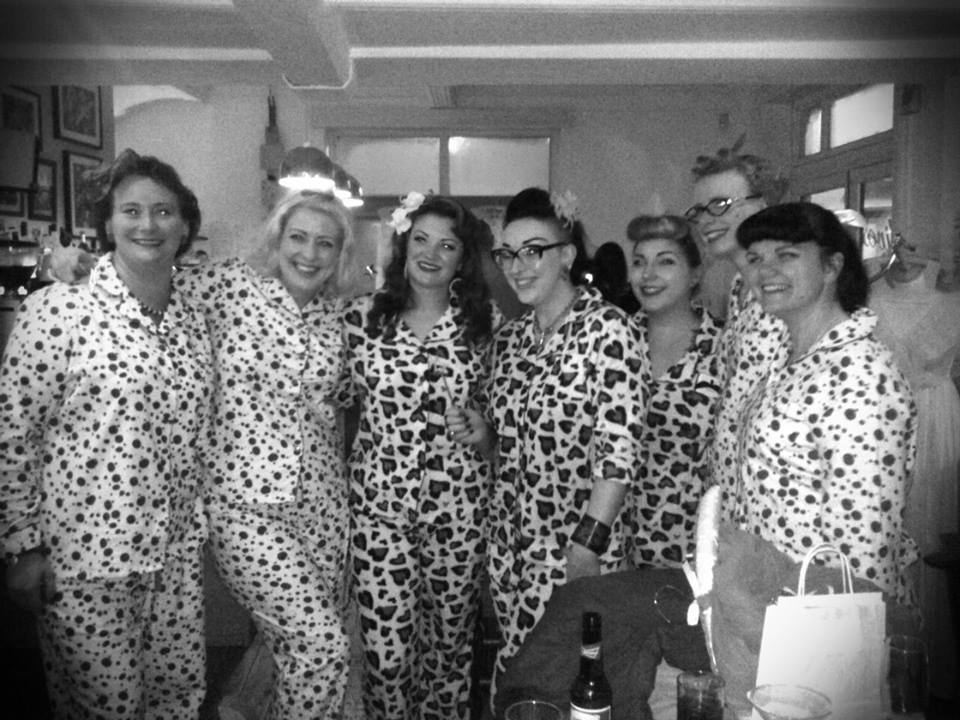 See my website for more & watch out for details of subsequent & most definitely future nightwear parties!