Having reviewed 'My Norwich Fashion Week' for 2011 & 2012, 2013 and 2014 , before I bring things up to date, it's time to look back at 2015 – when I nailed it with my collection of oriental inspired vintage nightwear!
2015 was a funny year…I was made redundant from my day job of 24 years on 31st December 2014 so lots of mixed emotions were going on in January 2015 but one big positive that I remember really well was that when I was called on to loan some stock for the Vintage Show promotional photo-shoot; I was so pleased to be able to go along with my clothes & actually watch the magic unfold without worrying about going to work! I recall a cold wet January day, but being really excited and enjoying a cup of tea in Norwich beforehand as I'd arrived early, revelling in the fact that I was now able to do such things on a week day! I'm a self-employed business person, not a 9.00 – 5.00 office worker!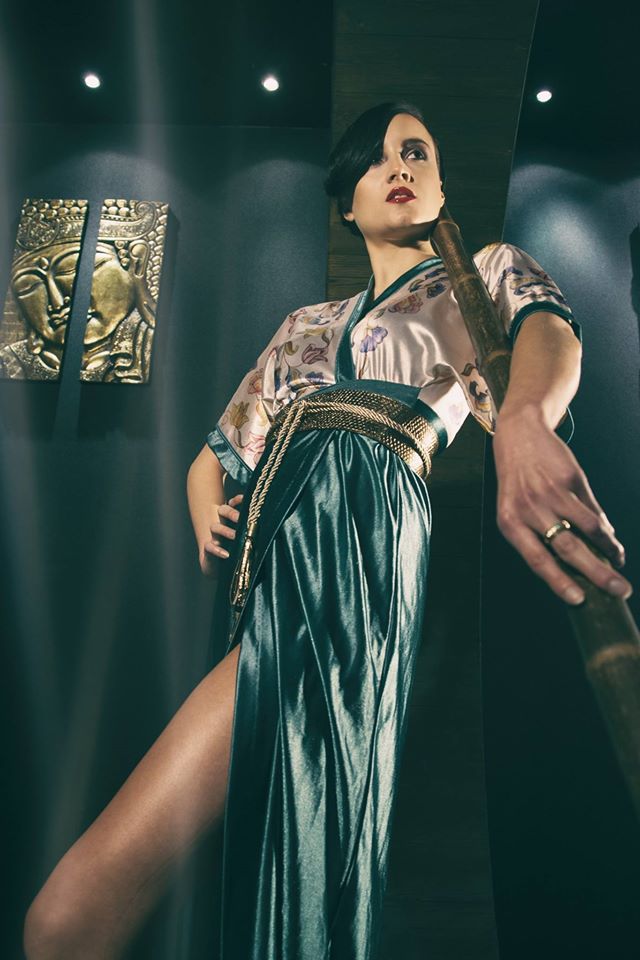 As soon as I saw photographer Joe Black in action I knew this was going to be something special….a mesmerising artist to watch, I could tell that Joe was capturing some great images and this one of Anna Konstantynowicz in a robe that I nearly didn't pick up, has become an iconic one for me.
Next up was the anticipation of waiting to see if any of my outfits made the press, and I was suitably pleased when I finally got to flick thorough one of the Norwich Fashion week mags (whilst in a coffee shop having a fashion heart-to-heart with Fabulous Miss K, as I recall…)
Result! THAT picture made the Fashion Week guide, and for me, that robe that I nearly didn't buy became the face of NFW2015.
So, to put together a collection of nightwear for men & women to fit the 'Vintage Goes East' theme for 2015…to be honest, that theme was a bit of a gift for me – hey, we're talking kimonos & Chinese style PJs! but, I didn't want to make it too easy on myself & go for nothing but kimonos, so the challenge was on…In fact I had unwittingly collected my first piece around a year ago without knowing it, & had been saving it or the right occasion, which turned out to be this occasion…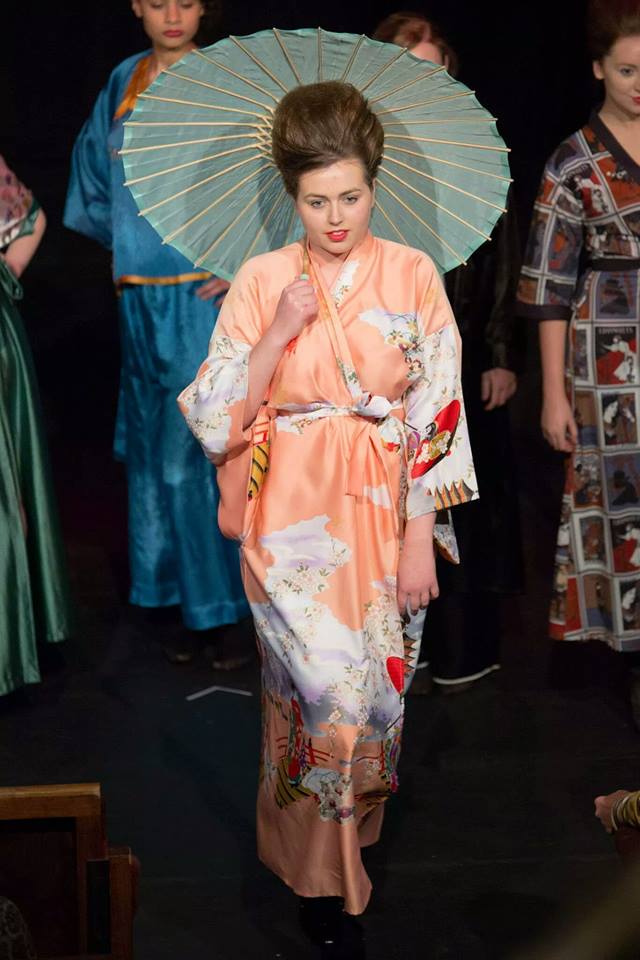 This fabulous pink kimono, modelled here by Frances in an image by Jonny Human, was a key part of the collection & I could have sold it 3 times on the night…In the end, it got to feature in the press, & be used in a photo-shoot by make-up student Joni Matthews before finding it's forever home with my friend lounge-wear fan Sam.
I was chuffed to find a couple of lovely paper parasols in a charity shop just before the show…
I was still searching out pieces up to the last minute, and had some really late in the day superb men's wear finds! As ever, I love to show men's wear; perhaps it's a natural thing to do as my hubby Simon is a big vintage clothing fan, because not many dealers actually do menswear, and in this instance, maybe because the male models I get for Norwich Fashion Week are just so damn good!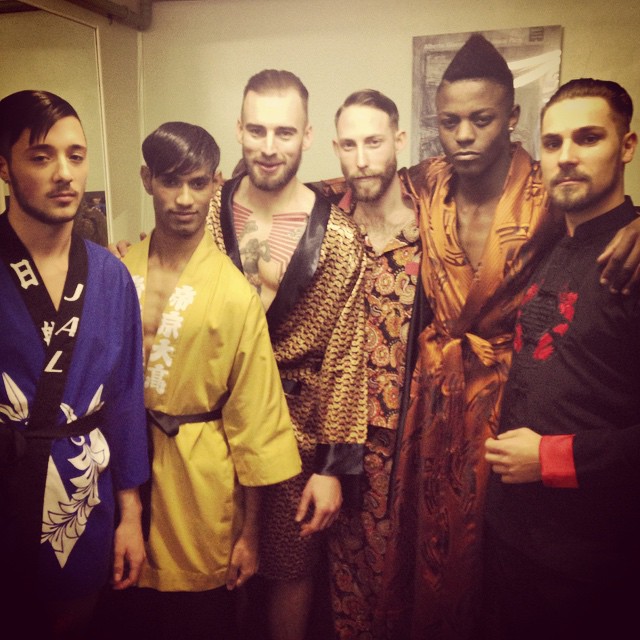 This time, I didn't fit the models personally but I had received the list beforehand with photos, sizes etc so had spent a challenging time (a bit like a jigsaw puzzle?) working out who was to wear what & you know what? on the day, there were no regrets! each model showcased their individual look perfectly – even if I (& no doubt many others) was slightly taken aback when Martyn Nantaongwe first appeared from behind the curtain…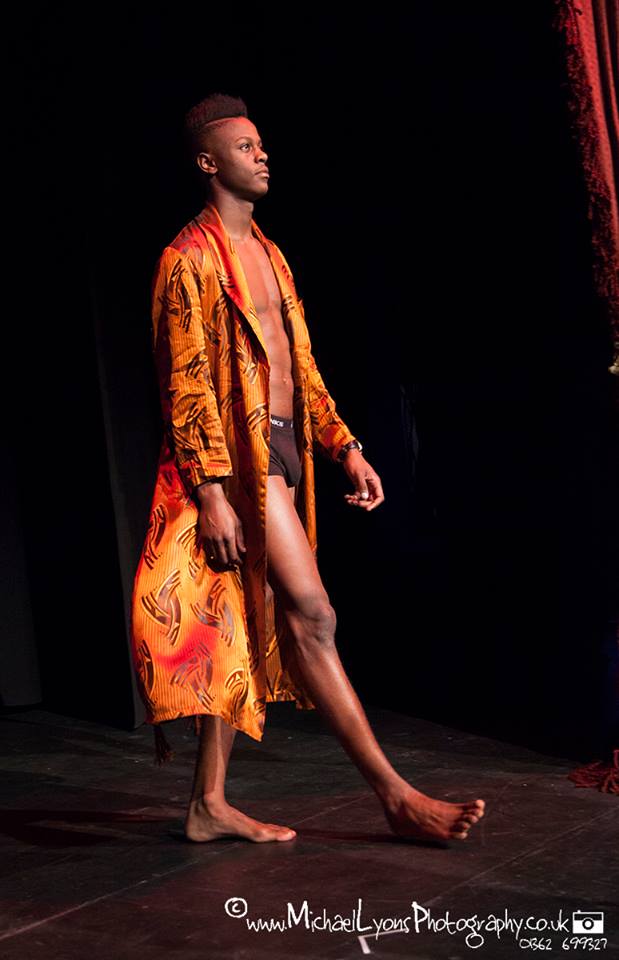 Totally rocked it Martyn – this robe sold on the night too! (Image from Michael Lyons Photography)
All the guys did an amazing job, totally won the audience over & definitely seemed to enjoy themselves!
This year, there were 2 sittings of the Vintage Show at Norwich's historic Puppet Theatre as tickets had sold so quickly last year so it was a very high pressured day all round, especially for the organisers & models no doubt. For me, having planned to go to both shows, the pressure was on for 2 stand-out outfits…
Matinee: Recently acquired kimono style jacket from Primark (LOVE the colours) with black underneath plus new Ruby Shoos and jewellery set purchased in Spain the previous month, happy with that one.
Evening: Gold 1930s oriental jacket that I had been saving for this occasion plus gold sandals & another jewellery set from Spain. VERY happy.
Thanks to the Michael Lyons photo booth for this one!
At least the 2 shows meant that the nerves were not quite so bad for the evening show & I could sit back & enjoy, although it was still over so quickly! Here are some highlights from the girls…
This year I had a fancy to pick my own records for my collections (DJ Three Bits of Rhythm was providing an oriental based soundtrack) I must be an organiser's nightmare for being so picky, but they did it for me and the Wanda Jackson tracks that had been in my mind since I found out the theme worked brilliantly (just listen to the eerie yet sexy oriental intro to 'Funnel of Love', and 'Fujiyama Mam' was a no-brainer!) I think it definitely enhanced the presentation of my outfits, and the fantastic audience reaction said it all.
I was overwhelmed with the success of the collections, the audience response and I recall the after party being a blur of being talked to , congratulated & people trying to buy the clothing, to the extent that I only grabbed a cocktail at the very last moment!
Definitely worth all the hard work & stress which lasted right up to the last moment….even the relaxing soak in the bath the night before the show was accompanied by a robe being steamed on the back of the bathroom door!
It was good to have hubby's support & participation, and he actually created the Face of the Show that appeared on all the programmes…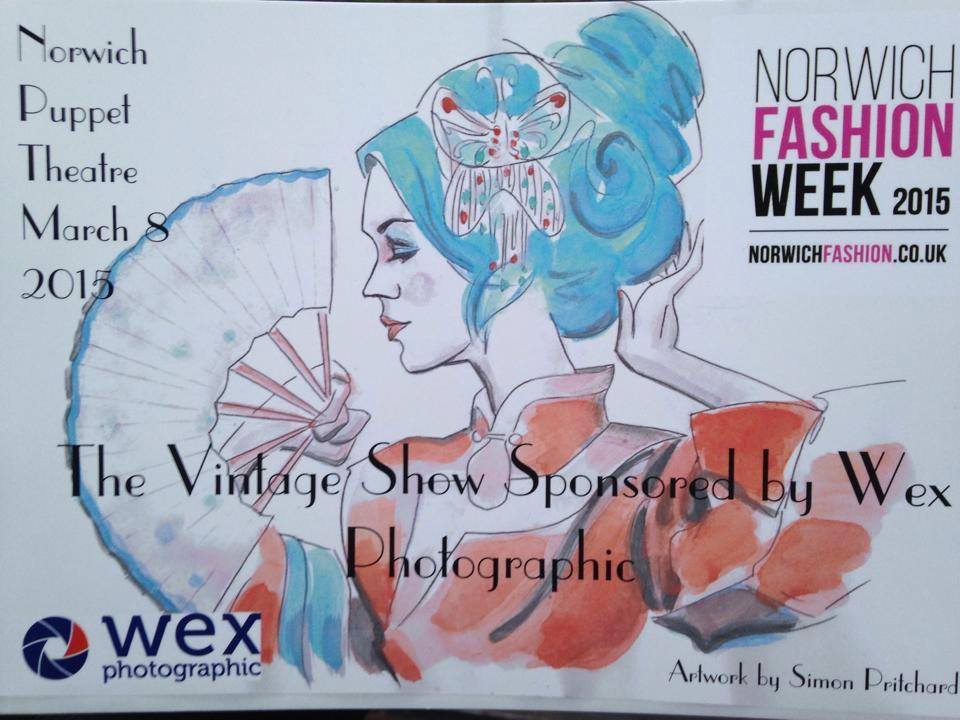 Beautiful artwork from Artbeat64
So, all in all very happy and onwards & upwards for Norwich Fashion Week 2016!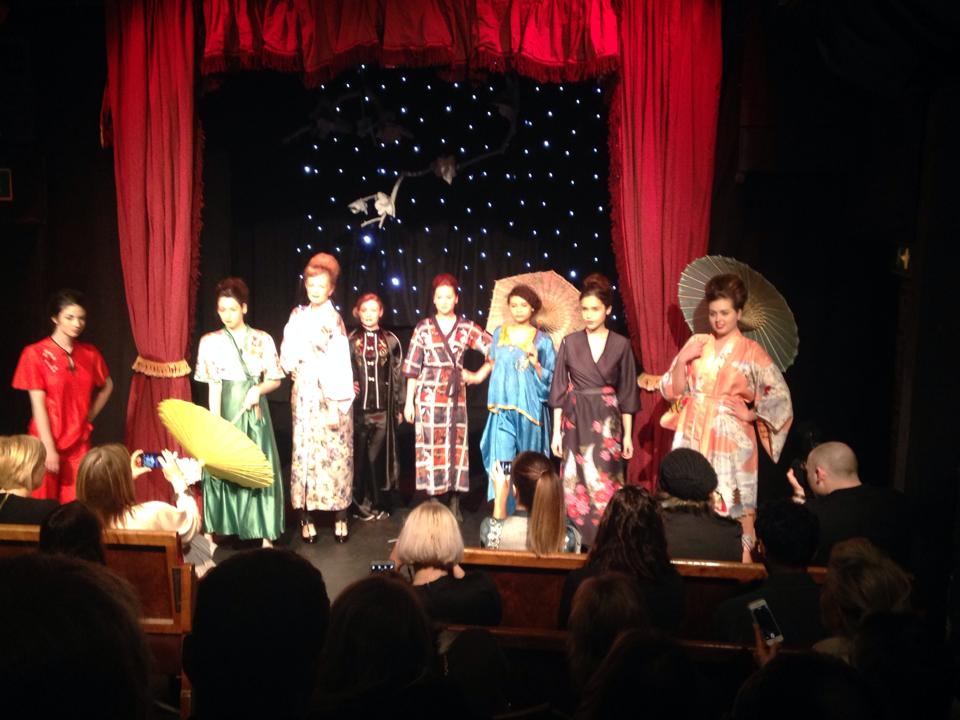 Visit my website for a comprehensive album of images from this fashion show.