I've recently made a couple of references on my Facebook page to a huge pile of skirts in my 'clothes room' which has become known as 'Skirt Mountain' & seems to have caught people's imagination, and I feel it may be therapeutic for me to talk about it….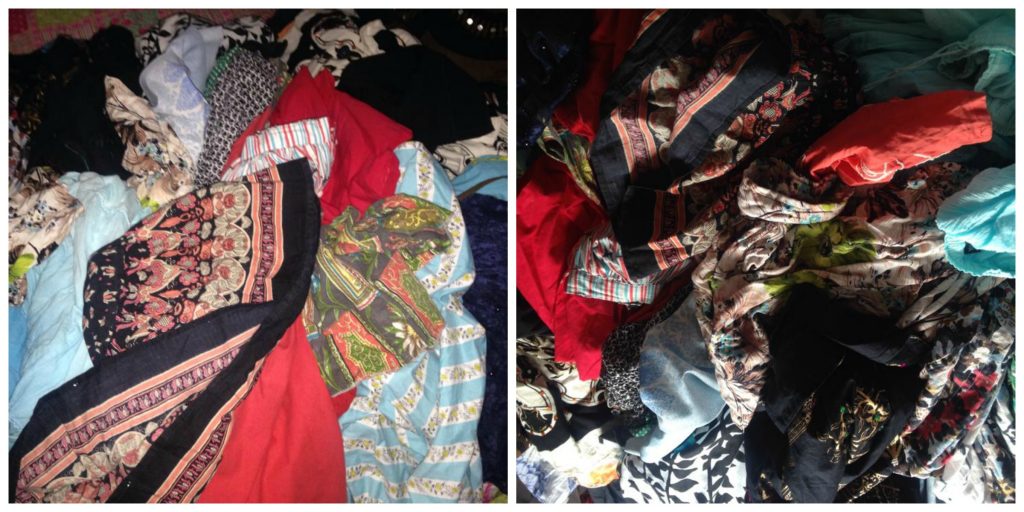 Here it is after being transferred to the bed for sorting, not sure these photos do justice to the magnitude of the job ahead of me…
To set my issue into context, I'll explain that I have been wearing & collecting vintage clothing for frighteningly close to 30 years now, mostly 1950s or '50s style, but these days anything I fancy. Whilst your average person probably continually updates their wardrobe as fashions change & things no longer fit & can always squeeze their clothing into an actual 'wardrobe', for people like me it's a different story! I know I'm not alone as I have friends who are like me in that they have a 'clothes room' rather than a wardrobe, and these rooms can largely be filled with fabulous vintage clothing that no longer fits & hasn't done for years!
These skirts & dresses are still in my clothes room & aren't likely to fit again…
As my taste in the clothing that I wear hasn't changed hugely since I started doing the 'fifties thing in the 1980s as a result of becoming immersed in the Rock 'n' Roll music scene, I simply haven't really parted with many things, as most of it I don't get fed up with & would gladly still wear if I could. Also, buying vintage clothing is different to buying new high street items in that everything is pretty much a 'one-off', an incredible 'find', maybe a gift ('this used to belong to my Mum in the '50s & now you can have it..') and definitely a piece of history, so one's wardrobe gradually becomes a 'collection' with stories & memories attached to everything and as I am naturally a collector/hoarder anyway (of everything, not just clothing!) it has gradually escalated over the years from a nice collection of lovely things that I will probably always wear, to a room absolutely crammed with stuff that I mostly can't wear (& the stuff that I can wear is in untidy heaps everywhere else in the house as it won't fit in 'the room') yet find it really difficult to part with for 101 reasons. I'm now finding, sadly, that this is bringing me stress & sadness rather than joy, so I need to have a sort out, maybe part with things, re-think my storage & maybe change my relationship with some of my possessions.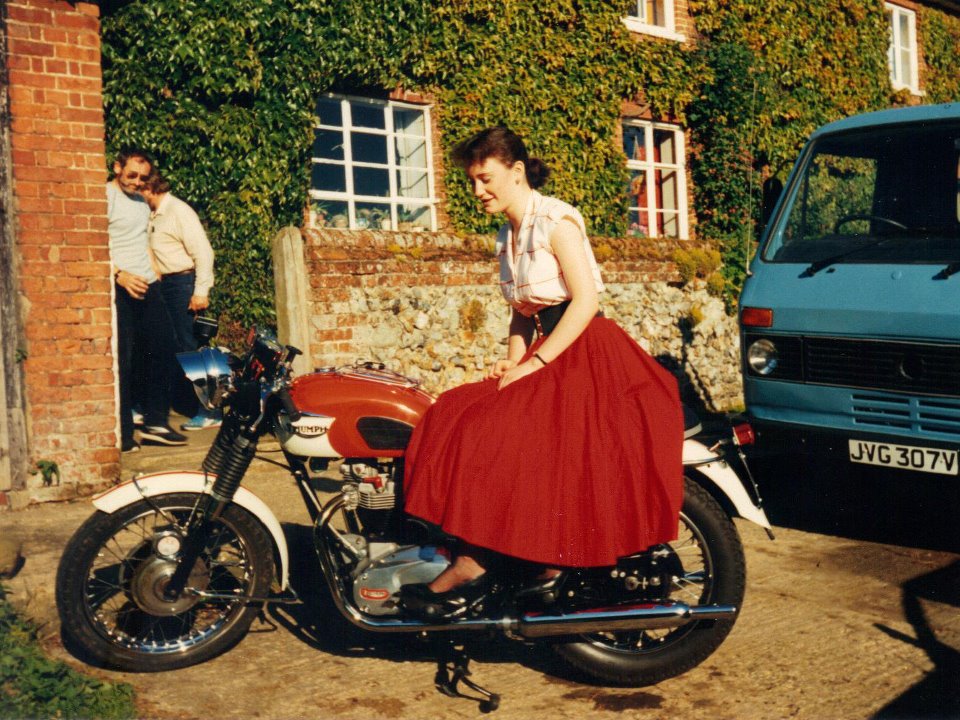 This photo from the late 1980s features a red circle skirt I bought from the Ted's Corner mail order catalogue (there weren't the many reproduction clothing companies that exist today!), my first piece of 'Rock 'n' Roll' clothing. I wore this skirt so much to go out in, for school,  sixth form & then at work and yes I do still have it! The waist comes in at 24″ so I can't see I'll wear it again but this is one thing I won't be parting with!
'Skirt Mountain' began as a nice plastic '50s chair that sits next to a rail in my clothes room & looked very nice (hey, I thought I  might even sit in it sometimes!) until it started to get heaped up with skirts that I had no room to hang anywhere & eventually you can't see the chair, the skirt pile is leaning on the rail behind & is starting to overflow & join up with the surrounding heaps of jeans & other stuff that doesn't fit on the floor. Just a mountain of clothing! With a view to sorting this out, I had a look at it a few months ago & decided to have a count up, establishing that there were over 50 skirts on this pile (& that didn't even include my bestest vintage ones which actually are hung on a rail!)
At this point I managed to shift a few things at sales & through Facebook, but the sheer amount of it frankly overwhelmed me & it all got piled back up….
So, now I'm having another go as I increasingly feel that life is too short to get bogged down by possessions & if I can exchange 'stuff' for cash that may allow us to travel more & have experiences, then that can only be a good thing.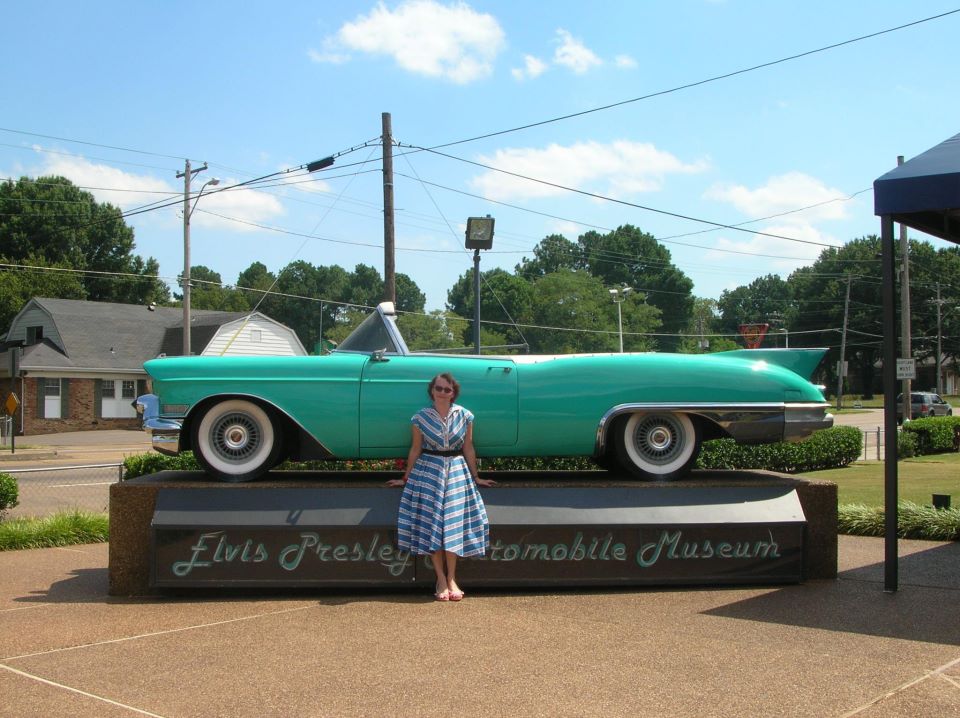 Like more happy holidays in America!
So, what categories of skirt am I finding? I don't just hoard vintage stuff but everything  I buy really & I have a fair amount of the Mexican style sequinned skirts that were all the rage in the high street shops a few years ago, Primark had some lovely ones, and this may be an easy one to tackle – they are really nice so any that don't fit should be easy to shift (already sold a few on FB!) & any that do fit – result! Still happy to wear them. Always like to wear the 'high street does '50s' items for work & everyday, but did once wear a particularly nice Primark skirt at a weekender, only to find another 6 girls wearing the same one…that's the price you pay!   Similarly I have a bunch of elasticated waist, tiered gypsy style skirts that I like for everyday so a good exercise to remind myself of the ones that fit & get some use out of them, & move the small ones on…
It gets tricky when it comes to actual vintage, as I know genuine nice '50s skirts can't be so easily replaced anymore without paying a higher price, although the plus side is that being able to get a good price for something eases the pain of parting with it….If it's something I didn't wear much or at all, not so bad (back in the days when you could pick up '50s vintage cheaply in charity shops I'd buy it if I liked it or not) but I find it hard to consider parting with things that I wore & loved a lot, or wore for special occasions (the first weekend I met my hubby, holidays in America etc) & I can remember so clearly where & when I bought certain things. Although I'm sure I will feel better when some of it is gone, I still don't know how I will get past some of those feelings!
My husband Simon is the same as me in terms of collecting & we have decided to have a 'Memory Trunk' in the loft where we plan to store stuff that doesn't fit but we can't part with right now, at least it's safe without clogging up the clothes room (& continually reminding me I have put on weight!), should free up some much needed space & if we revisit it again later, we may eventually feel differently. It's a start! My Ted's Corner circle skirt is definitely going in it, as well as another lovely skirt that Simon bought me when we first met.
OK, I feel a bit better already so now back to decision making….Does it fit? Is it likely to ever fit? Can I part with it? Where did I buy it? Shall I give it away? If I can part with it, where should I sell it? Keep going & don't get bogged down….
If you stayed with me this far, thank you & stay tuned for the next episode when I tackle 'blouse valley' or maybe 'dress canyon'…..