Around this time last week I did two things that may not seem a big deal, but made me feel really confident and happy.
1) I wore a bikini! I haven't attempted to put on such an item for a while as we haven't had beach holidays, and although we had lots of beach days out years ago, lately we just don't seem to have the time (or if we have the time, we don't have the weather) and I'm happy gardening in shorts & a sun top, so no need to keep up to date with bikinis that fit.
I will also add that I have gradually been gaining weight over the last few years (the reasons are many & varied: age, a sedentary job for 24 years, comfort eating during a stressful time & just eating too much of the wrong (i.e. nice) stuff – you know the score) which has kind of put swimwear out of my mind too.
Anyway, in view of the mini heatwave in Norfolk last week me & hubby Simon agreed to down tools & treat ourselves to a beach day (who knows how long this sunshine will last?!) which I was really excited about & I was determined to make it a proper beach day, involving sun lotion, laying on the sand with a book, ice cream, going in the sea & everything. So, if I was hoping to go in the sea – what to wear? I rummaged in the underwear/swimwear drawer not too optimistically but just in case, & happened across a bikini that I'd actually forgotten about – the most recent one I'd purchased, but still a while ago….OK, let's try it on, if only to give hubby a laugh, but I actually got in it!! the bottoms were fine & the top did up too. On closer inspection, there was really more boob than bikini (one plus side of putting on weight has been developing curves where I never had curves before, & that's been nice!) but hey! I skipped around the house in it for a bit & do you know what? I felt really liberated. I know it's pretty much the same amount of fabric as bra & pants, but it's not the same….
So far so good, I decided the amount of boobage on show was perhaps excessive, so I found a square necked T-shirt to wear over the top should I actually go right in the sea (which I planned to!) and away we went!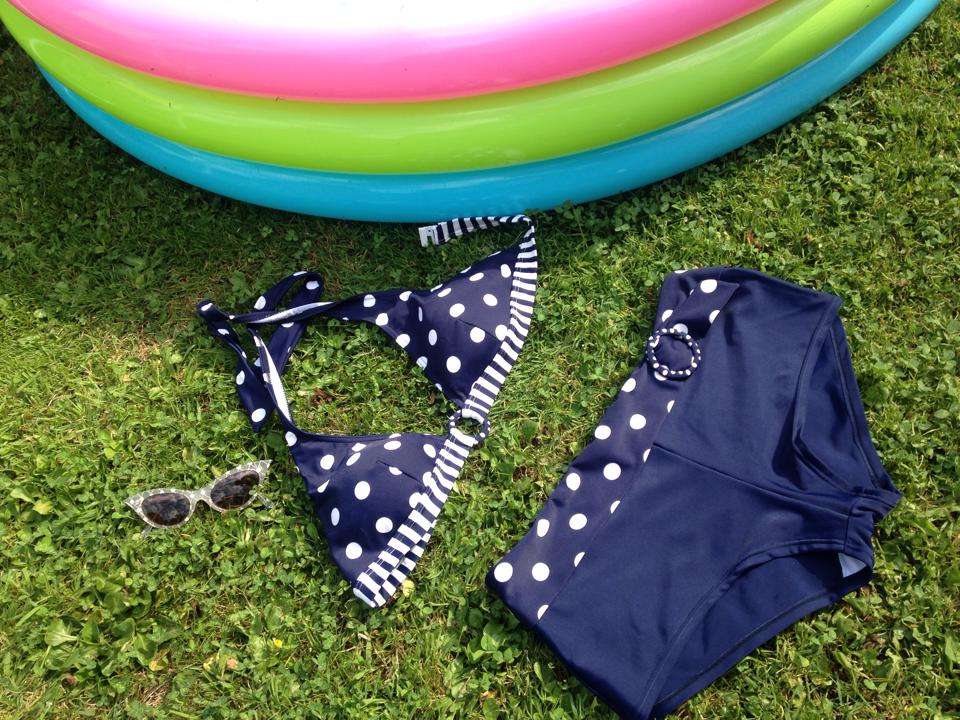 (I'm not going to show you me in the bikini (photos didn't get taken that day, I don't believe that i-phones & sea water mix real well) but I can see why I bought this one, for all it's retro charms…) 
2) I properly went in the sea! Again, this is something we used to do a lot years ago (before time started to speed up), hubby Simon is a fantastic swimmer & although I'm not (never did get into the whole swimming thing as a child) I have always been happy to have a bit of a doggy paddle & splash about. However, like lots of things, the longer you go without doing them, the less inclined you feel & I really don't want to hit that point where I'm thinking 'Nah, I'm a bit old for this, I'll just sit here & watch…'
So, we're on Mundesley beach & I'm definitely paddling – the sea was fab in that it was warm from the start, although slightly disconcerting that the sand was stirred up to the point it really looked like mud & you couldn't see your feet even in the shallows…..then I'm wading, my T-shirt is getting wet and I've decided, I'm going in  this sea properly up to my neck, and I did! Helped by the fact that there's a kind of sand bank on this beach that means you have to go a LONG way out to be out of your depth (so my feet could touch the bottom at all times!)  I stayed in happily for what seemed like ages, gloriously up to my neck in warm salty water, jumping into the waves & although I didn't attempt an actual swim, I did lift my feet off the bottom a bit! No big deal? maybe not, but I felt absolutely fantastic, so positive, youthful & invigorated and looking back at the cliffs & the shore line, I had a special moment to myself & decided lots of things from promising that I would do this more often, to realising that life really IS too short to not just DO IT – wear that bikini, be brave enough to get in that sea, make the most of your life & be happy.