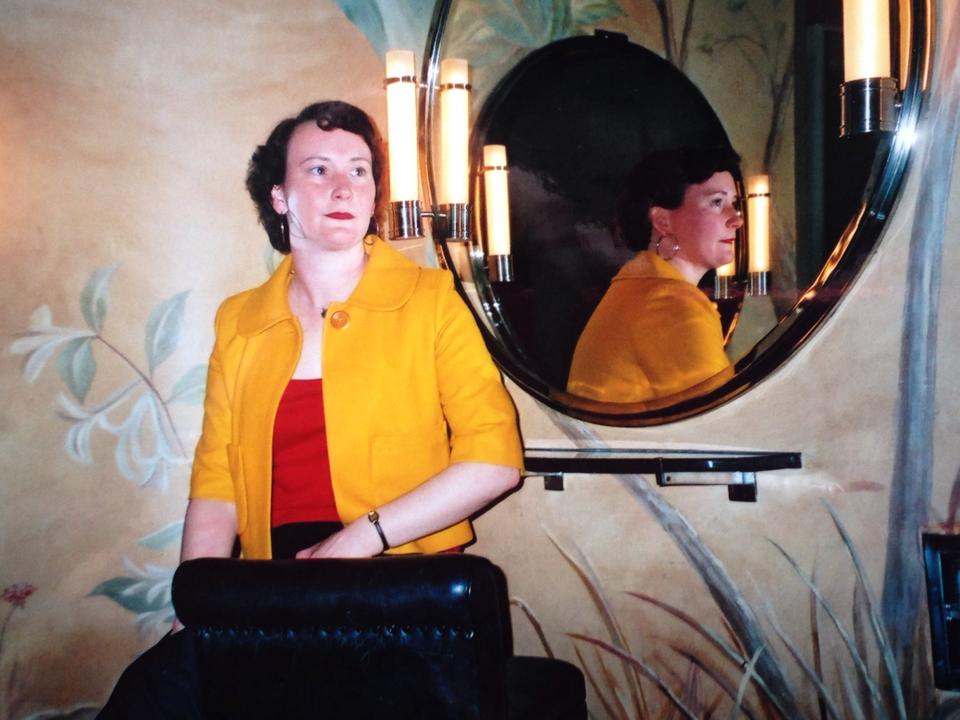 Some of you may already have followed my journey to conquer Skirt Mountain, and if not, I would encourage you to do so as it sets the scene for the next challenge ahead of me & gives some background as to my relationship with my collection of vintage clothing & why I have so much that it's making me sad rather than happy….If you're already in the know & are wondering about that journey, well the skirt summit hasn't yet been reached but I'm slowly getting there!
Moving on, I suddenly felt an urge to tackle my jacket & coat collection, mainly because it's getting towards the time of year when I will have to wear them & I don't know what fits or exactly where it is…and inspired by my earlier assault on my 50 + skirts, I thought it would be a good idea to see what jackets could be moved to the memory trunk in the loft, which ones could leave the house altogether, what could be sold (yay! holiday money!) &, fingers crossed what I could wear!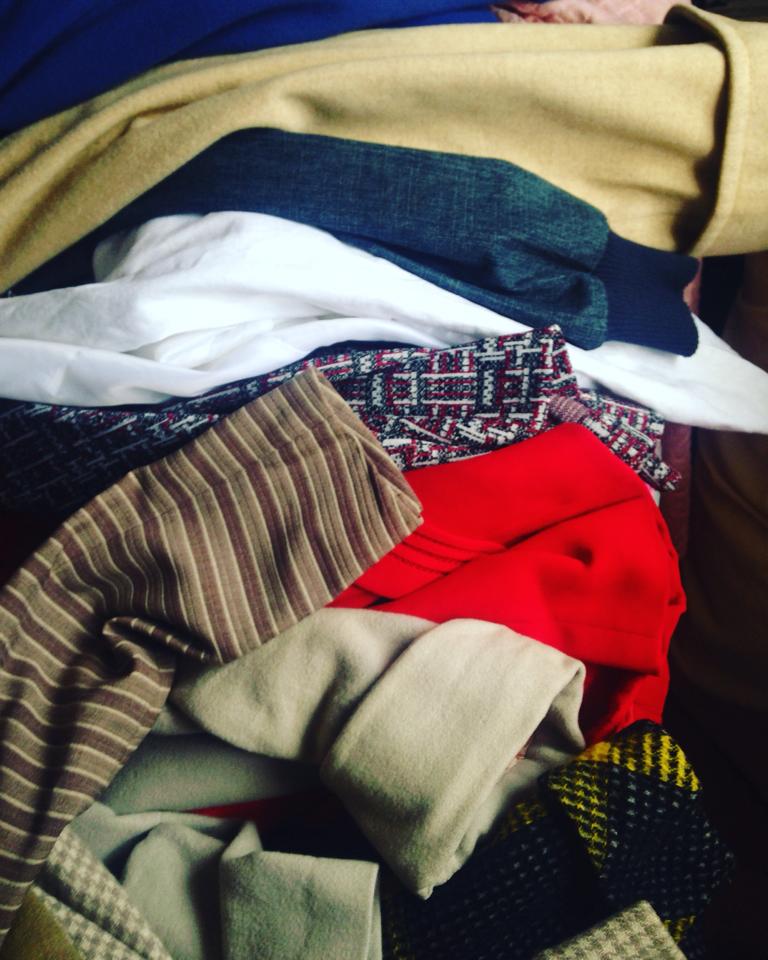 So now they're all laid out on the bed & there's more than there looked on the rail…(plus that's not all of them…) At first count, around 40 from just one rail in the infamous 'clothes room'…
Some I knew were there & will go straight into the memory trunk of things I will never wear again for whatever reason, but at the moment absolutely cannot bear to part with (whether this will change if I lock them away in a trunk & revisit them later, I cannot tell). In this category is my very first black & white college jacket  bought in the late '80s when I was first trying to find a look to fit the '50s & '60s Rock 'n Roll music I was falling in love with – it still fits as it was a loose fitting '80s fashion one (from Norwich market) at the time but the vinyl sleeves are disintegrating & I'm no longer happy about the Confederate flag on the Buddy Holly patch I sewed (or maybe Mum sewed) on the back. Lotta happy memories, so not binning that one yet.
Another favourite from the old days….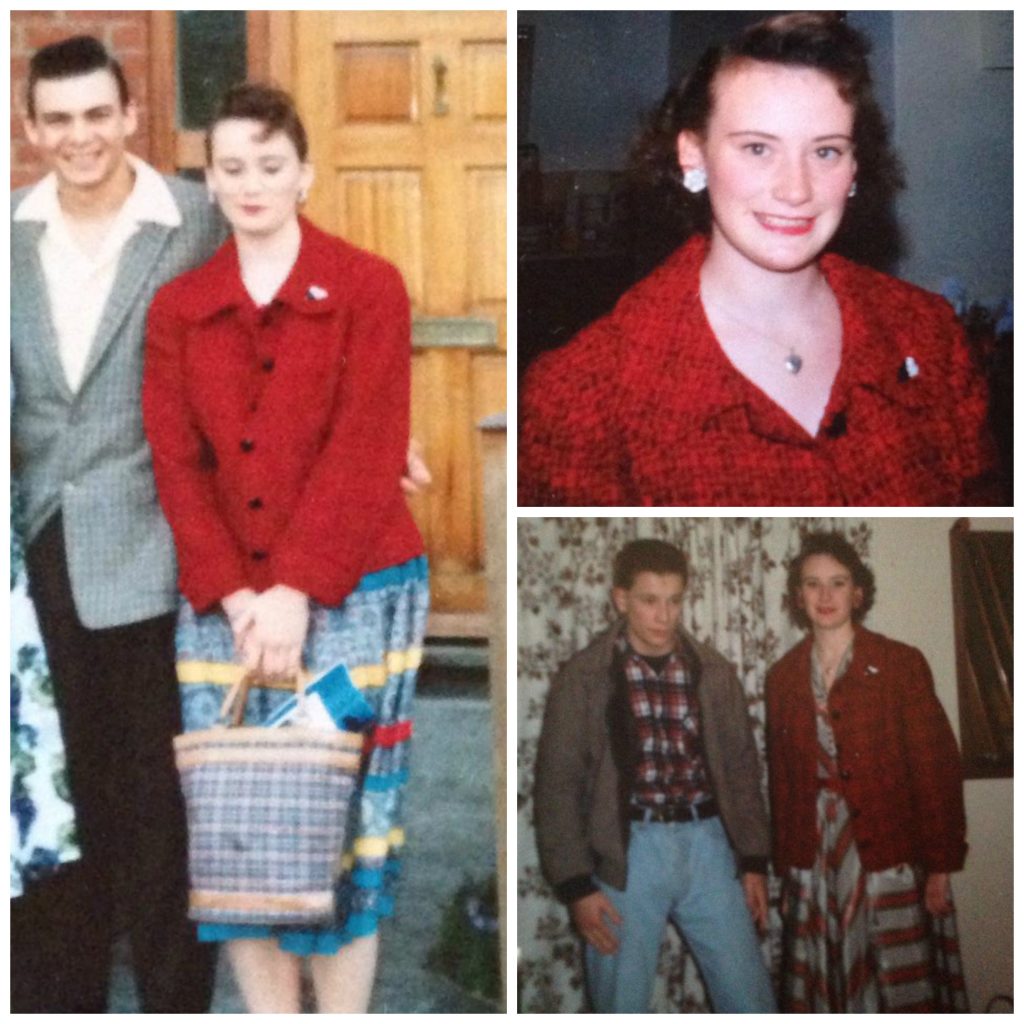 This red & black wool jacket is probably my all time fave, these photos are from 1990 and I remember picking it up for £3 for a local indoor market (with a little striped '40s fitted jacket for £3, still have that too!) and wore it so much with dresses, jeans & pedal pushers. All these years later, the plastic black & white Scottie brooch that was my Mum's as a kid in the '50s is still on it. Have just tried it on & you guessed it, too small, but  how can I part with it?! you can see my dilemma.
Similarly the army surplus prison jacket that a lot of us 'Rockabillies' wore back in the day – goodness, the things we bought to get our look then & we were much more creative being youngsters with not much cash! Our local army surplus shop, Becketts, was a great style source as I remember many lads wearing the RAF jackets with their jeans & everyone had the RAF black lace-up shoes which I think retailed at around £4 and I still think looked much more 'authentic' with jeans or trousers than the expensive reproduction fare that is available these days. But I digress…
College jacket, red wool favourite  & prison jacket in the memory trunk….I found a couple of modern vintage look-a-like things that I'm happy top sell, and at the same time put my white faux fur bolero from BHS back on the rail, ready for Christmas!
My 'bad girl' leather & denim jackets are still there, way too small but putting them to one side for a photo shoot idea (watch this space, vintage lingerie fans!), as well as some lovely suede Western style jackets from when I used to wear jeans…too small but still don't wanna sell them, help!!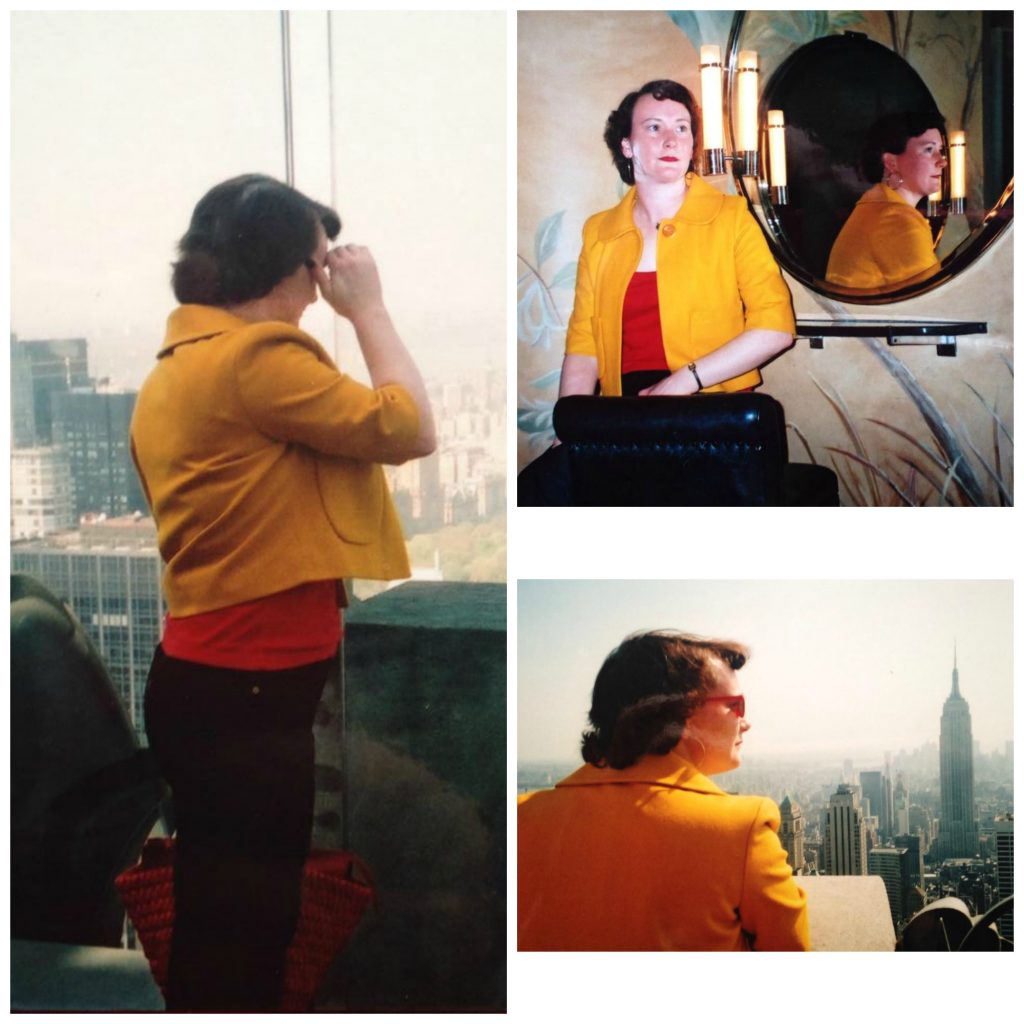 Here I am at Radio City Music Hall & on top of the Rockefeller building in 2008.
Also currently (but hopefully not terminally) a bit snug is this beautiful mustard short jacket that I bought at Lansky's store in Memphis during one of our trips a few year ago, the ladies-wear side of the shop being manned by Bernard Lansky's Granddaughter. I would keep it for this reason alone, but it also looks fab with a lot of outfits & was part of my capsule wardrobe on our 2008 New York holiday. Fingers crossed I'll be able to wear this one again!
Browsing through my NY photo album also reminded me of this rather yummy jacket which I haven't worn for a while but can just about get on…these pics also made me realise I haven't worn trousers or jeans for ages…
This one reminded me too that I have a habit of keeping things in pockets for ages as one pocket has the ticket for a ghost walk in Norwich many years ago, and the other pocket the ticket for the New York bus tour from 2008! History in a jacket.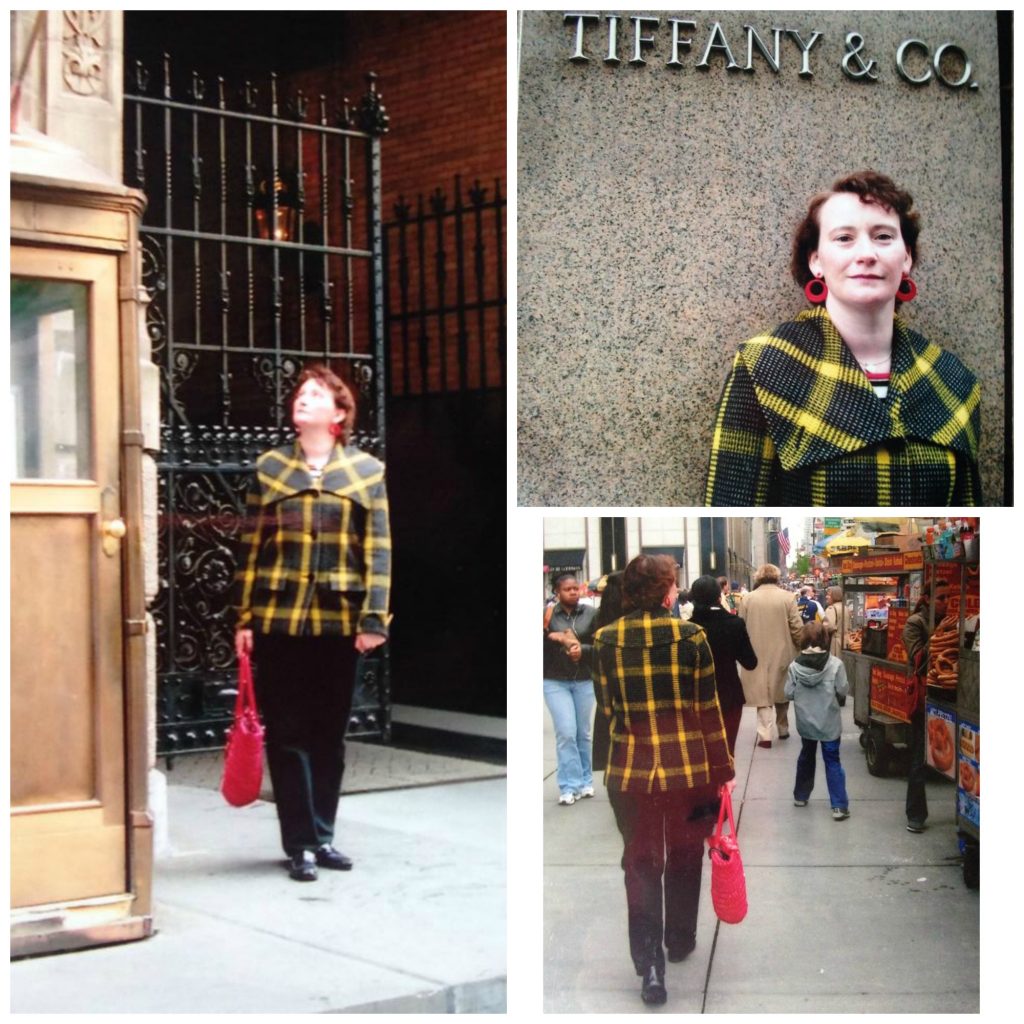 At the Dakota Building, outside Tiffany's & heading down 5th Avenue…
Amongst the various '50s jackets bought over the years from vintage shops & weekenders (some of the looser 'swing' style coats still fit!) and multiple charity shop finds, are a couple of fitted designer jackets passed on by a former employer of my Mum's (photoshoot pile!) & a white Wallis jacket still covered in coca cola stains from an incident at a wedding in 1997 (dry cleaning pile!) and other assorted acquisitions, all with a story…
You may have spotted that I don't seem to be finding many to get rid of…oh well, at least they're going back on the rail in a tidier fashion, some are going in the loft & I'm reminding myself of what I have & what I can wear.
Not forgetting I also have another rail featuring full length overcoats too…I know there's a very neat grey fitted 1940s overcoat in a corner somewhere that Dad bought for me when I started my first proper job in 1991 as up to then I only had 'casual' jackets. As the job was for the Civil Service, I thought I would have to wear 'proper' smart clothes, & on that shopping day with Dad I also bought some shoes with heels (being straight from sixth form college, all I wore then were ballerinas with dresses & loafers with jeans). Turns out there was no real dress code & you could wear what you liked, but that's the story behind the '40s coat I bought at the age of 19! There's no question it will never fit again, but I think I will save the 'do I part with it' dilemma for another day…
Unfortunately in the natural course of disrupting 'Jacket Precipice', I seem to have inadvertently uncovered one of a series of 'Shoe Ravines' that now also needs attention…stay tuned for the next chapter !