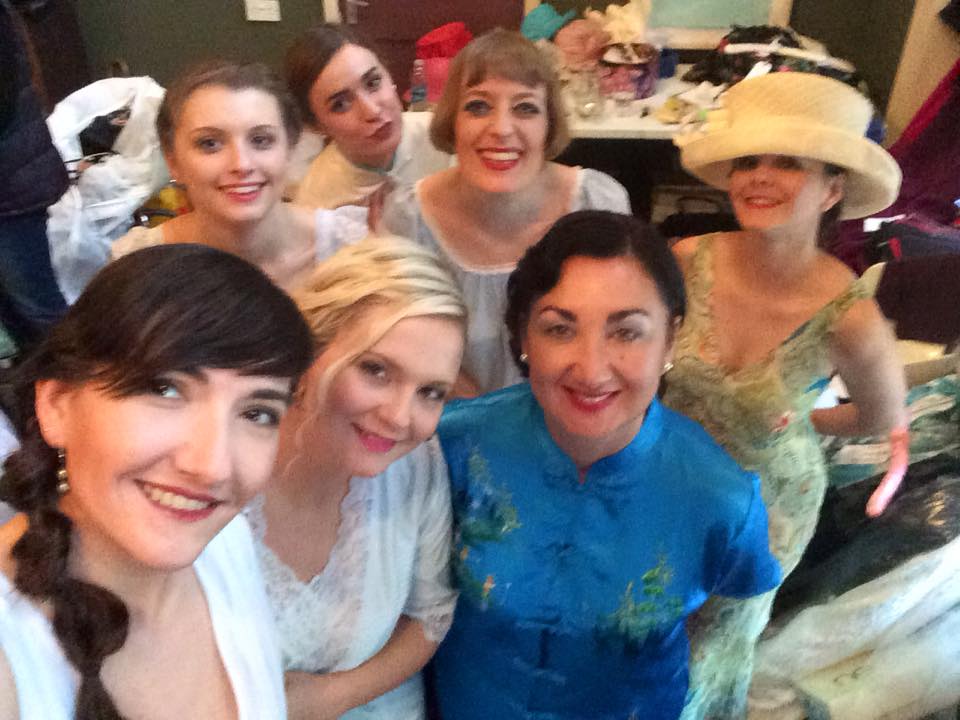 It's incredible to think that a year has passed since THE day of our big Fashion Show in Norwich, on 7th November 2015, when planning it had dominated our lives for so much of 2015 and there was a time when I absolutely couldn't picture the day actually happening, and certainly couldn't begin to think about how I'd feel when it was all over, & what I would actually do with my life after Fly Me To The Moon !
To rewind, Part 1 and Part 2 will tell you all about how this big venture came about, when me and Sarah from The Wedding Shed got together to plan something big to promote our businesses having being released into the wild by our former employer….I'll give you a moment to refresh your memories…
 So, after all that planning, talking, meeting, worrying, picking outfits, choosing music, making up goody bags, printing, advertising, gathering models & helpers and so much more – we actually did it! Our very first event and we hosted a successful fashion show in a beautiful & popular historic venue in Norwich with 28 models (including 2 under 10 year-olds & 6 men (although the boys were very well behaved)), a Team of hair & make-up ladies, a DJ, a host of helpers, over 100 outfits and of course a sell out crowd!!! To reiterate, WE DID IT!
The day itself was a bit wet & gloomy so unfortunately we couldn't have our guests arrive on a red carpet as planned but no matter, The Library is an impressive location in any weather & anyway, that was the least of our concerns….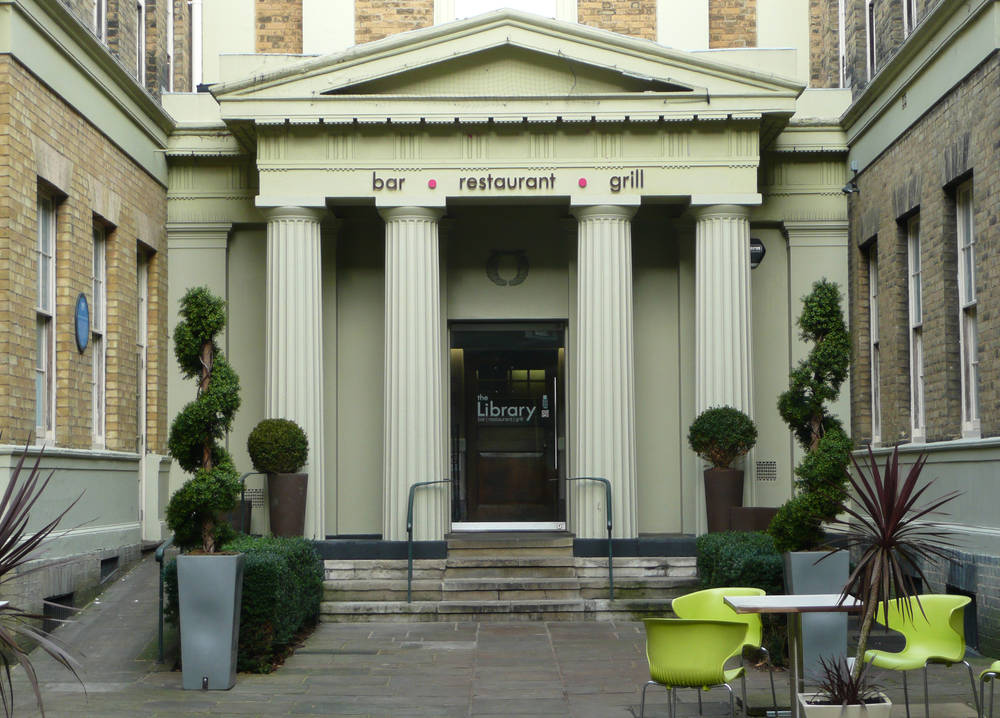 First to get all the early arrivals where they should be – we had a brilliant Team of hair and make-up personnel and we had delegated most of the planning in that department to Naomi Edwards of White and Rose and Cheri Knock of Cheri Morello Studio who had been with us since the beginning of our journey. We were also very lucky that they had secured the loan of the Norwich School of Beauty for the morning so off went the models in shifts, around the corner to come back later all ready to go!
A few behind the scenes images of our trusty hair & make-up team in action…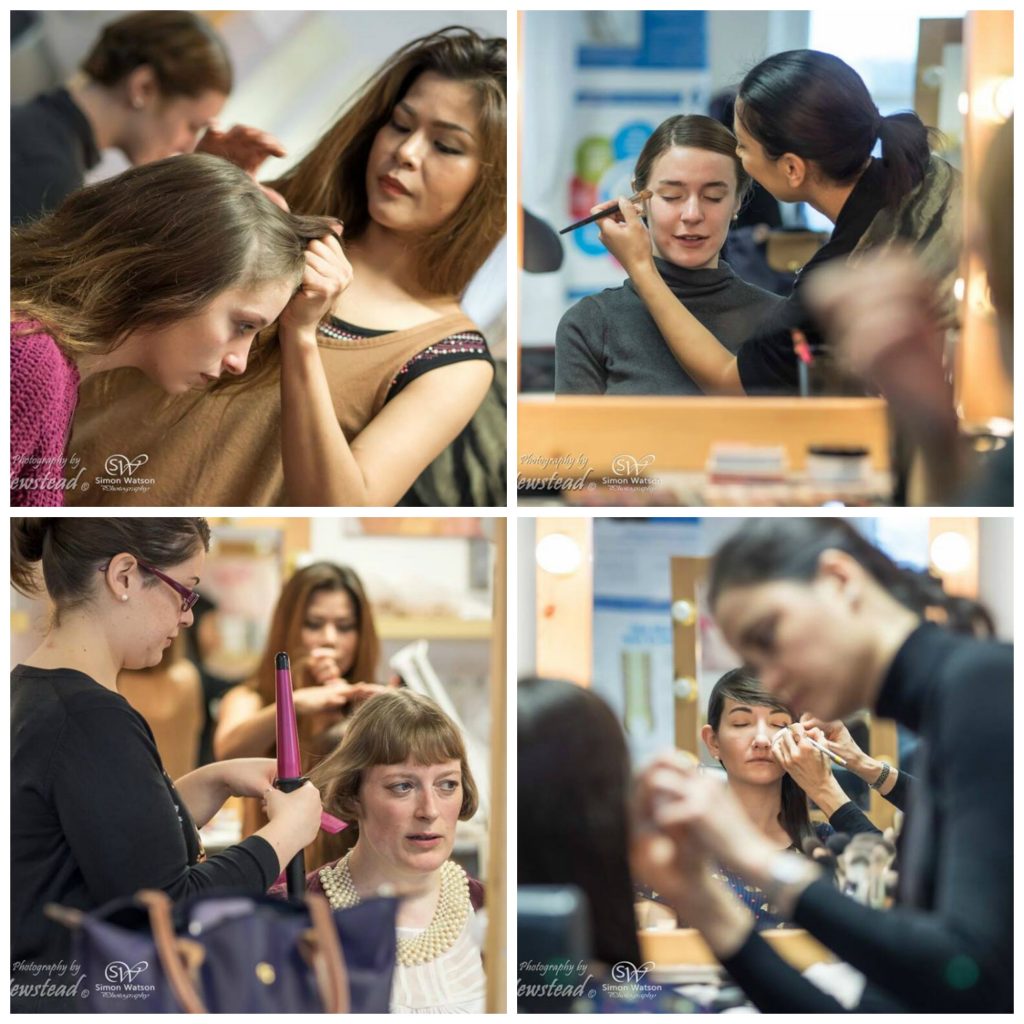 Our trusty photographers Simon Watson & John Newstead, also with us from the start, were there at what felt like the crack of dawn too to capture the whole day as it evolved…..
So, what to do – everything! Get those silver stars hung up, tell the DJ where to set up, organise water & snacks for everyone, get those chairs moved….Sarah & I had got most of the outfits there a couple of days before, all hung on a big rail, all labelled & in perfect order….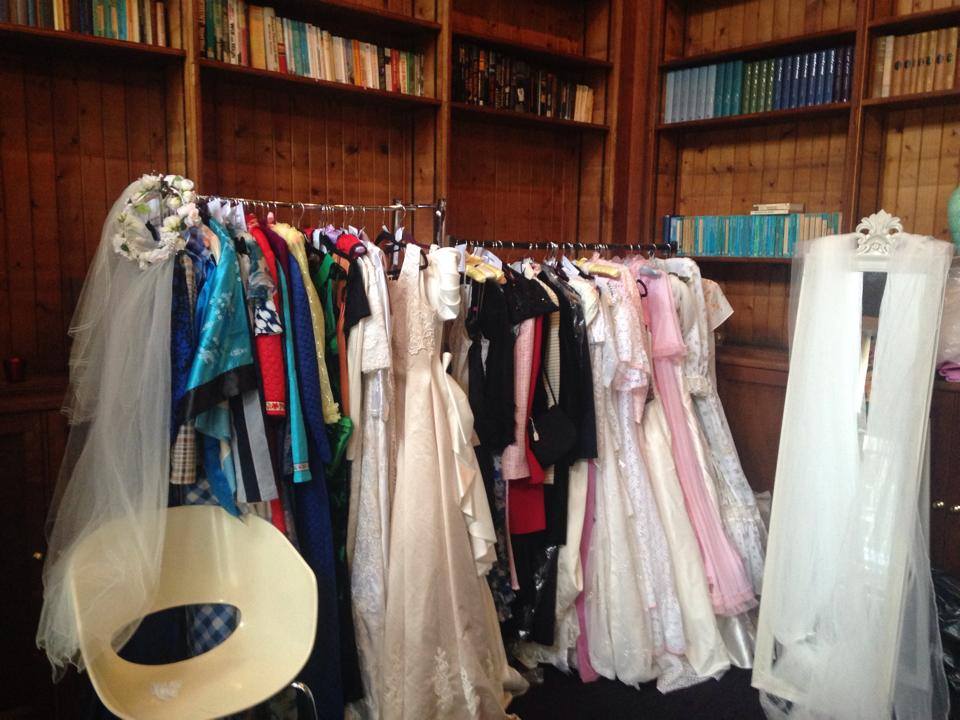 Did that last long? of course not…..as models arrived they naturally wanted to try things on & gather all their outfits in their own little corner of the room so it very quickly looked as if the proverbial bomb had hit the place but, I assure you, it was ordered chaos….
As these lovely 'behind the scenes' images from Nutcharin Baxter, an important part of our beauty Team, show really well – definitely capturing the atmosphere backstage!
   Yes I had a clipboard!!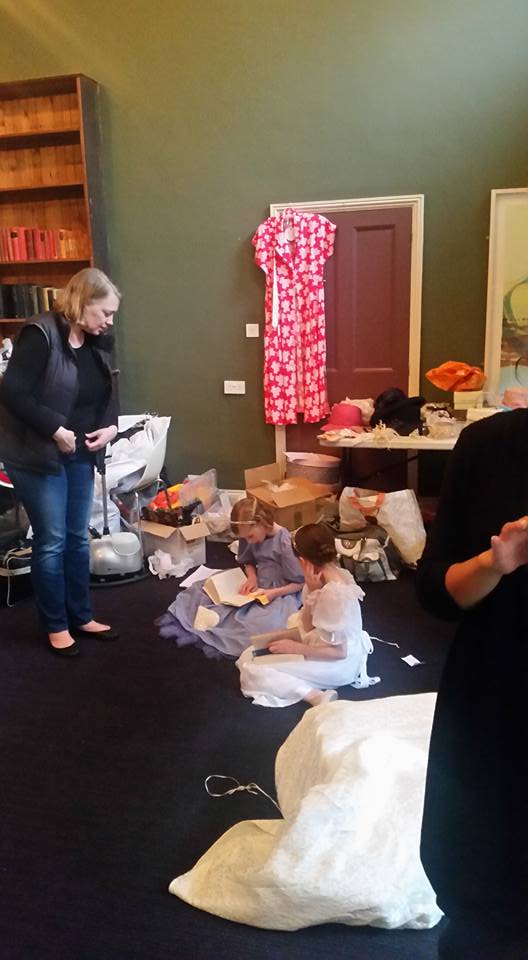 ..and little Chloe & Emily Fearn were so well behaved!
In the midst of all the trying on & making up, we managed to shove a lot of the models out into The Library once they had on an outfit in order for John & Simon to capture some beautiful portrait style images in the great setting, before the show itself got underway.
Here are some of my faves featuring my vintage nightwear: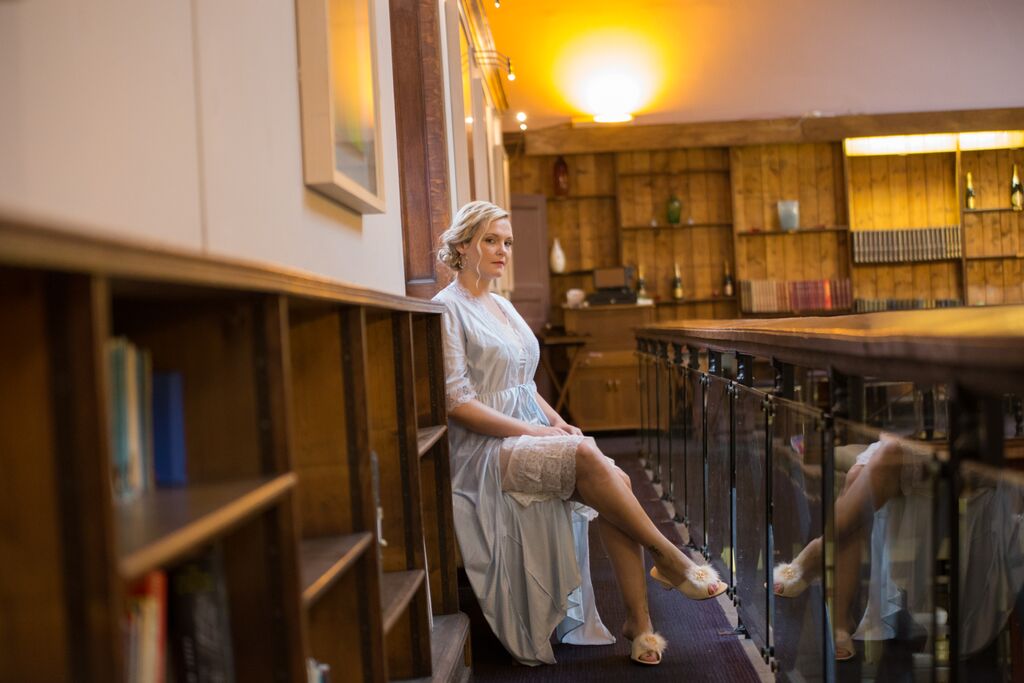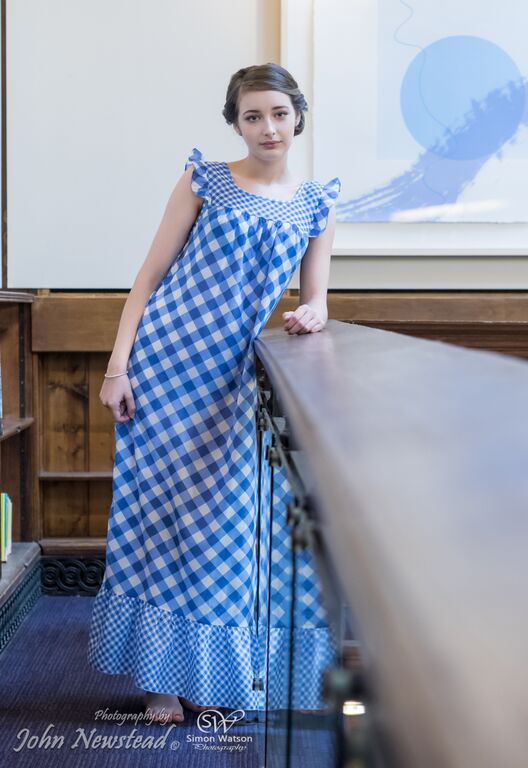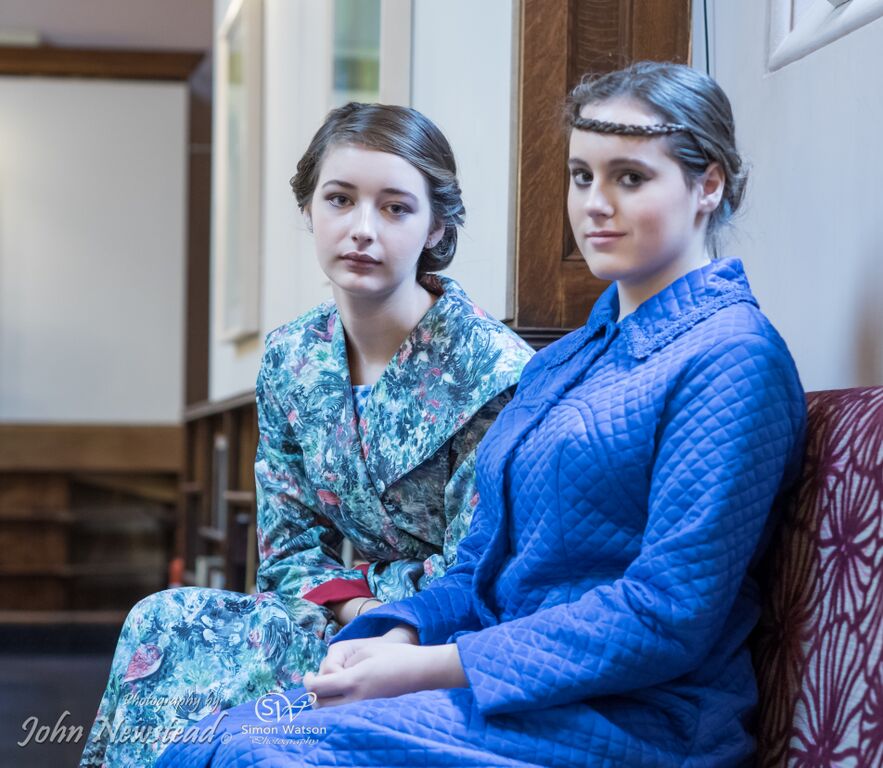 Featuring models Liza Marie Dunnell, Emily O'Dell, Gerda M-Blondie, Isobel Henry & Beth Wright. All looking so serene despite the fervour going on backstage!
A lot of really lovely shots were captured of Sarah's vintage wedding wear too: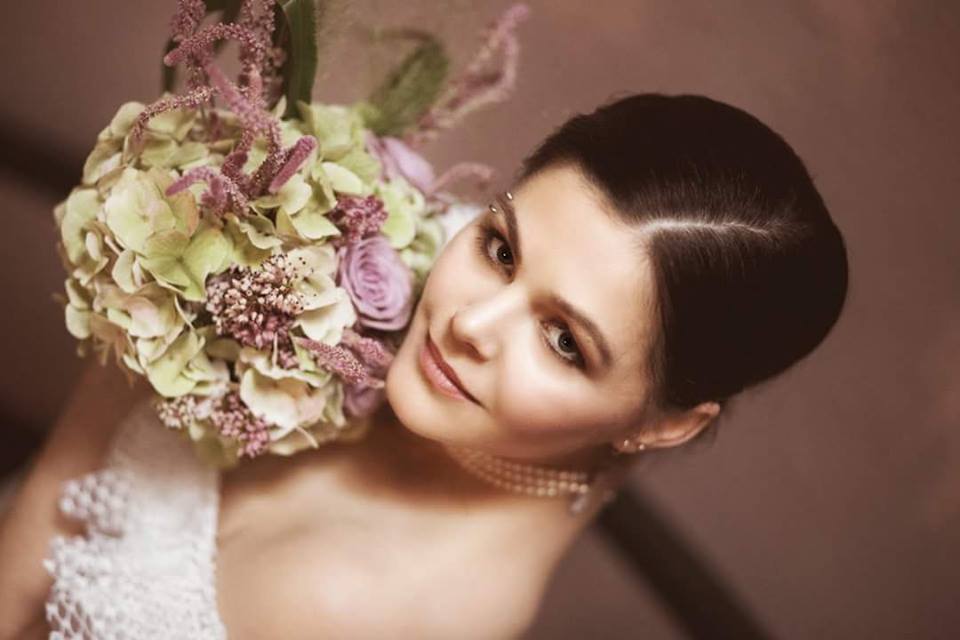 Model Estelle Long.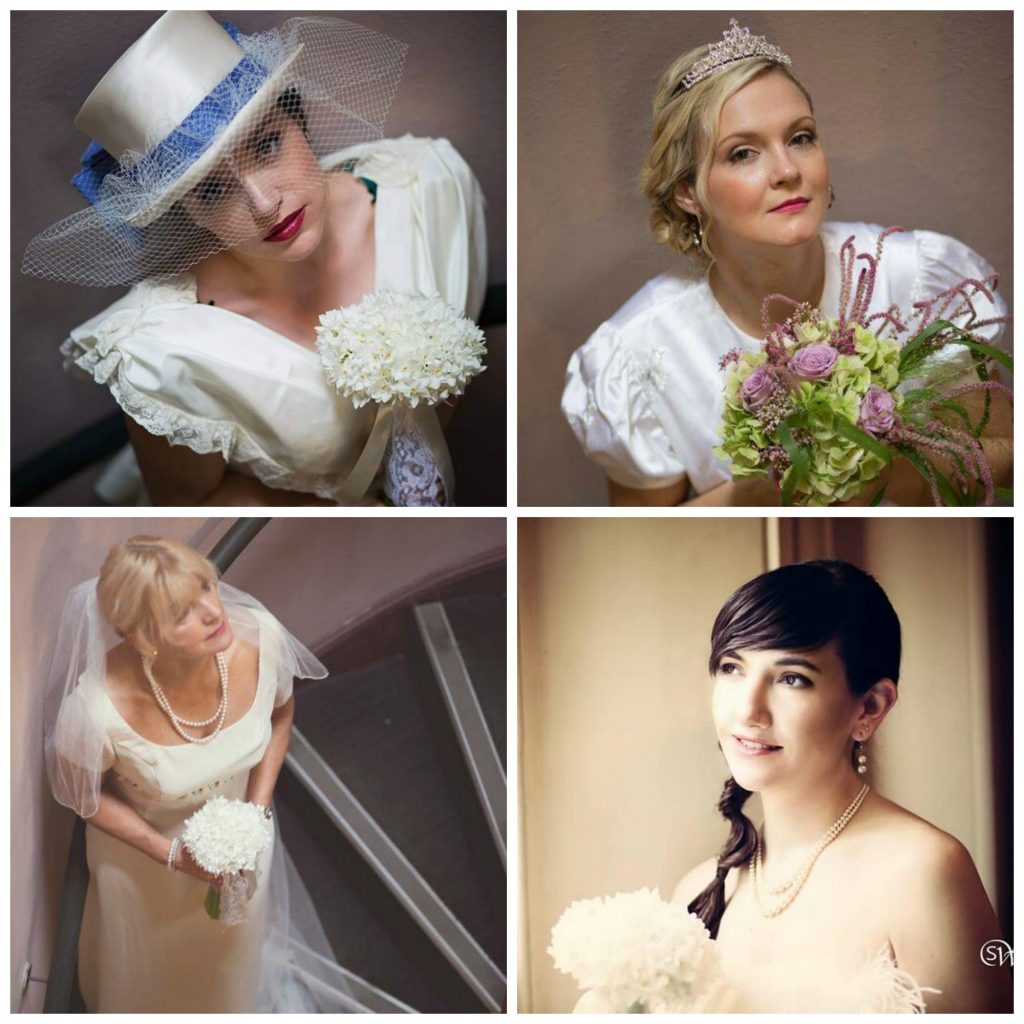 Hayley Kenyon, Liza-Marie Dunnell, Sue Stanley & Laura Landamore.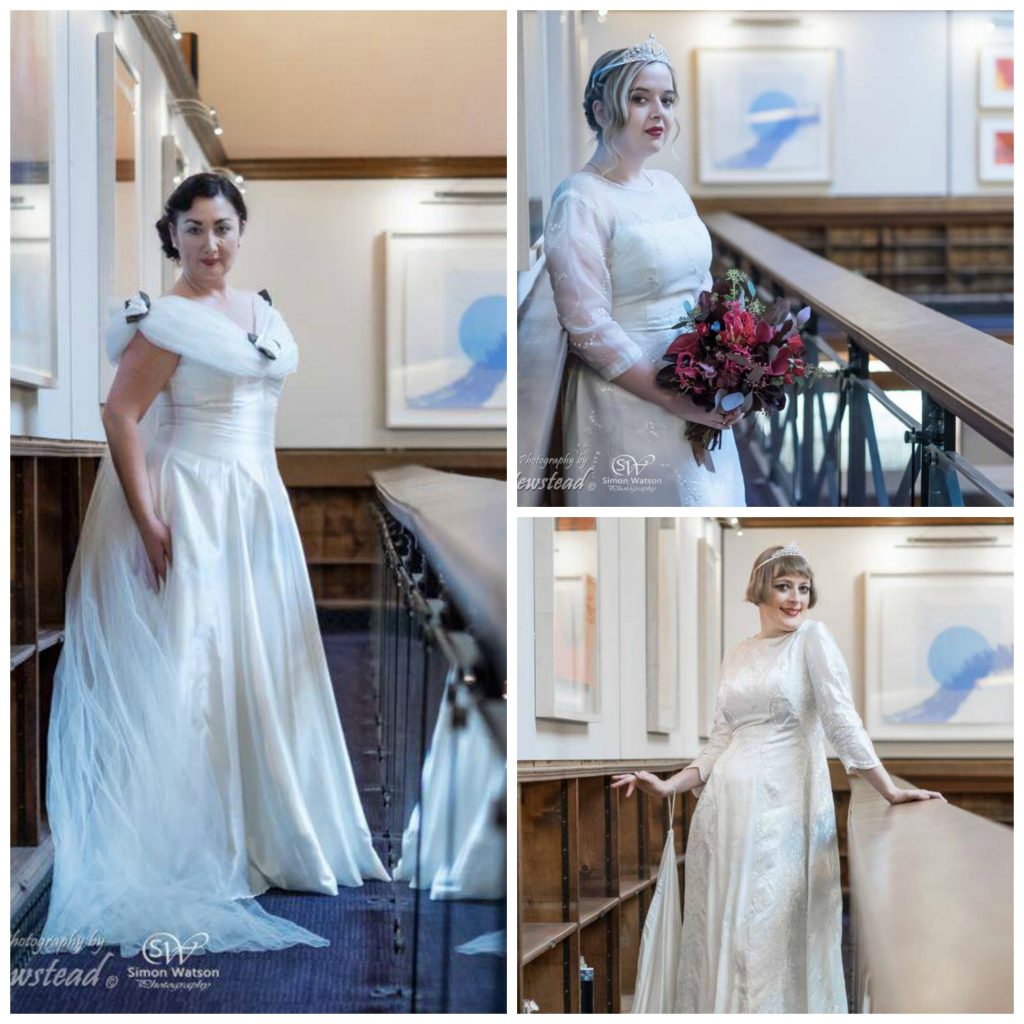 Eve Layzell, Emily O'Dell & Beth Reeks. 
And not forgetting these 2 cuties….Emily & Chloe Fearn.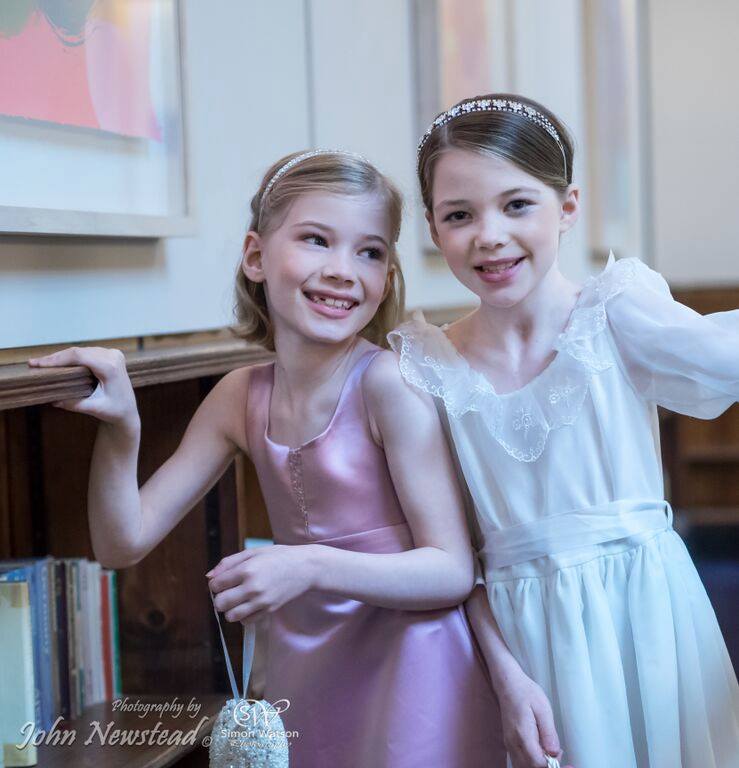 We had time for a little bit of a run through…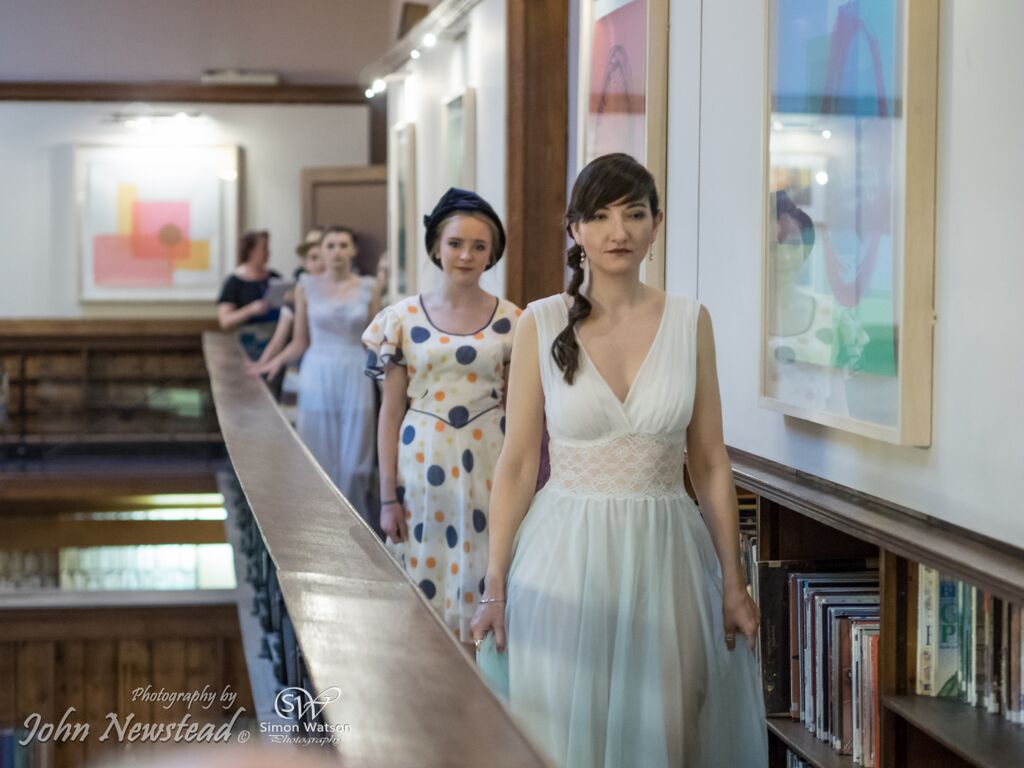 Models Laura Landamore & Lydia Harmer.    
I was also distracted waiting for my male models to arrive – I had figured they didn't need to be here first thing for hair & make-up and I didn't want to make them have to loiter around waiting for hours, so their arrival & trying on time was a bit later…
Jonathan Redding, Patrick Johnson, Simon Bekker, Mark Benfield, Davis Rees & Simon Pritchard. 
They did me proud! I always like to showcase some of my vintage men's lounge-wear & was so glad I did this time.
Next thing we knew, the guests were starting to arrive…..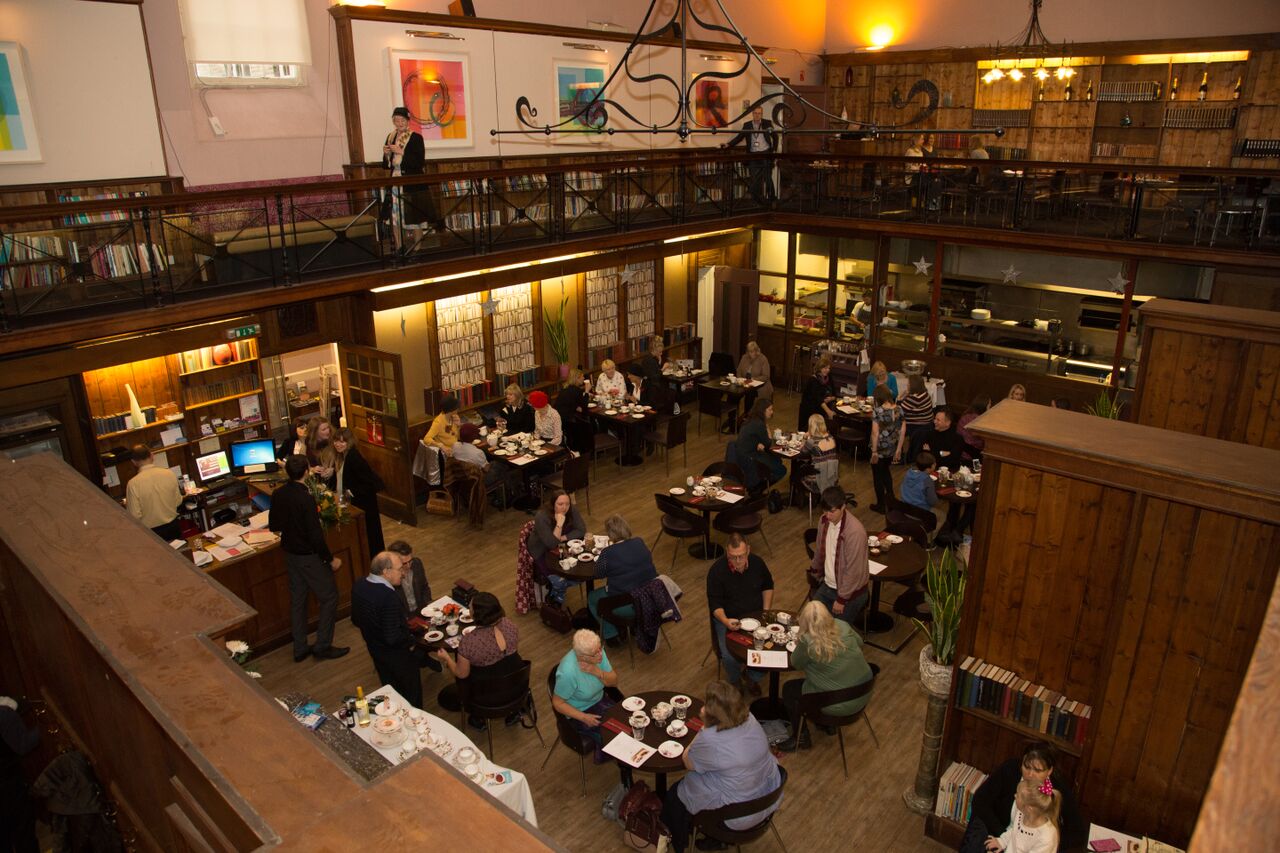 So, stop rehearsing! Get changed! Get everyone in place & cue up the DJ!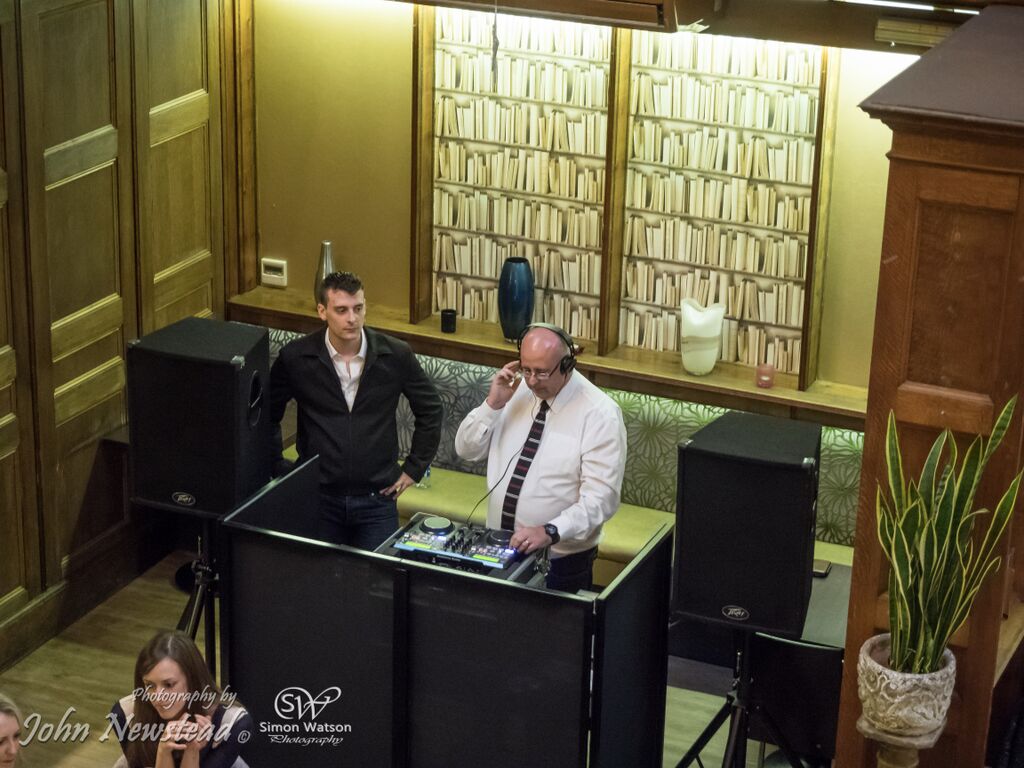 I have to say that our DJ Paul Trett of Solid Gold Mobile Disco was an absolute superstar – our whole show was based on mini collections set to specific songs in a specific order (all in keeping with our Fly Me To The Moon Theme of skies, planets & associated colours) so his job was integral to the whole thing & I must admit he did have to save it from going slightly awry as we had rather overestimated how quickly the models could get around the 'cat walk' & back upstairs to change for the next number….I don't think the audience noticed though…
We kicked off with 2 'Air Hostesses' Hayley & Sue moving around the audience handing out goody bags & running orders to Sinatra's 'Come Fly With Me' which worked really well, & I spotted audience members having photos taken with our girls!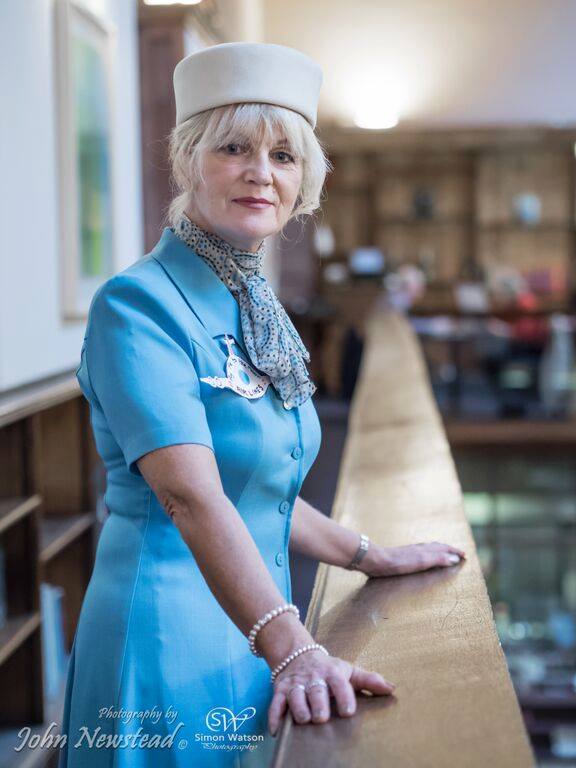 'Fly Me To The Moon Air Lines' hostess Sue Stanley
Then our show, punctuated by a much needed break, was based on collections from myself & Sarah individually and some joint, all with a theme and set to a cross section of music from the 1940s up to date. First up, I got a chance to showcase some of my most beautiful & floaty nightwear to the ethereal Enya's 'Caribbean Blue'…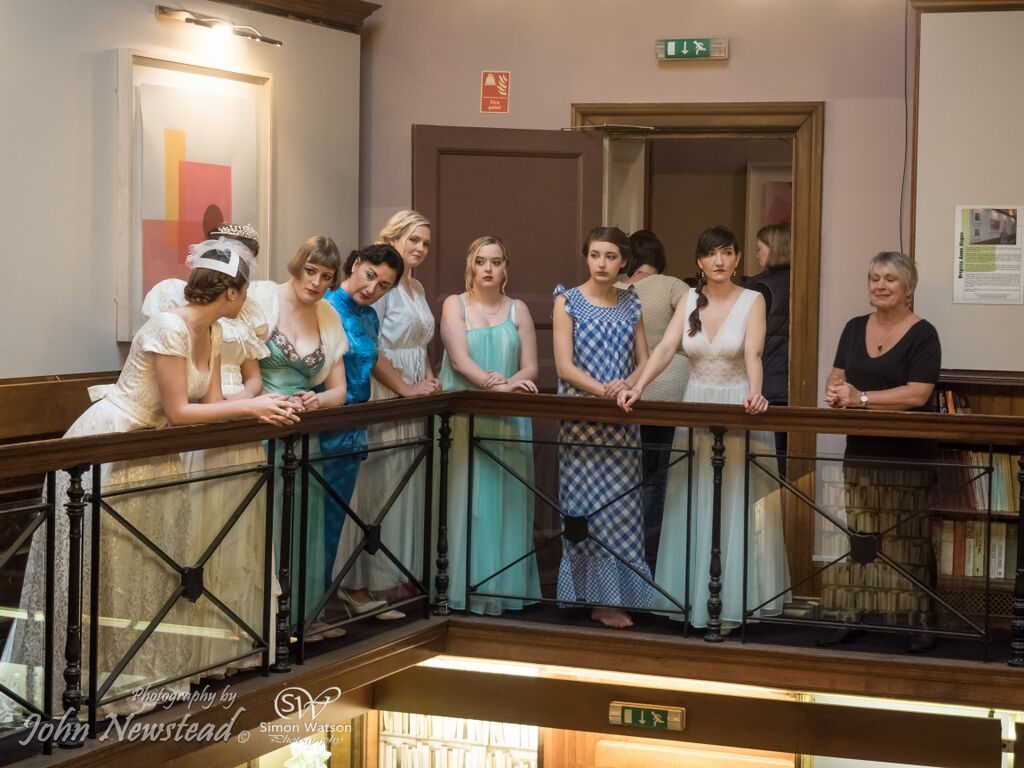 Some of my blue ladies waiting apprehensively on the mezzanine alongside helpers Irene & Sarah & some brides getting ready for the following set…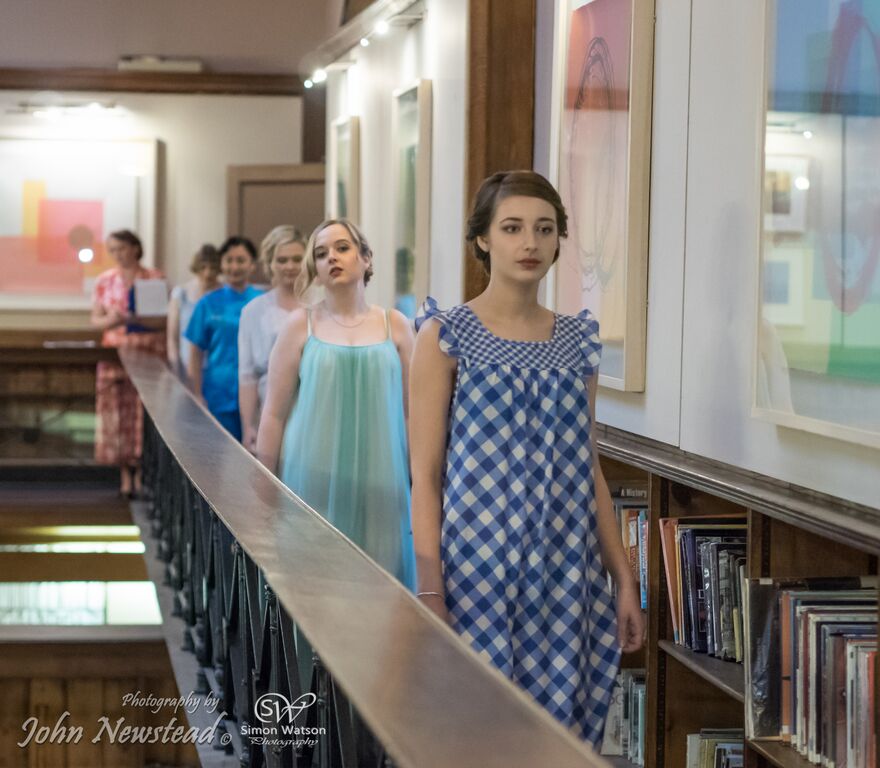 ..and off they go, with me watching protectively in the background!
Much more followed from evening wear, formal day wear & wedding wear to nightwear & lingerie –  far too many outfits & lovely photos to share them all…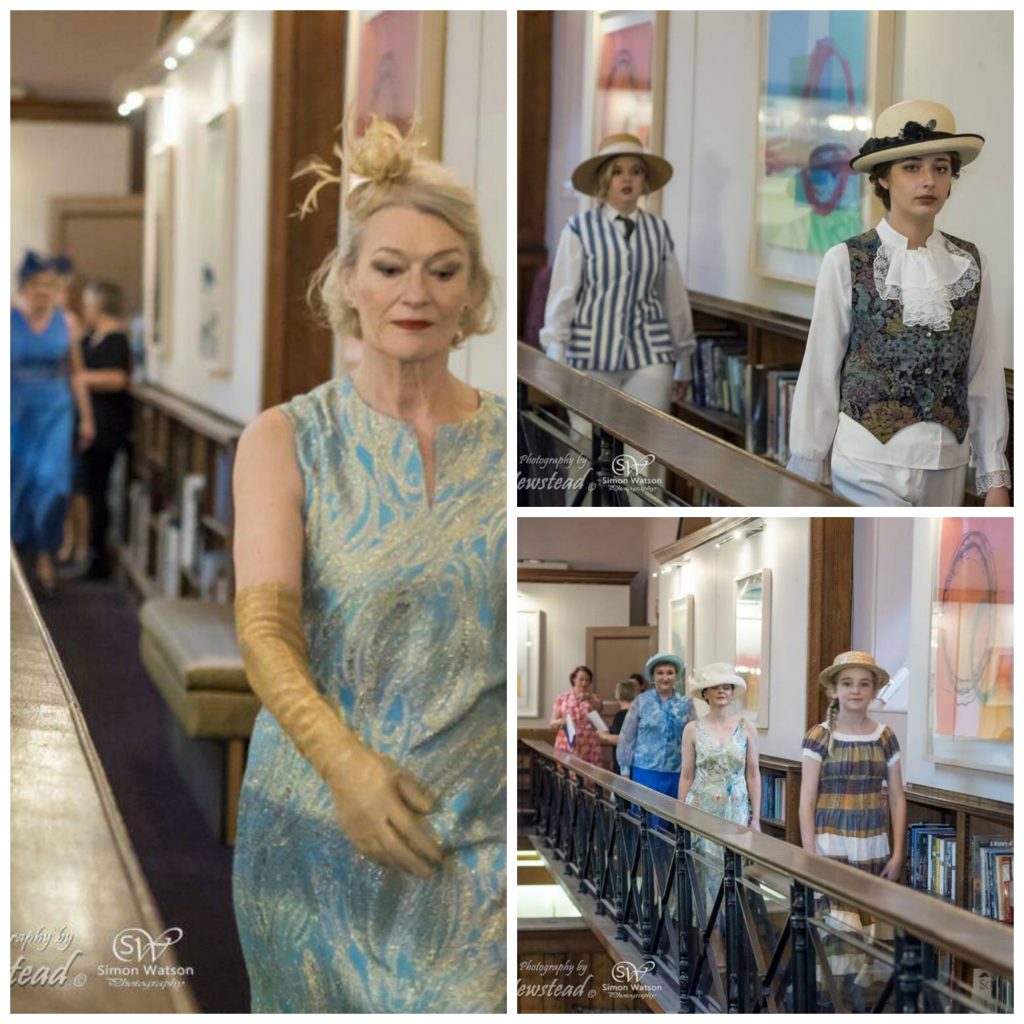 Featuring Susan Seddon, Emily O'Dell, Isobel Henry, Sarah Harmer, Estelle Long, Tegan Harmer.

Emily O'dell, Maisie Mcentee, Christine Chiverton, Eve Layzell.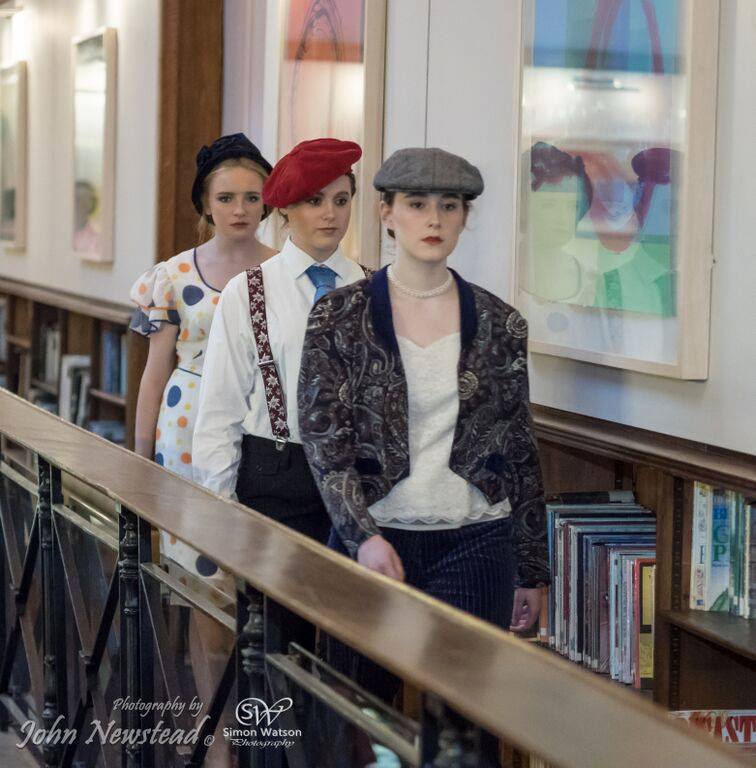 Lydia Harmer, Beth Wright & Fran Lewis.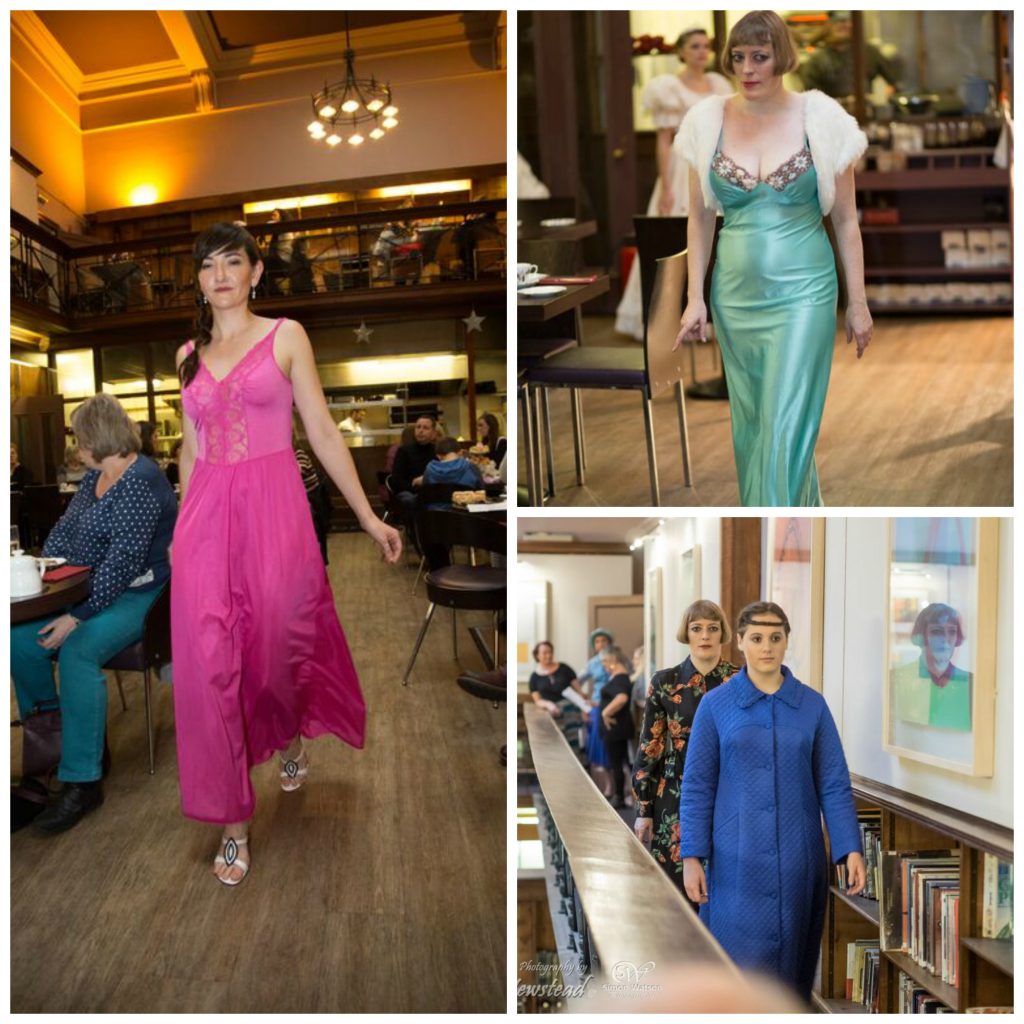 Laura Landamore, Beth Reeks, Beth Wright.
And don't forget, while the audience were enjoying the fabulous outfits proceeding along the mezzanine & then through the restaurant, this was going on too! Incredible afternoon tea (with optional bubbly!) supplied by The Library Team, all displayed on beautiful vintage china from Amanda at  China Angels
Tea, cake, bubbly & socialising!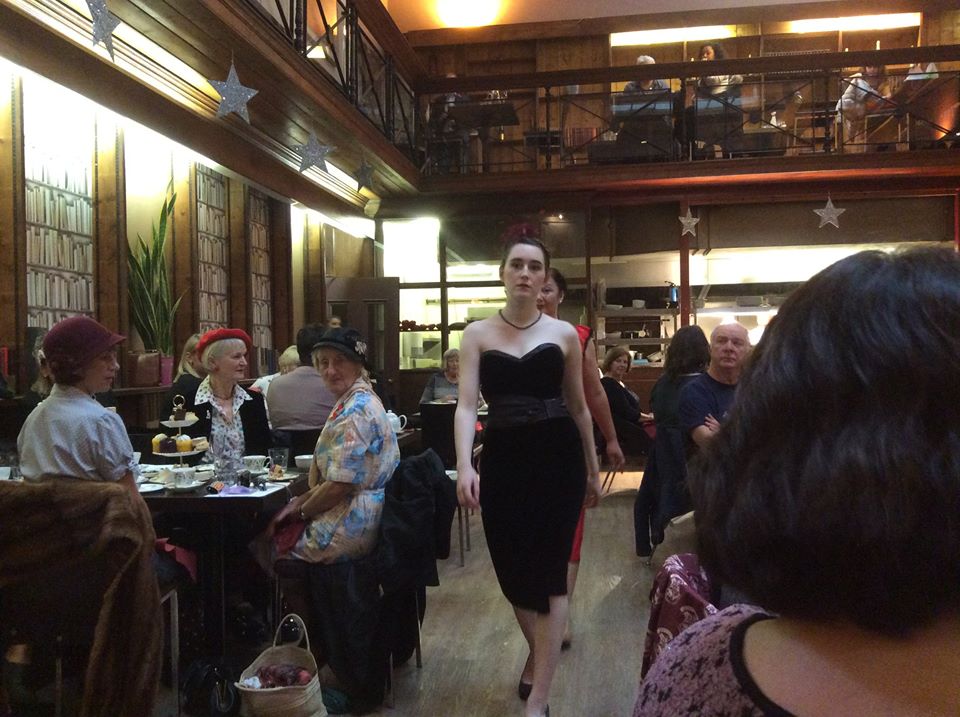 Fran Lewis here walking through our lovely guests…
I featured my menswear to the tune of The Crystals 'Then He Kissed Me' and the big Phil Spector sound worked wonderfully as the models went round in couples, and clearly looked like they were having as much fun as the audience!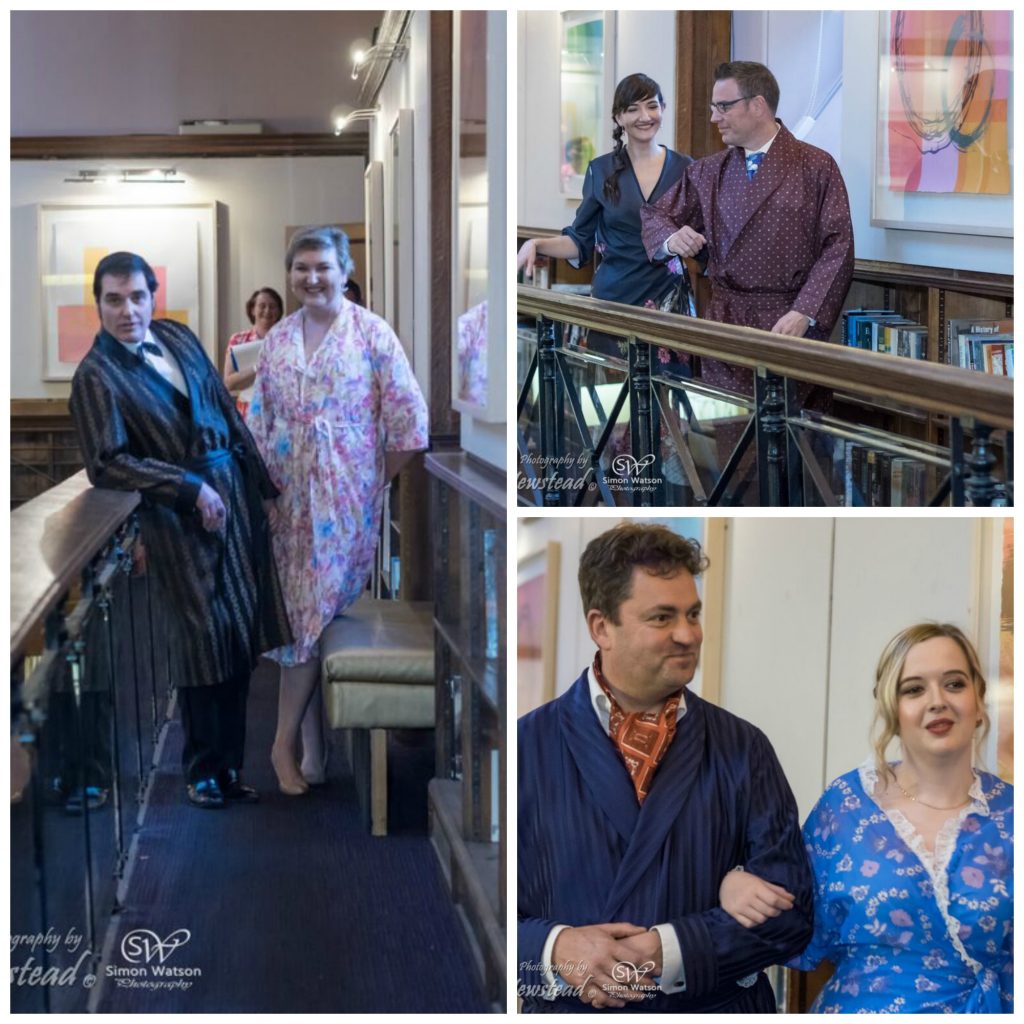 Simon & Sarah, Laura & Mark, Jonathan & Emily.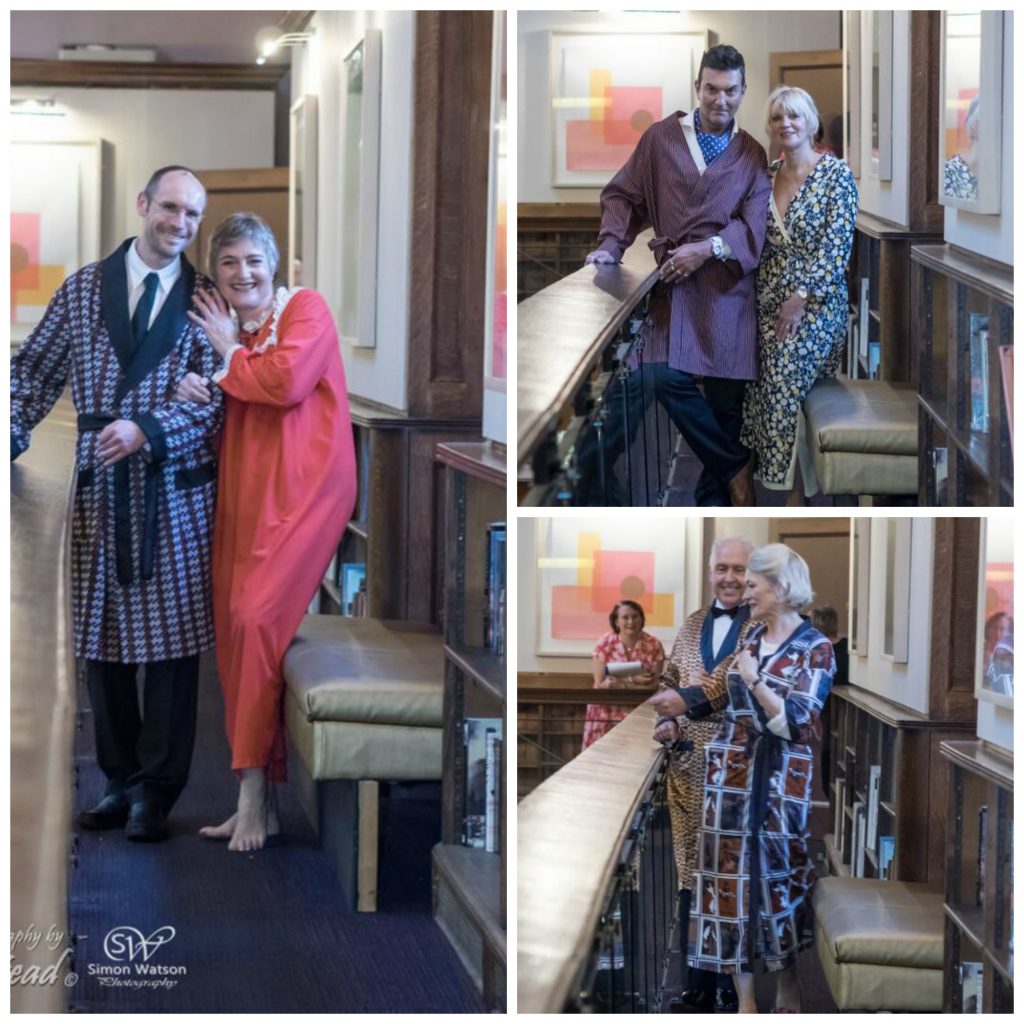 Simon & Christine, Patrick & Sue, David & Susan.
After all the hard work it was all over so quickly, although not quite quickly enough as we did over run which meant that after our finale set to Sinatra's 'Come Fly With Me' accompanied by rapturous applause, we all had to exit the restaurant sharpish without drawing breath so they could get ready for the Saturday night diners! It also meant we didn't really have time to promote the lovely stalls in the lounge or sell as many raffle tickets as I would have liked, but we did still raise a very respectable £50 for Norfolk based cancer charity The Big C.
So, just time too grab as much stuff as possible (yes we both had to go back to the Library to pickup stuff later in the week!) a few hugs, thank yous & good byes, and no time to reflect on our achievement until later!
Not so many pictures of us organisers but I like this one where John has caught us both leaning over the mezzanine in contemplation before it all started…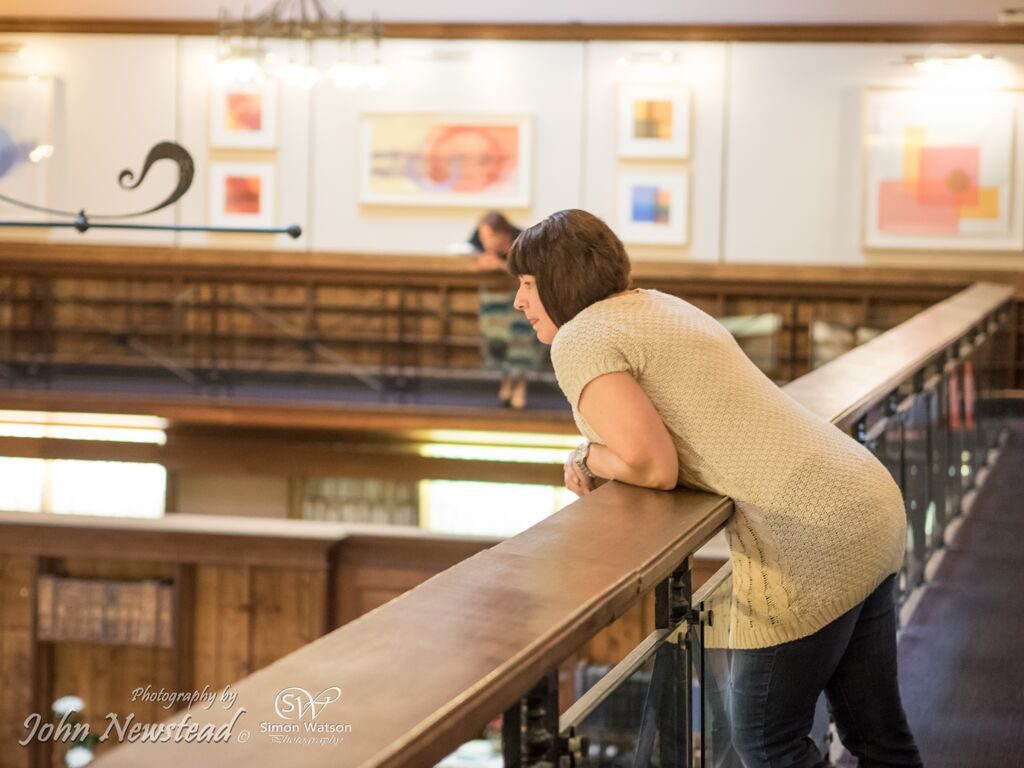 So, what an experience! Sarah and I learned so much, made so many friends & contacts and Fly Me To The Moon has led to many new adventures for us both over the last year – huge thanks to everyone who took part and supported this project which was so important to us and now, a year down the line, we dedicate the experience to the memory of our beautiful friends Sarah Harmer and Emily O'Dell who were such a big part of it and are sadly no longer with us x