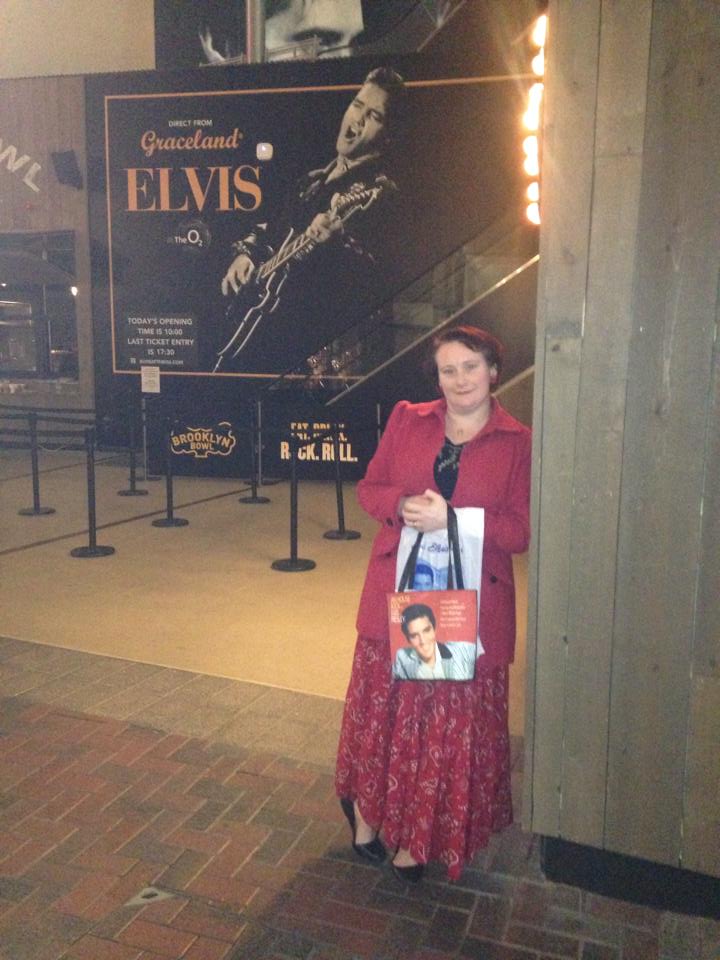 Me & my hubby Simon are both big Elvis fans and a year ago today, we celebrated the King's 81st birthday by finally getting round to visiting the unprecedented Elvis exhibition at the O2 Arena in London, just before it finished…
It had been running for around a year & we were well aware of it before it even opened but for whatever reason, it had taken us this long to make it – the usual reasons of time & money and I find that when something is on for a long time, it's easy to keep leaving it as, after all, there's plenty of time…Anyway, just before it was due to end we decided that we'd regret it if we didn't go & visiting on Elvis's birthday of 8th January would make it even more special.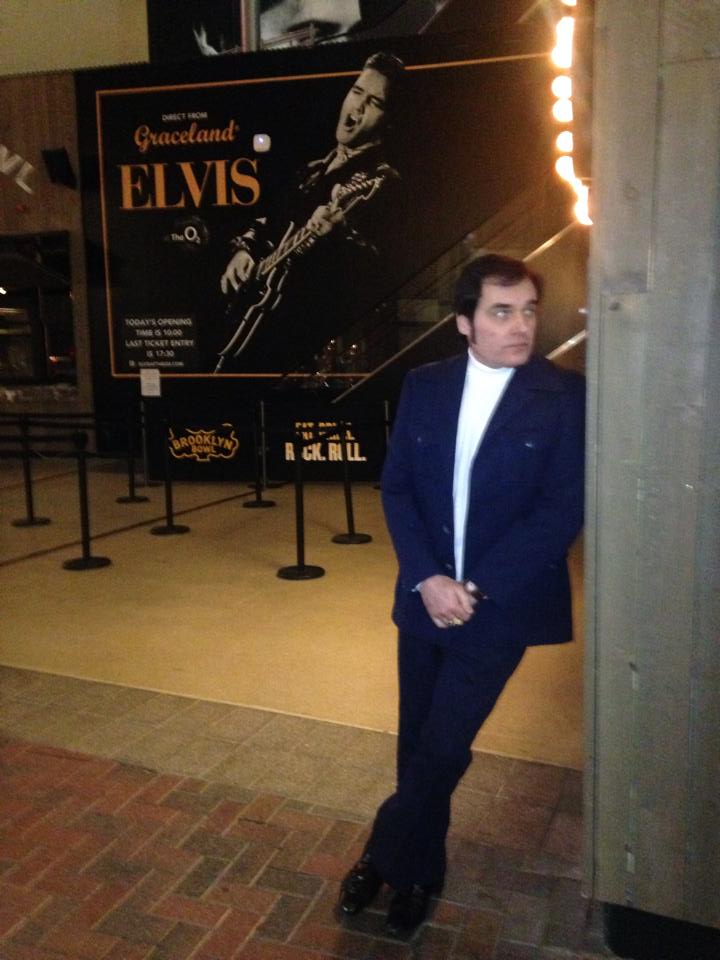 We decided to forgo a coffee on arrival as the time on our timed tickets was looming & there was already a queue building up…clearly lots of other people had thought the same as us re going on his birthday! I easily get emotional around Elvis related stuff and nearly did a little cry before we'd even entered the exhibition when I saw someone had laid birthday flowers in front of a giant photo of Elvis & was bracing myself for an emotional ride, but actually it didn't really effect either us like that…
One of the reasons we'd procrastinated about going was that we have actually been to Graceland in Memphis, Tennessee a few times, where the items on display were from, including getting married there in 2007. We both wondered about how we'd feel about seeing some of the very personal things out of context of Elvis's home having already seen much of it there first hand, whilst still appreciating of course what an incredible opportunity for fans to get to see it outside the States.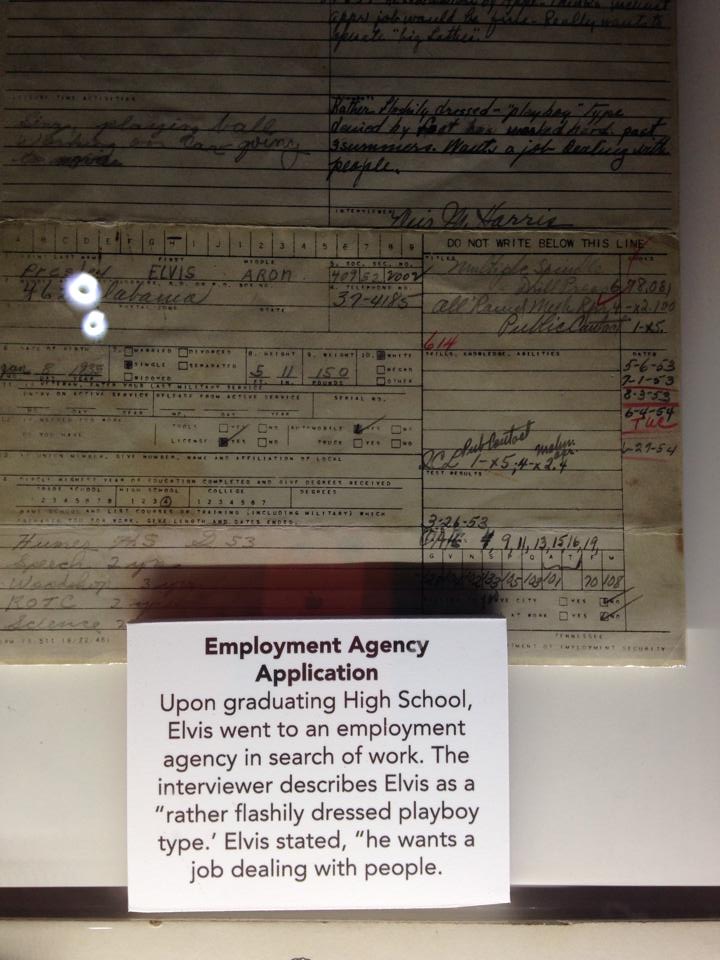 There was a vast collection of items on display from Elvis's entire life and career from very small personal pieces of ephemera to clothing & actual cars, but I'm kinda gonna focus on the clothing here as that's what we're all about at Wake Up Little Susie. Isn't this great?! Elvis Presley before he became 'Elvis' being described as a 'rather flashily dressed playboy type'. It seems the man loved his flashy clothing from the get-go when he was buying off the peg items from places like Lansky Brothers to create his own outfits before his fame & success meant he could commission one-off costumes.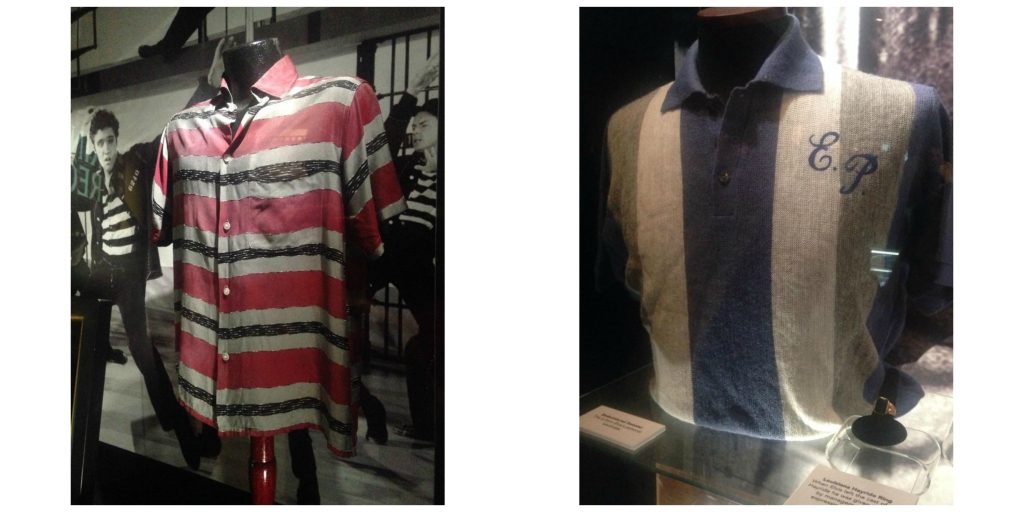 A fab '50s off the peg type shirt (believe me hubby has a LOT of very similar shirts in his wardrobe) and a sweater with the EP monogram.
It was kinda hard getting round some of the initial exhibits due to the number of people so I adopted my tried & tested method of being patient & then holding my ground until I'd looked at each thing properly (I also had to employ this whilst looking at the Queen's dresses at Buckingham Palace later in the year) Once we got to the main area where lots of the clothing was showcased, it opened out into a big space which was great – and although we had seen many of the key jump-suits before, I found that they were displayed here (although behind glass of course) in such a way that you could really get close to them and see the detail in the fabric and embellishments which was fascinating.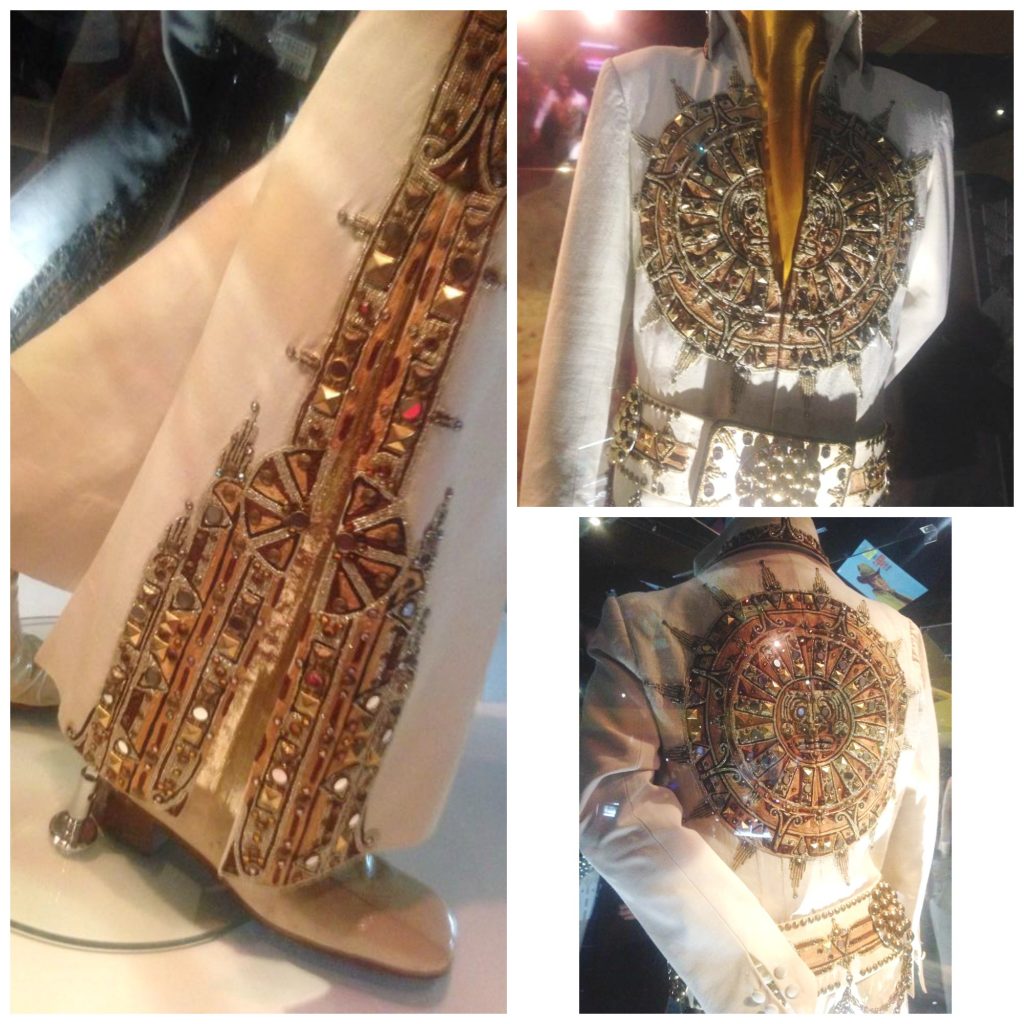 So pleased to be able to get such good images on my iPhone  
 A great example of this was the Mexican Sundial suit, worn by Elvis in 1974 & 1977, designed by Bill Belew, who created many outfits for Elvis to wear on & off stage, including costumes for the 1968 TV Special, Elvis's wedding suit and lots of the famous jumpsuits. Close up, the fabric looks heavy & textured, almost like a linen and it was interesting to be able to see every stitch & every button. In fact, the material had to be sturdy enough to carry this much embellishment. I did a little research when I got home – today you might expect that such a suit would be made from something light & lycra based to be comfortable & give the performer freedom of movement but at this time, the suits for Elvis were made from a kind of stretch gaberdine, used for ice-skaters costumes. There must have still been a fair bit of weight in these (no, they wouldn't let Simon try them on) although his live performances show that they did allow him to move! According to Bill Belew, this was an improvement on the wool jersey that was used for some of the 1968 TV Special clothing which was, of course, very warm.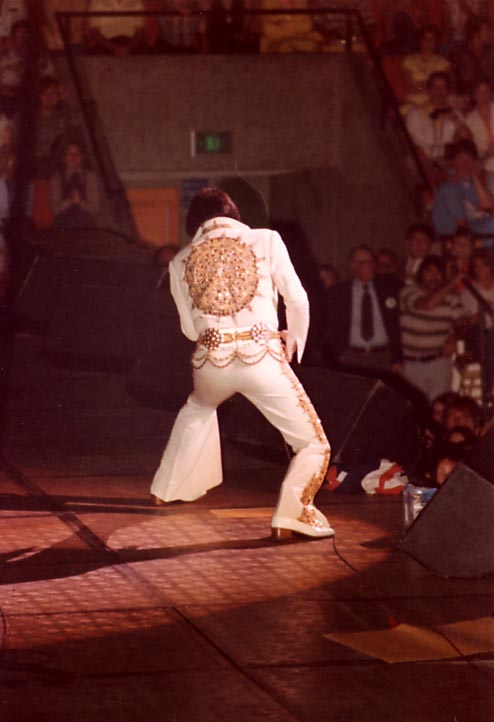 In action….
There were plenty more outfits to see and marvel at (but not try on) and I think the clothing & the way it was displayed was a highlight for me.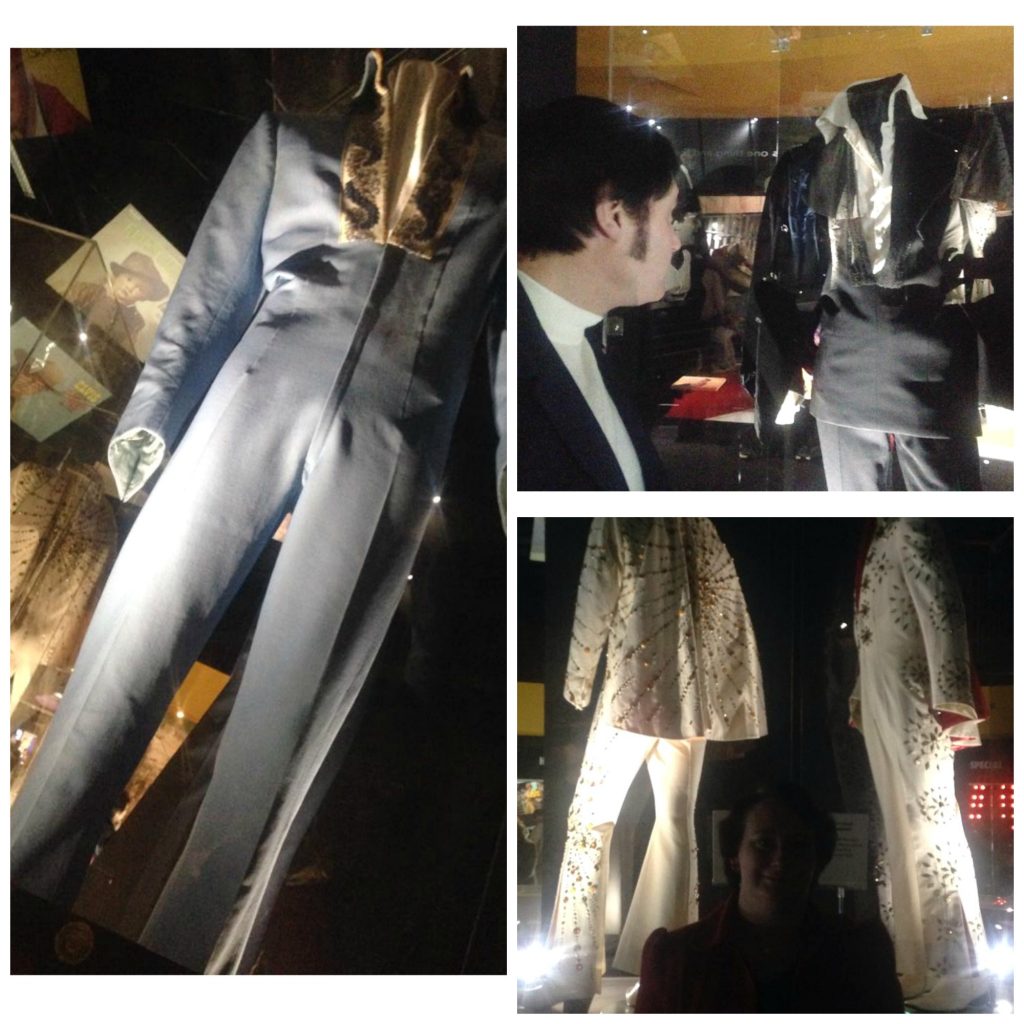 Lots of other cool stuff too across the board….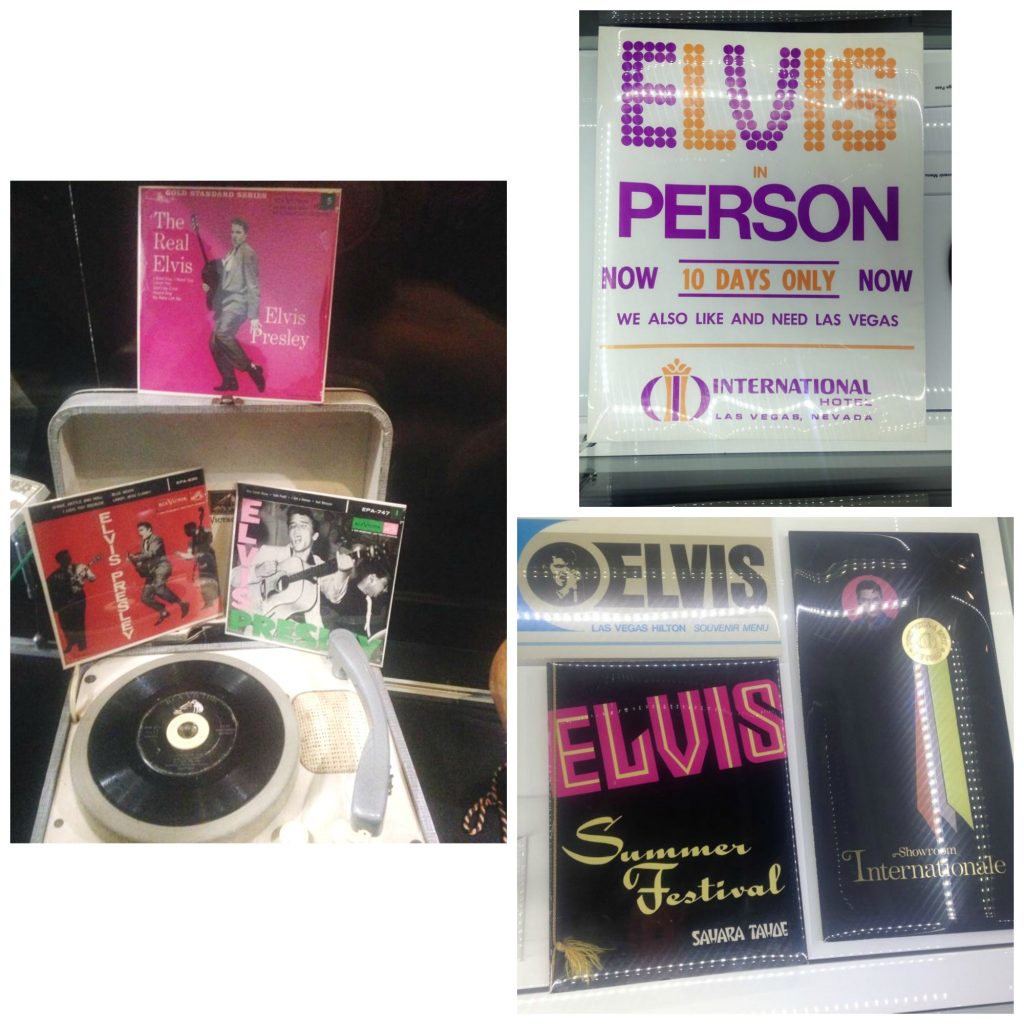 and the extent of this exhibition was that there were even actual vehicles on display (try not to think too hard about them being transported all the way from Memphis to London…) like this famous 1956 white Lincoln, seen here with Elvis, and Simon.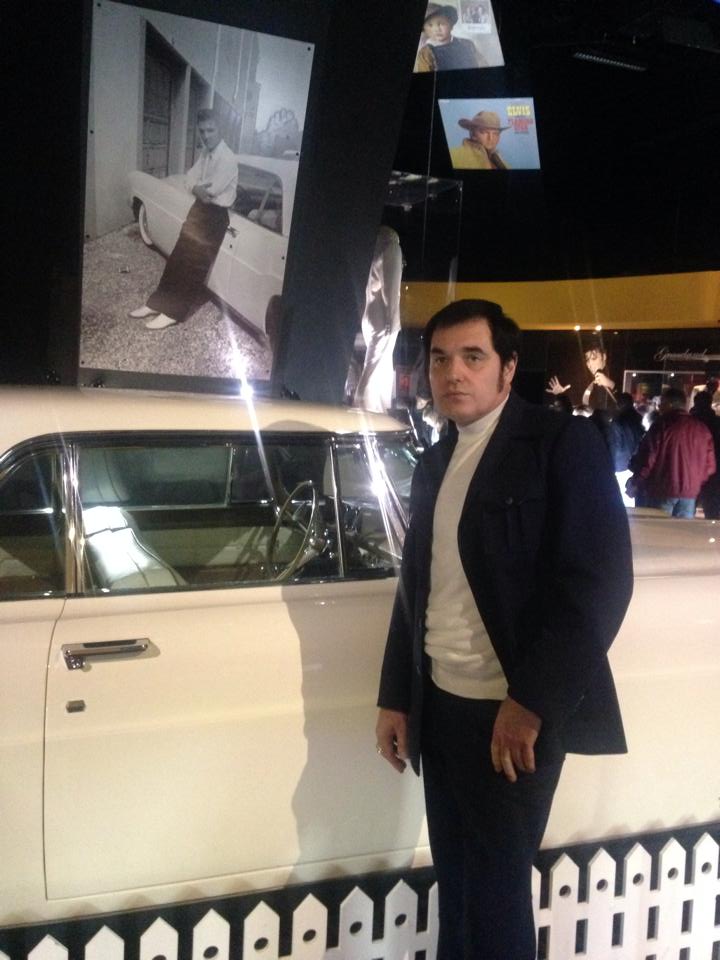 We ended the visit with a film show of Elvis clips (always guaranteed to bring a tear or two) and the obligatory browse around the gift shop (we like our souvenirs!) before legging it to Five Guys (we hadn't had food or drink!) to mull it all over. We both concluded that it seemed slightly odd to see it all out of Graceland as we had anticipated, yet still a great thrill to get the opportunity to see so much personal stuff relating to Elvis in the UK and we were definitely glad we had made the trip.