With a bit of imagination & thinking outside the box, there can be more to a pale pink vintage nightdress than meets the eye…
The nightdress featured throughout is from Wake Up Little Susie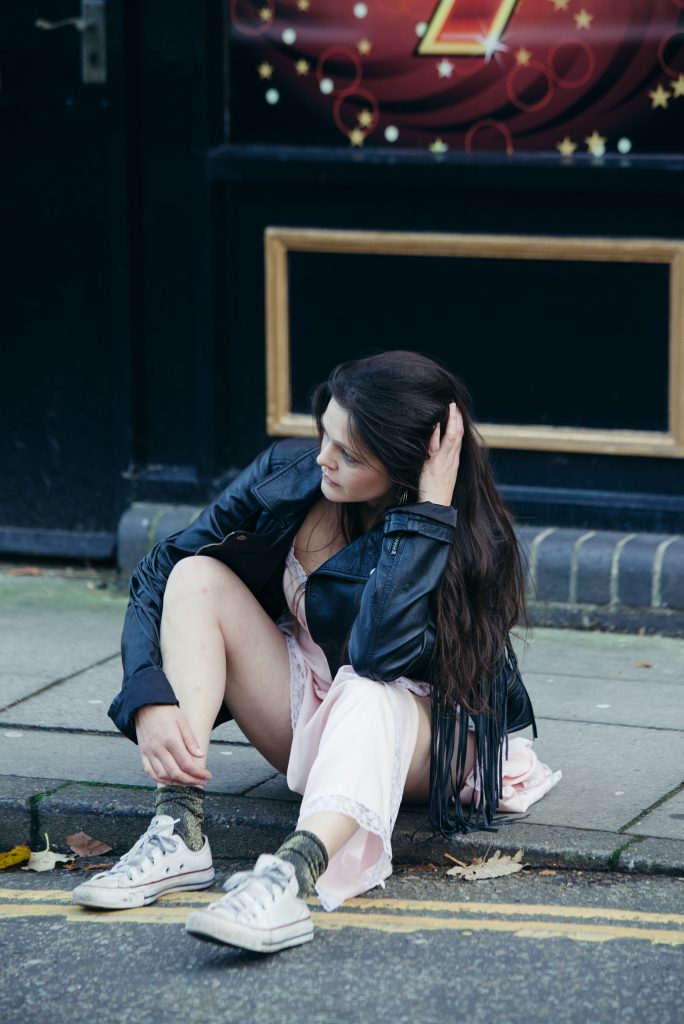 Model Estelle Long , styling Fabulous Miss K ,  photography Kerry Curl
I am always thinking about new ways to style and market my vintage nightwear & lingerie and the idea of wearing it in ways that weren't intended has been floating around in my mind for a while – a couple of years ago photographer Kerry Curl sparked off the idea of certain night dresses as festival dresses (that's a summer project/shoot we're planning to do one day, British weather permitting!) and more recently I was chatting with stylist Karen James-Welton, Fabulous Miss K, around the idea of silky slips as evening wear, teamed up with faux fur or leather jackets (think 1990s Kate Moss!) and killer heels or converse trainers until, eventually the three of us got together over coffee & planned a photo shoot on the streets of Norwich in November with the images forming the core what I like to call my 'Nightwear as Daywear – Underwear as Outerwear' campaign!
In this post I am focussing on just one particularly versatile item of clothing, a fairly simple yet stunning pale pink nightdress with straps, white lace trim & side splits, as previously seen in a couple of slightly more conventional ways…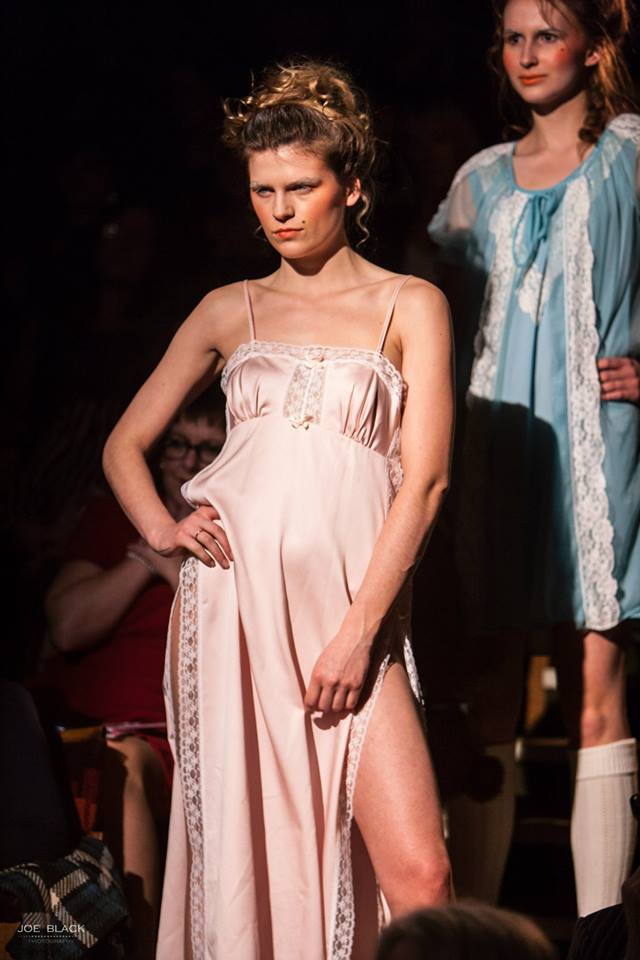 Looking sexy on the catwalk for Norwich Fashion Week 2014…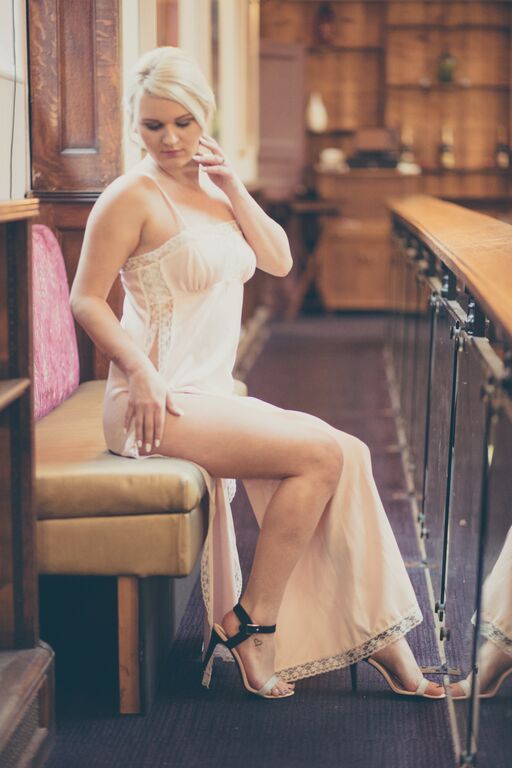 …and being worn provocatively here in a 'boudoir' style by model Gerda M-Blondie as part of a vintage fashion showcase that I co-hosted in 2015. Image by Simon Watson photography
Hardly looks like the same outfit worn by Estelle in the top photo? In our shoot, we went for a 'morning after the night before' look (think Kate Moss again!) with our party girls wearing the nightdress as evening/club wear.
Here's Estelle Long again, teaming it up with fringed leather coat together with socks & trainers.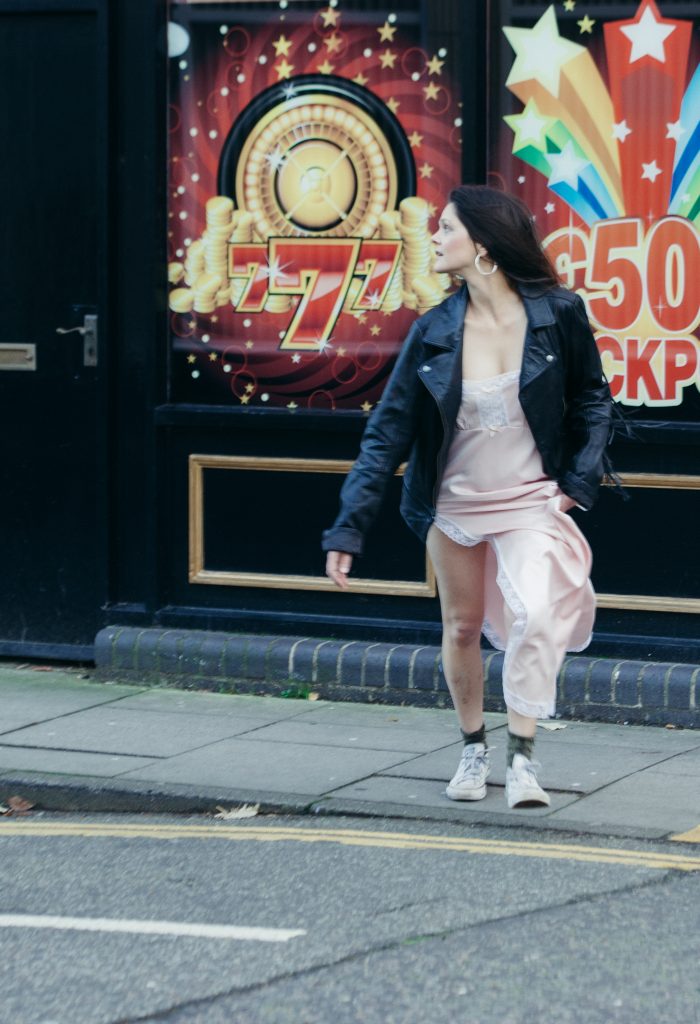 The side slits definitely give room to manoeuvre when running across the road & were no doubt used to good effect on whatever dance-floor Estelle was enjoying before exiting into the early morning day light…
For a slightly different feel, model Nakita Harden wears the same night dress with a luxurious deep burgundy faux fur coat & high heels.
 Something silky, skimpy & fragile, accessorised with fur, gives a very decadent, slightly forbidden & even vulnerable look…
Or in contrast, with a bold leather jacket & sporting her Louis Vuitton (model's own!) Nakita looks very in control of her style in this image.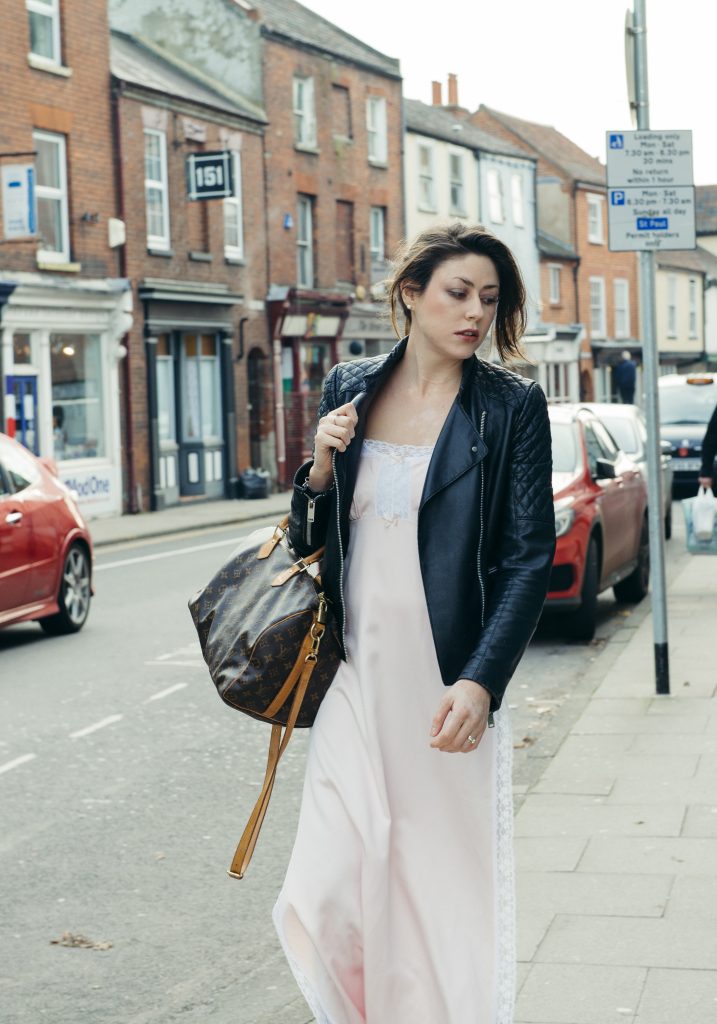 If you follow such things, wearing underwear as outerwear is currently on trend for Spring/Summer 2017 but to give your outfit a different twist, why not go for vintage? You will inject an element of quality & individuality into your look as well as value for money. I always have a good range of vintage nightwear & lingerie available in my online shop and lots more to come – http://www.etsy.com/shop/WakeUpLittleSusies
If you're Norwich based, keep a look out for my collection on the catwalk at Norwich Fashion Week Vintage Show this year, on Sunday 12th March at Open, where I will continue to explore this theme or watch this space for my photos and review afterwards.
It's an exciting time for wearing vintage fashion in any way you choose.
Images featured throughout show models Estelle Long and Nakita Harden wearing vintage nightdress from Wake Up Little Susie. Hair & make-up and styling by Karen James-Welton, The Fabulous Miss k and the incredible street photography is by Kerry Curl .