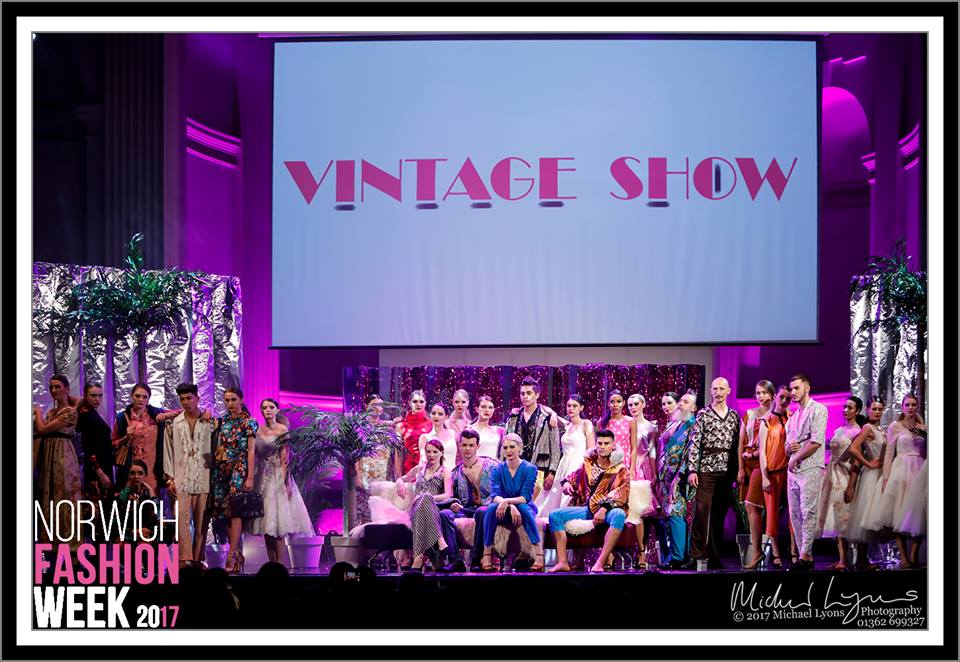 Norwich Fashion Week – those few days at the beginning of March when everyone in Norfolk who is interested in fashion leaps into action to take part in official catwalk shows, organise their own events, or simply attend as many of the events and shows as possible, to take in the wonderful creative atmosphere of the Norwich Fashion scene.
It has been of huge importance to my own little vintage business over the years, from my first involvement in 2011 at the original NFW venue of The Library Restaurant, through changing venues right up to date. This year, as with last year, I tried to do all of the above: i.e. take part in one of the main catwalk shows, run my own event, plus attending as much as possible too….this time it all got a little too much and in fact, my Norwich Fashion Week was dominated by the joint Art meets Fashion exhibition, 'Dressed to Thrill', that I organised & hosted alongside my artist husband Simon Pritchard.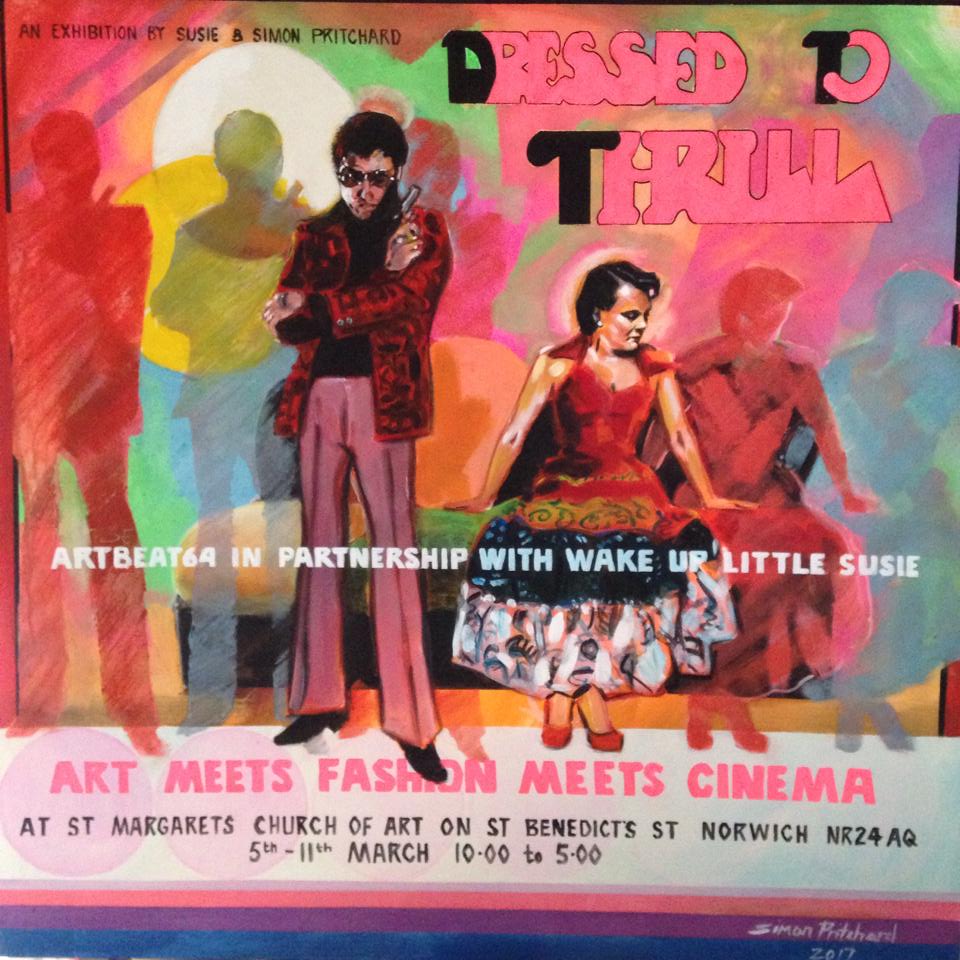 We have both taken part in Norwich Fashion Week over the years, myself with vintage stalls, collections in the Vintage Show, co-hosting other events and Simon with providing back drop artwork & programme illustrations for shows but for a while, we have discussed doing something bigger & better, to organise a key fashion and art based event to put our businesses on the Norwich fashion map. So, Dressed to Thrill was born – we had been planning it for a year since NFW 2016 (by which I mean we had been talking about it for 6 months, planning it for a couple of months and then working like absolute demons for the last few weeks leading up to the launch day! (we work better under pressure…))
The idea was to combine art & fashion, via our mutual interest in classic & cult cinema. A key feature of the exhibition was Simon creating some of his signature movie poster style artwork incorporating actual vintage outfits from my collection, which fell into place brilliantly at our launch party when we were joined by some models who wore the outfits that are in the paintings, captured here by photographer Gary Yallop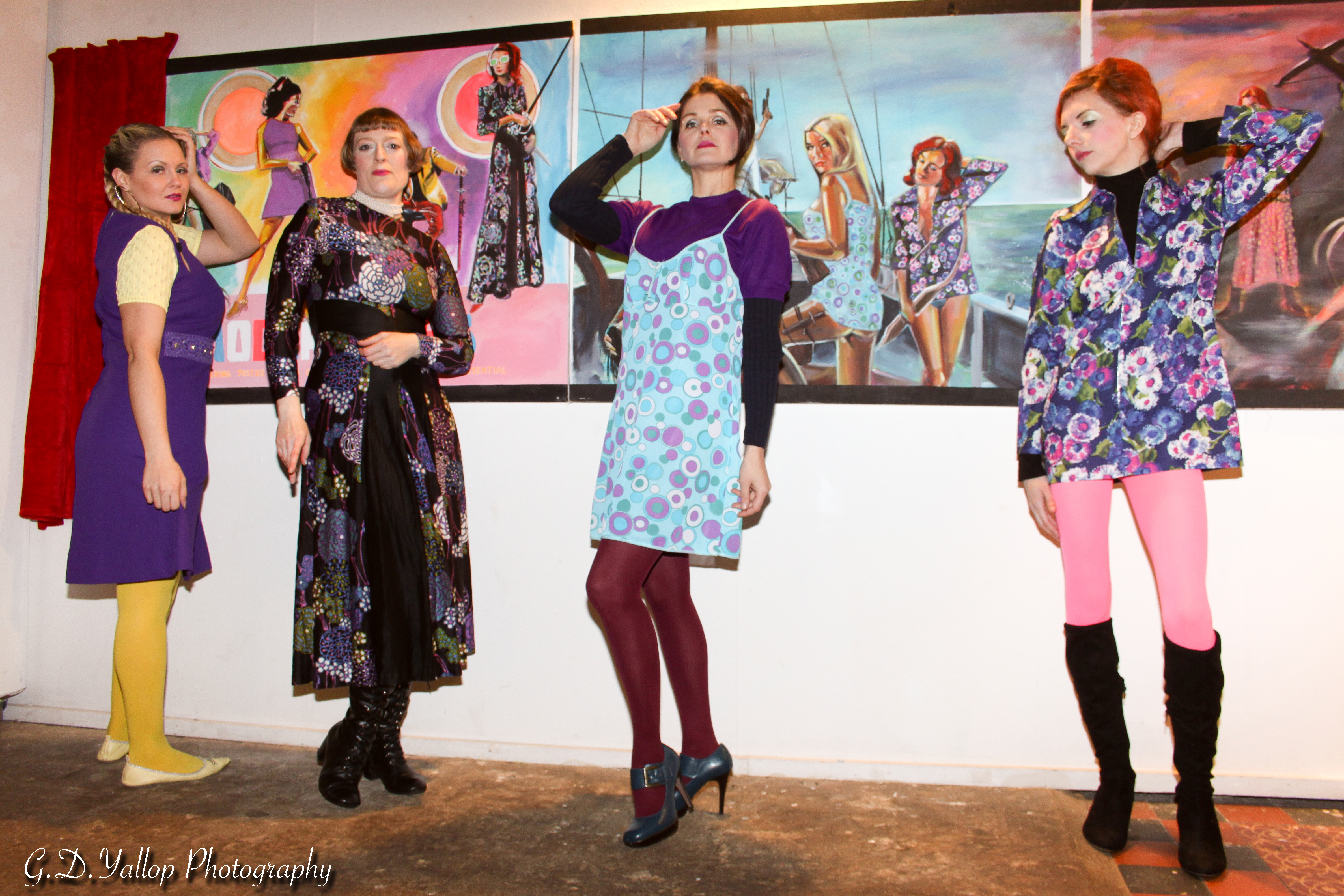 Thanks to models Liza Marie Dunell, Beth Reeks, Estelle Long & Liz Glover.
Artwork by Simon Pritchard , vintage clothing curated by Susie Pritchard. The art is fashion, and the fashion is art!
But, the full story of 'Dressed to Thrill' will be told in its very own blog post, watch this space…
In previous years, I've attended as many of the main shows & smaller events as possible because, as well as being jolly enjoyable, it really is a fab networking opportunity. I'm always happy to hook up with models, photographers, retailers, designers etc and Norwich Fashion Week is most certainly the place to be. I generally buy all my tickets ahead of time but it didn't really happen this year, partly due to financial constraints (2017 didn't start well…) and also because I knew that the massive commitment to our own event meant it just wasn't gonna be practical to do much else. However, I didn't wanna miss out totally and as the Dipple & Conway sponsored Hair & Make-Up Show approached, it looked like the one for us this year! For a start, I found out that some of my fave models – Estelle Long , Nakita Harden & Jody Sturman    were taking part, and we were both especially keen to see Estelle painted by the incredible artists from Paintopia  having seen this in photos before, but not in the flesh, so to speak!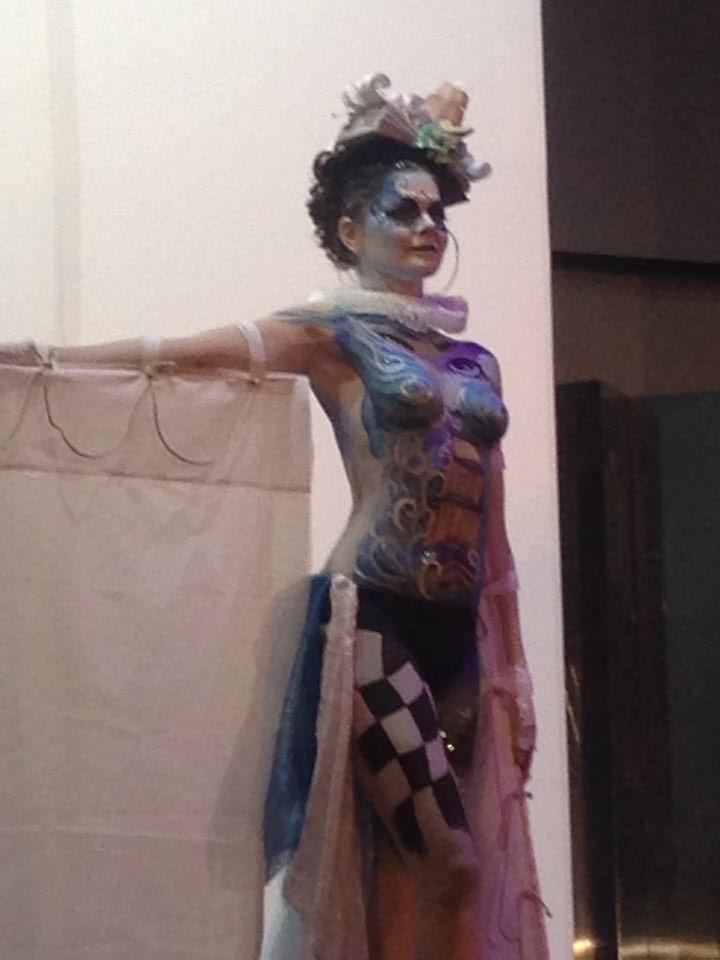 My pic of Estelle.
       Added incentive was the knowledge that the majority of the costumes on the catwalk that evening were on loan from The Maddermarket Theatre Wardrobe Department, a place that we both have connections with & Simon actually recognised some of the outfits from his performance in 'Antony & Cleopatra'! It was no coincidence that the whole show was very theatrical & an incredible tribute to the talents of the hair & make-up artists that took part. So pleased we made this one, my new favourite NFW show!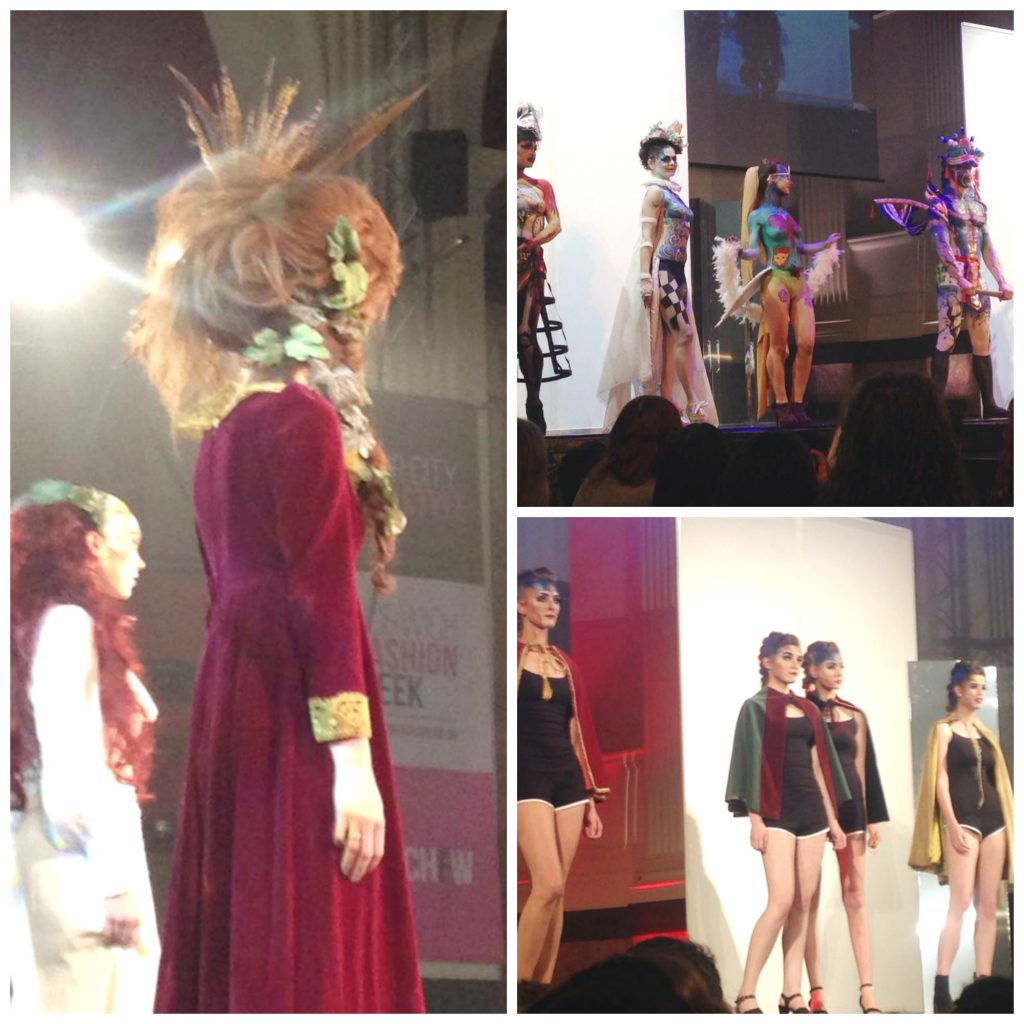 A few highlights from the NFW Hair & Make-Up Show as snapped by me (far more professional images are available on the Norwich Fashion Week FaceBook Page! )
Then, the very day after our exhibition came down, there was to be no lay-in for me, as it was the day of The Vintage Show! I needed to be up & about and at our venue Open in the morning to drop off my outfits & get them fitted, making sure everything worked on the models as I had hoped – (there was an incident with a tight pair of men's PJ bottoms, but big thanks to Carmen Kennedy who I knew would have an emergency sewing kit!) I was very tired at this point & didn't think I was in the mood, but there's always a great atmosphere back stage & I was reminded that I do really enjoy this bit! I had been planning my collection of 4 men's & 4 women's outfits for about a year, or at least since the theme for 2017 was announced, but of course there's always something that gets added at the very last minute & this year was no exception as I picked up one of my men's outfits just days before the show.
One of the benefits as a retailer of taking part in the main NFW shows is that there are lots of talented photographers on hand & loads of great images become available very quickly! These ones of my collection are from the lens of Michael Lyons.
When the Disco, Studio 54, theme was announced, my first thought were these incredible patterned vintage slips, crying out to be worn as outer wear and with the coloured tights and jewellery (as well as fantastic hair & make-up by the Norwich School of Beauty) they really worked as party outfits, and I was super pleased with this continuation of my Underwear as Outerwear campaign!    
Couldn't resist including some silky PJs too – definite Disco wear, especially this shorty set being rocked here by Frances Kate Roberson.
I'm always a sucker for some cool vintage men's loungwear, and was happy to see Bill & Nigel on my list of male models! (this shot by Andi Sapey)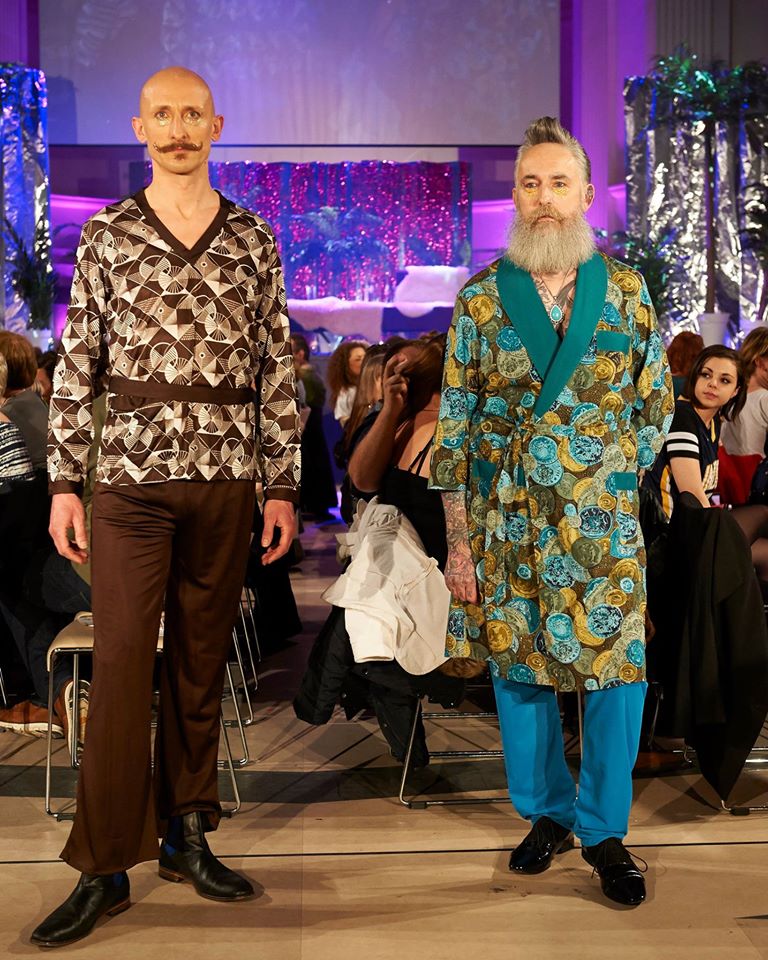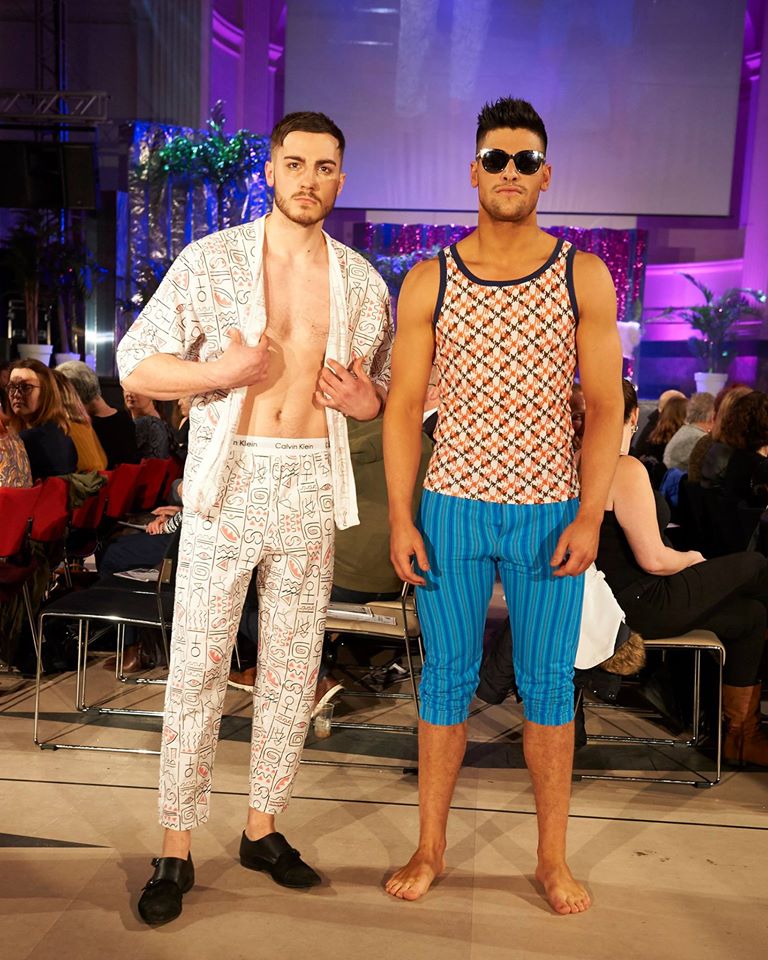 Again from Andi Sapey, Damon looking cool in this '80s cotton PJ set and Rob definitely working the 1970s vest & PJ bottom set! (my efforts with a needle & thread held out, & there were no further incidents!)
 Considering this was the outfit I was most concerned about after the fitting, once I had seen the photos it quickly became a favourite & model Rob Emblem (who was later voted the Male Face of NFW 2017) really rocked it. Back to Michael Lyons for these shots.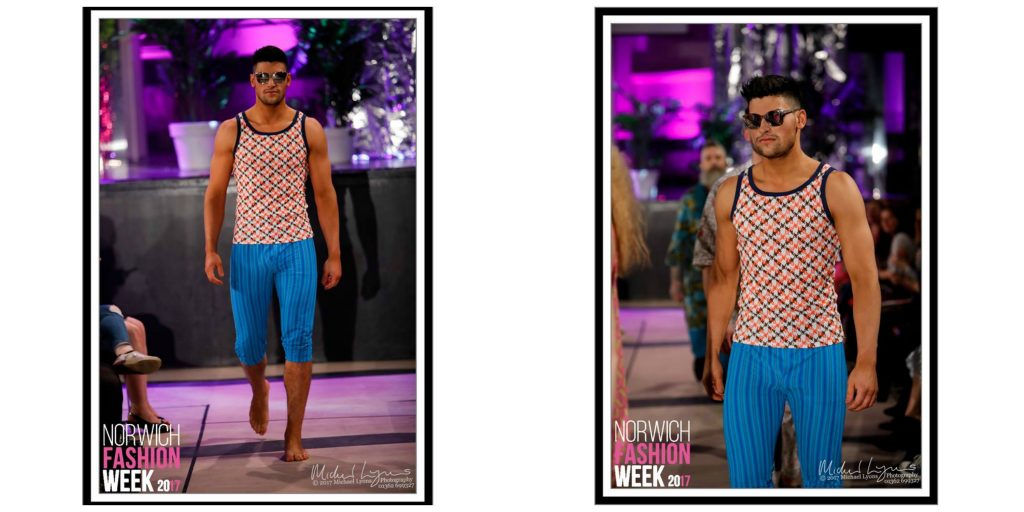 All the other retailers really embraced the theme and there was nothing but great feedback afterwards – I thought this year's collection from The Stylist & The Collector was even stronger than last year, my buddy Sharon at Kooks had really put the work in on her collection and also great to see my Little Vintage Lover Fair Buddies Butterfly Girl  on the NFW catwalk for the first time! Hats off too to the guys who actually created their vintage inspired collections, particularly The Crafty Stitchers, Hyde Johnson & Cheniks Betts. It was all so incredible & colourful!
Most of the other retailers tend to stay back stage to dress their models, but having been taking part since the venue was smaller & this wasn't really an option, I've kinda got into the habit of preferring to stay out front & watch (this time me & Simon went with my fashion buddy for the night Estelle Long, & had great fun watching the collections & seeing our tweeted selfies on a big screen…) but do you know what, I sensed such a great atmosphere backstage that next year I may break the habit of a lifetime….
For 2017, it was also fabulous to see all the models together on stage, as part of a great 'Disco' set, at the end of the show.
So, all's well that ends well….but not quite! I didn't get to any more of the big shows, but I had to take advantage of the day full of industry talks at Open a couple of days later…I managed to get up in time to catch a talk on Dior, the New Look & the 1950s purely for my own pleasure (I am a '50s girl!) and luckily caught up with Karen, Fabulous Miss K who correctly thought we should go along to both of the talks by Alex Hill on Visual Merchandising & Event Organising – both very interesting & providing inspiration to us both for future pop-up events, exhibitions & & workshops.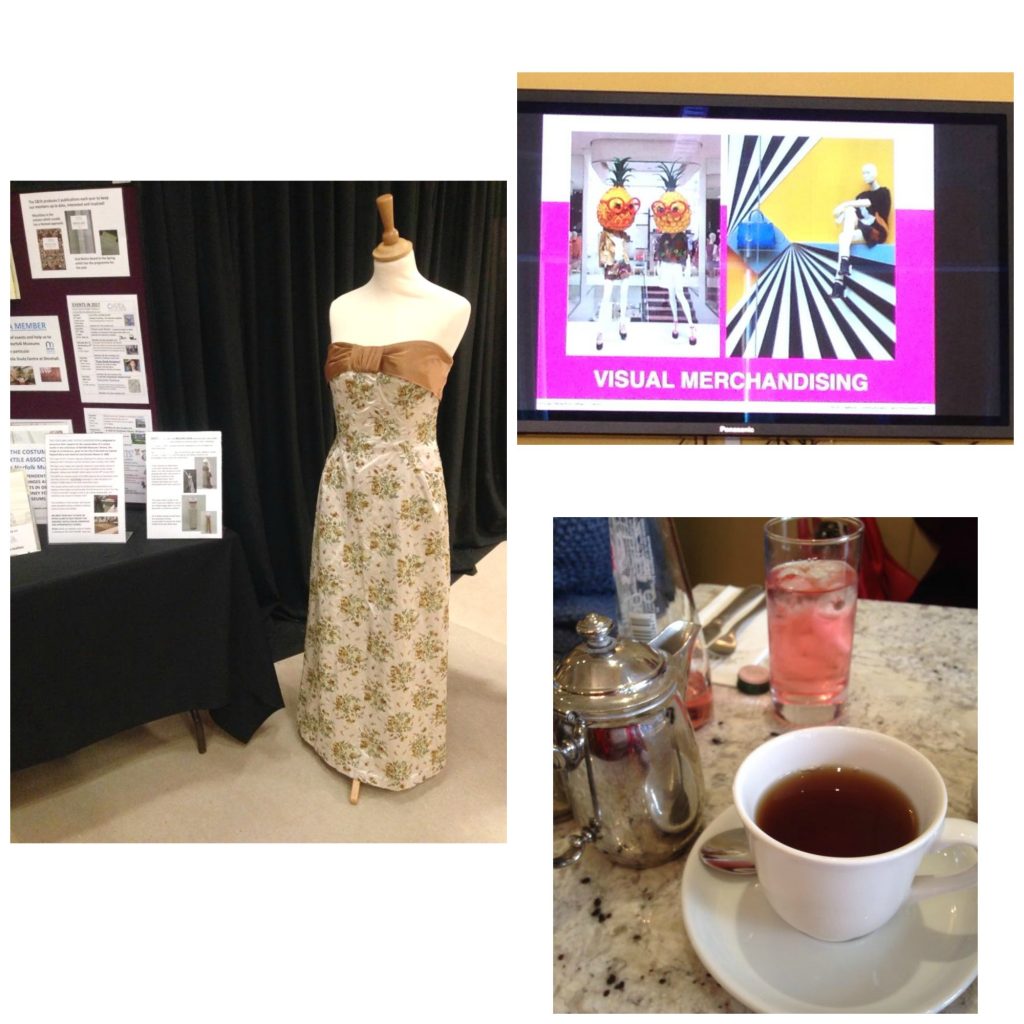 Yes we stopped for afternoon tea.
So, apart from catching up and making use of all the incredible photos, that's My Norwich Fashion Week over for another year, but I really am already thinking about next year!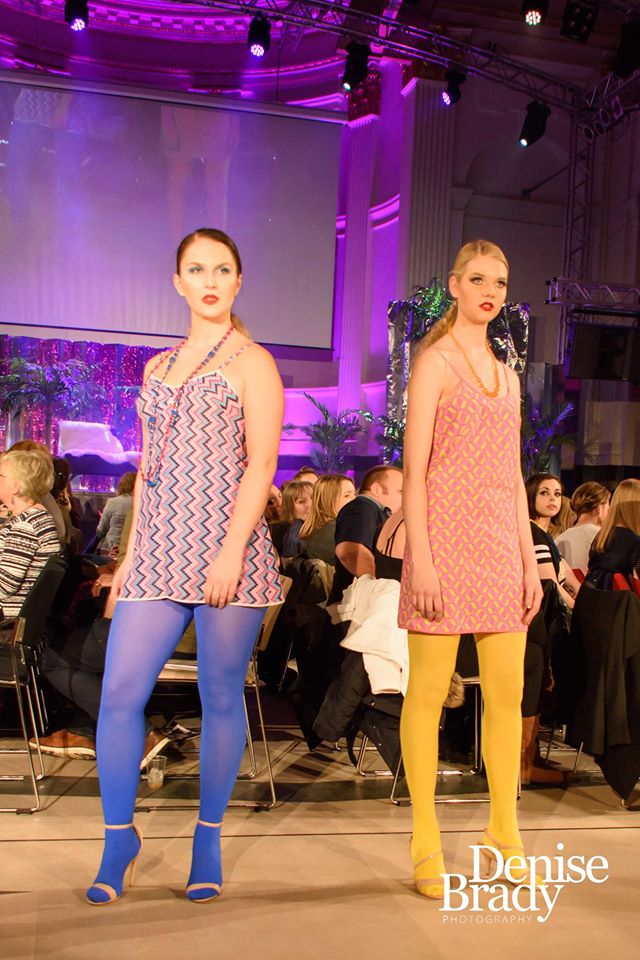 This image from Denise Brady.
Don't forget that most of the outfits from Dressed to Thrill and my Vintage Show collection are available to buy – keep checking my online shop  or drop me a line for more info.
More from Dressed to Thrill to follow….(photo from Gary Yallop)