A big part of My Norwich Fashion Week 2017 was 'Dressed To Thrill' – a joint exhibition with my husband, artist Simon Pritchard. 
We've both taken part in previous Norwich Fashion Weeks, me with vintage stalls, collections in the Vintage Show & co-hosting other events and Simon providing back-drop artwork & programme illustrations for shows but for a while, we had discussed doing something bigger & better, to host a key fashion and art based event to put both of our businesses on the Norwich fashion map. So, Dressed to Thrill came about – it had been in the planning for a year since Norwich Fashion Week 2016 (by which I mean we'd been talking about it for 6 months, planning it for a couple of months and then working like mad for the last few weeks leading up to the launch day! (we work better under pressure…))
The idea was to somehow combine art & fashion, and we eventually decided that classic & cult cinema was the best catalyst to bring the 2 together as we both have an interest in & love for movies, and of course art & fashion are both key to cinema history and culture. A key feature of the exhibition was Simon's creation of some of his signature movie poster style artwork incorporating actual vintage outfits from my collection, which really did fall into place well at the launch party when we were joined by some models who wore the outfits that are in the paintings, captured above by photographer Gary Yallop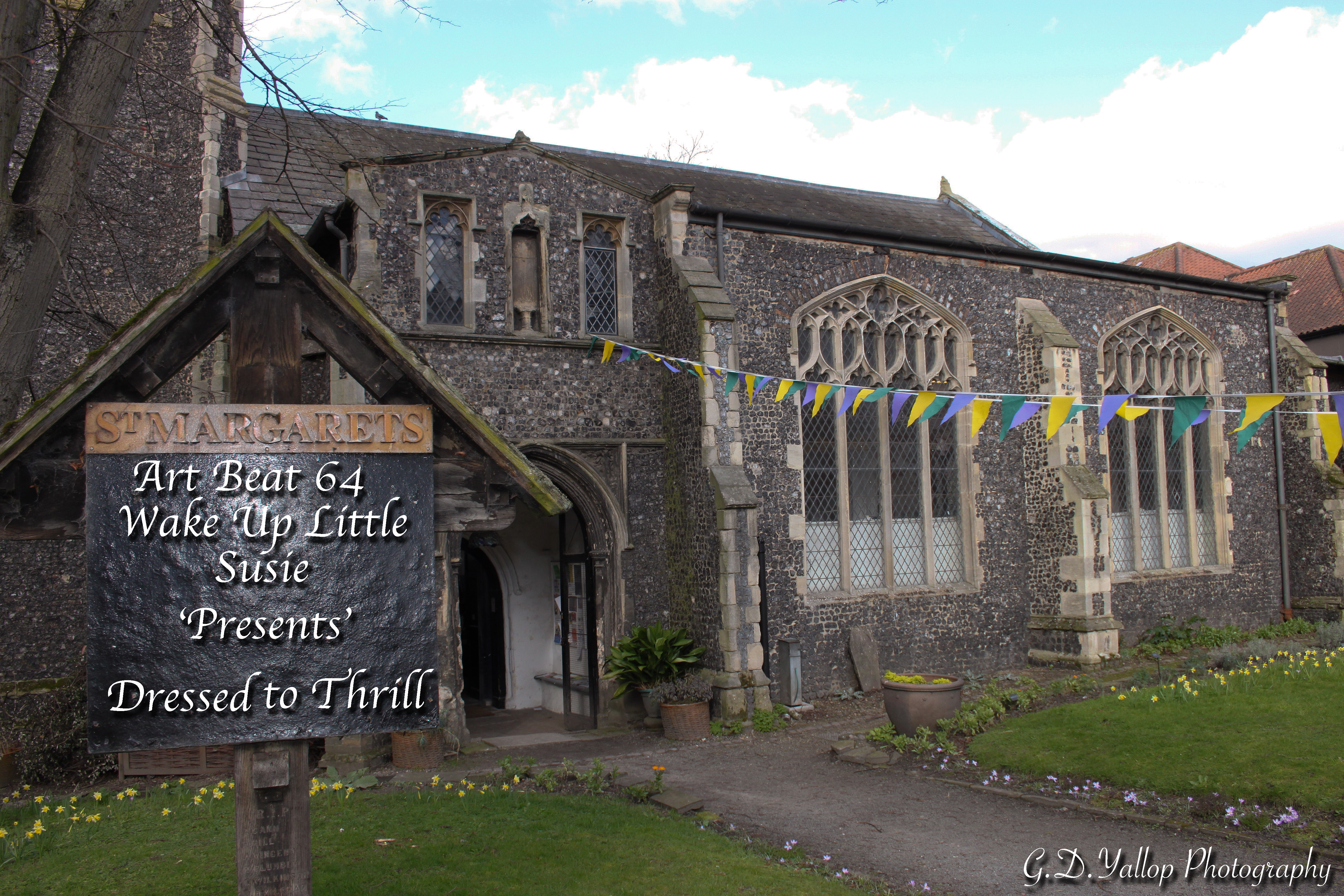 But, first things first? where to hold it? As with any event, the venue is a key consideration & often the hardest thing to find….with the pressure on to meet the deadline to get into the Norwich Fashion Week magazine (which was part of the point of doing it at this time!) we settled on the quirky but perfect location of St Margaret's Church, an impressive 14th century building that is now a full time art venue, and one that we were familiar with as Simon had hosted his incredible Dracula A.D. 1972 exhibition there in 2016.
With the venue ticked off the to-do list, next up was the promotion – once Simon had created a killer poster for the event, that was all we needed to hit Social Media & to get those posters out there!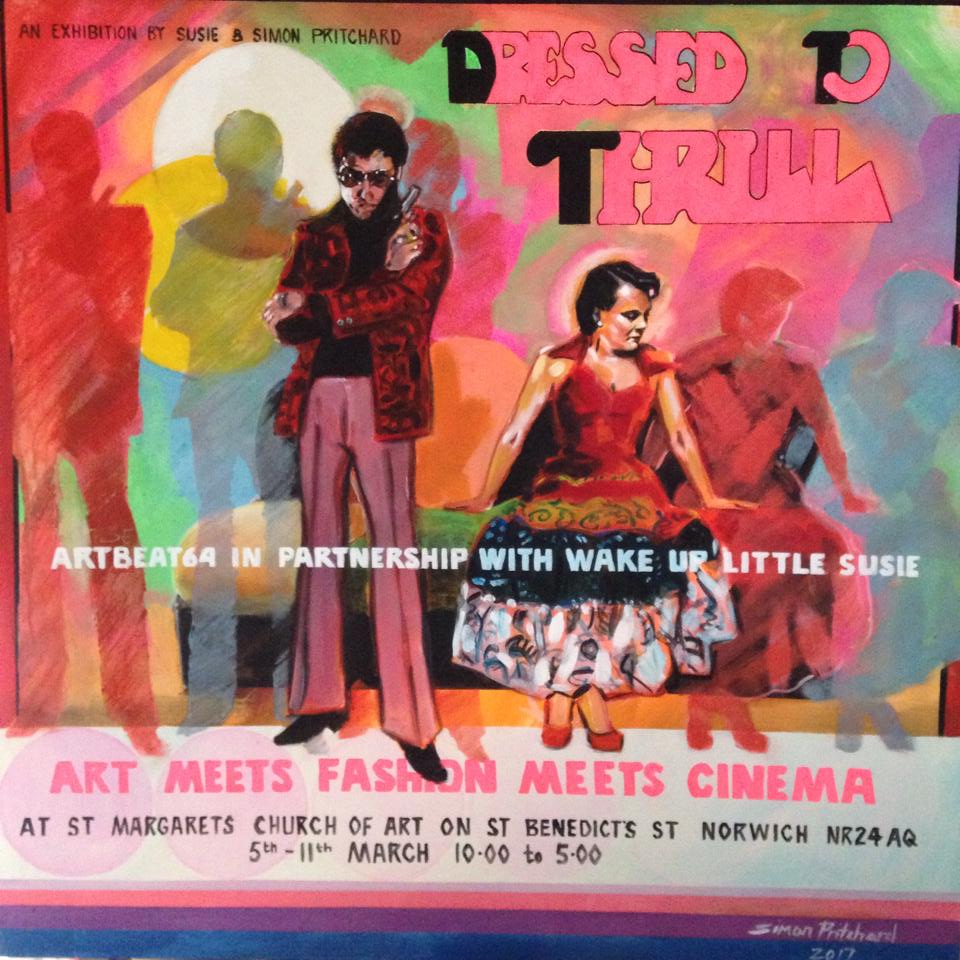 Original poster style painting created by Simon using separate photos of us both & his talent for capturing that vintage movie artwork atmosphere!
Aside from our header poster, the first piece that Simon created was this movie poster style painting, to very deliberately include this gorgeous gold 1960s dress that had been earmarked for this project right from the off – we decided to work on the project by planning which items of clothing from my collection to feature, & for Simon to then use his magic to build a piece of artwork around the outfits.
The main piece created especially for the event is this amazing cinematic image consisting of 3 large paintings incorporating several actual outfits and capturing Simon's vision of Art meets Fashion Via Cinema taking inspiration from the likes of The Avengers TV show, cult films like The Doll Squad, Bond style action adventures and the Hammer Horror vampire genre.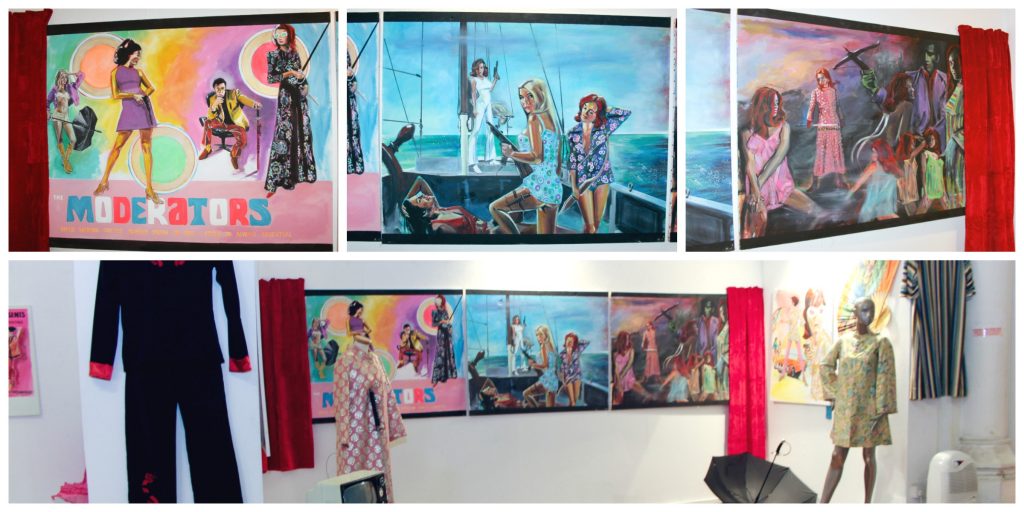 For our launch party, 4 very lovely & very brave models (the Church was quite chilly!) got to wear some of the featured outfits, the art IS the fashion, and the fashion IS the art!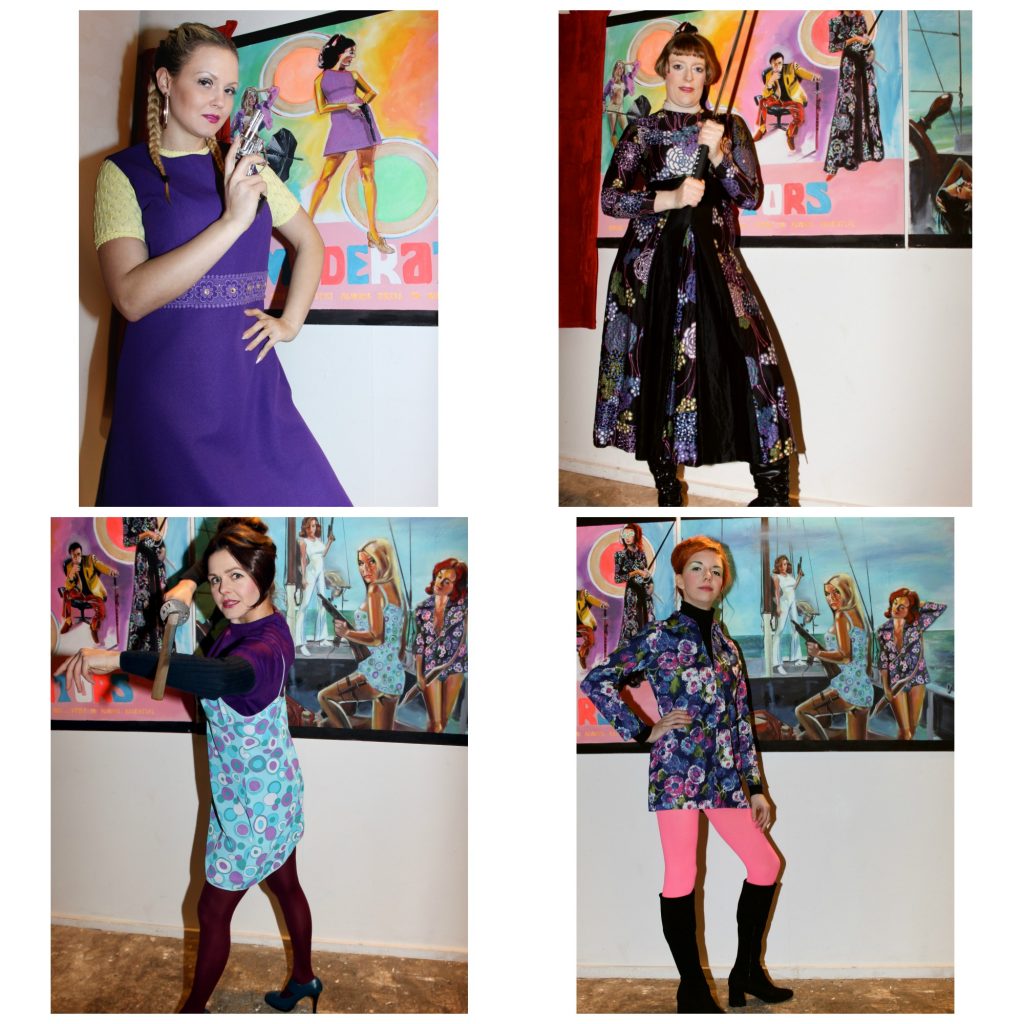 Thanks to models Liza Marie Dunnell, Beth Reeks, Estelle Long & Liz Glover.
 We were also very lucky to have a couple of fab make-up artist on hand at short notice, big thanks to Katie Crooks of Katie Elaine Make-Up and Mariana Gonzalez of Makeup by Mariana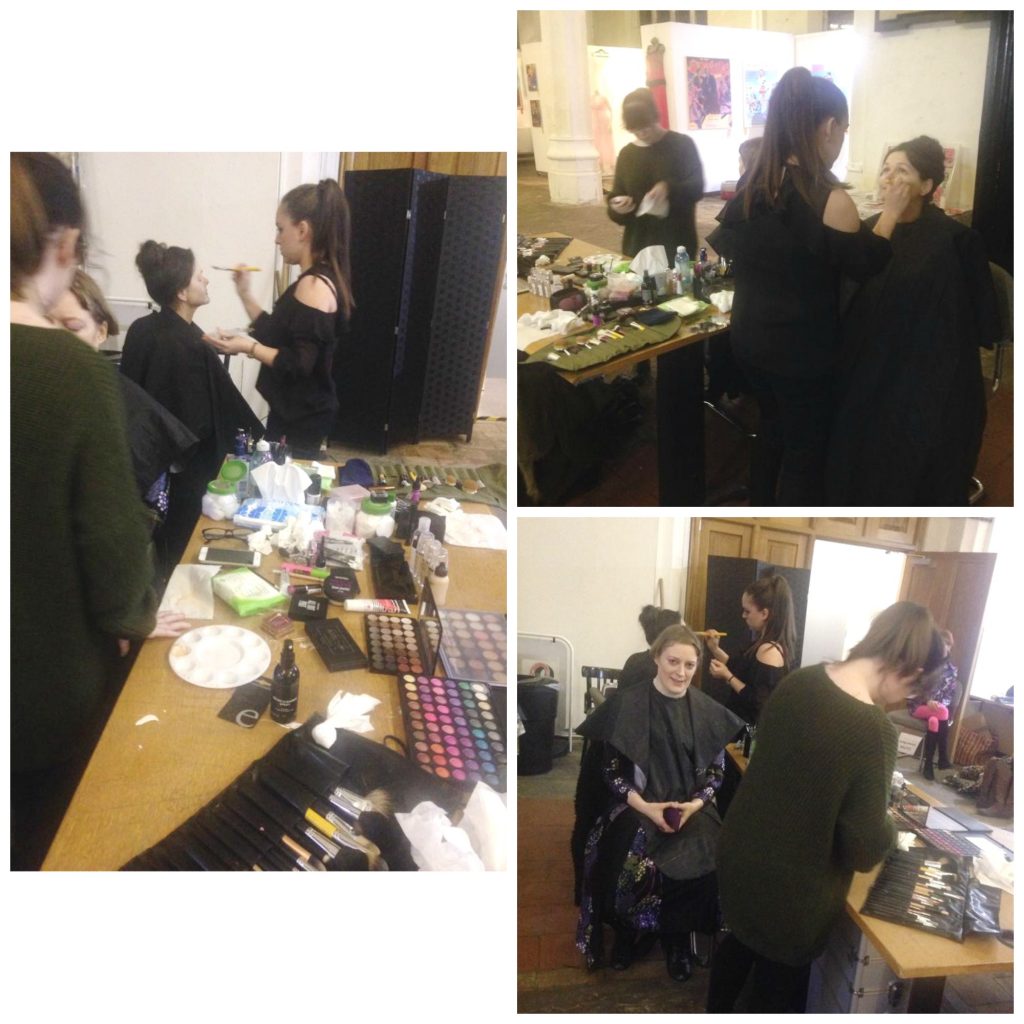 After spending a solid day setting up, I attempted to tidy myself up for the launch party at the last minute, only to discover I didn't have most of my make-up with me so as a rare treat, I got Mariana to do my eyes for me!
Another treat for our evening event came in the form of the wonderful Ruby Dagger, model and performance artist, who wowed the audience with a fan dance.
But back to the exhibition planning…props were a big feature of this exhibition, because we knew we had a big space to fill & lots of ideas – we had great fun throughout the year talking about different displays, then panicked slightly at the last minute as it all had to happen in a tight time frame with a very limited budget, but…with a surprise score of a bunch of mannequins from a good friend, plus a bit of borrowing & a lot of imagination, we got there in the end!
Here are some of the other set pieces that were featured…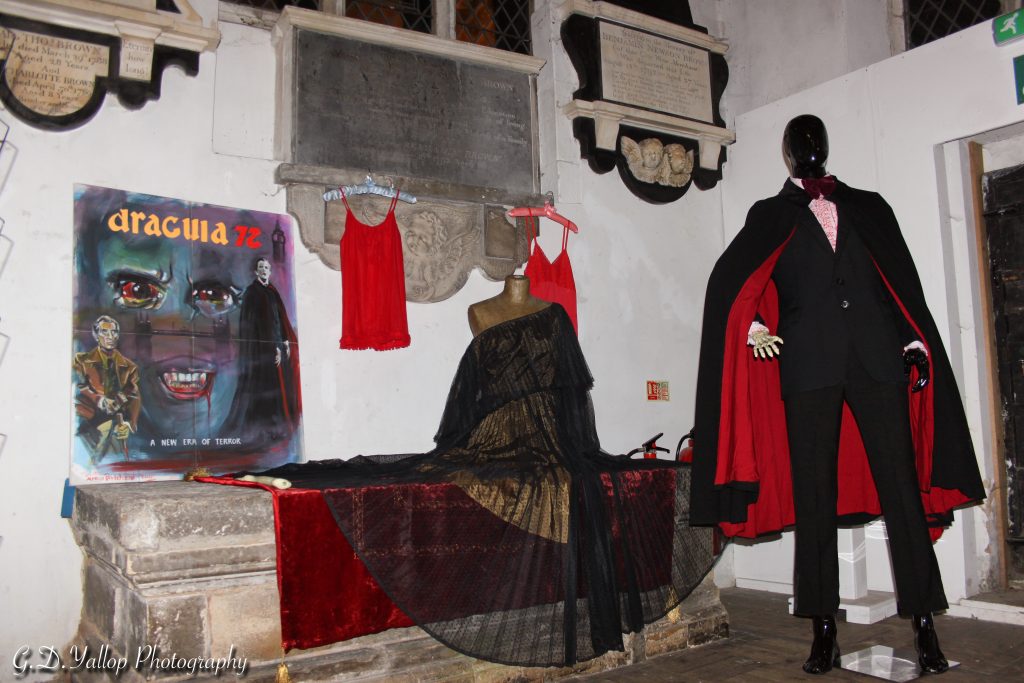 We had planned the Dracula based scene for ages, obviously bearing in mind our location too, and were so pleased with how it turned out. Artwork by Simon Pritchard , vintage dress & nighties available from Wake Up Little Susie & cloak on loan from The Maddermarket Theatre Wardrobe Department.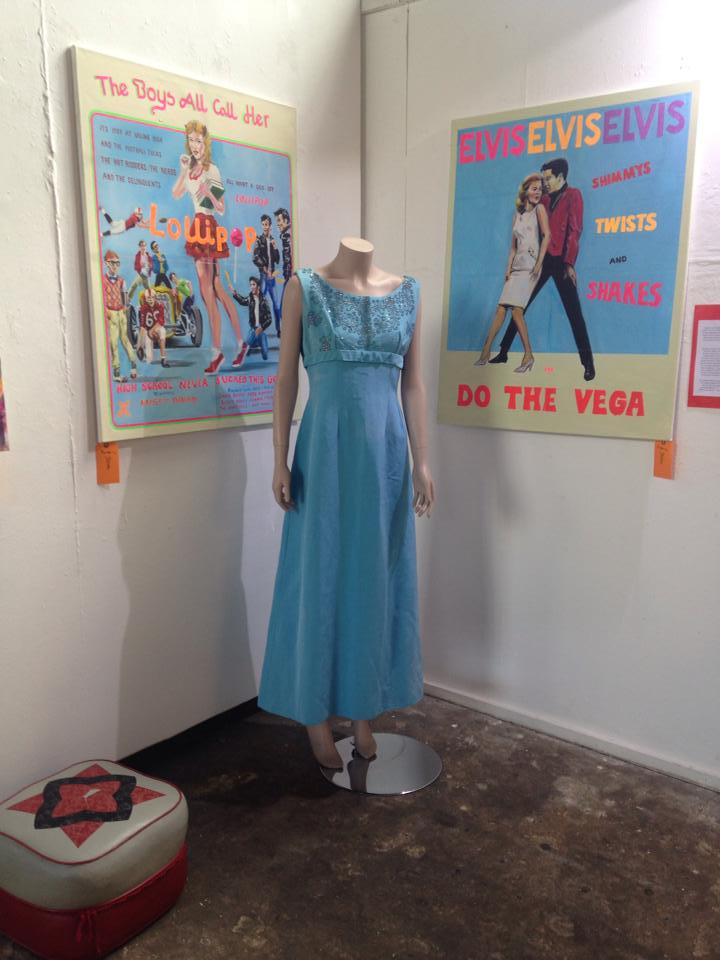 I really love the way this turquoise dress coordinated with the artwork in this display.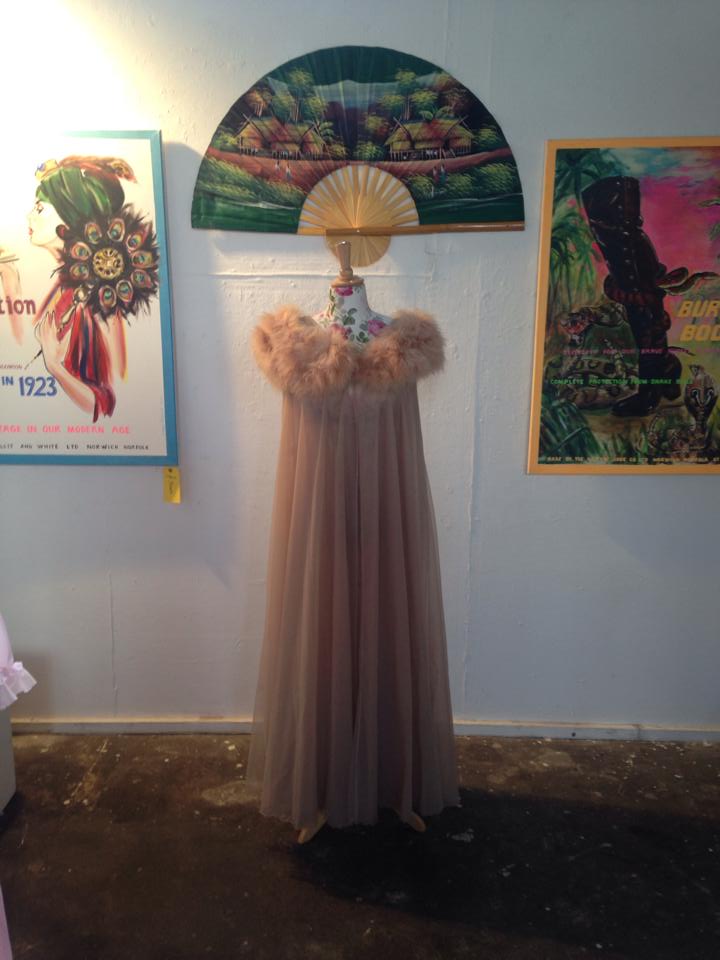 Beautiful.
A few more highlights…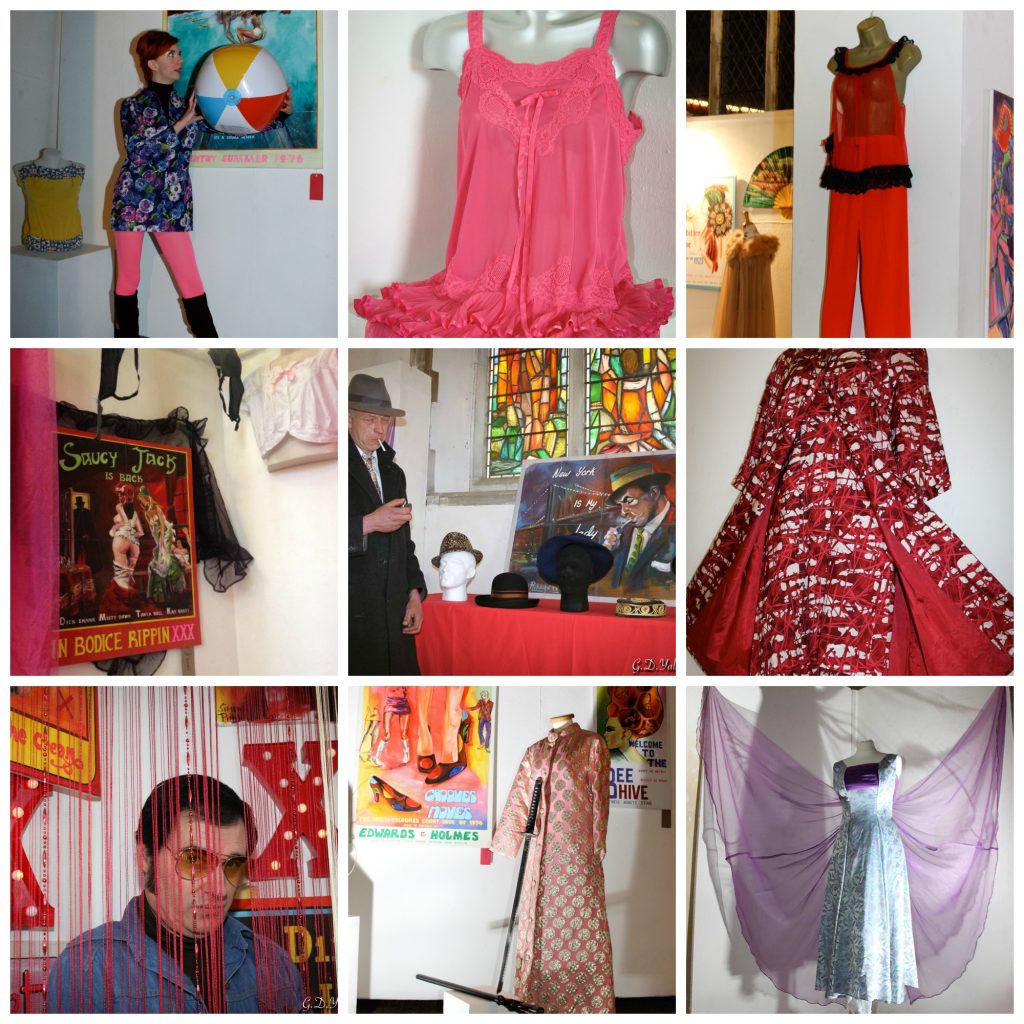 And some wider angles…
A huge thank you to everyone who came in to look around & joined in with our launch party night – it was an ambitious project involving a lot of work & we quickly discovered that we were touching on lots of different sub themes within our main theme, and we are planning to expand & explore some of these at different times so stay tuned!
Contact Simon at Artbeat64  for enquiries about the artwork shown & Susie at Wake Up Little Susie if you're interested in the vintage clothing shown.
Simon will be reviewing the exhibition too with his own particular angle, so watch this space…
As always, thanks to Gary Yallop Photographer for capturing the event for us.