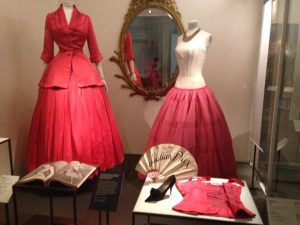 I'm personally a big fan of the Christian Dior 'New Look' style that he revealed to the world in 1947, with it's post-war return to glamour & femininity with long full skirts and hourglass shapes and this ensemble that I snapped at the V & A last year really has it all for me, colour included.
So, when my friend Karen suggested going to see the film 'Dior and I' about a whole new take on classic Dior, I was immediately intrigued but also wondered how I would feel about it…still, Karen who styles & blogs as  Fabulous-Miss-K should know what she's talking about when it comes to fashion & a girlie get-together, with new friend Jo too, was overdue so off we went to Cinema City in Norwich where we are very lucky to have a fantastic arts cinema to show such movies.
  The film basically followed the story of Raf Simons who was appointed as the new artistic director for Dior in 2012 with a challenge to create his first haute couture collection in the horrifyingly short time of eight weeks, working with his assistant & right hand man Pieter Mulier and together with the incredible ateliers & established Dior team (some of whom had been  there for around 40 years)  Throughout, Raf's challenge was to work with the original, classic Dior shapes whilst at the shape time modernising them for todays's trends and shapes.
The directing skills of Frederic Tcheng really illustrated the pace & emotion throughout the whole project, and I was really drawn into the passion of the story as we all felt that the 'spirit' of Christian Dior himself was present the whole time, in a way that I think was sometimes overwhelming for Raf Simons.
     The Vintage Fashionistas that we are, we loved the references to the original Dior classics & the occasional image of a heart-stoppingly beautiful '50s dress, but we were equally thrilled to see Raf's final collection and I think that we were unanimous in our opinion that he had lived up to the challenge & that all 3 of us would be happy to wear the entire collection!
A favourite idea of mine was Raf's decision to have artwork by American artist Sterling Ruby printed onto fabric which was then used for dresses and jackets and worked really well (I'm now thinking about designing nightwear featuring fabric printed with original designs by my artist hubby Simon of  Artbeat64 , pop culture artwork on kimonos, anyone?!)
It was a film that I didn't want to end (so naturally we had to continue the vibe with a cocktail or two in 42 King Street) and I will certainly be watching it again on DVD and encouraging others to do so, especially if you are interested in fashion or dressmaking on any level, but also because it was a very entertaining and moving story about a creative journey.