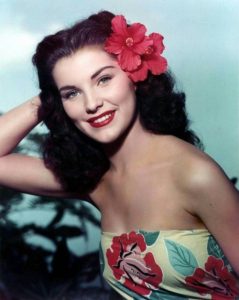 I've been doing the 'fifties thing' fashion wise for over 25 years now, as part of my Rock 'n' Roll roots, but hair adornments have never really been my thing, particularly not hair flowers for some reason, or no reason at all…
I think that hair accoutrements have never really been my friend; I always had very straight, very fine, very shiny hair as a child and slides & clips never did stay in well, and after a short spell in the mid '80s of tying bits of lace & ribbon in my perm Madoona style (at least that's what I thought I was doing) I moved into my Rock 'n' Roll look with a tightly scraped back pony tail using nothing but hair bands & metal grips for a good while.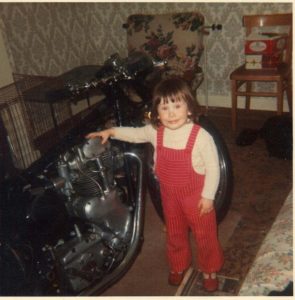 Here's me when I was little! Try not to be distracted by the fact that my Dad was rebuilding a motorbike in front of the fireplace in the living room, and witness my shiny page-boy cut!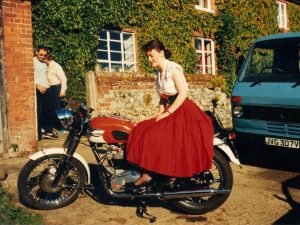 Again ignoring the motorbike & looking at my hair – it remained scraped into a pony tail like this, with no adornments, for many years!
Pier Angeli & Gene Tierney rocking their flowers, as well as Billie Holiday below.
Lately, the whole hair flower thing has become very popular on the 1940s and 1950s music scenes, often accompanying Hawaiian style clothing, and many, many companies now make & sell these flowers which I think vary very greatly in quality…..you can't deny that this really is an authentic period thing to do as well as fitting in nicely with the current vintage fashion thing, yet still I don't want to do it…..is it because I'm so used to not doing it, because I have an historical tendency to not want to follow the crowd, or maybe it's just because I know the flipping things still probably won't stay in my hair!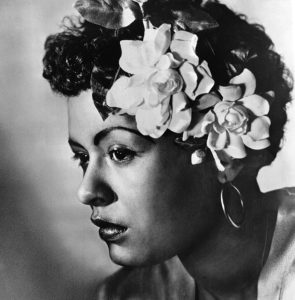 Anyway, having successfully hosted my first solo event in 2013, a pre-Christmas vintage nightwear party called twilight-time which was a lovely evening of frothy nighties for sale, twinkly lights & stars, pyjama girl hostesses, cocktails, shopping & socialising, I was keen to hold another similar event last summer and so a-midsummer-nights-dream was born. This time it was a warm (as it turned out, a bit too warm…) summery party with lots of pretty pastel coloured nightwear for sale, and this time the hostesses were to be dressed in floaty nighties, like fairies! This look evolved with the addition of wings, and I thought that flower crowns would really make the look just right too, particularly as one of my lovely friends who was to be a hostess happens to be Siofra, none other than betsyhatter ! Siofra was more than happy to make a selection of felt flower crowns for us all to wear.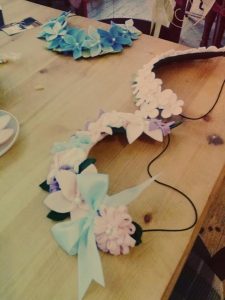 I was all decked out in a long pink nightie with a frilly white robe on top, as well as my slippers (what else?) so I couldn't go that far and not go further, and I was actually looking forward to wearing one of the beautifully made crowns! Gemma, aka RetroChick picked me one to complement my outfit & had to attach it for me (me being such a novice at sticking stuff in my hair) and, behold!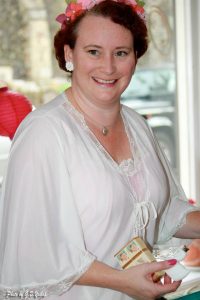 This is one of my favourite images from the night, taken by my friend Gary, GDYallop-Photographer, and whilst it likes quite posed, I swear I didn't know it was being taken, thus the natural smile! The flowers don't show entirely on this photo but the fact that my demeanor has been referred to, more than once, as regal, shows just what a good flower crown can do for your mood!   Here's a better one…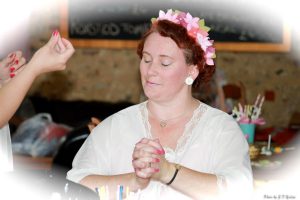 I have absolutely no idea what was going on here, but look at the flowers! in my hair! Betsy Hatter's hair adornments are very well made with a lot of care, attention to details, quality materials & no small amount of creative talent, so this stayed nicely in my hair all night and was very comfortable to wear – I was actually quite sad to take it off…and have been meaning to write about it ever since!
Here is the same crown on a more experienced model: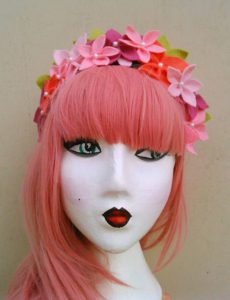 These lovely crowns come in all colours and are available from Betsy Hatter's Etsy shop – https://www.etsy.com/shop/BetsyHatter alongside her wonderful hats of course, and also these delicate origami flowers as worn by Retro Chick on the night –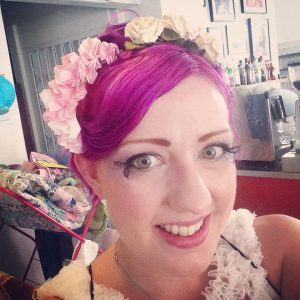 The moral of the story is; little girls with shiny hair can't wear pretty slides, you don't always have to follow the crowd, dressing up as a fairy for a vintage nightwear party is good, Betsy Hatter makes great flower crowns & who knows, I might even wear flowers in my hair again one day, especially if I can get Betsy to make me something like this…