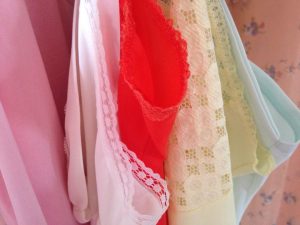 What does the idea of a trousseau mean to you? I think I always took it to mean a collection of clothing and maybe linen, bedding etc that a young woman would collect or have collected for her to see her along her way in her new married life, a kind of old fashioned 'bottom drawer' if you like. As a lover & retailer of vintage nightwear & the like, this is something I have been giving some thought to lately…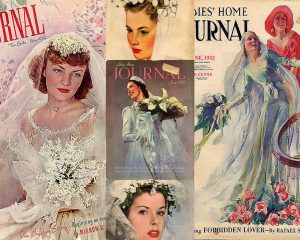 Indeed the name comes from the French 'trusse', or bundle and does traditionally mean the possessions that a bride assembles for her marriage. This has taken different forms through history from literally being all that a young girl owned as she started her new life, to a collection of necessary items such as lingerie & linen hand sewn by female relatives and possibly the bride herself. This lovely c.1920s/30s cotton nightdress or slip that I recently acquired from Look Back In Vintage (always tempting me with lingerie…) calls this idea to mind beautifully – all handmade from an old shirt, & trimmed with exquisite lace!
From Victorian times, it also came to consist of brand new outfits to see the bride through her wedding, honeymoon & into married life. In fact, like many things, the concept of a 'trousseau' became a more extravagant thing among wealthy Victorians who used it as a show of wealth & social standing so the bride-to-be's 'bundle' would include velvet, muslin & silk dresses for all occasions, and no doubt vast quantities of lace.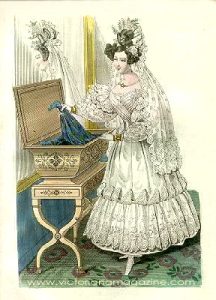 As an idea it may have changed over the years but has remained in place with the Queen's trousseau being designed by Norman Hartnell in 1947 although do remember this was a time of rationing & Elizabeth had to buy her wedding dress with ration coupons! Not to mention Wallis Simpson who apparently filled 66 trunks with clothing & accessories from the likes of Chanel & Schiaparelli – who wouldn't like to get their hands on such a trousseau!
Things are different for more recent generations as to be honest, lots of us do now set up home with our partners well before marriage (if indeed we get married at all) but I think the idea of a 'bottom drawer' was still going strong when I was younger & I recall collecting bits & pieces ready for when I had my own home from tea towels that were gifts from Grandparents to vintage home stuff that me & my then boyfriend (now husband!) scoured charity shops & car boot sales to find. I remember getting kitchen ware for engagement presents and thought that a pair of Victorian lace edged pillowcases from a thoughtful Aunt was a particularly lovely idea, definitely in the spirit of a 'trousseau'.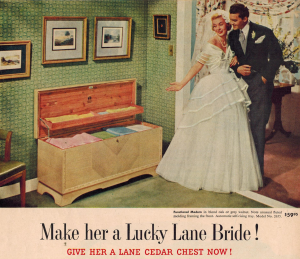 A modern fascination for nostalgia & romance has revived the whole concept in recent years with celebrities shopping for expensive luxury lingerie for honeymoons but I put it to you all that a most wonderful way of bringing this old fashioned idea into modern life would be to collect a beautiful trousseau of vintage nightwear & lingerie ready for your own honeymoon and into your new life and even as a unique gift for someone close to you. Vintage clothing of this nature can be glamorous, sexy, frilly & fun as well as elegant & sophisticated, and beautiful quality pieces cost the fraction of their modern day designer equivalent as well as being individual & unique. Who cares if you already live with your partner? If you choose married life, then it is still a new chapter & a collection of new intimate clothing is a great way to mark that. Don't think that this idea is just for the ladies either…
Glorious vintage nightwear is most certainly for the boys too.
To this end, I am currently putting together an amazing collection of fabulous vintage nightwear, lingerie & boudoir accessories for my first stand dedicated entirely to this for a wedding fair at Gressenhall on 12th July 2015. I'm really looking forward to seeing it all displayed together, and presenting it to a 'wedding' audience in a beautiful historic setting, where you can  also actually now get married.
I have lots of lovely vintage & antique bedding, linen & lace too, perfect for your own collection or for gifts including lace edged table cloths, pillow cases, tray clothes, sheets & bedspreads, antimacassars & dressing table sets. In fact, all you need for your modern day, vintage trousseau!