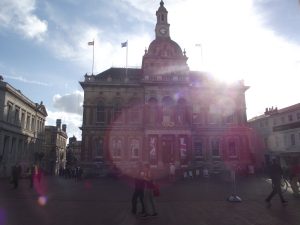 My name is Susie, I live in Norwich and I love Ipswich. That may be difficult for some folk to grasp as there seems to be a slight tension between the places sometimes which I gather is partially football related, but luckily football is none of my business & in my world I'm allowed to love my home City but also have a great affection for my adopted home town.
So, last weekend saw us take a suitcase of goodies on the train to take part in the peachykeenvintagefair which I was really looking forward to, as it really is a town that I enjoy being in & I have made many good friends there, so how did it all happen?
A long time ago in an office far, far way….well, it seems like that now but in fact it was July 2012 and I applied for a temporary promotion that would mean working as a manager in Ipswich – I didn't want the job you understand, it was all about experience & feedback & looking good to management (yes I was a teacher's pet at work) but would you believe, I got it! So on Monday 23rd July 2012 I was a big girl & set off on the train all on my own to do goodness knows what for the next 3 months & it turned out to be the best thing that could have happened! It was jolly tiring what with the travelling & the fact that the role was a huge step up from my 'normal' job but I absolutely loved it & was pleased that the 3 months turned into 10 (they didn't want to let me go…)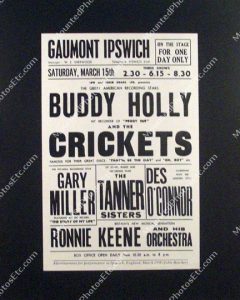 Until then, our only experience of Ipswich was when we popped along on the train to see John Leyton (of 'Johnny Remember Me' fame) at the Manor Ballroom and also, very excitingly when we got to see The Everly Brothers at The Regent Theatre which was special as we never thought we'd get to see them, especially locally, also it was the same venue that had played host to Buddy Holly & The Crickets on their March 1958 UK tour (then The Gaumont) & as it turned out, with the recent passing of Phil Everly, that very night was the actual last time they performed together.
So, not being familiar with what Ipswich had to offer in terms of shopping & vintage & because I think I somehow wanted to prove that it DID have something going for it, I decided to make the most of my working time there to explore & report back on my Facebook page which evolved into my  Adventures in Vintage Ipswich album.
I wandered towards some pretty old buildings are quickly found this intriguing sign….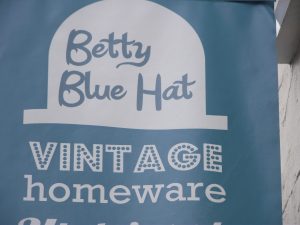 Which led me to the lovely Loveone shop where I met Cathy & Jess (aka Betty Blue Hat) & we have remained good friends ever since. It honestly did me the world of good in the beginning when I didn't really know anyone in the office to be able to go out in my lunch-breaks & chat to like minded people, and it was a very good de-stressor to be able to switch off and go & explore the town with my camera & a friendly disposition!  I soon found the enthusiasm of the traders in Ipswich who were working so hard to put their town on the map very contagious, & have always done whatever I can to promote them.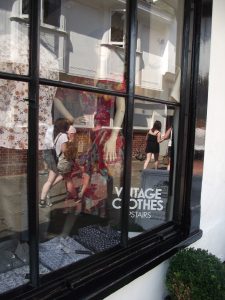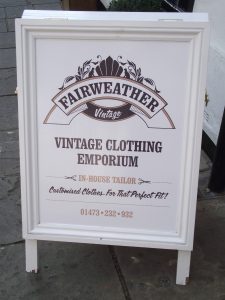 Another lifelong friend made was Kelly from Fairweather Vintage who then had a lovely vintage clothing shop in town (above) & I eventually started to take some of my '50s dresses to her to be 're-vamped' as she's also a tailor & a demon with a needle & thread! she gave some of my old favourites a new lease of life, like this one…
Kelly & I have stayed in touch & I was really pleased to get to visit her bigger & better new premises in January…I would definitely recommend a visit!
I found lots more lovely places & people & enjoyed scouring Ipswich's many charity shops (which we still like to do from time to time!) and at the same time I was loving my office job, making great friends, facing huge challenges & meeting them so all in all, Ipswich represents to me a place where I had a very positive, confidence building experience, made lots of friends in the office & out and where we will continue to visit for those & many more reasons.
My work there finished in May 2013 but we have returned lots of times for vintage fairs, street markets, shopping & socialising…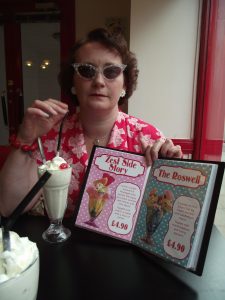 Did I mention there's a fabulous Waterfront in Ipswich? You can imagine you're in St Tropez on a sunny day….
So, it's all quite logical that this year I have actually taken parts in Ipswich events myself (I had to expand out of Norfolk sometime) firstly with the I Make Fun Stuff Craft & Vintage Market at the lovely Town Hall where I got to meet lots of new people, & most recently at the second Peachy Keen Vintage Fair (I was gutted to miss their first fair in March but it clashed with the Norwich Fashion Week Vintage Show & hey, you all know my heart belongs to Norwich Fashion Week) which was in the equally impressive venue of St Peter's Church.
Here are my stalls at both events….
I Make Fun Stuff market at the Town Hall…
Peachy Keen at St Peter's on The Waterfront…
So, thanks for having me Ipswich buddies and I would highly recommend a visit to the Town for it's lovely vintage & unique shops (as well as those mentioned, there is also Jenny Wrens Yarns for you crafty types, hubby's personal favourite The Italian Shirt Shop, Out Of Time Records & a lot more!), the beautiful waterfront area, many, many charity shops, fascinating old buildings, & very lovely people! It's certainly a place that's made a difference to my life.