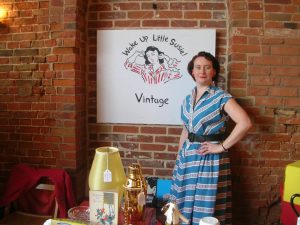 I have a lot of dresses, mostly original 1950s ones, I have no idea how many (hey, how about a guess the number of dresses in Susie's wardrobe one day?) except they are all stuffed into a room that I can't move in at the moment & to be honest, most of them don't fit at the moment…. Still, I find it very hard to contemplate parting with them, although that day may have to come for some of them, as I can mostly remember where I bought them or who gave them to me and where I wore them (obviously aided in this one by the many photos that are around) so they are all emotionally linked with friends, family, events, memories of Rock 'n' Roll weekenders, holidays and special occasions.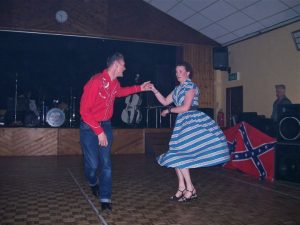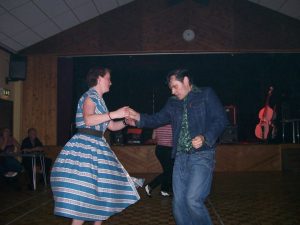 I've posted a few 'Throwback Thursday' memories of outfits gone by on my Facebook page Wake Up Little Susie which have always gone down well so I thought that now & again I would share some dress memories with you all!
This particular blue patterned St Michael's dress has been a favourite for many years; back in my early days of collecting old & interesting stuff I used to regularly go to Fleamarkets at The Marina Centre in Great Yarmouth with Mum & Dad which is where I found this little gem, which must have been back in the late 1980s as I had this way before I met my husband Simon in 1991. I'm sure it was in a box on the floor and I think cost something ridiculous like £1 (certainly no more than £3! and yes I am still getting over how much an original 1950s day dress costs now compared to what I would have paid for one in 1988!) What I particularly remember is that the dress had no buttons, so me & Mum spent some time trawling around the stalls looking for enough buttons (it buttons all the way down so needed quite a lot) that matched in colour in size. We ended up with some nice cream plastic ones which looked just right & are still on the dress to this day, although I honestly can't remember whether Mum sewed them on or me….. much later on I saw the same dress in a vintage shop which still had it's original buttons & they were actually blue but I still love my cream ones best!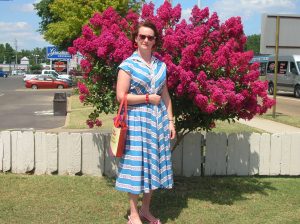 It would have no doubt originally had a belt in the same fabric which was missing but no matter, the dress was quite a lot big for me when I first had it so it was always cinched in with a nice wide waspie belt in those days! Over the years I've gradually grown into it (!) and have worn it with white belts, red belts & black belts to match whatever were the shoes & handbags of the day, not to mention with net petticoats & without and here I am in front of a nice plant in Memphis, Tennessee in 2009 (a scary 20 years after I bought it!)
That dress has been danced in, weekendered in, holidayed in, worn to work & most recently it has been a favourite when I'm stalling out at vintage fairs when brightly coloured '50s shirt-waisters are usually my attire of choice.
The earliest picture I could find in a digital form is this one from a jukebox fair in the mid '90s although once I get round to looking through my old (pre-digital) photo albums no doubt I will re-discover many photos of me as a bright young thing when I could fit into my entire wardrobe!
Apart from the fact that I love this dress, what also strikes me is the outstanding quality and durability of this every day dress – it would have been a good 30 years old when I first bought it, and one can only imagine the adventures it had seen up to that point, and I've worn & to be honest not looked after it amazingly well for almost another 30 years & it's still going now! It did have a spruce up by Kelly of Fairweather Sewing Studio in Ipswich a little while ago to tidy up seams & armpits etc. and I have to confess that it is finally now a little snug but I anticipate a good few years of wear in That Dress yet!
Heck, it's even been to Graceland…