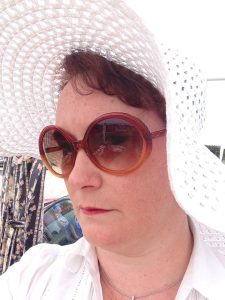 Over the last couple of days I've been getting really fed up with the weather and the whole not being able to sleep thing (I was excited to see a link on the internet today with advice on how to get to sleep in the heat but it was basically opening & closing windows & blinds at the right time, sleeping on cotton sheets not nylon (who sleeps on nylon sheets these days?!) so a bit disappointing…) to the point that I was starting to dread seeing the sun blaring through the window at 5.00 am & craving for those lovely crisp autumn days & chilly evenings!
So, this morning we thought enough is enough! Let's enjoy this summer instead of moaning (& believe me, I am so grateful not to be boiling in a stuffy office this year!) so off we went to Tesco to stock up on things to make us happy & keep us cool.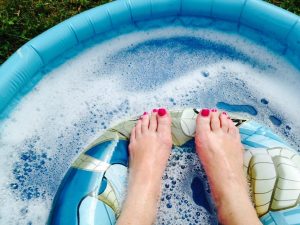 First thing on the list: paddling pool! We first did this a few years ago when we had a 4th July party in our garden to keep the Buds cool & for the inflatable shark (it was a Jaws themed party) & then left it in the garden all summer as it was great to sit on the garden chairs with your feet in cold water (with a little bubble bath!). Did the same last year with an inflatable Spiderman ring to rest feet on (it was a Super Hero themed party) & some green plastic balls to play around with (representing Kryptonite) which is surprisingly therapeutic & highly recommended, indeed we had many successful brainstorming sessions sat with our feet in the pool, twiddling Kryptonite with our toes &  drinking milkshake. Yes bugs do get in it so be aware, & of course change the water now & again…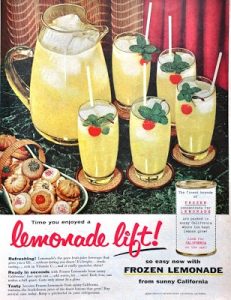 We also stocked up on a bunch of cold drinks including different types of lemonade to go in the Pimms, & also because I thought I might put some in a jug with ice cubes & lemon slices and carry it out onto the patio on a tray, 1950s housewife style! I believe we have some lovely 1950s lemonade sets boxed up in the loft; I was always afraid of them getting knocked over & broken outside, so stick to the bright coloured plastic supermarket sets… Orange squash went in the basket too as you can't beat gutsing a glass of squash down when you're super hot & tired, 1970s childhood style! serve it in plastic beakers for maximum nostalgic effect.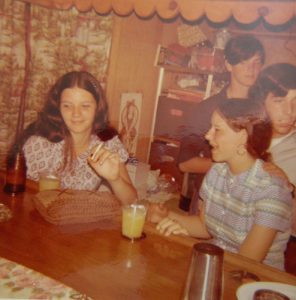 So, with a couple of sun beds in the trolley (the basket turned into a trolley) too, & some Mediterranean style food, we headed for home & no sooner had I popped some ice cubes into the freezer, it clouded over & started to rain (obviously) No longer fancied laying outside but it's still hot!! so what are my tips for keeping cool? Clothing definitely matters and sometimes small & skimpy isn't the answer, a thin flowing robe is the nicest & this one here (bought to sell, but I fell in love with it!) is perfect, apart from the fact that the colour is 'cool' in itself, it's just the right cotton/polyester combination to feel cool & natural but to also to stay crisp & not crumple up (nothing worse than feeling hot & crumpled!)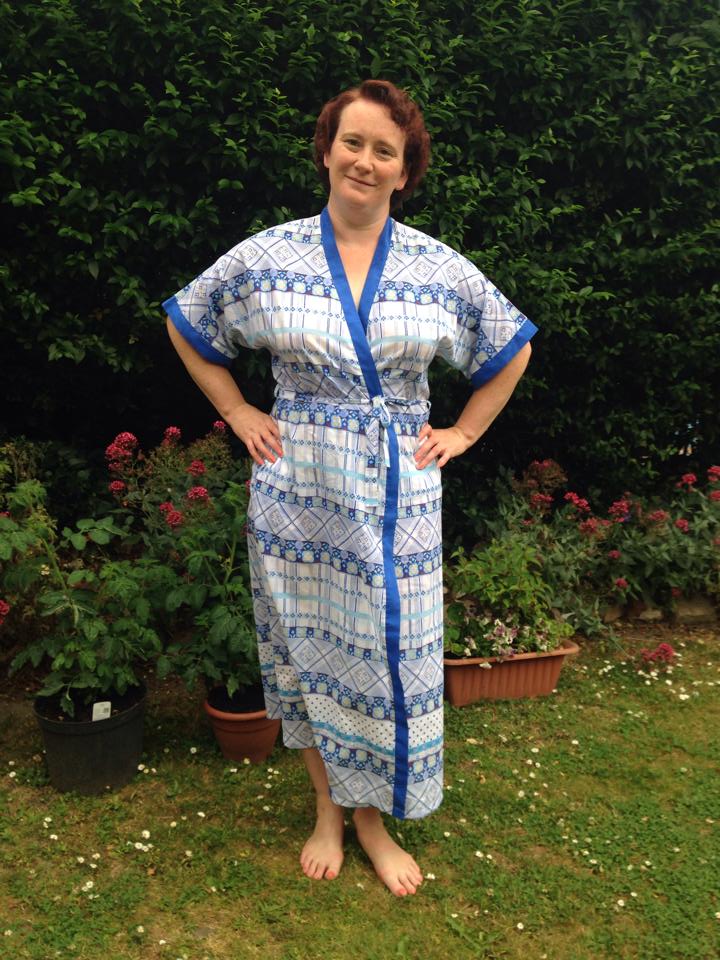 What else to do! Fans! the electric kind are OK to a point (I have one aimed at me now) but they do get annoying & I doubt I could sleep with one in the room, we also have a vintage Pifco one of the type that you could actually put your fingers in if you wanted to so we don't tend to use that just in case someone can't resist the temptation to poke it…On the other hand, actual hand held fans that many may see as mere accessories or affectations, really do work & I have a vast collection that I keep picking up on holiday in Spain for as little as one Euro mainly because they're pretty & I think that I might use them in a photo shoot but now I'm using them myself! Ideally you need someone to fan you until you fall asleep, but that's slightly harder to achieve…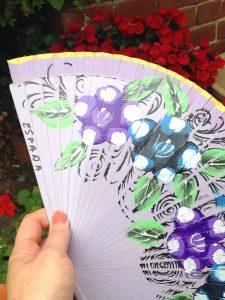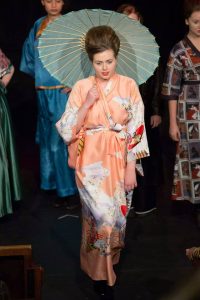 Parasols are good, not just decorative but genuinely useful – my Mum was practically forced to buy one a year or so at an outdoor music event that was baking hot & it saved the day, so she bought me a nice one too and if it stays sunny, I'm getting it out & using it! See, now I'm starting to look forward to some more hot weather instead of dreading it!! Plus when I have outdoor vintage events coming up I know I'll be crossing everything for nice weather!
Let me know your tips for dealing with the heat & until next time, stay cool!