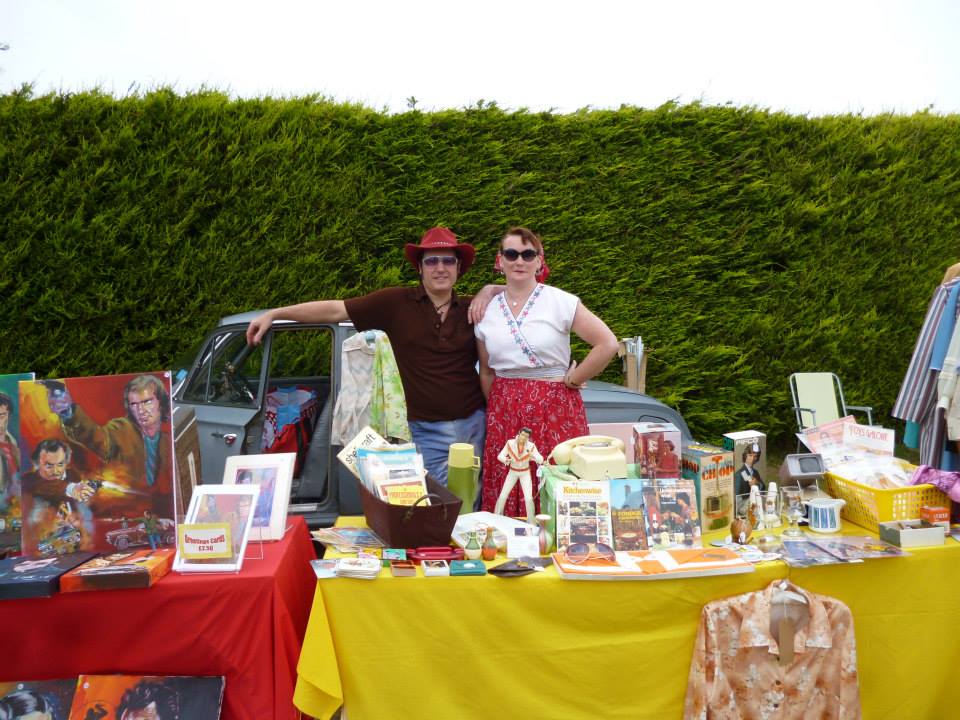 Me & Simon selling our '70s related wares at the first Super Dooper '70s Day in 2013.
This event, organised by my good buddy Paul McAlpine, was something completely different – primarily he wanted to organise something for 1970s car owners, as cars from this decade often get overshadowed by vehicles from other periods, and back in 2013 as he plotted the idea of a purely '70s car show, the concept of a whole seventies fun day evolved and I personally fell in love with the idea as soon as Paul ran it past me! I was so excited at the thought of presenting a stall full of goodies relating to the decade of my childhood, that I'd started sourcing out brown & orange home-ware and other treats long before Paul actually confirmed it was going ahead!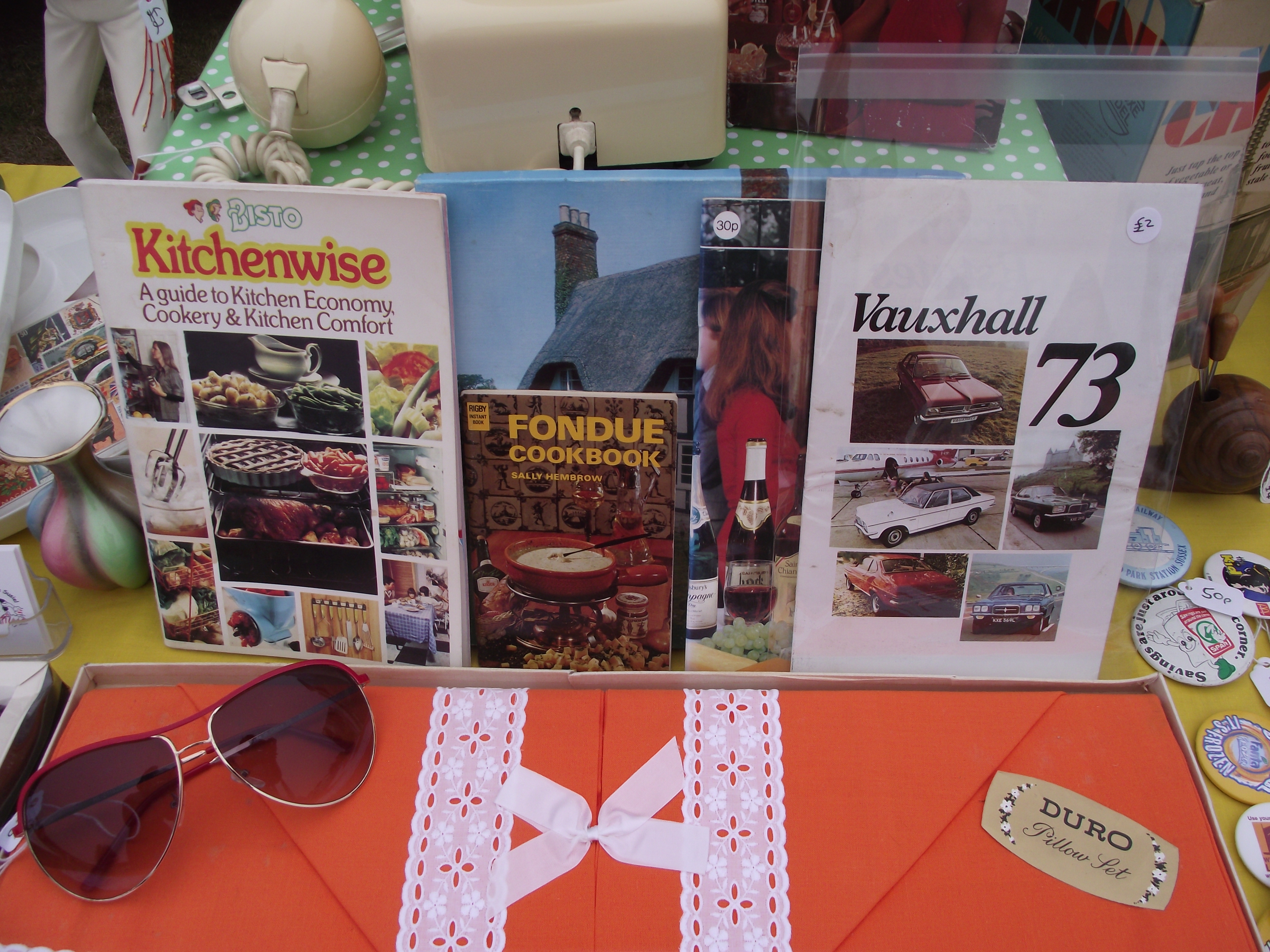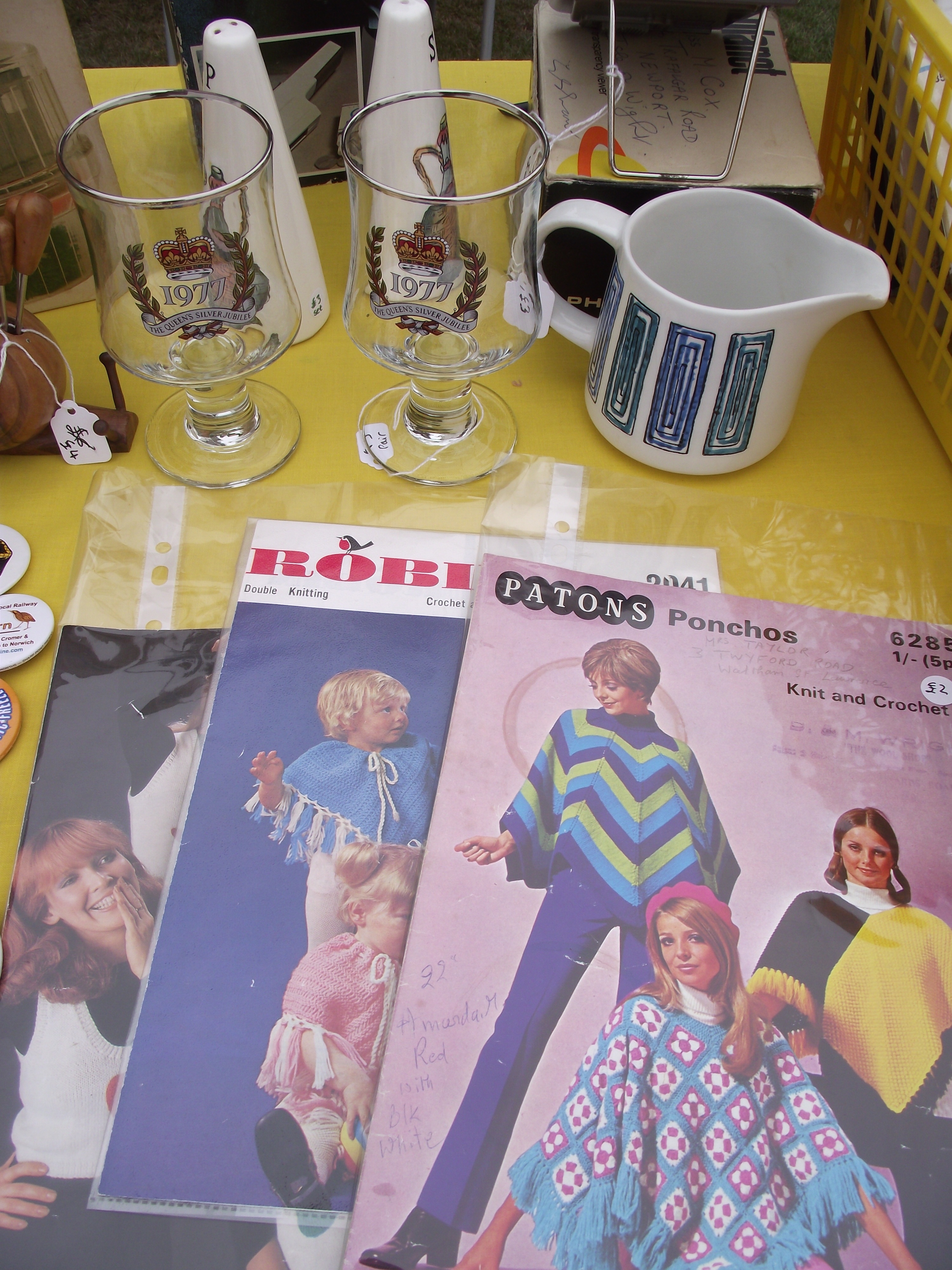 I stall out at a lot of different events and always try to somehow 'theme' my stock to the occasion, whether the fair itself has a particular era or just to fit the season – this is for my own creative satisfaction as much as trying to provide a varied display for the customers! To gear a stall around just one decade was really enjoyable and the '70s made a nice change from the abundance of 1940s & '50s related things going on (much as I love them). It's also the decade from our childhood so it got us & our friends reminiscing about the toys, music, movies & TV from that golden decade & Pop culture of the '70s was reflected in Simon's own art display.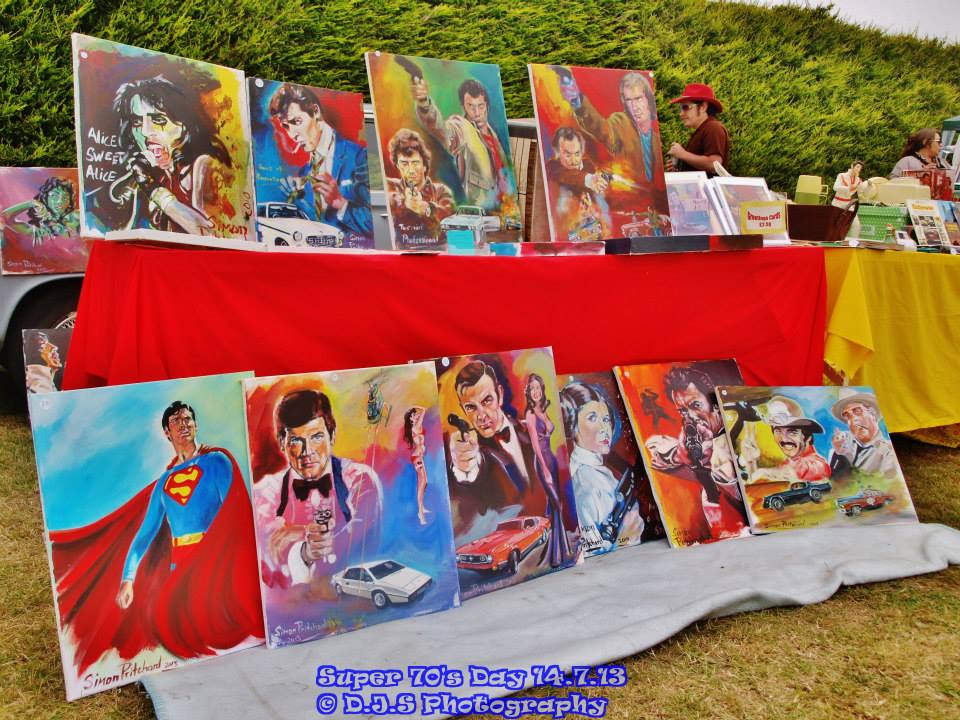 Paintings by Artbeat64, photo by D. J. Stebbeds Photography
Take over 100 1970s cars in the great venue of Wroxham Barns (lots of stuff to do there anyway!) add some 1970s stalls & artwork, carboots & autojumble, a '70s ice cream van, some space hoppers, lots of people in cool '70s outfits, a DJ spinning the best of the sounds of the seventies on original vinyl & you get a brilliant day out!
I had no trouble gathering up a rail of clothing from the '70s, or thereabouts, & this is one of my favourite photos of the day – the very cool Julie shopping…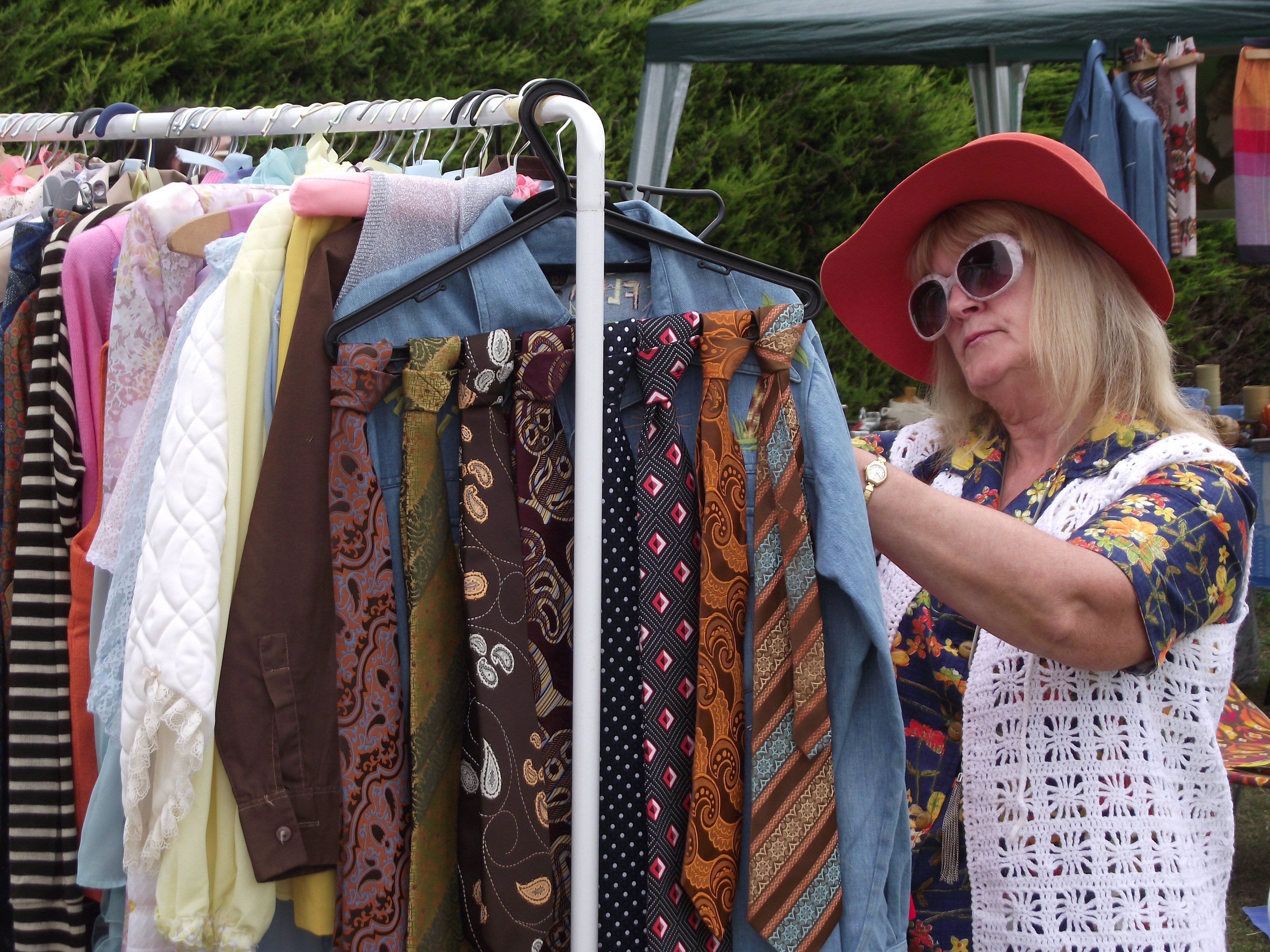 So, what to wear? none of my stock fit me but I wasn't going to give in & go as 'every day me' without at least a nod to the '70s so I raided my wardrobe & came up with a long, tiered peasant type skirt (I wear this a lot, but these layered skirts always say '1970s' to me!) which I teamed up with an actual 1970s blouse that was a charity shop find (bought because it looks kinda '50s Mexican too) & the headscarf which I thought was a bit Ellen Brody (from 'Jaws'…) plus I remember my Mum always wearing headscarves in the '70s.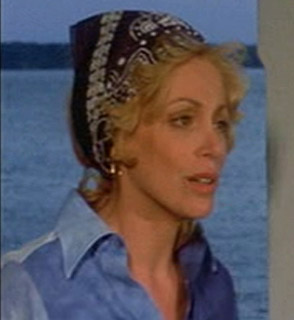 Add some wedge heeled sandals in lieu of platforms, & here we go!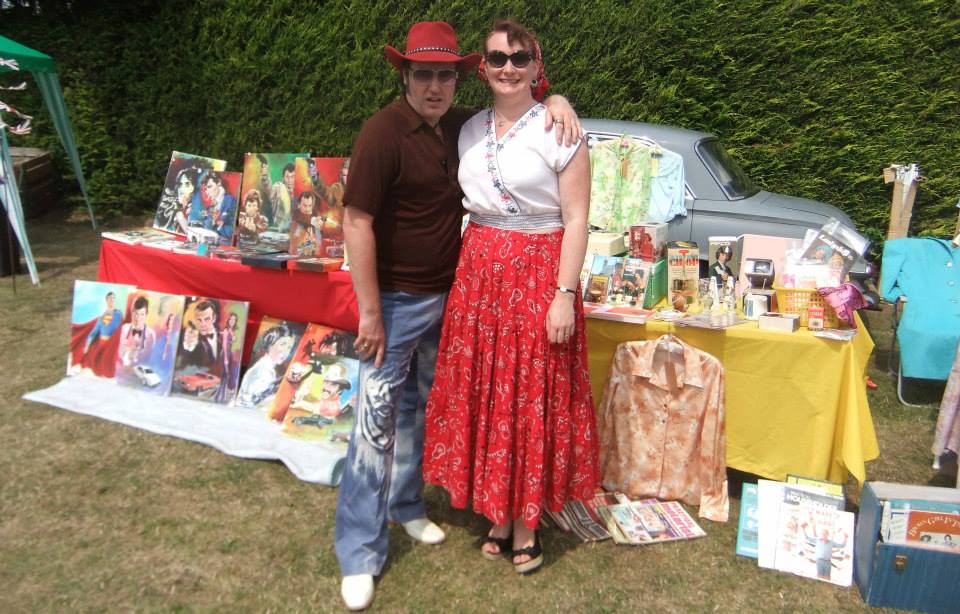 Simon, as you can see, fully embraced the whole thing with tiger jeans he'd had for a while (boy was he excited to find them) plus hat from Nashville & charity shop '70s shirt. Really love it!
The organisers themeselves occasionally billed the '70s as 'the decade that style forgot', which I guess comes from some people's 'fancy dress' idea of the '70s, but I disagree and came up with a few example to prove my case! Here we have Debbie Harry, Elvis, Bianca Jagger, Burton & Taylor – all super cool '70s style icons. The list is endless!
The event was so successful that there was no question that there would be a sequel & we were straight on board for Super Dooper Seventies Day II which was even bigger & better (until we got drenched packing up, but luckily that was at the end of the day & we'd had a great morning!)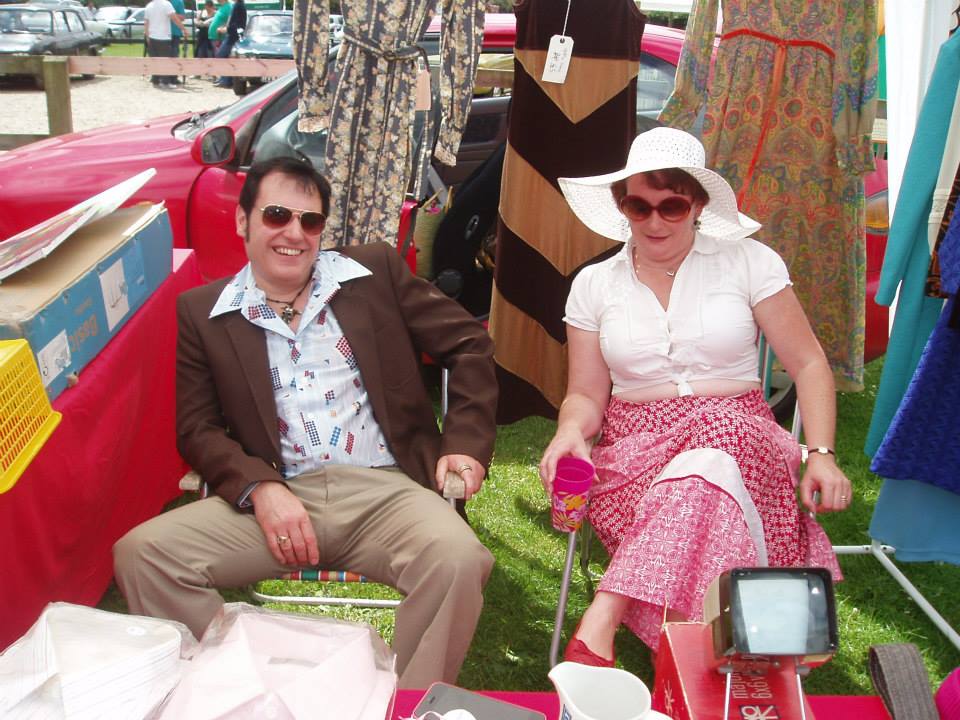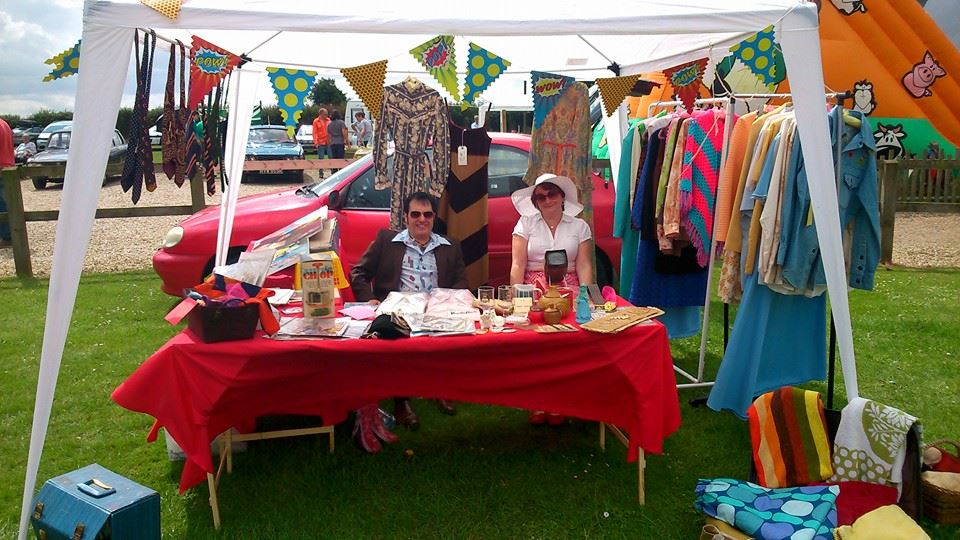 Once again we stalled up next to Kate from Junk & Gems who has a shop in Norwich, and an AMAZING array of '70s stuff –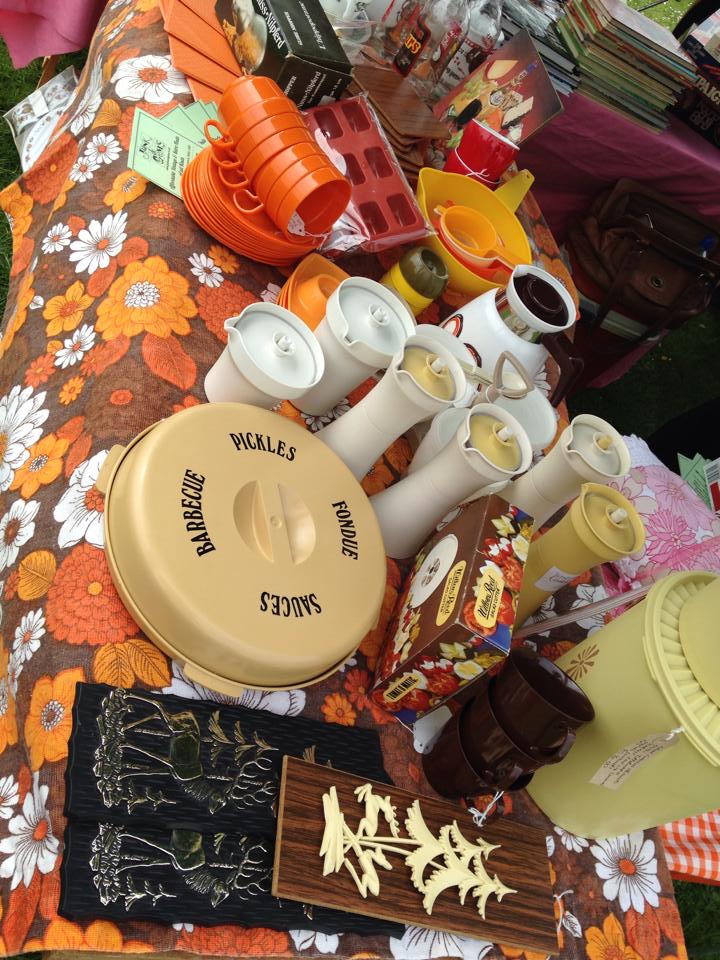 I was pleased again with the amount of '70s gear I put together (even a poncho) on my rails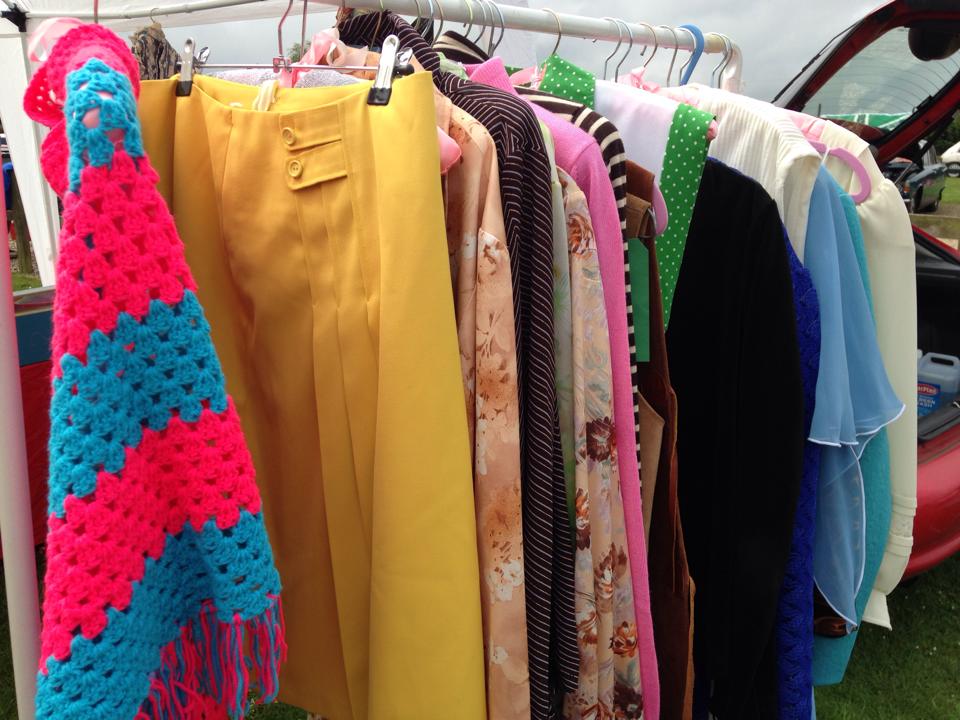 and not forgetting that this event is primarily a car show, I took the opportunity to do a bit of Ford spotting…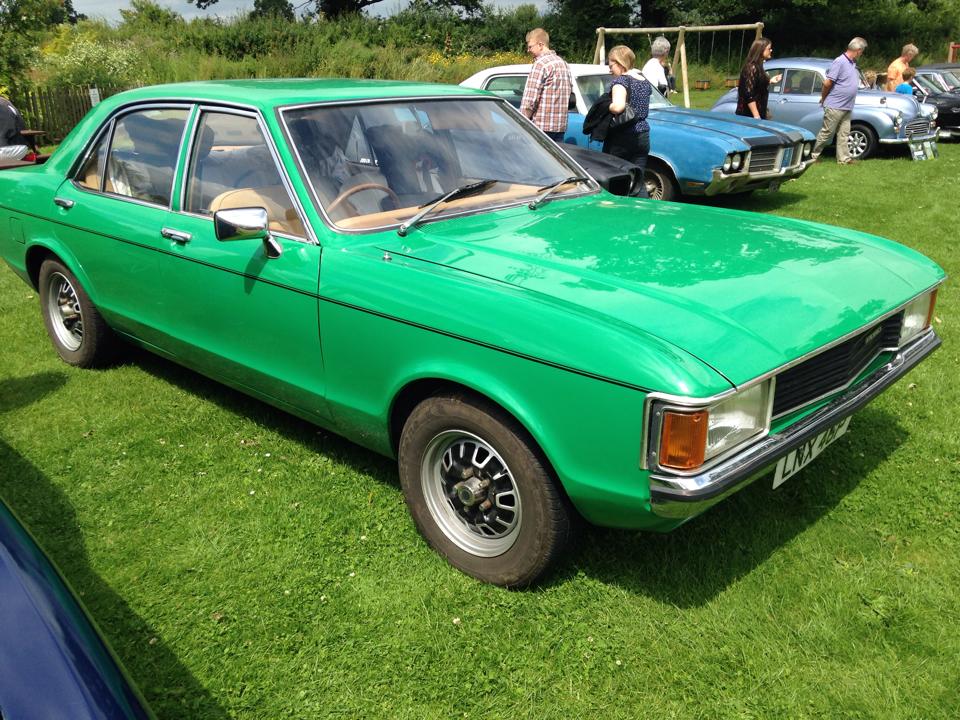 The big chunky Cortinas & Granadas of this period remind me of my Uncle D as he always seemed to have this kind of car, in my childhood '70s memories. The last classic Ford my Dad owned was a lovely red Corsair when I was very little, then I recall a Hillman Hunter estate before he moved onto Datsun estates which still seem like 'Dad'cars to me! In fact, I'd love a '70s or '80s Datsun Bluebird estate for a business vehicle, but they don't seem to be around…
So, the outfit for 2014: I obviously planned to think about it well in advance this time & wear something proper '70s but just as obviously I left it to the last minute & concocted something out of my wardrobe as usual – another tiered skirt which I teamed up with a cotton blouse tied at the waist (instead of the cheesecloth tie tops I remember from the time, can't seem to find one now!) and it all came together with a floppy hat bought in Spain & some '70s shades that I'd bought to sell but grew rather fond of. Oh and I had wellies on, due to the forecast.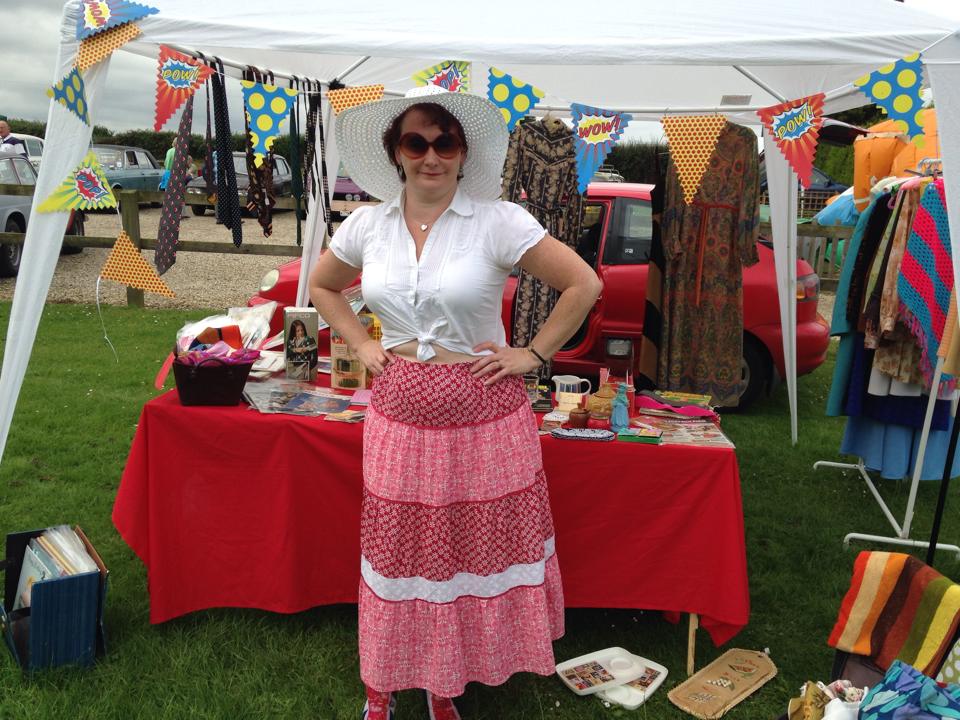 Onto this year! I was all booked up & looking forward to Super Dooper Seventies Day III , under the organisation of Matt Debbage this time, but the weather forecast sadly made a stall seem like a bad idea, particularly as I had a big event the following weekend & really didn't have time to spend the week drying out stock…Undeterred we still went along though & enjoyed the cars as usual but it seems my decision was right as we popped into the restaurant for lunch & it was chucking it down by the time we finished so not even a chance to get a good photo or 2, which was a shame as this time I really had managed to put together a proper 1970s outfit! Recreated here in my sunny garden…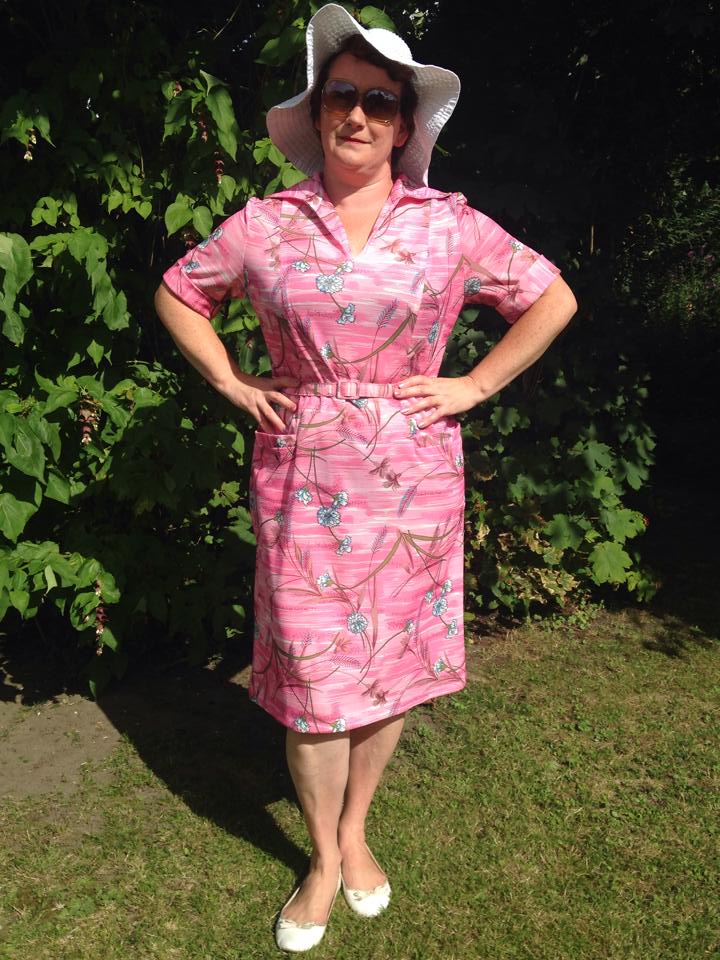 The original '70s dress was from a job lot of stock that I washed ready to sell, but the colour & pattern made me try it on and not only did it fit, but I feel nice in it too so it's a keeper! The hat is another original bought to sell on but found it's way into my own wardrobe & the shades I picked up at the recent 1960s weekend at Holt Railway Station. OK, Primark shoes, but pretty authentic other than that! I say roll on Super Dooper Seventies Day IIII!