All images used in this article were taken at the Little Vintage Lover Fair in the village of Heydon in Norfolk, by G. D. Yallop Photographer.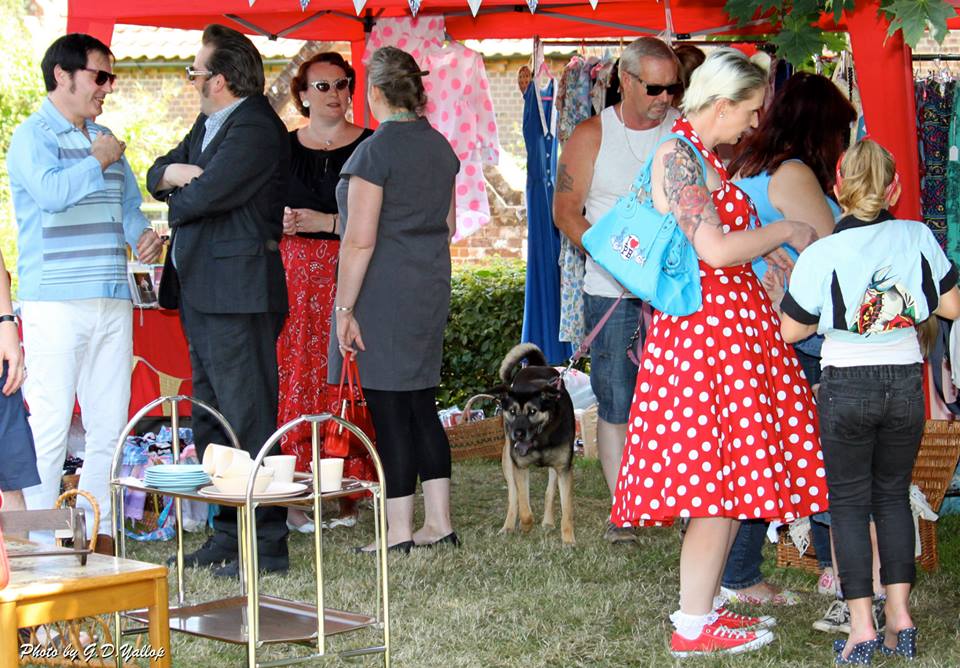 The Wake Up Little Susie stall looking colourful & busy in 2015!
A couple of weeks ago I was busy sorting out all my very best stock & crossing everything for nice weather, as the summer Little Vintage Lover Fair was coming up on 2nd August!!
Norfolk vintage lovers will know this event as one of the highlights of the local calendar, now well established as the event to go to dress up, shop, socialise, shop, soak up the atmosphere, shop, enjoy tea & cake, & shop!  For those of you not yet in the know, Little Vintage Lover Fair was established in 2008 by Zoe Durrant (one time Norfolk girl, model, singer & all round interesting & charming lady!) who, with a loyal team of dealers & fans, has created a very special independent event that likes to bring a little bit of glamour to the extraordinary.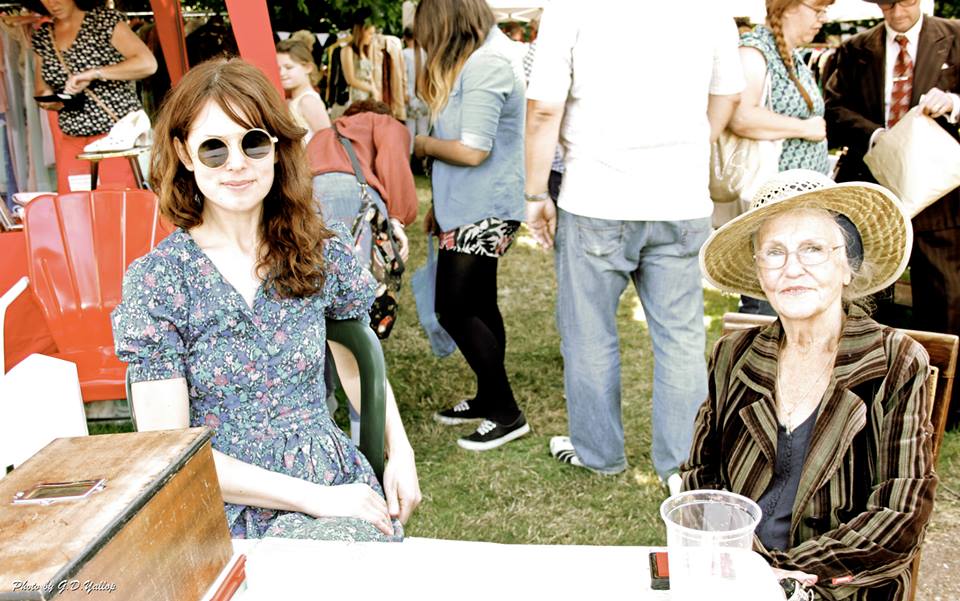 Zoe & her Mum Margaret, who must have lost count of the vintage shoppers at Heydon this year, such a busy day! 
At LVLF it's not just about the shopping…they regularly host events in small village huts, barns, medieval halls, Victorian mansions and stately homes in Norfolk which makes a LVLF an all round adventure as you can tie in your vintage shopping with a trip to the picturesque Norfolk Coast, – take the opportunity to explore a unique Grade 1 listed medieval trading hall, wander round the nooks & crannies of a nineteenth century mansion & in the summer, you can also soak up the atmosphere of the charming, old fashioned estate village of Heydon.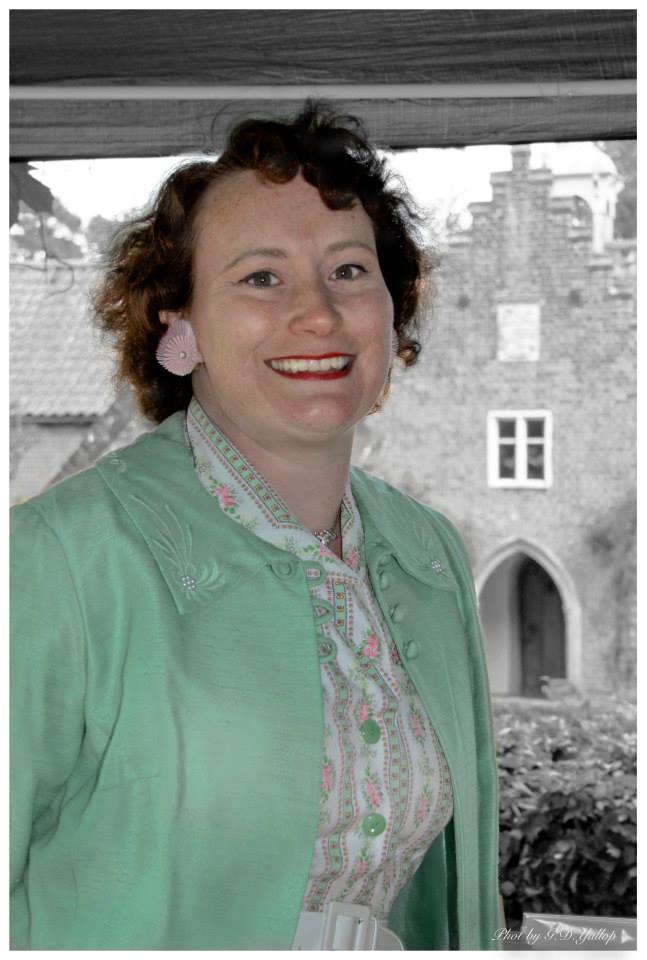 This beautiful image by Gary Yallop shows me on my stall, with a glimpse of the picturesque cottages of Heydon right behind me. This photo is from 2011, but the village doesn't change!
Heydon is listed in the Domesday Book as "High-Down", and is still owned by the Bulwer Long family, one of only around a dozen English villages that are entirely privately owned. It became Norfolk's first conservation area in 1971 and the village retains an old-fashioned character with no new buildings having been added since the Queen Victoria commemorative well was built in 1887. The vintage shoppers certainly appreciate the old fashioned charm of this location (which has no through road!) & many stay all day, taking in the scenery & history as well as taking advantage of the tearoom, pub & village green!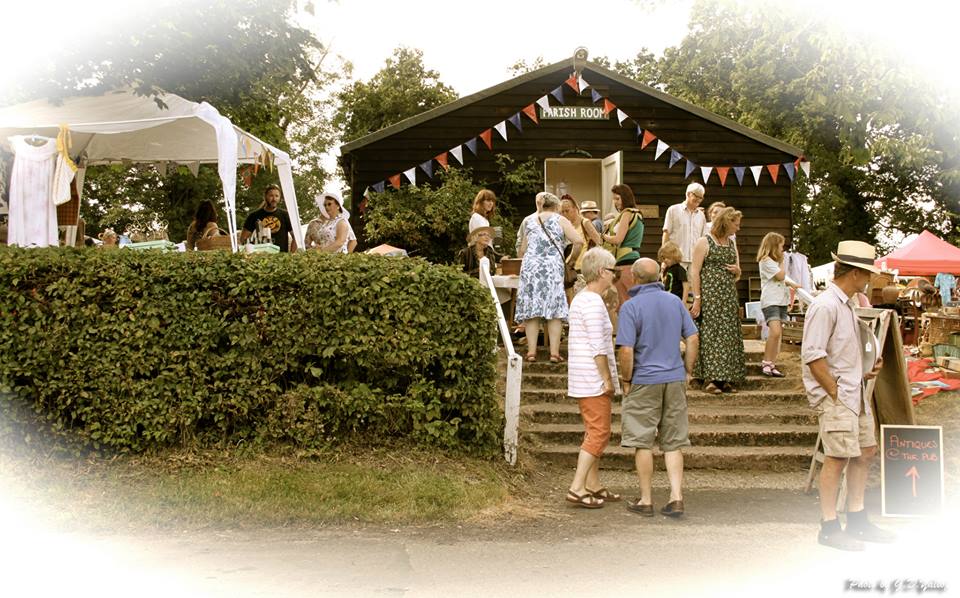 The First World War hut that the fair takes place in & around is quite a modern feature of Heydon, just before you reach the main part of the village, on the one road in & out…
My very first Little Vintage Lover Fair was at Norwich's amazing Dragon Hall in the autumn of 2010 which was also my very first fair as Wake Up Little Susie ever! As they say, the rest for me is history & I'll always be grateful to Zoe for giving me that first break! So, my first Heydon event was in 2011 & it quickly became my favourite venue, as no doubt it is for many others.
A LVLF is not just about the shopping….to enhance your day out you can always indulge in some vintage style pampering from the lovely ladies at The Cowgirls Powder Room , seen here this year…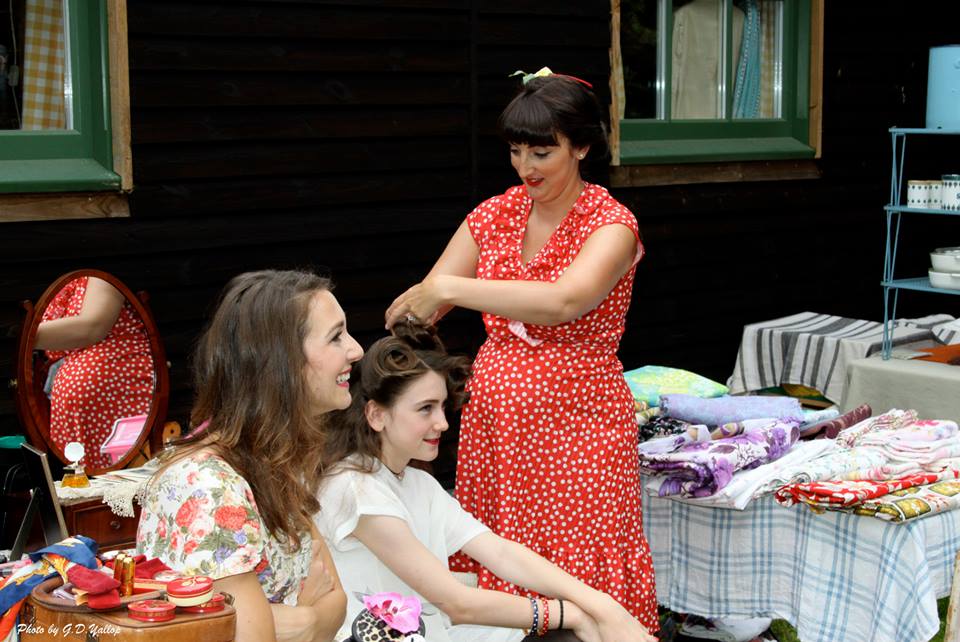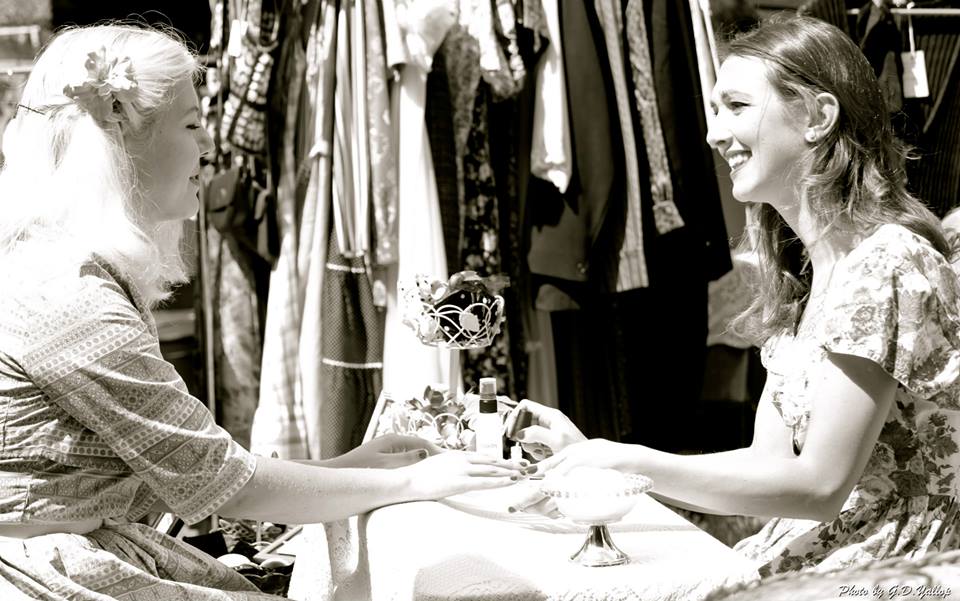 It wouldn't be a vintage fair without tea & cake! This time round we had the fab Bitter Sweet Curious Coffee who sell great coffee & other goodies from the back of a Morris Traveller…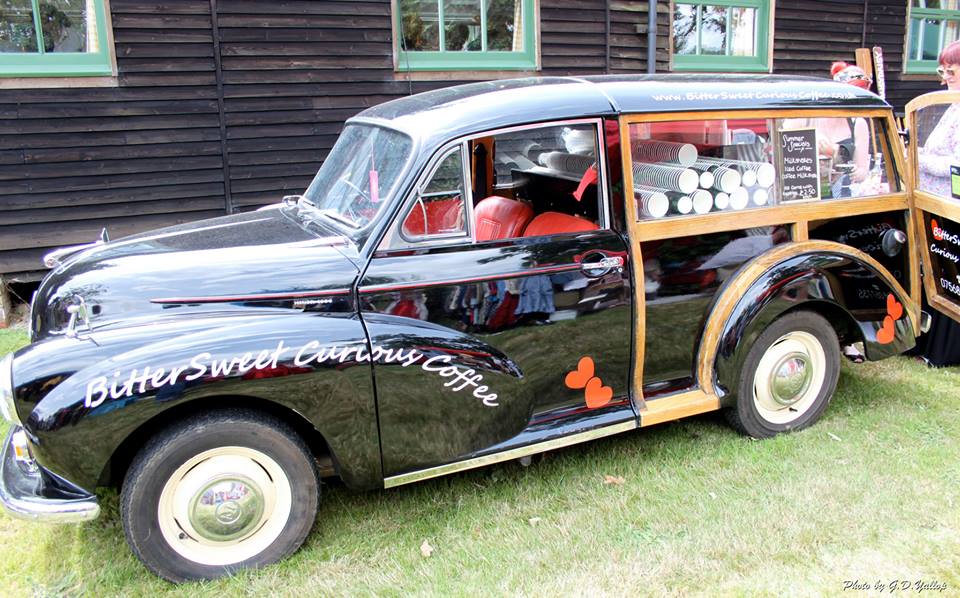 As well as anything else you could wish for, served as it should be from a trestle table outside a 100 year old village hall!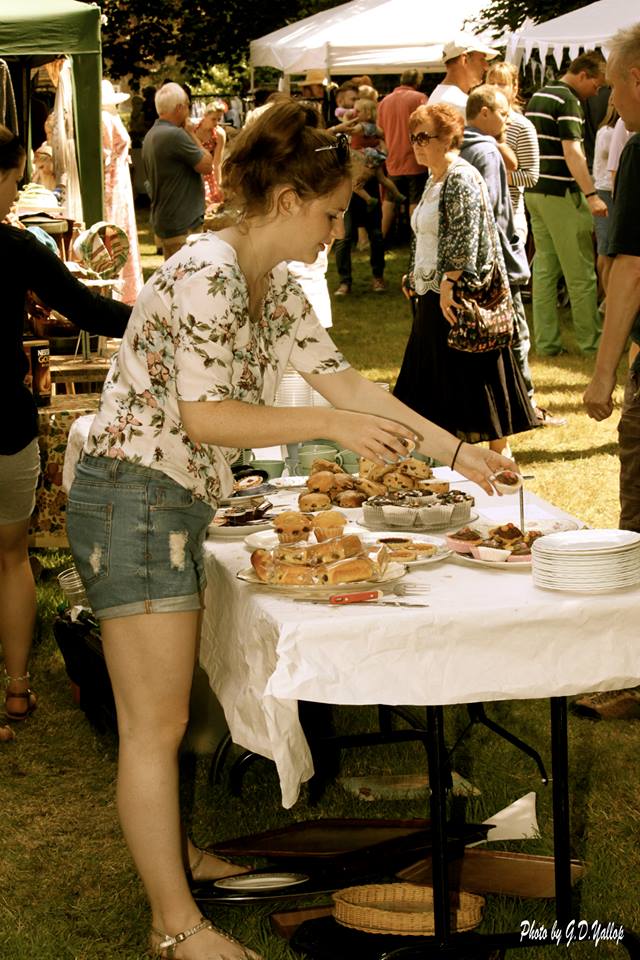 I have to say, it's the tea that keeps me going on a busy day…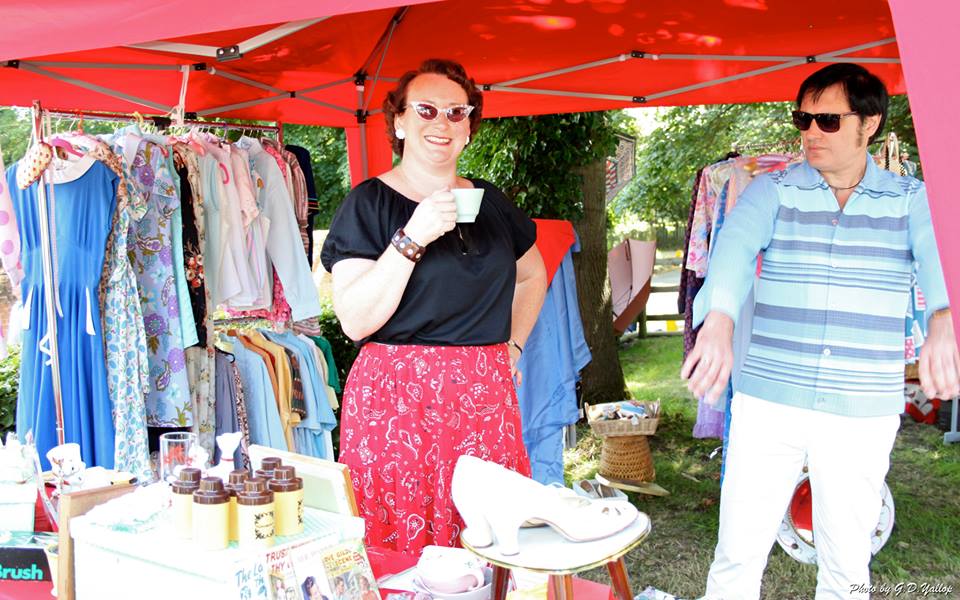 As an added attraction for 2015, I also sub-let part of my stall to buddy Ed Sutton who has a growing local business called Swingoramic selling 1950s style lawn furniture direct from America, & I have to say they looked pretty good next to my stall of mid-century treats…
At LVLF it's not just about the shopping…there's a special something about the atmosphere too, especially at Heydon, that's hard to put your finger on but a combination of many factors add up to make it the place to dress up & socialise…
OK, so a LVLF is not just about the shopping…but on the other hand, it is also very much about the shopping! One of the things I love about these events is that the LVLF dealers feel like a family that I'm so pleased to see each time! How ever many events I take part in, I'm always most at home with these guys…Zoe has a unique collection of sellers here, selling mainly from the 1920s to 1970s including a LOT of quality, true vintage and dealers such as Lynda from Past Caring in Holt who stall out at only a select few events over the year. Too many to mention (& I'm bound to miss someone out!) but other favourites are Antoinette's Vintage, Diane, Cathy Ray, Dead Mens' Spex & my good buddies Thelma & Kate's featuring the ever colourful Sharon pictured here in another great image from Gary Yallop…
I always really enjoy the Heydon event & this year was no exception – it must have been a record turn out and it was a happy, buzzing day with a terrific atmosphere and lots of interesting & glamorous people to chat too, one of the things I love about my job!
Gary Yallop of G. D. Yallop Photographer is usually on hand to capture the sights & atmosphere of the day, something he does very well, and there are way too many excellent photos to choose from so I'm just going to leave you with a few more colourful images from Heydon 2015…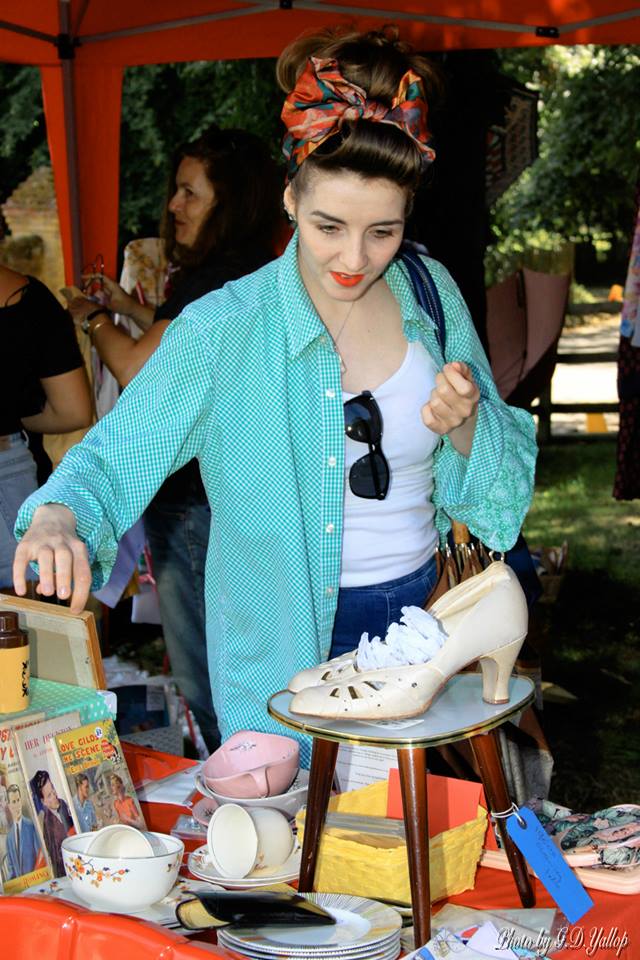 So, this was my last fair for a couple of months (& what an event to end my summer on!) as I'm now spending some time concentrating on online promotion & selling, via my website Wake Up Little Susie and Etsy Shop so do keep an eye on what I'm up to and watch this space, as Little Vintage Lover Fair will be back before Christmas, at a secret location!!
In the meantime, I'm already looking forward to Heydon 2016!