You will have read Fly Me To The Moon – Our Vintage Fashion Showcase Part 1. and here I am again to tell you all what happened next when Sarah from The Wedding Shed and Susie (that's me!) from Wake Up Little Susie got together to put their vintage businesses on the map.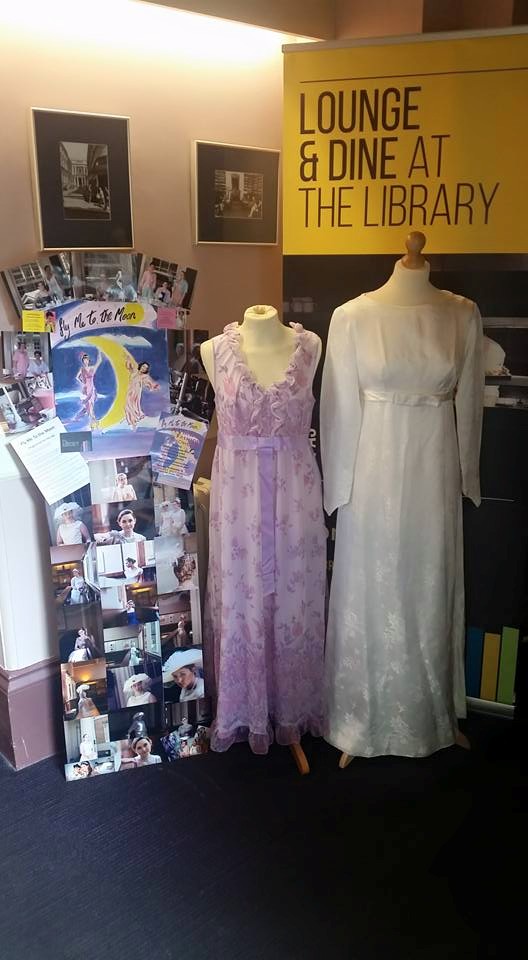 After deciding to bravely organise a fashion show, booking a venue, starting to get people on board to work with us, and arranging for a promotional photo-shoot with the lovely Simon Watson we also decided we needed some eye catching flyers to catch people's attention so in stepped Simon Pritchard of  Artbeat64 who created this amazing image…..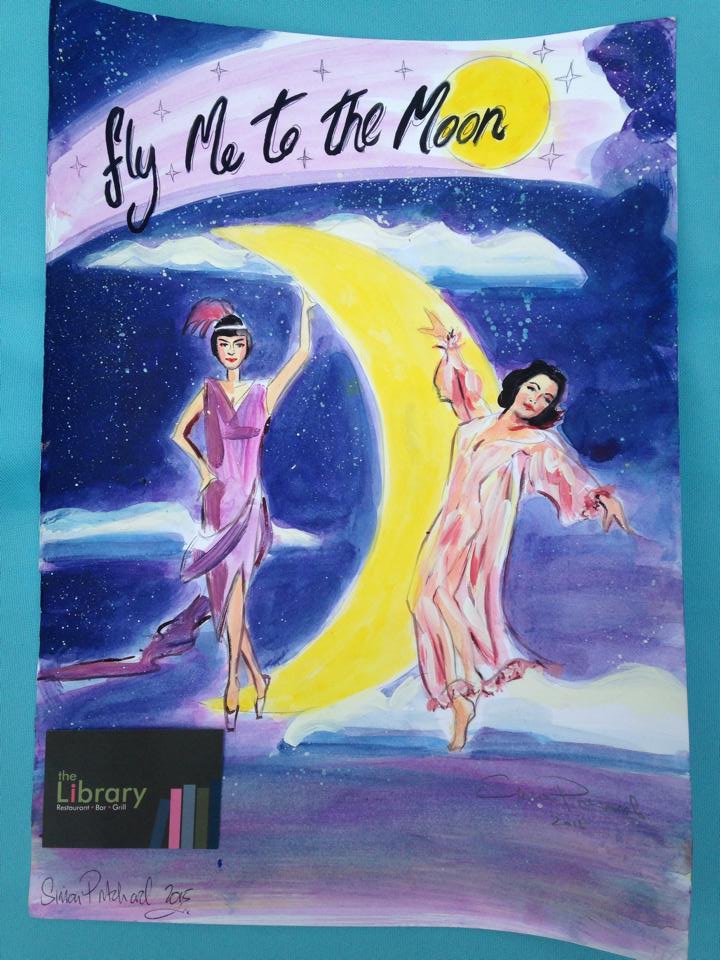 Which we incorporated into our display at the venue alongside lots of our promo shoot images, & which made some rather fab flyers & tickets.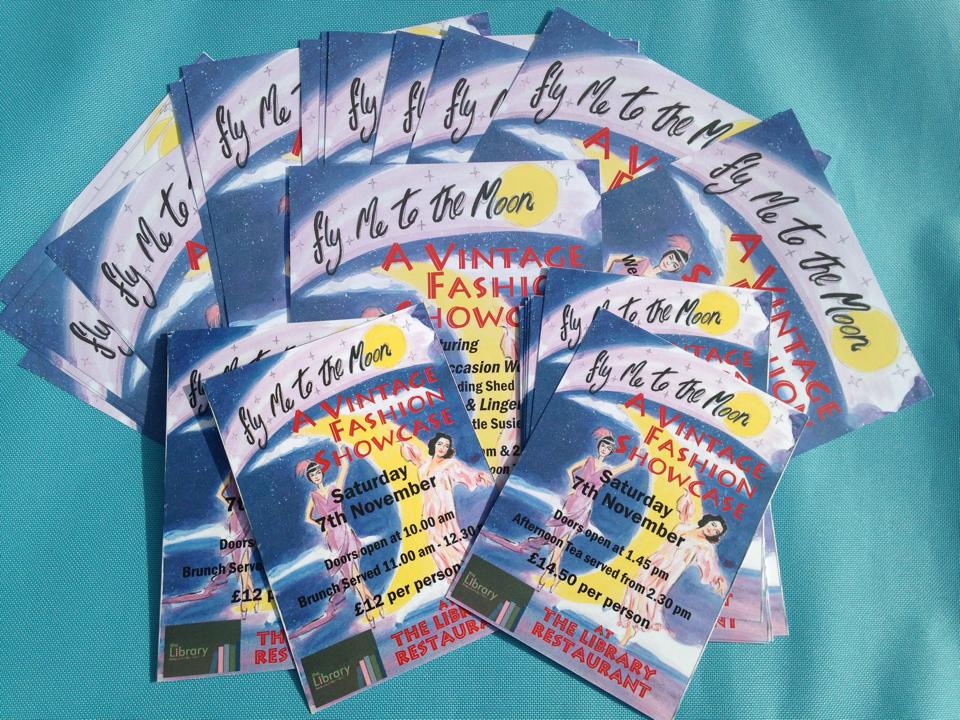 Oh my goodness, this was all starting to look scarily real, but with still plenty of time to go, we had many meetings about models, hair & make-up, a charity raffle, ticket selling and of course outfits…Our theme of 'Fly Me To The Moon' was devised to give us a structure around outfits and colours which would reflect the many shades of the sky at night & maybe during the day, with our flyer artwork already showing beautiful blues & purples alongside images of planets. Our plan was for the outfits to be shown in mini collections to a soundtrack of music also specially selected with the theme in mind. More about the songs in Part 3, but suffice to say Sinatra's 'Fly Me To The Moon' was to be one of them!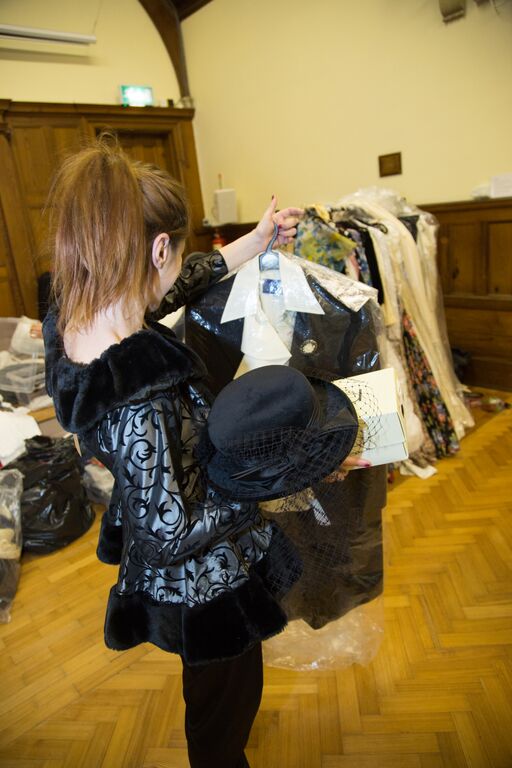 With an ever growing and changing pool of models and backstage helpers and what was starting to seem like a very ambitious number of outfits to show, Sarah hit upon the idea of hiring a hall to get together as many people & as many clothes as possible for a mass try-on session & rehearsal! We had deliberately asked an eclectic mix of people to showcase our clothing, to show that these vintage outfits can look great on all ages and types so we had friends, family, & some aspiring models that we had only met online so this was also a really good opportunity to get people working together and see what happened!
So, one autumn night we all congregated in Blofield Court House in darkest Norfolk & of course took along our intrepid photographers Simon Watson and John Newstead to document the occasion…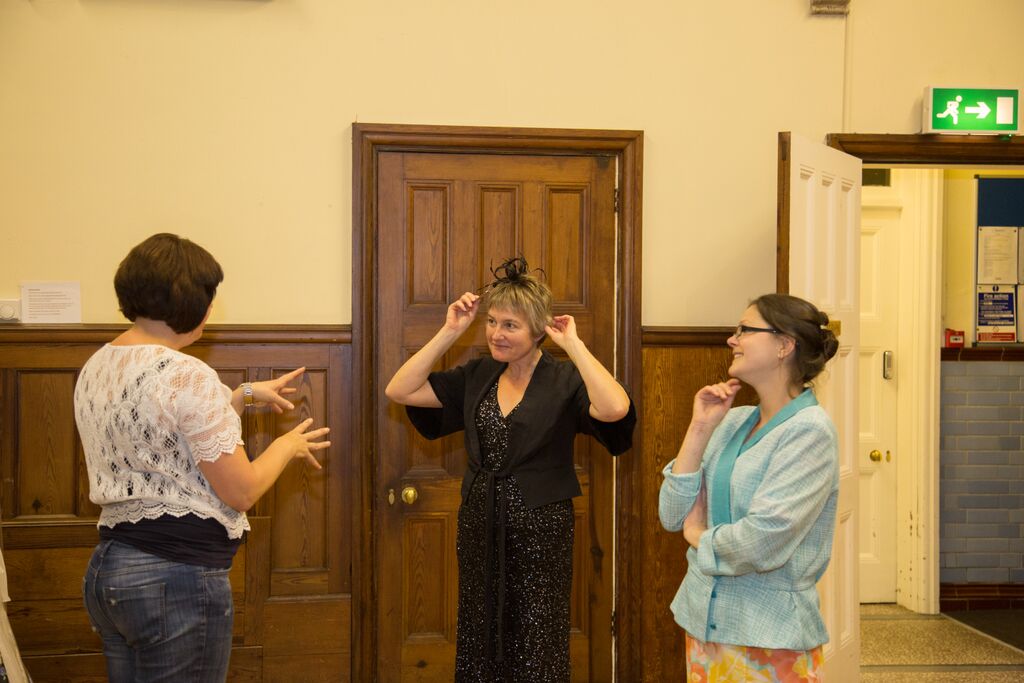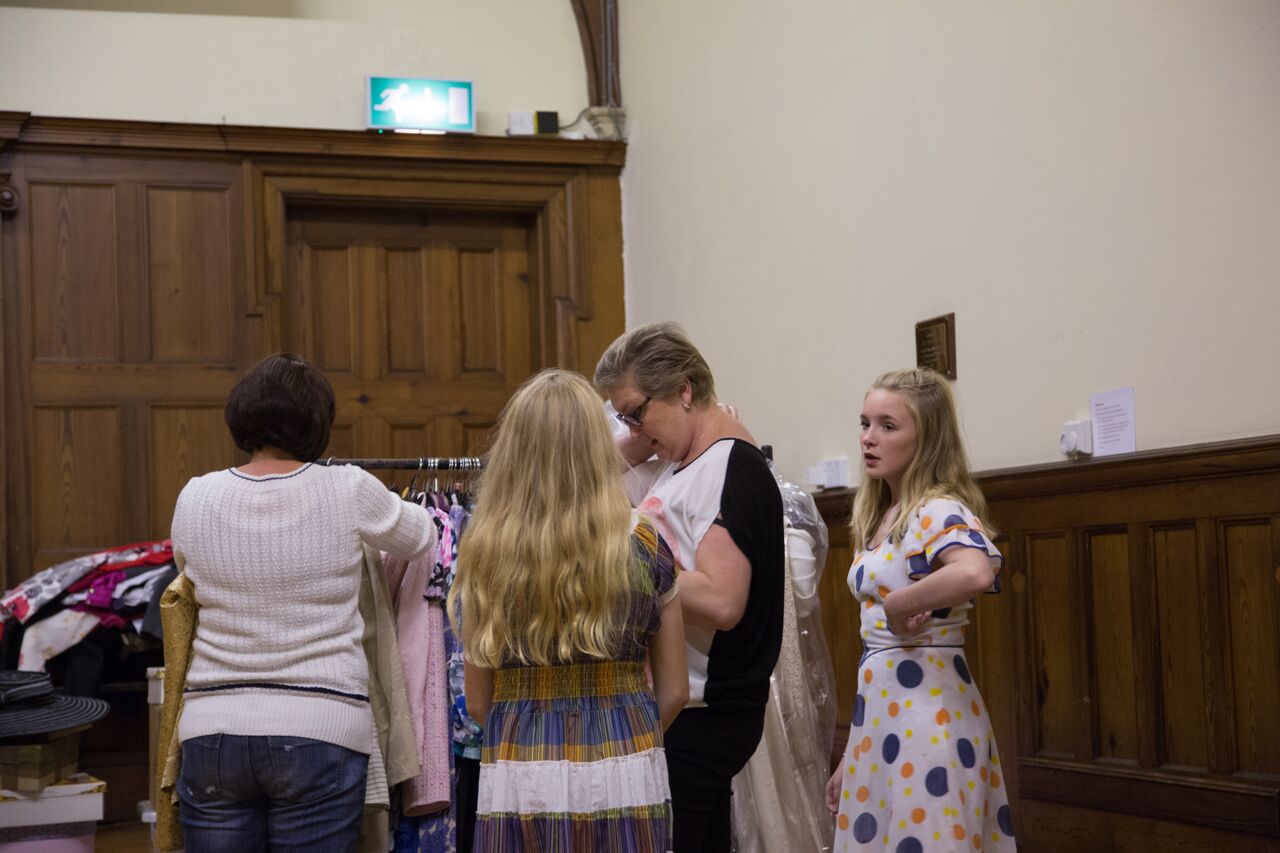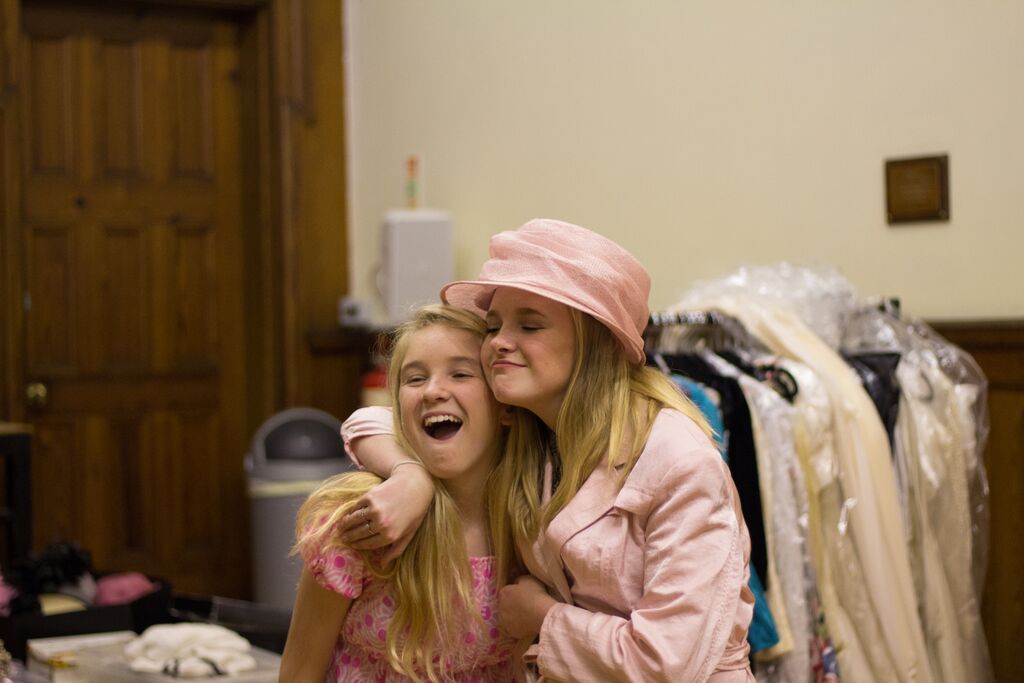 It was hectic (just look at all those clothes on that rail…) but a lot of fun!
Our fearless hair and make-up experts, Naomi Edward from White and Rose and Cheri Knock from Cheri Morello Studio were also present so we could have a lovely quiet chat about our ideas for the day & whilst this didn't really happen (of course!) they did get a chance to make up some of our ladies for some rather professional portraits from Simon & John…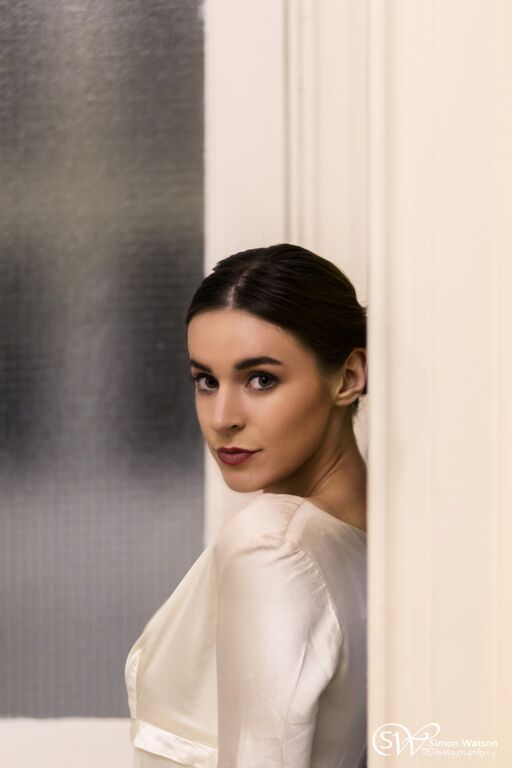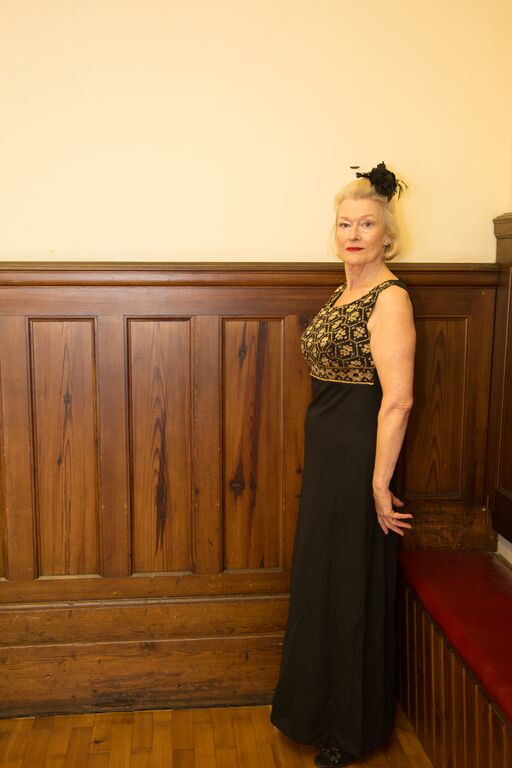 Don't forget, at Wake Up Little Susie it's all about the nightwear and lingerie…
…and at The Wedding Shed it's quite a lot about the hats….
With so many clothes & so many models and so little time…a full rehearsal wasn't really on the cards, but Sarah did get to do a bit of a walk through of her wedding dress collection (because at The Wedding Shed it's also a lot about the vintage wedding dresses too!)
Not forgetting our very professional looking bridesmaids…
I do think that the sheer volume of clothes that were in that hall rang some alarm bells though, so at least we had the opportunity to go away & fine tune our plans!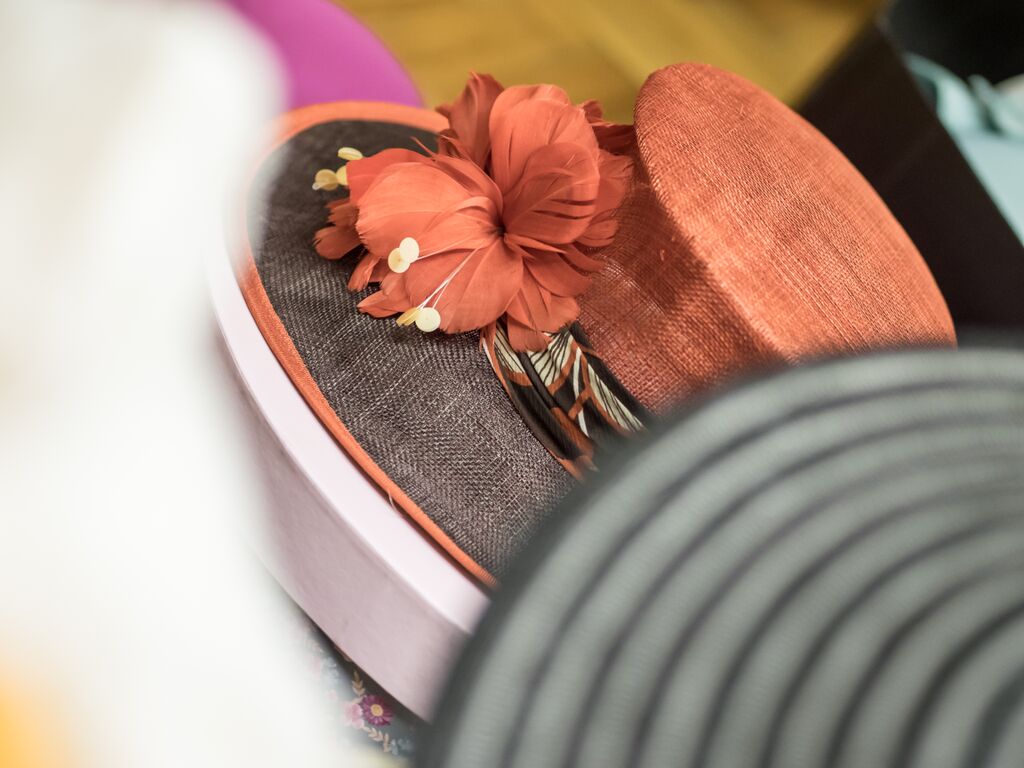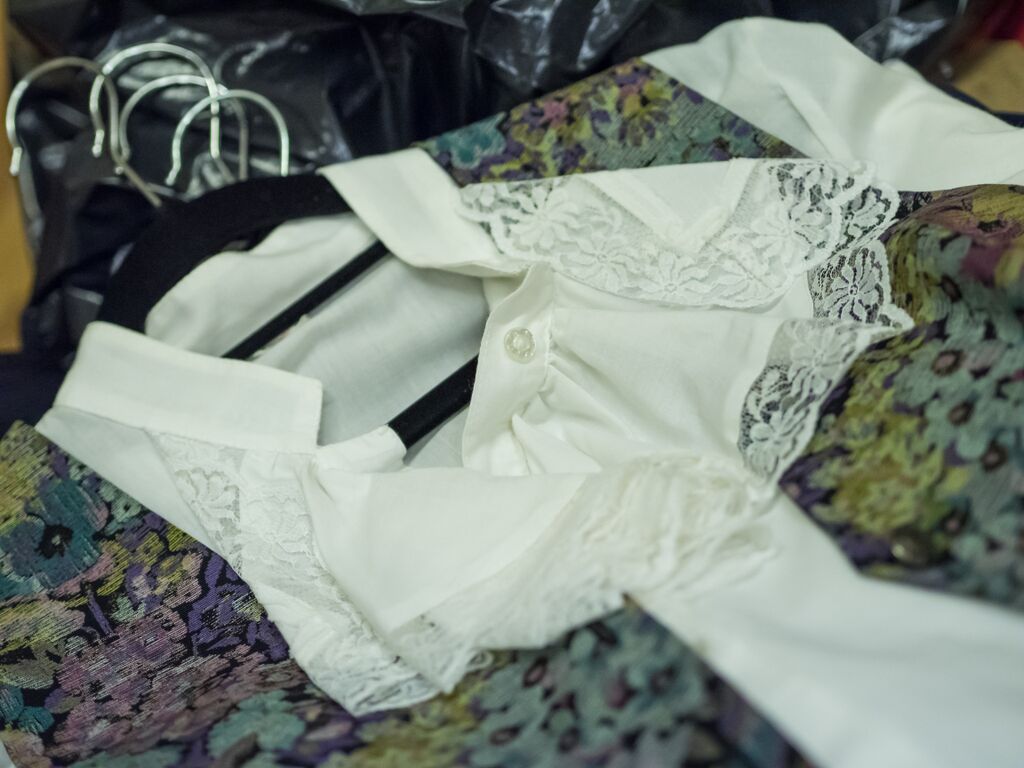 So what next? Back home to re-think the outfits to be shown, to worry about the ones that hadn't been tried on yet, work on our running order, gather up a few more models and stress about getting the tickets sold!!! There were so many amazing people on board helping & supporting us, so there was no way it could fail now…
But just look at these amazing images, we were so encouraged by these and became even more determined in our incredible adventure!
Much more to follow in Part 3 when I will relate how THE actual fashion show itself went, and the finale of our adventure, so stay tuned!
Clothing from Wake Up Little Susie and The Wedding Shed, hair by Naomi Edwards of White and Rose, make-up by Cheri Knock of Cheri Morello Studio, images by Simon Watson & John Newstead of Simon Watson Photography, artwork by Simon Pritchard of  Artbeat64.
Models & helpers – Laura Landamore, Rebecca Aldred, Beth Reeks, Eve Layzell, Rachel Westrop, Maisie McEntee, Sarah Harmer, Lydia Harmer, Tegan Harmer, Estelle Long, Chloe Fearn, Emily Fearn, Emily O'Dell, Isobel Henry, Christine Chiverton, Fran Lewis, Susan Sedon, Irene Carver, Sarah Fearn.