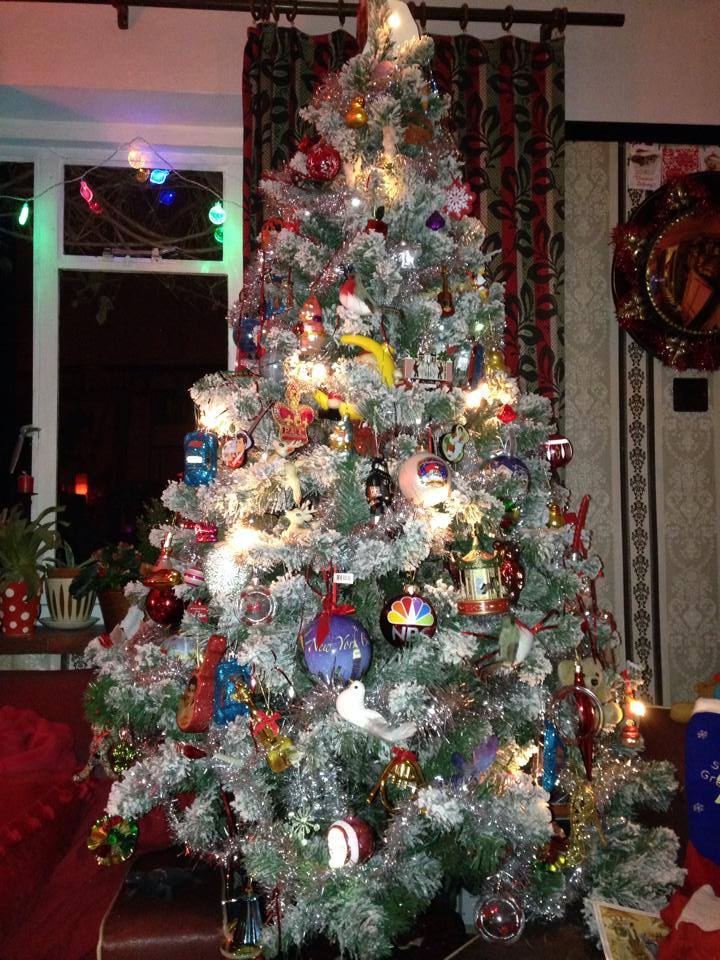 Let me just start by saying that until a couple of years ago, we have ALWAYS had a real Christmas tree and I would NEVER have entertained the idea of an artificial one at all, in fact we even have 3 lovely (& now very tall..) ex-Christmas trees growing outside when at odd times we've bought rooted ones to plant out later & they have decided they like it in our garden. I think it's partly because we always had real trees at home when I was little and, indeed it was one of our Christmas traditions to go out & pick one & then stand outside in the freezing cold trying to hold it upright in a bucket while Dad shovelled soil into it….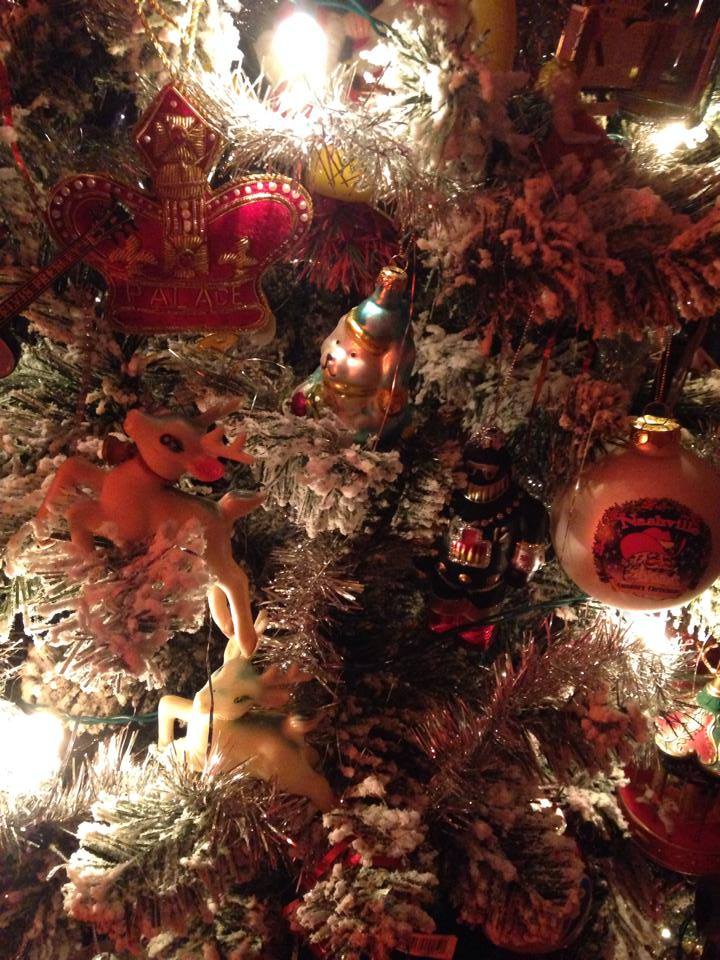 Heck, I really don't even mind sweeping & hoovering up pine needles all year round, which could have been under that chair for any number of years…
But, a change came to our home a couple of years ago when we must have left it a little too late & despite trawling around all the local haunts, I just could not find the right size & right type of tree for the right price (yes I wanted a real tree, but it also has to be right!) but totally not being prepared to go without a tree (it's my favourite Christmas thing!) we ended up with an artificial one from Tesco…It also came in handy last year when my Christmas got turned upside down & this year it came out of the loft again to save a few quid…I'm definitely getting a real one again next year though! No needles everywhere now, just a whole lot of fake 'snow'…
Now I've cleared that up, I'll tell you the history of just a few of my beloved tree decorations…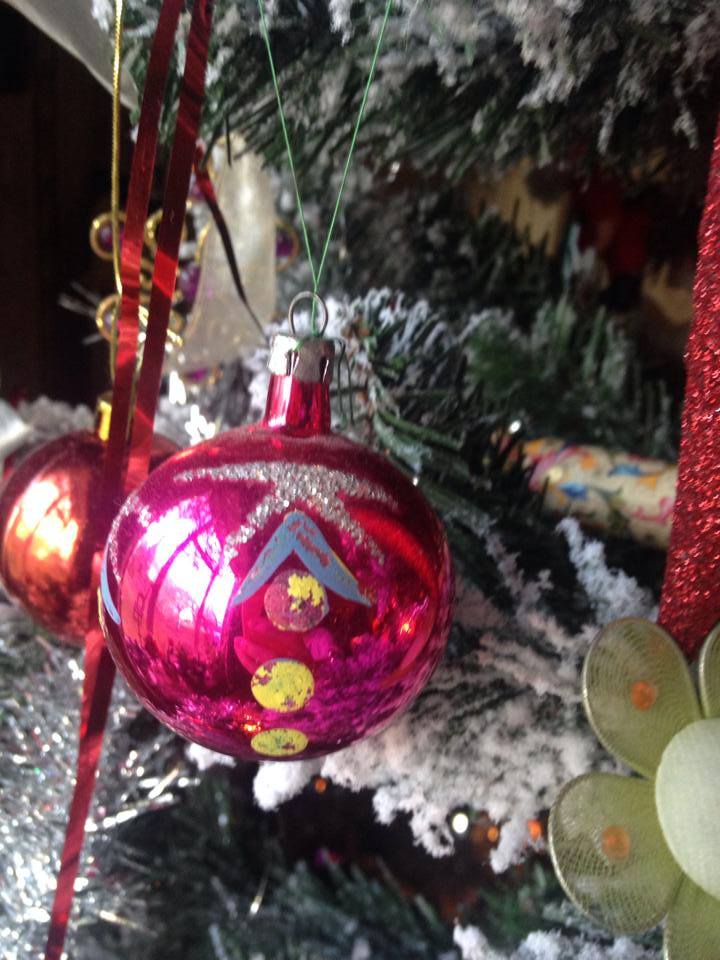 I'm really not a fan of colour coordinated or so called 'tasteful' Christmas decorations and like the rest of our home, not to mention my wardrobe, my tree is full of clashing colours, memories & history, reflecting many of the things that we love in life. There is a strong vintage presence, when me & hubby Simon were first together over 20 years ago we were 1950s afficionados & bought lots of vintage decorations from charity shops & fleamarkets, including many of the pretty painted glass ones which I still love & remember from my own childhood & they still go up every year (chipped paint & all!)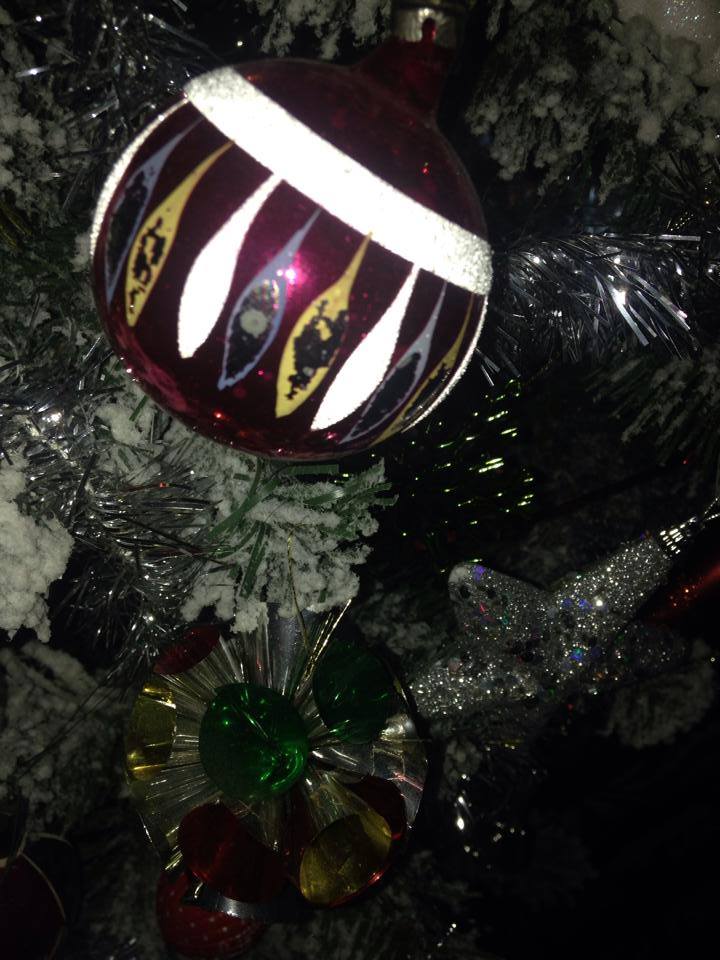 I have a fair amount of 'retro' stuff too as I used to go mad buying things from Past Times many years ago when I first discovered their mail order catalogue before they even had a store local to me. I still have the clip on birds from them, plus a box of little 'medieval' style crackers that still nestle in the branches.
My very best 'vintage' ornaments are these little sweethearts that my Nan gave me a while back (as I'm the one in the family that appreciates old things) which were given to my Uncle by his Godparents for his first Christmas in 1949. I am a little scared of breaking them, they're very hard plastic, but I still hang them every year and just keep a really good eye on them & pack them really well!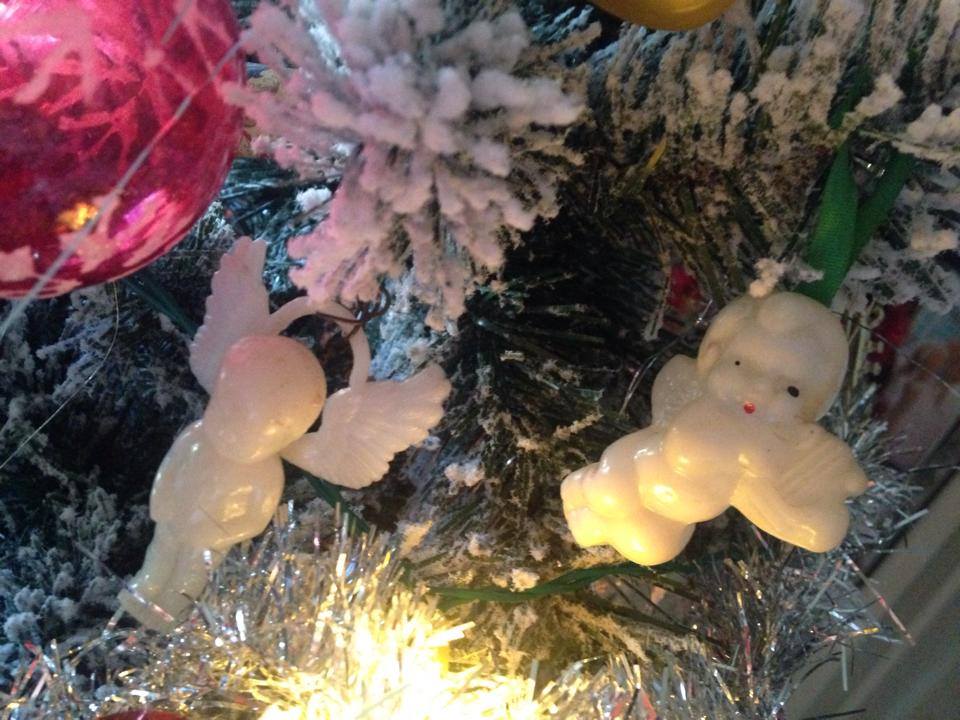 It's not all vintage by any means though & sometimes it's just stuff we pick up because we like it, or like these little blue sparkly cars that were a gift as I guess we like old cars! The robots are always admired & were from Habitat with some left -over gift vouchers from our wedding in 2007 once we'd bought the bookshelf we wanted.
We're big fans of buying tourist type souvenirs when we travel & love to get Christmas tree ornaments wherever we go so of course Elvis decs from Memphis are strongly featured…
..and there are a LOT more of those…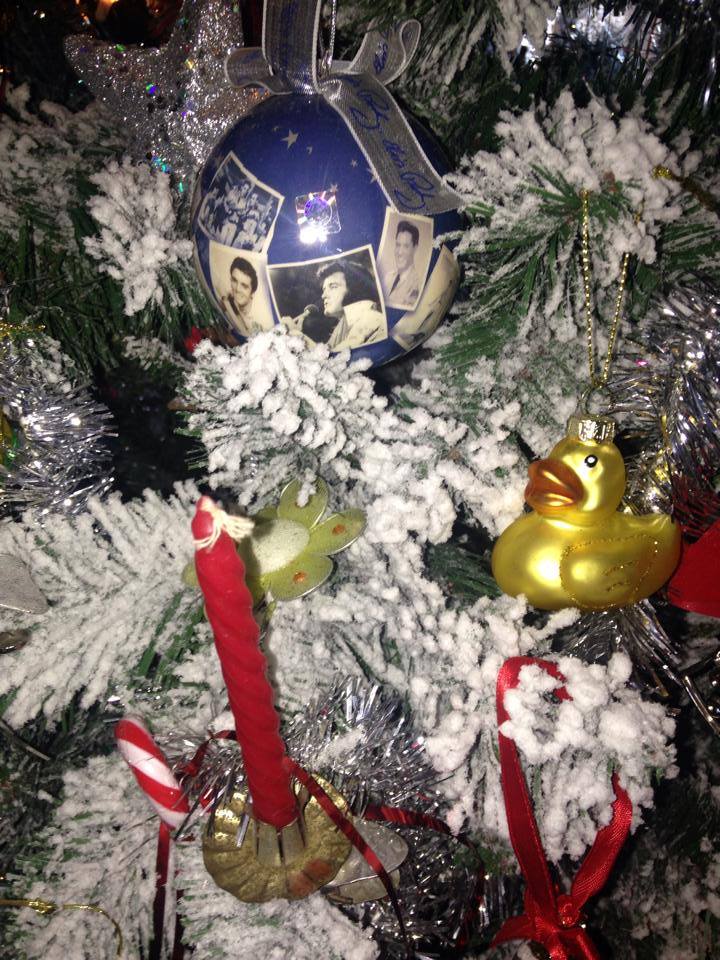 In this shot you can see Elvis, a little duck bought from the Peabody Hotel  in Memphis, and the clip-on candle is another from Nan, can you imagine a whole tree full of lit candles….?
As well as Tennessee, we also love NYC & like to be reminded of our visits to Manhattan…
Would love to be there for Christmas one day! Another of our favourite Cities isn't quite so far away…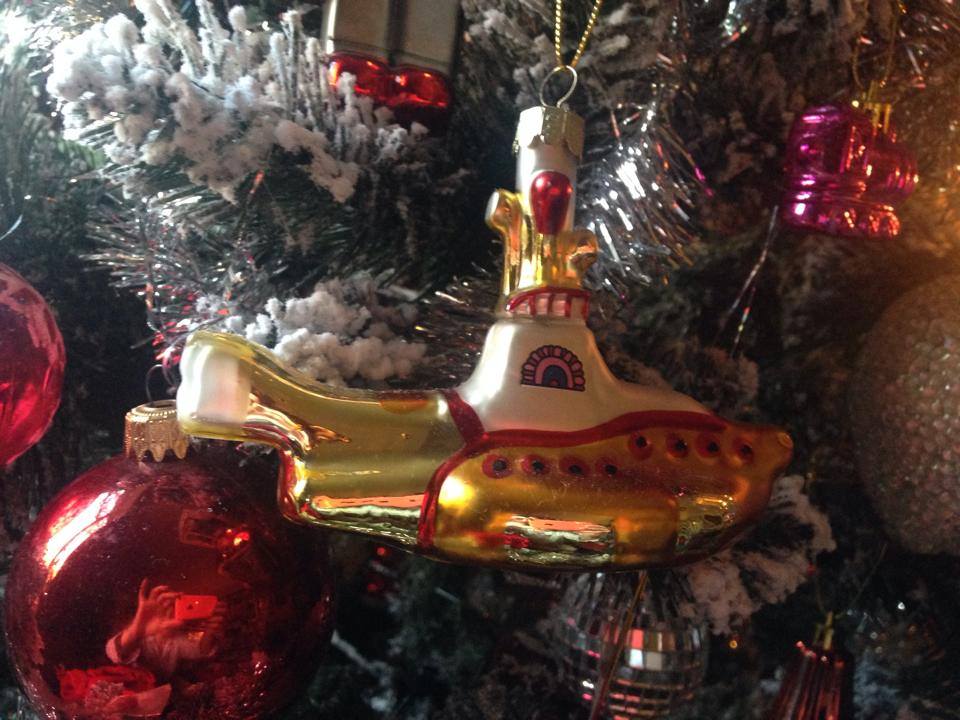 Definitely thinking of all our Merseyside & Merseybeat buddies this Christmas as we lost one of our best friends from Liverpool this year.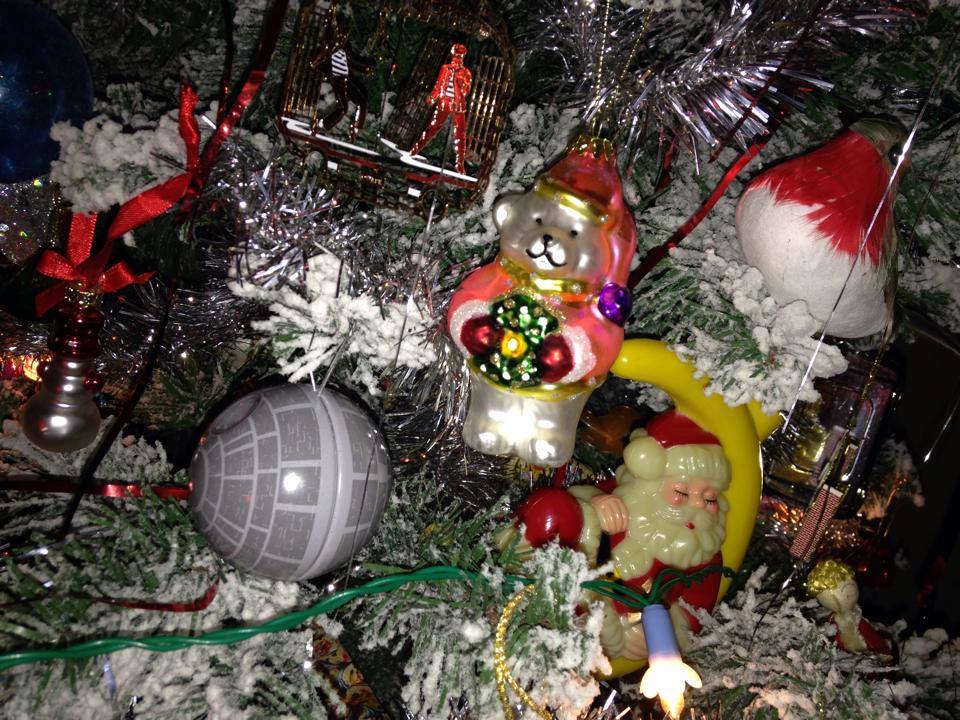 Yep that's a Death Star, a little Jailhouse Rock there too, a kitsch plastic Father Christmas from a charity shop & a lovely bear that Simon bought me a couple of years ago (I also have a blue one, representing me & the Mr.) I do like to add to the tree every year, and I like bears.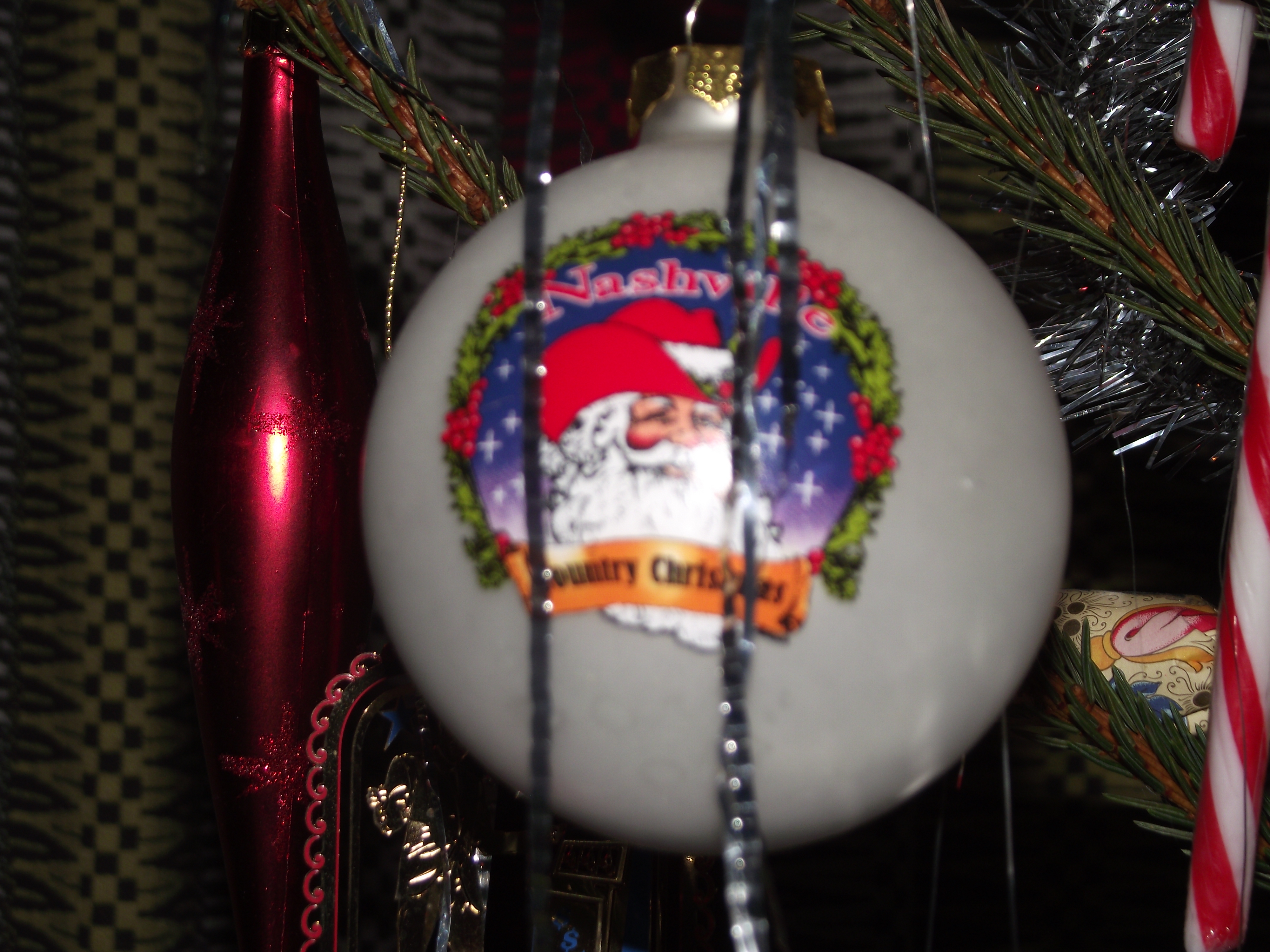 Can't have Memphis without Nashville, it's a Country Christmas…
As for the top of the tree, somewhere packed away we have a proper 1950s fairy with a big paper skirt (like we still had when I was little in the '70s!) but she hasn't seen the light of day for ages & I don't know exactly where she is so until we unpack everything from when we moved (20 years ago) we just have a bit of fun with it, & usually it's the King of Rock 'n' Roll on the top of our Christmas tree!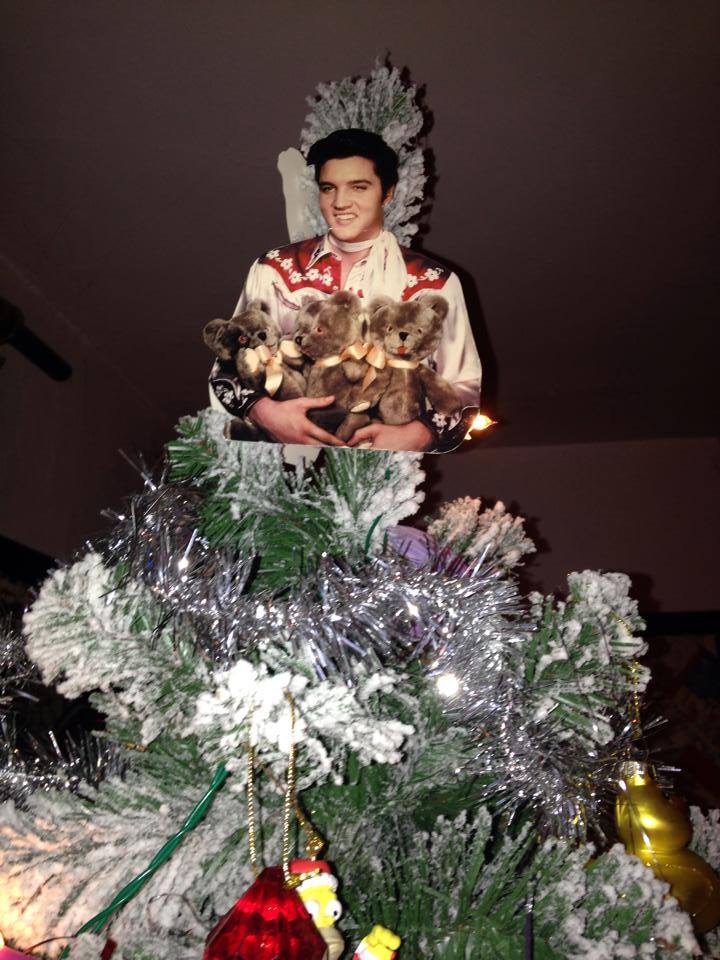 (Homer Simpson creeping in there too!) There's lots, lot more than I can mention here but everything has a reason & a memory like the silver stars I bought for my first vintage nightwear party Twilight Time when I wanted everything twinkly & pretty – just very cheap ones but they sparkle away nicely & remind me of that lovely evening.
These plastic reindeer are just like the ones we had when I was little too, & you can also see my Buckingham Palace ornament, a memory of a fabulous birthday day out when we went to see the Diamonds exhibition in 2012.
That's just a drop in the ocean! Also, yes to old fashioned fairy lights, chocolates & lots of silver tinsel.
Still not a real one, but really pleased with how it looks this year!
Merry Christmas to you all, and may your own decorations shine brightly x