So, today was my 5-weekly visit to good old Garner of Norwich where I look forward to having my colour revived, my dead ends removed & my curls revitalised! Part of the pampering that I enjoy is to sip coffee whilst browsing the latest copy of Vogue magazine ( I always insist on a fashion-based read, no gossip mags for me…) as my hair colour is cooking (goodbye grey!) There's always something interesting to read or glance at & today was no exception….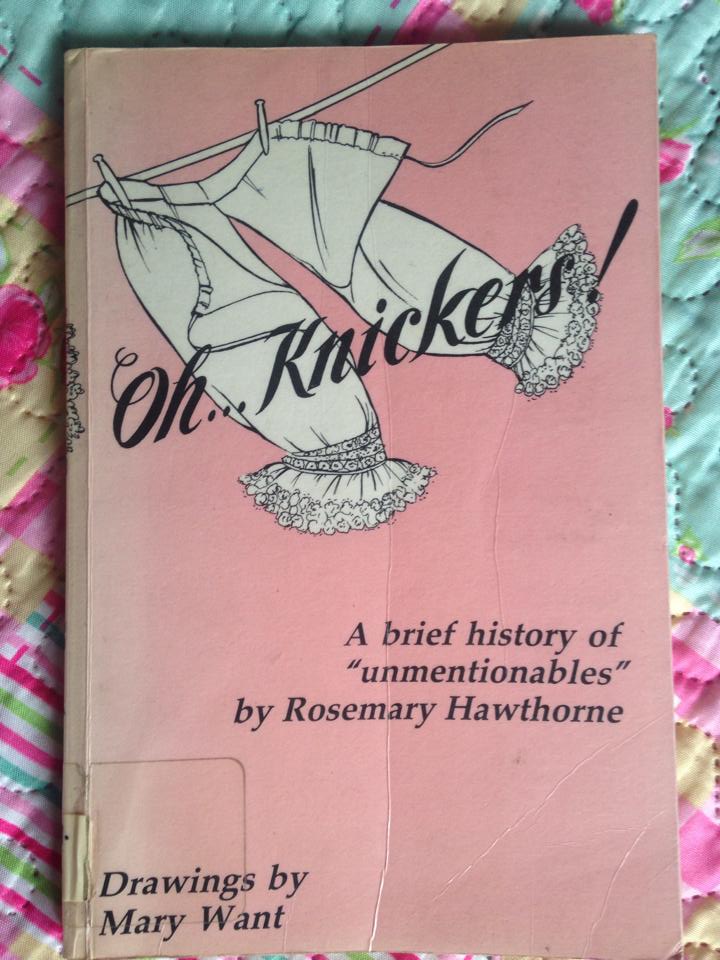 (My current bedtime reading…)
Good news ladies, big knickers are back in fashion! That is the classic 1950s style drawers (not the bloomers as shown here on this great read), preferably with the addition of lace, although I for one don't particularly care in this instance whether they're on trend or not, it has always been big pants for me – for reasons of comfort, sticking to a '50s vibe & also traditionally because I think there's only so much you want on show when dancing in a full skirt…So there you go, all of us vintage-style knicker fans may be in luck as decent sized, decent looking briefs make a re-appearance on the high street. Apparently this also coincides with the raising of waistbands on skirts & trousers, thank heavens for that! Waistbands where waistbands should be, not hanging from your hips.
I was excited too at the mention of a 1940s style bra, as I have a whole load of (actual) vintage lingerie to list into my online shop as soon as I get a chance.
 I was also drawn to an interview with Sheridan Smith together with a photo spread…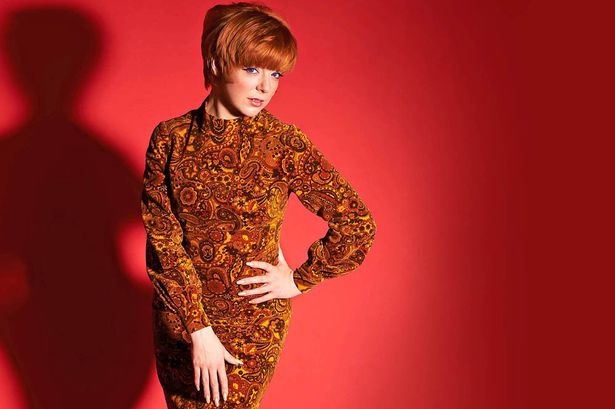 Wasn't she fantastic in 'Cilla'? Loved her as 'Mrs Biggs' too & in fact in everything I've seen her in, including the (non-vintage related!) movie 'Tower Block' that we watched just the other night. The Vogue photo shoot had a lovely almost 'Marilyn' vibe, & I was interested to read that some of the outfits featured, a 1960s animal print coat and a silk camisole were actually vintage, you're in good company Sheridan!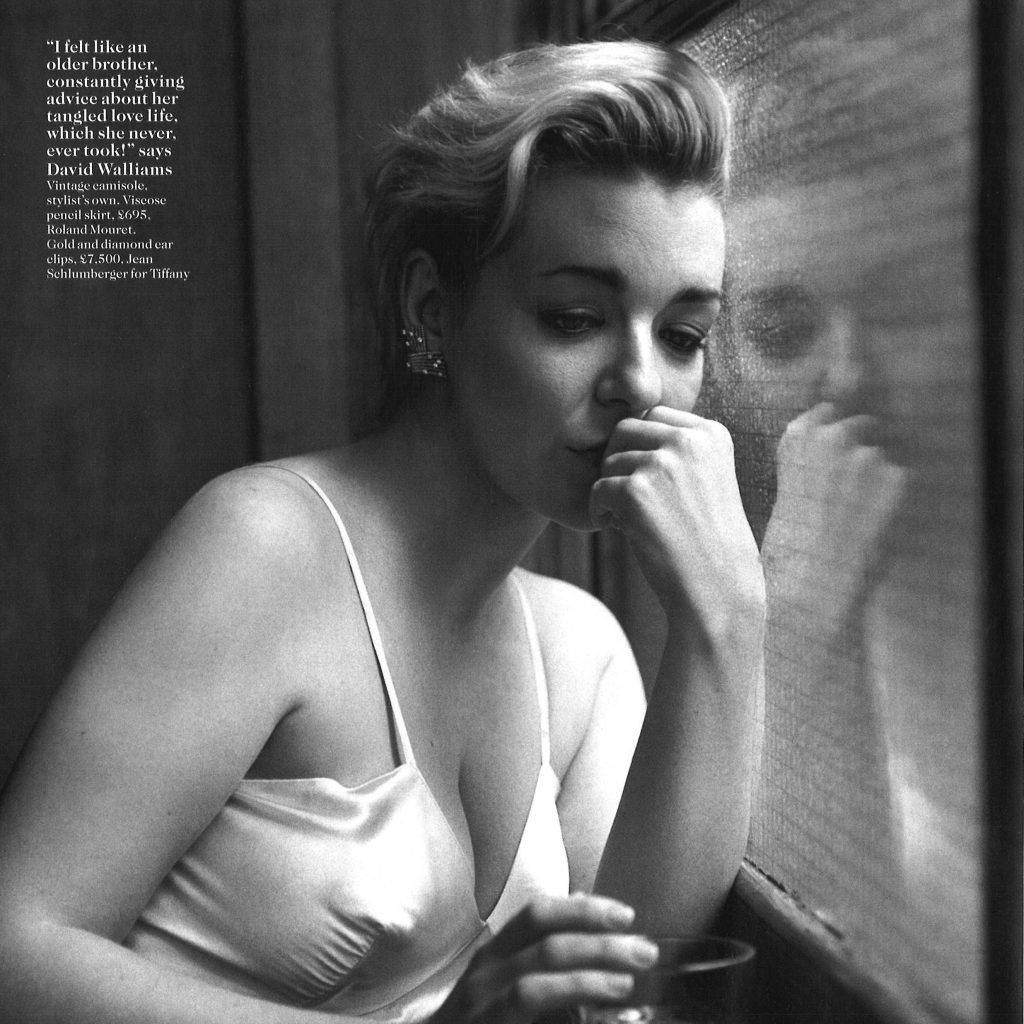 There was also a feature on current trends that were reminiscent of 1970s fashions ( I remember this being a thing last year too…) and then an actual article on buying and wearing vintage which I didn't get a chance to read properly as I had 'pinged', & needed to head off to the wash basin (the chair has a massager!) however, I did spot a tagline that said something along the lines of 'Don't dress head to toe in vintage, you will look dated' and I have to say I have seen/heard this sentiment being bandied around a lot lately (or even worse, if you dress head to toe in one era it will look like fancy dress) and I have to say I'm finding it a bit tiresome! Someone has even suggested that my husband, who often dresses solely in 1970s fashions these days, may look a bit of a 'cliche'?!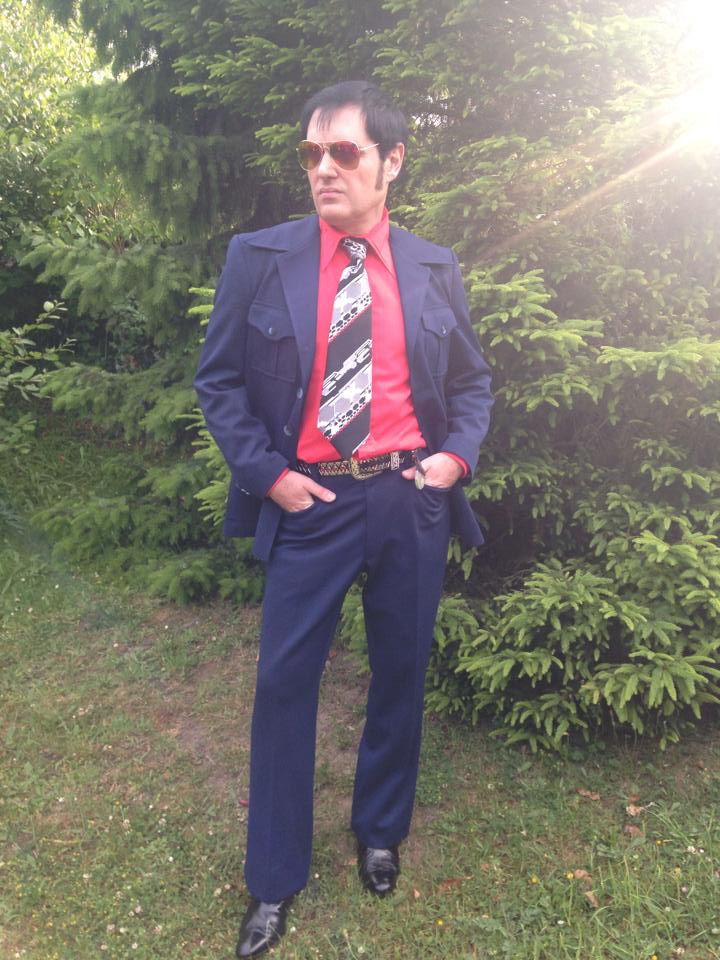 Simon Pritchard – happy to be a 'vintage cliche'
I wholeheartedly agree with the idea of mixing and matching vintage with current fashions to get a fresh, unique look, as well as raiding charity shops to achieve a look whether it's with 'vintage' or just 'second hand clothing' (something I suspect lots of us have been doing for ages anyway), BUT I know an awful lot of people out there who do like to wear complete outfits from one era (whether it's Deco, '40s, '50s, Mod, '70s or whatever) whether as part of their every day lifestyle, because it's a natural evolution from being part of a music scene or just for specific events. I know people who take much pleasure from sourcing out items to create their over all vintage looks, down to the tiniest details and they are so not 'wrong' to do so – Hey, no-one's wrong, we're all very right how ever we want to wear & enjoy our vintage clothing!
So in conclusion, my hair now looks much better with my curls re-sprung & my greys banished for another few weeks, big pants rock, Sheridan Smith looks great & I didn't realise that this post was going to end up in a little rant.  So, let's all just live how we want to live & wear what we want to wear, and all just get along. Peace & love from your favourite vintage cliche!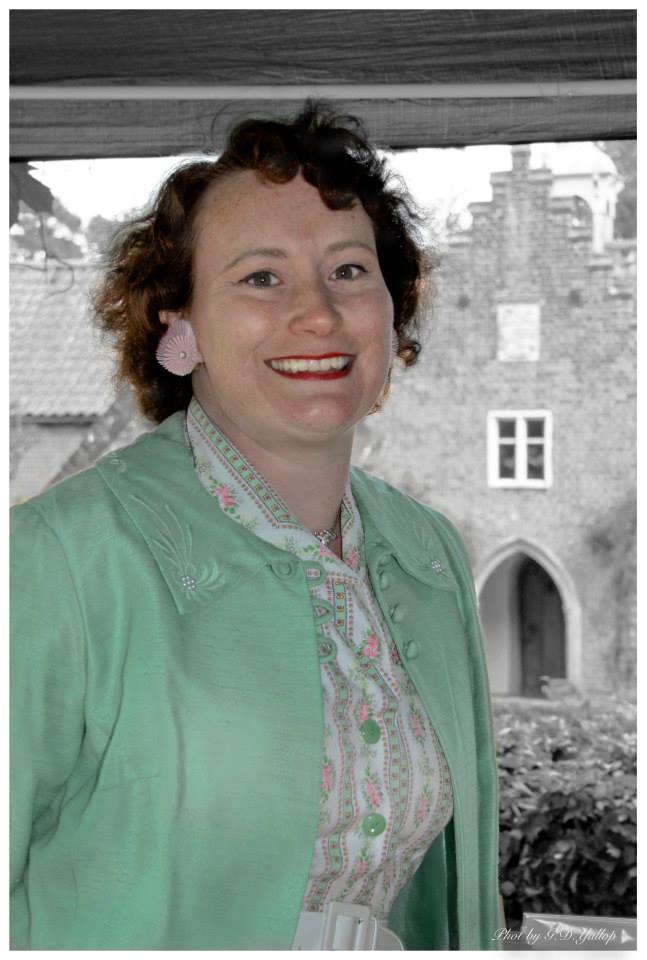 (Image from G. D. Yallop Photographer, ear-rings, dress, jacket & even the belt, all vintage)