I posted a 1950s shirt from my online shop to California the other day (a lovely address with the words Hollywood & Burbank in there too…) and it made me smile and think a little…
Why do people buy vintage/period/original clothing, as opposed to buying retro or repro? I know there are many reasons: It's a thing from being part of a music scene; the quality & fit are often better; it's a way to look unique; you can buy designer quality garments at affordable prices; for ethical reasons of recycling and so on but for some folk, I know that part of the reason is that they are fascinated by the thought of buying and wearing a piece of history.
If you buy a garment that's 40, 50 or 60 years old, then you know it's had a life before it came into your hands, sometimes you may know something about it and sometimes you can only speculate, and isn't that fun?! I've bought a vintage handbag from a charity shop in Liverpool & wondered if it had been in the Cavern, and when we've bought vintage clothing in the States, then your imagination can really run wild!! When you purchase that item, and wear it for the first time yourself, you are starting a new chapter in its history, that may well not be the last chapter…
 I previously wrote about one of my favourite dresses, commenting on it's durability in that it would have been a good 30 years old when I bought it buttonless from a junk stall at a fleamarket with a good few adventures behind it, and it's had another almost 30 years of adventure with me at dances, events & on holidays and the same could be said about much of my wardrobe.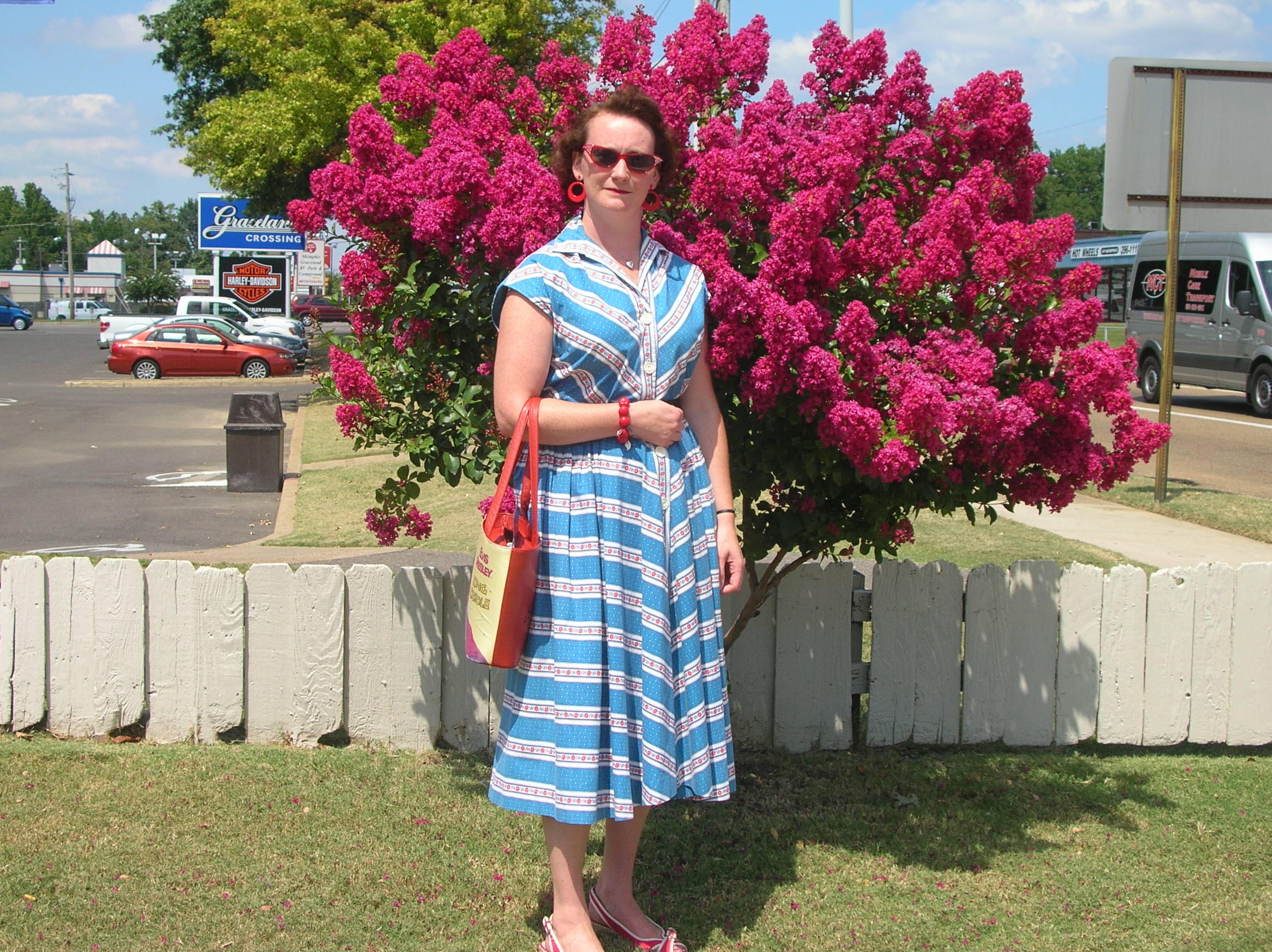 I have always appreciated the idea of something having actually existed in the period of time that I'm interested in – even as a young teenager I knew that the original 1950s Buddy Holly LP was still worth buying even though I had a repress that was an exact copy, and I was so excited to play it and know that that very record had most likely been played by someone around my age actually in the 1950s!! That kind of thing has always meant a lot me. That's also why we leave names written in biro on old record sleeves rather than carefully cleaning them – I would rather think about who 'Brenda Jones' was & what she looked like, & what she wore when she bought that Bobby Vee EP than worry about my record being pristine.
Where was I? Talking about the journey that an item of vintage clothing has been on…
Around a year and a half ago, I got a call from someone who had been put in touch with me as he had a load of old clothing that he thought might be of value. It turned out that his Dad had recently passed away & had also kept lots of things belonging to his Mum who had passed away a while ago. There was a tight deadline on clearing the house, so this guy could very well have saved himself some stress & chucked it all in a skip but he obviously has a mind like mine & really wanted the things that his parents had kept & valued for so long to live on & be appreciated by someone else.
So, off we went for a look & to be honest, I think most people in his position would have binned it & most dealers would probably have turned it down – there was a lot of interesting stuff there, mainly 1970s but some earlier but the condition was variable & it was clear that a lot of washing would be involved. So, a few trips & a lot of bin bags later! I was faced with the task of gradually sorting it all out (which I am still doing)
Within that batch of clothing was a lovely atomic print 1950s shirt in a great shade of red, that needed a good wash & air and just a little attention with a needle and thread.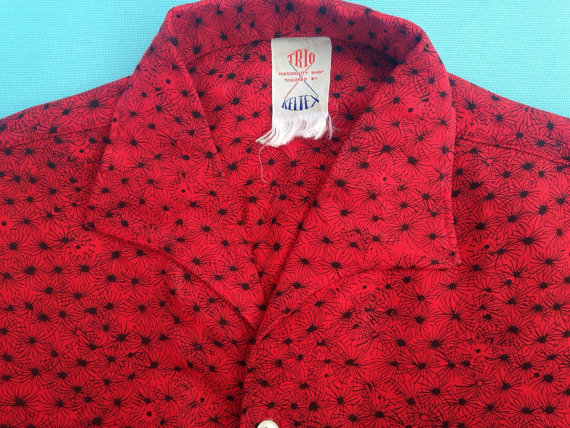 After a few unsuccessful attempts to sell it at fairs (I thought it would have been snapped up! but then, it does seem that some things are just waiting for that right customer…) onto Etsy it went and eventually, was purchased by a fellow in, you guessed it, California. So, just the part of that shirt's life that I know about made me smile – rescued from a dusty wardrobe in a council house in England where it had probably hung for years, saved & spruced up and I am imagining that it will be soon on a young, tanned '50s looking Rockabilly guy with dark blue jeans & slicked back hair as he walks along a Californian beach, or maybe cruises around in his hot-rod in the sun…Maybe I have a vivid imagination, but doesn't that thought make you smile too?! x