I will explain: Gressenhall is a place in the Norfolk Countryside where we got dragged every year on primary school trips to a museum – I recall it was actually called 'Gressenhall Rural Life Museum' in those days (by which I mean the late 1970s/early '80s) and my brother still fondly refers to it as Gressenhell, with many memories of learning about farming….I also clearly recall one of the gems of their collection, a mummified cat…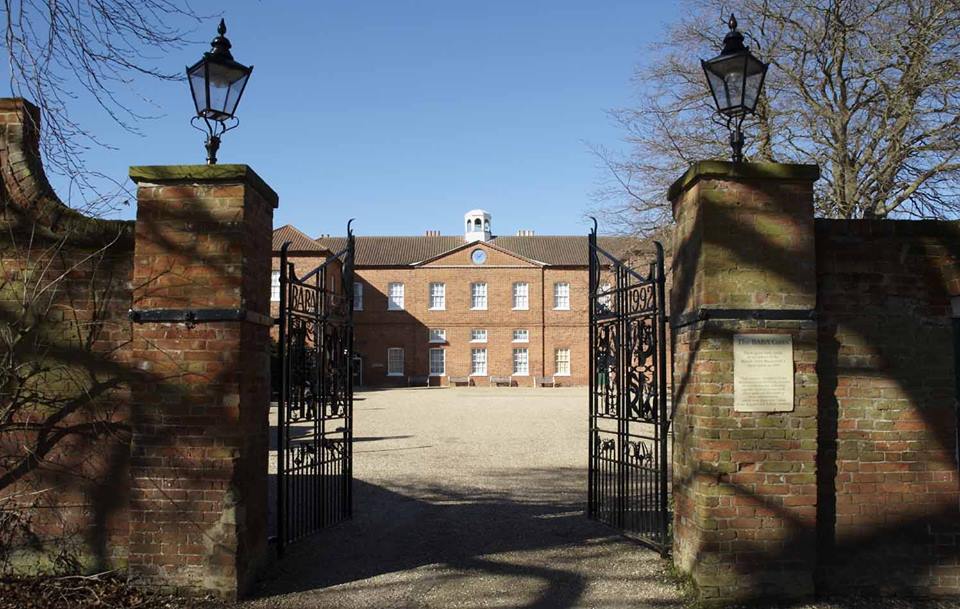 The museum is in fact housed in an eighteenth century workhouse building, for the 'Mitford & Launditch' parishes and I studied it as a workhouse for GCSE history a bit later on in the '80s, which was (& still is!) right up my street, and enabled me to see the location in a completely different light. It closed as a workhouse in 1948 and opened as museum in 1976 so I now see that it was probably a very new & exciting place for us to visit as school children!
Still, I saw no reason to return as an adult, having 'done it to death' as a kid, until 2012, the Queen's Golden Jubilee year when the museum hosted a Fabulous Fifties day that some of our friends were taking part in which, coupled with the fact that hubby had never been subjected to Gressenhell, seemed a good enough reason to go relive some memories!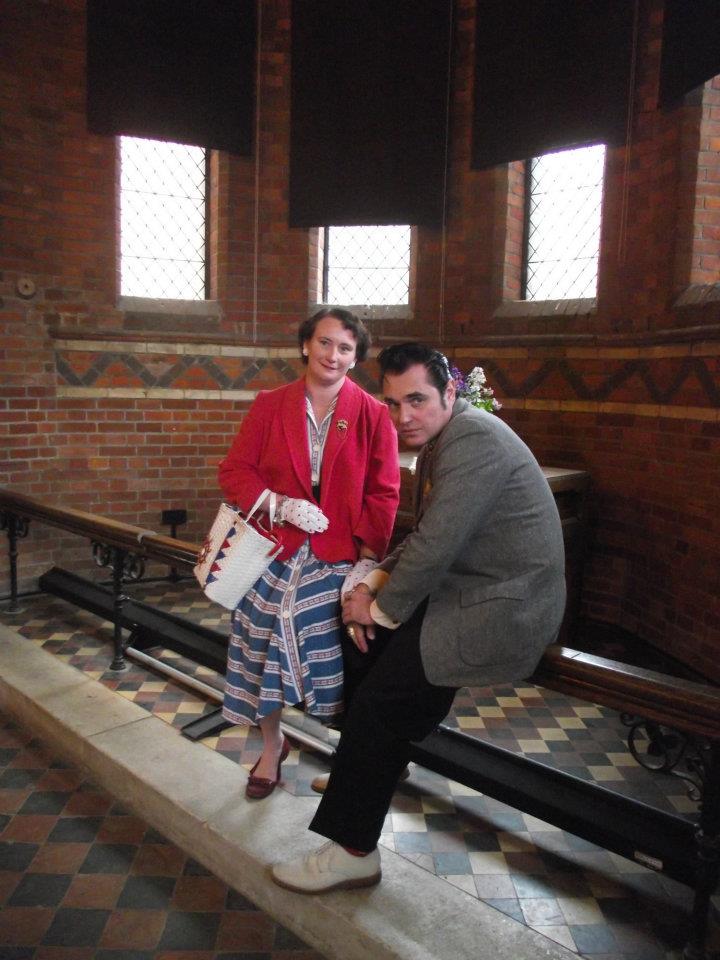 Here we are for the Fabulous Fifties Day at Gressenhall Museum, in the chapel where my friend Fabulous Miss K was hosting a 1950s fashion show for which I had loaned her a couple of nightwear outfits…
There were lots of other '50s based displays and talks, plus we got a chance to look around the museum itself which is fasciniating & had been greatly updated & improved since the '70s, even the name had been changed to Gressenhall Farm and Workhouse. I still find that the atmosphere of what it must have been like as an actual workhouse is never too far away…
So, childhood demons faced, I was more than happy when a year later I was approached by Lara from the Gressenhall events team for some pointers about organising a 1950s & 1960s themed Rock 'n' Roll Day. I love helping(!), so quickly agreed to hold my own Vintage stall at the event and pitched in with recommending other traders, a DJ, classic car clubs & even a hula hoop expert…(museums are so much more fun nowadays!)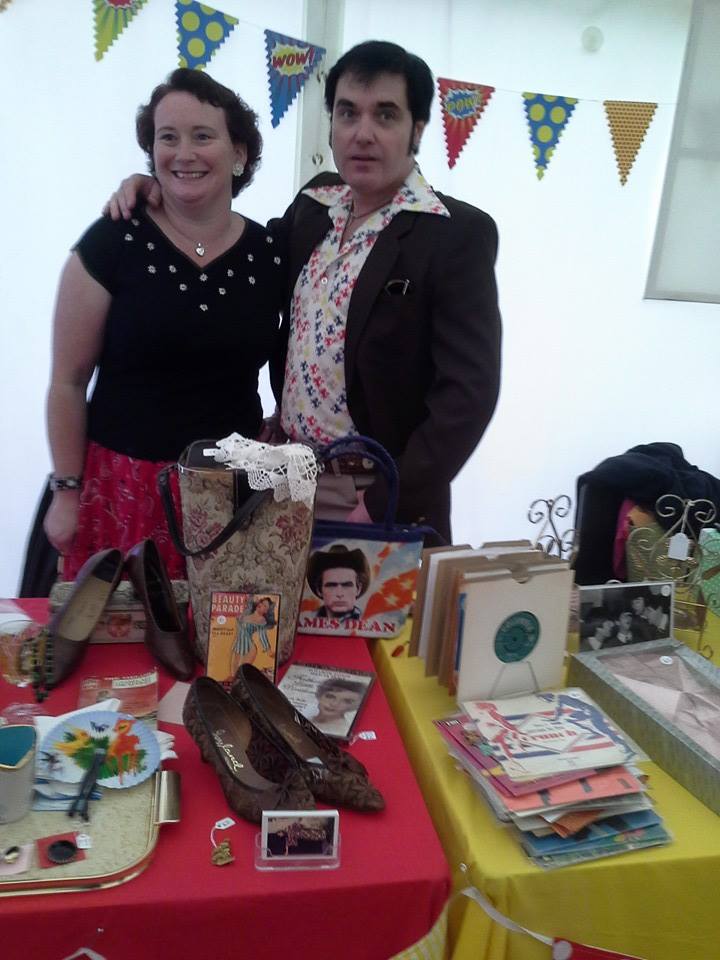 Here we are at the first Gressenhall Rock 'n' Roll day in August 2014, with an assortment of '50s & '60s related goodies…
..and a good turn out of class vehicles despite the strange weather & torrential rain which understandably put a few auto enthusiasts off turning out. We should have known better, it was August Bank Holiday! At one point, the marquee emptied & I notice everyone was standing outside staring up at the sky…the typhoon, or whatever it was, had the last few old cars running for the hills but all was not lost! It was still a great day & hula hooping on the green took place in between showers as well as dance lessons in the chapel & vintage styling by Flamingo Amy.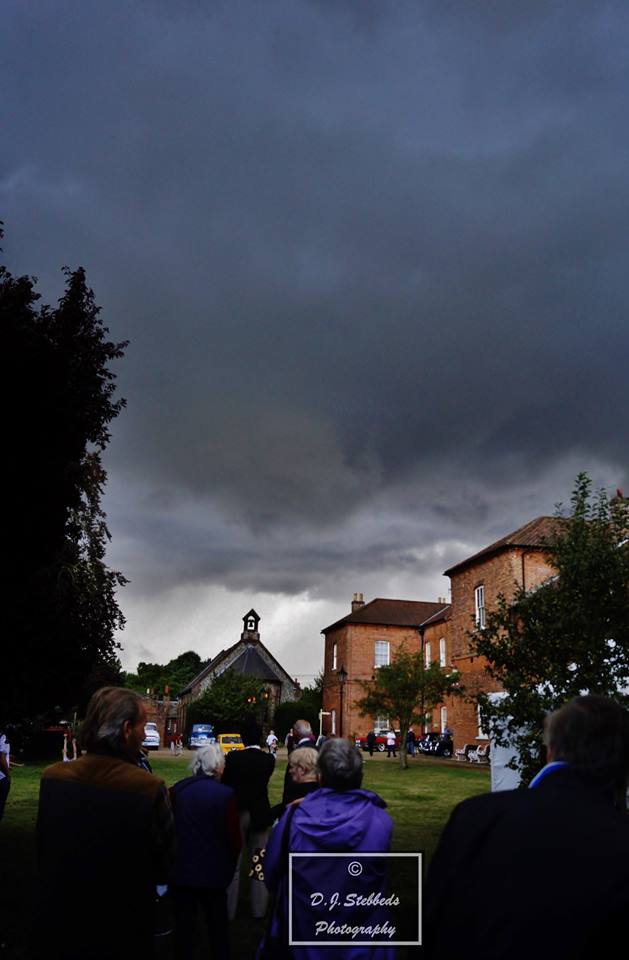 It was such a success that I was back on the  Team for the 2015 Rock 'n' Roll day which was bigger and better, and with the addition of sunshine all day, it was absolutely packed & a really good time was had by all!
 There was dancing to the sounds of Roland from the Starfighter Rock 'n' Roll Club …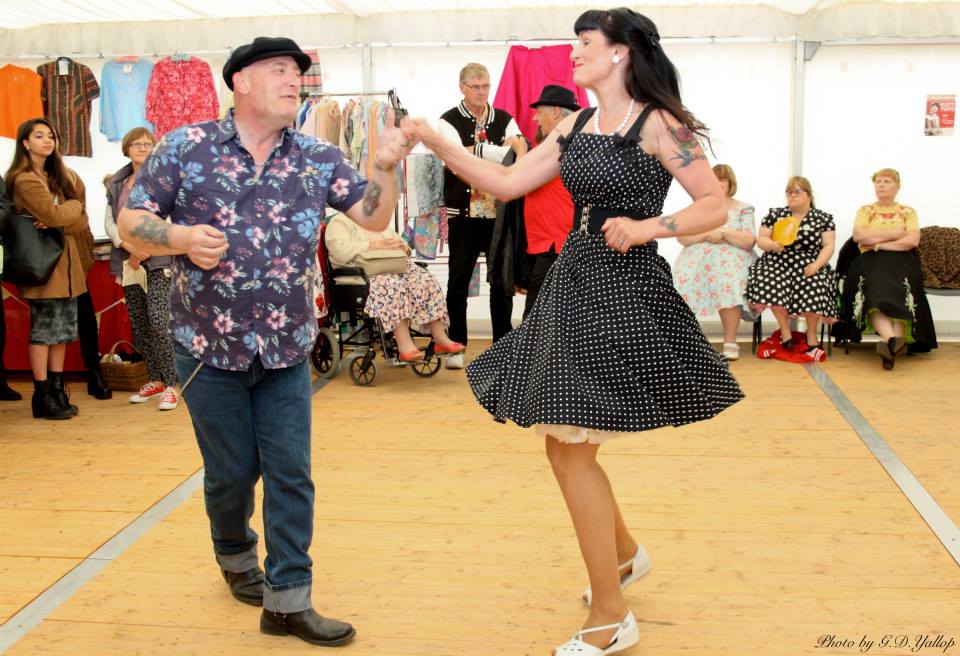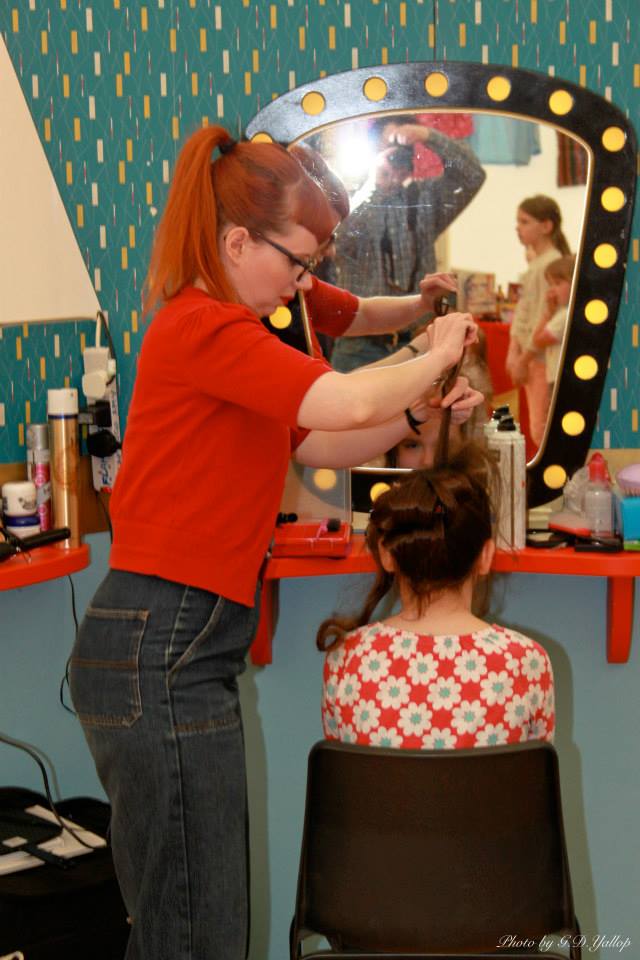 Vintage hair-styling from Flamingo Amy…
Colourful people & classic cars..(lots of them!)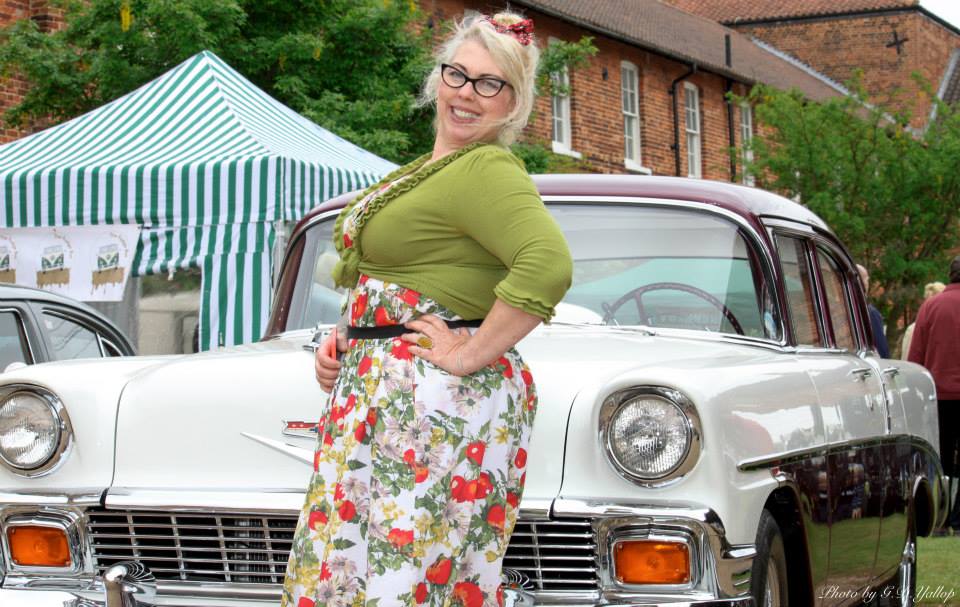 Lots of activities including how to Hula Hoop!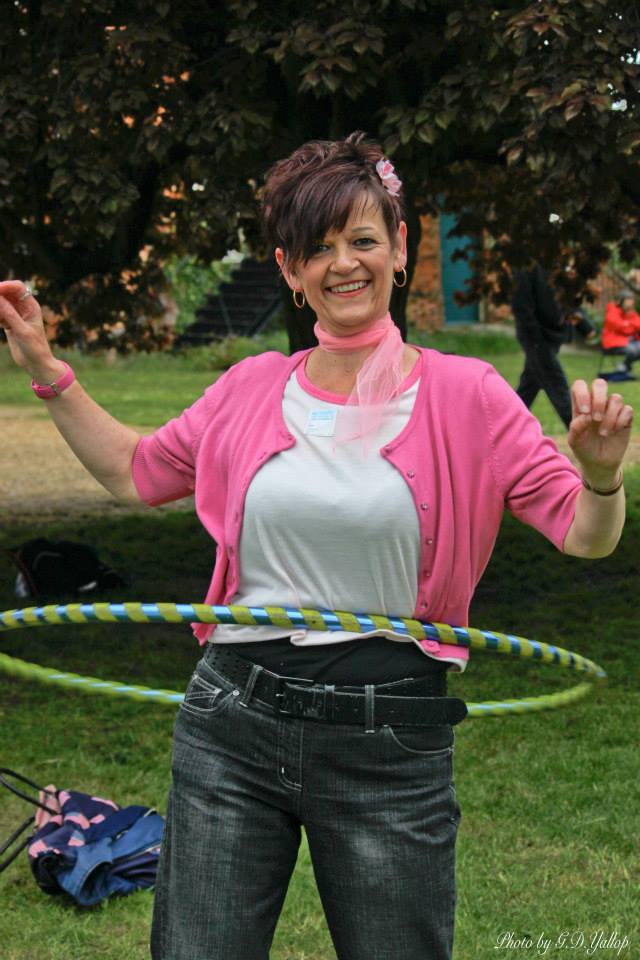 Not forgetting vintage dealers like me, trying to sell you '50s & '60s clothing and goodies!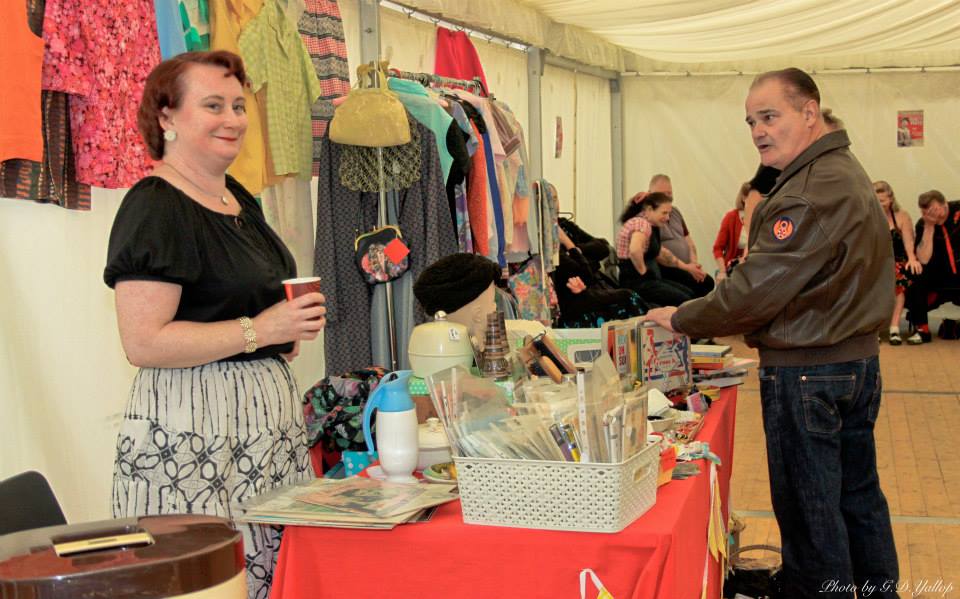 New for 2015 was a talk on 1950s clothing by Fabuous Miss K, featuring some dresses from my personal collection (I know I'll have to part with them one day…)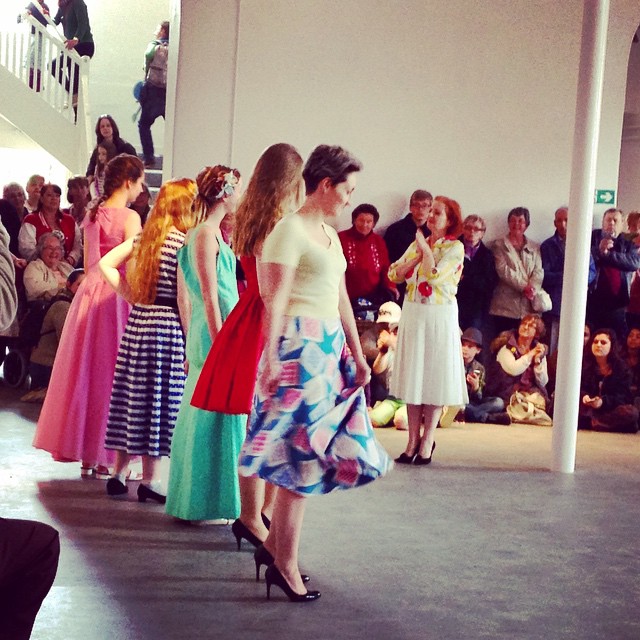 There was no question that the Rock 'n' Roll day was to become a regular feature at Gressenhall alongside their 1940s events, and many other activities & themed days (check out their website) – hey they even held a Wedding Fair too in 2015 that I was happy to take part in, as you can now actually get married in their beautiful Victorian Chapel…
This was an awfully important event to me as it was my first wedding fair with a stall dedicated entirely to vintage nightwear an lingerie – a lot of planning went into it, and I was so pleased with how it all looked displayed together!
So in conclusion, I would highly recommend Gressenhall Farm & Workhouse for a family day out (maybe school children still get 'dragged' there anually?!) and definitely keep an eye out for their special days – this year's Rock 'n' Roll Day is on Bank Holiday Monday 30th May and will definitely be bigger & better yet again so hope to see lots of you there!
Photos from D. J. Stebbeds Photography  and G. D. Yallop Photographer