Why had no-one told me about Brick Lane before?!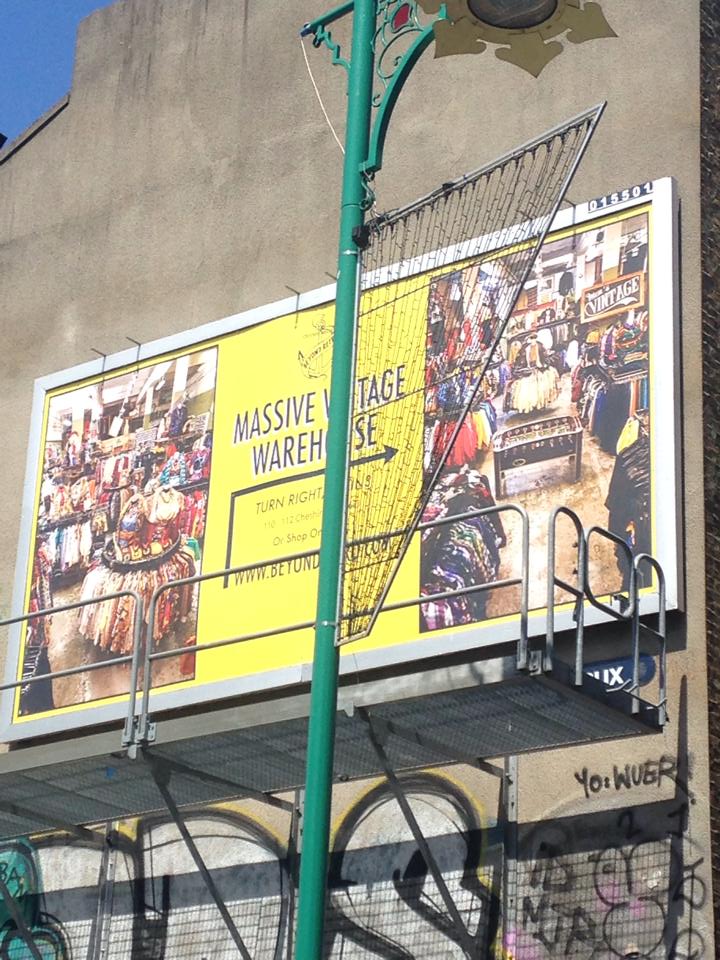 To start – yes I am a vintage clothing 'dealer' these days but am also a collector & wearer, and have been since the mid 1980s. I don't buy as much as I used to due to various increases (in the cost of 1950s dresses, in my own size & in the amount of stuff in my house) but every now & then I  like to pick up something for 'me' & not just focus on buying stock all the time.
So, after a great weekend with unexpected vintage purchases, I thought I would pass on some useful info as to where to shop!
It all started with a spontaneous trip to London for me & hubby to celebrate 25 years of being together (I know, I don't look old enough) when we decided to have an overnight stay – but where & what to do? We're both history lovers so plumped for a Jack the Ripper tour & thought we'd explore the White Chapel area, have nice meals & see what we could discover.
When trying to find a hotel at short notice we noticed that the Brick Lane area was described as being full of vintage shops & Indian restaurants, so all good news, & we managed to get into the Brick Lane Hotel itself which turned out to feature in the Ripper tour too!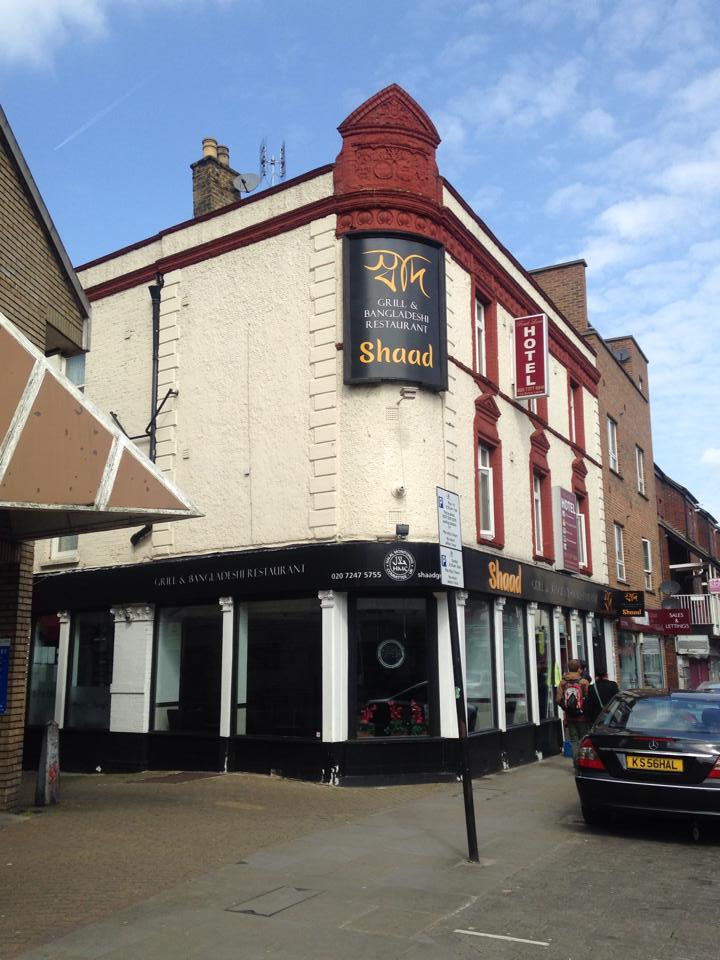 But nothing quite prepared us for the amount of vintage shopping that lay before us that weekend! We arrived at Liverpool Street Station early (cheapest train ticket) with the bonus that the East End was within walking distance (my knowledge of the geography of London is so sketchy that I hadn't even realised that) & found we couldn't check in to our Hotel for ages so with the downside of having to lug our overnight stuff around, we headed off for an initial explore…
Firstly, a load of neon arrows promising 'vinyl' led us to a record sale, which was also a basement full of vintage clothing stalls – result!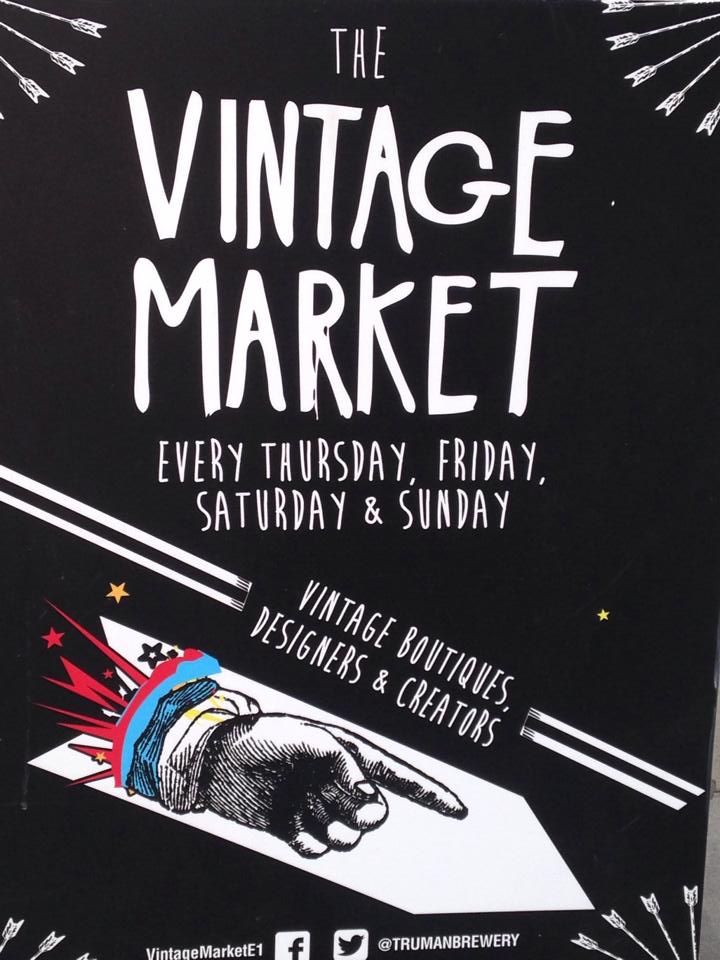 Hubby picked up a soundtrack LP, no clothing purchased but some nice stuff in there & I was pleasantly surprised at the affordable prices.
A bit hindered by our luggage we continued mooching & hit several other vintage stores before the giant sign that said  'Massive Vintage Warehouse, turn right' told us what to do….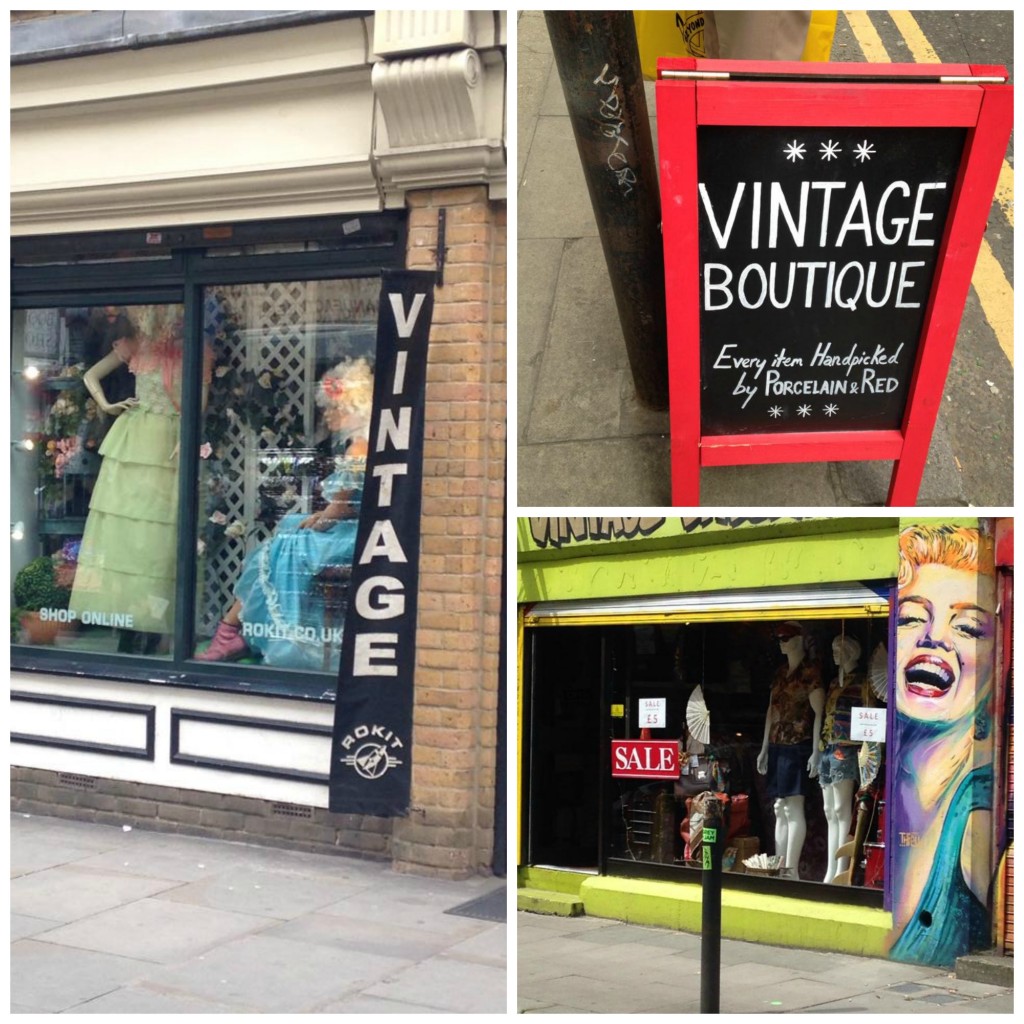 The warehouse turned out to be Beyond Retro, and despite my initial reservations that it looked to be very modern vintage & hubby's reservations that it looked as if it was just frocks, we dug a little deeper & found a treasure trove! We split up (serious shopping mode) & eventually met up again in the changing rooms – after a failed '50s prom dress (very cheap but too small) I managed to score a couple of summer skirts for less than £10 each…..
   …and Simon was elated at his find – the snazziest red '70s trousers you've ever seen, flamboyant  shirt to go with them & a fab '70s sport coat for £10. Who said London prices were high?!
We were so pleased to find a great area with a lovely atmosphere & carried on diving in & out of various vintage shops, & undercover markets (intriguing combinations of vintage, collectables, record & food stalls!) & hubby scored again with a reel to reel tape & some vintage erotica…A truly eclectic mix of shops focusing on different periods, with different atmospheres & lay outs & a cross section of price ranges but much more affordable  than I expected in London (I dunno about you, but I've always bought into the myth that London prices are high, but I actually saw stuff cheaper than it would have been in some of our local vintage stores)
After finally checking in & dumping the luggage, it was a Mexican meal for 2, a few beers & then we hit the history with the Jack The Ripper tour which covered areas we had already been is, not realising we were in the heart of White Chapel, & the discovery that our hotel actually featured in the story as somewhere one of the victims had spent her last night…
Back in the hotel, we made the happy discovery that Simon's trousers still had the security tag in them – I say happy, because it meant we had to head back towards Beyond Retro the following day….
All I can say is Wow! Brick Lane on Saturday was great, on a Sunday it was unbelievable!! Not only were all the vintage shops open (believe me that's a novelty when you're from Norwich), they had been joined by a street full of market stalls selling all sorts, including vintage & collectables, amazing looking food & drink from all over the world, not to mention fantastic buskers. With the bonus of sunshine, buzzing crowds & the incredible street art everywhere, it really was as if we had just stepped into a part of New York (especially looking above the quaint stalls to see sky scrapers!).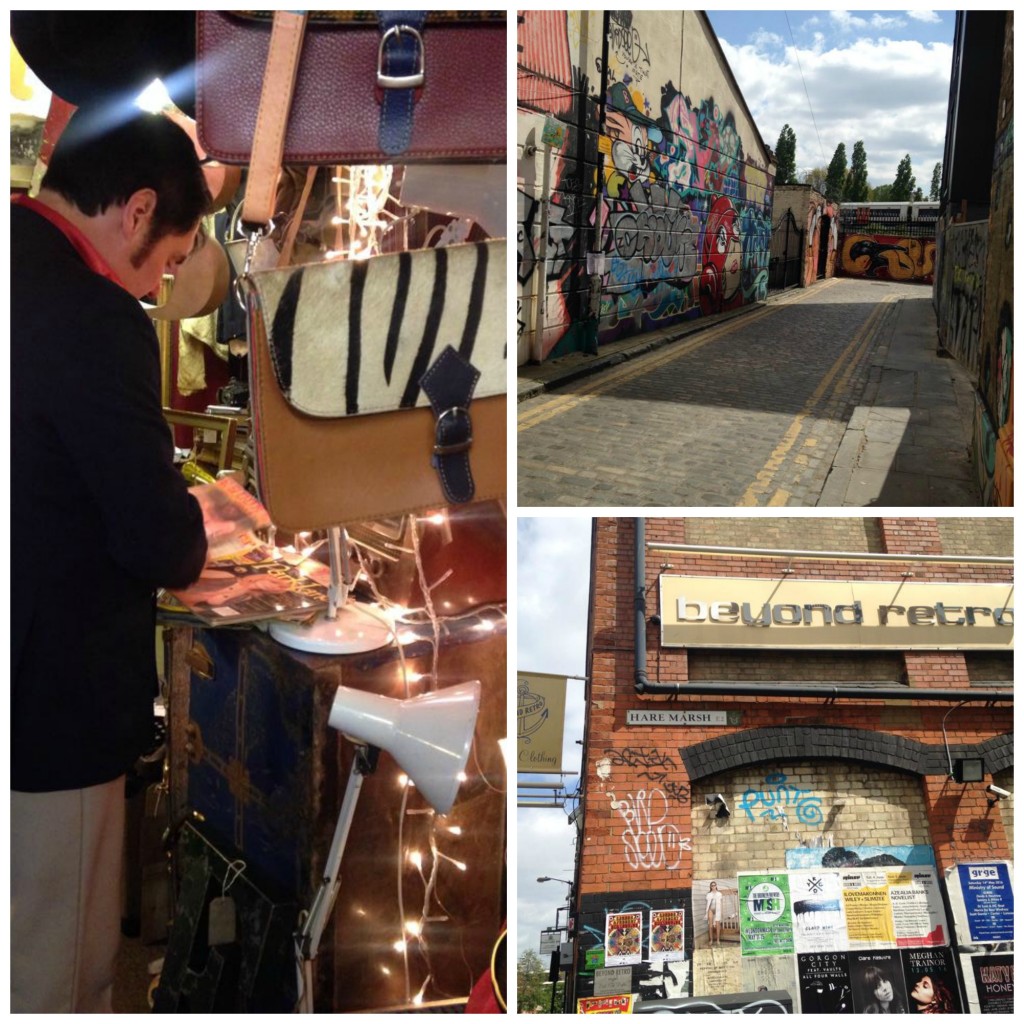 Trousers sorted, we carried on shopping, ending up in Blitz Vintage just off Brick Lane where we were glad to stop for iced coffee & cannoli, but couldn't see ourselves shopping there..the atmosphere was a bit too contemporary for me with lots of clothing that looked just old enough to be second hand rather than vintage, & the one thing that Simon picked up was priced in 3 figures…Still, there was a lush rail of kimonos to browse through (kimonos everywhere in London shops!) & lots of people were obviously happy to shop there!
Finally it was food & rest time (plus we'd checked out & had our luggage again) so after heading to the most incredible multi-cultural indoor food market I had ever seen where we had breakfasted on fresh fruit crepes, only to discover it was really crowded (another novelty when you're used to Norwich on a Sunday!) we thought it appropriate to sample some Indian cuisine,as apparently people travel all over the world to Brick Lane to do just that.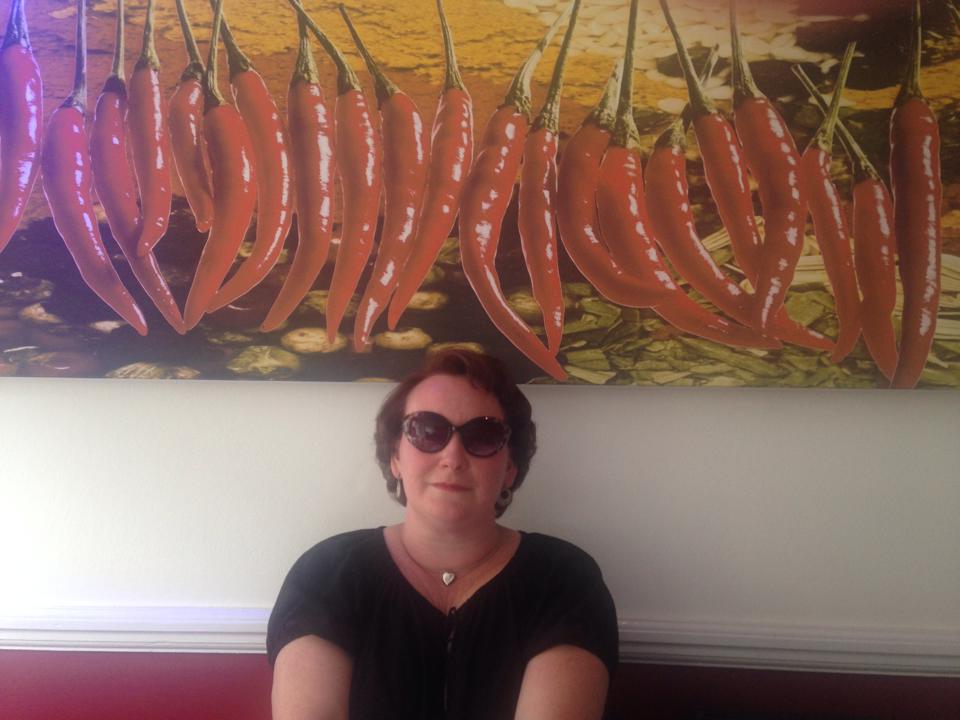 Then heading in the direction of Liverpool Street we stopped off at a nice undercover vintage market on Commercial Street with the best tea shop ever, that we had discovered on our last trip whilst mooching around waiting for train time, and drank tea & people watched until it was time to go home.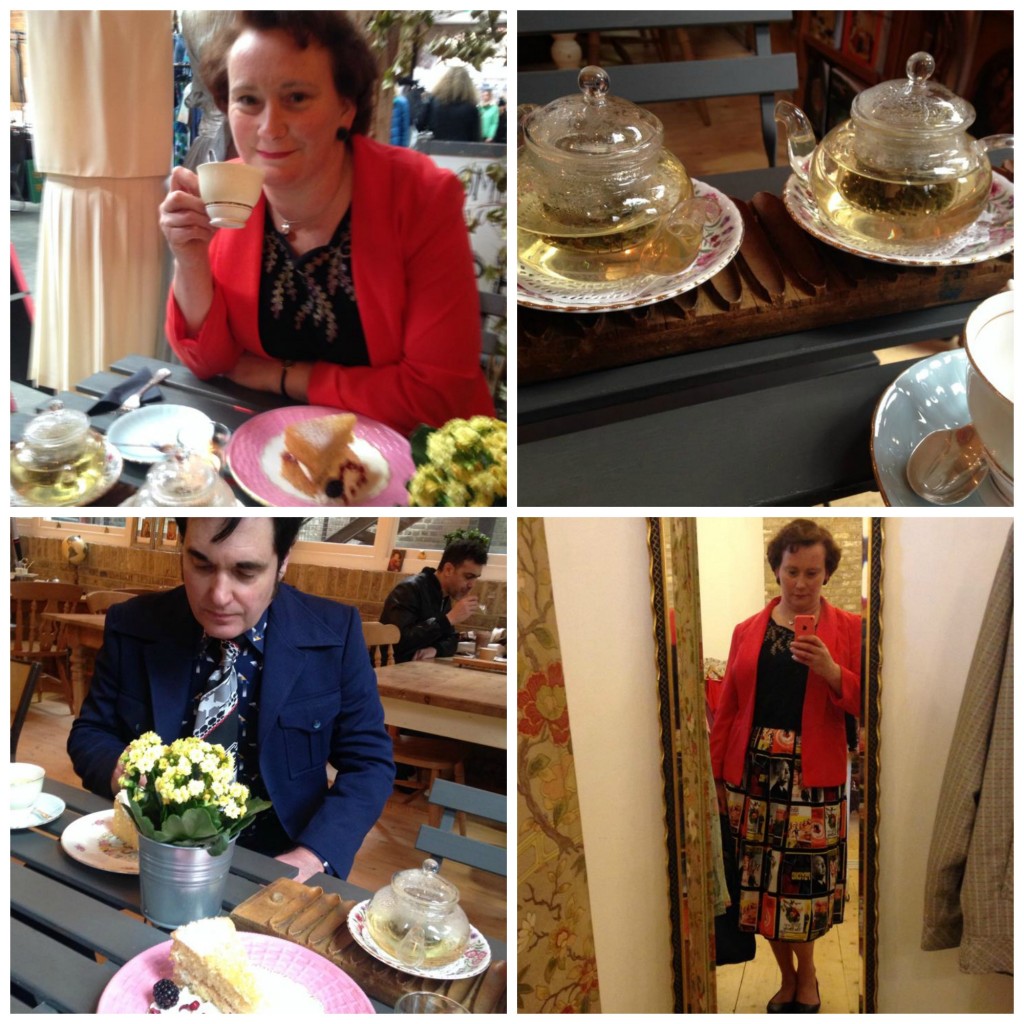 In conclusion, if you like to go vintage shopping you should definitely try Brick Lane in London's East End – we found lots of shops all on the same street & just off it with a wide variety of clothing from different eras, priced from £5 to the £100 '60s sweater that Simon spotted…Go on a Sunday & be amazed by the market stalls too – I found a £5 rail full of genuine vintage dresses! (I bought 2 that were too good to leave, & one actually fit me – bonus!) We'll definitely be going again as soon as we can, without the hindrance of overnight bags, I absolutely loved the vibe, and it can be done in a day trip from Norwich too.