Today I'm heading back around 3 months to Norwich Fashion Week 2016 & a fabulous event that I took part in (but because of everything else I was taking part in during that week, I never got round to reviewing it!) It definitely deserves a look back in appreciation, as our Boudoir Party Team put in a lot of hard work, for what turned out to be a fantastic night!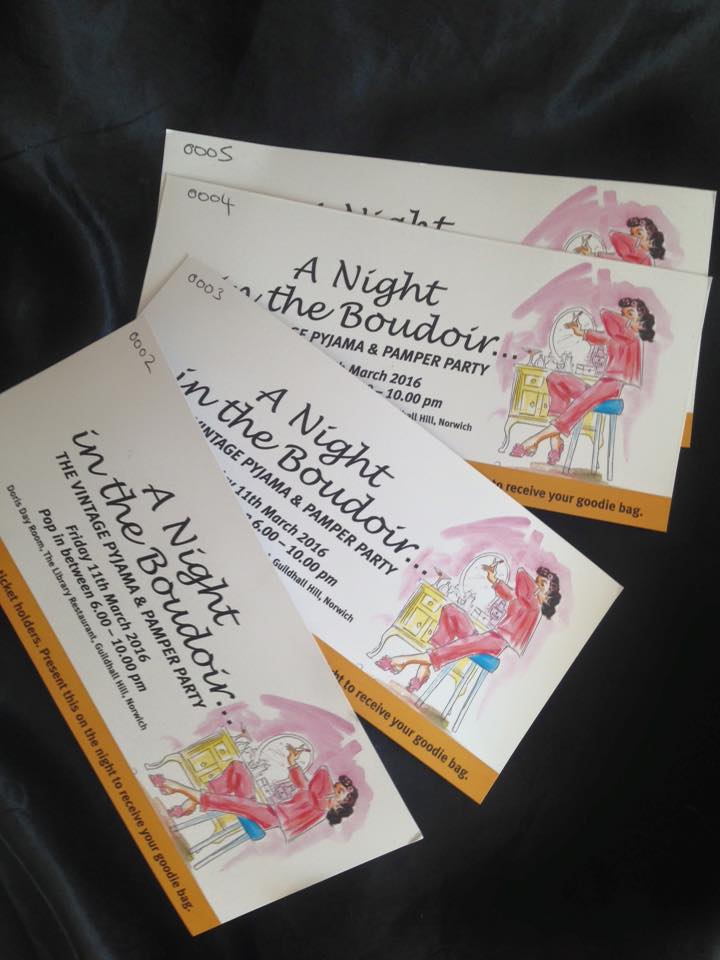 Our Golden Tickets with artwork by Artbeat64
Like everything I get involved in, there'e always a story behind it…Once upon a time after having a successful time with my vintage nightwear for Norwich Fashion Week 2015 , I decided I'd like to do something else for 2016 as well as taking part in the vintage show, maybe my own sale, another Vintage Nightwear Party, to be honest, I didn't really know what to do or where…. then behold! a Tweet from Kathy Palm & Sole (that lovely business on Bridewell Alley in Norwich that smells really nice when you walk past), to say that she had an idea that I might be interested in!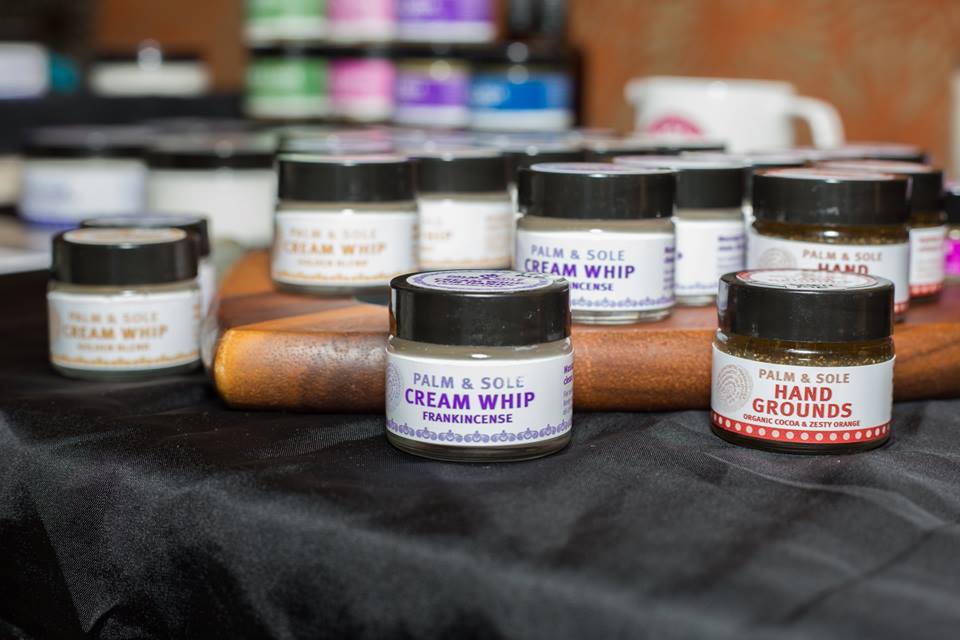 The lovely hand blended potions & creams from Palm & Sole….
Turns out that Kathy also wanted to do something for Norwich Fashion week 2016 and as her business involves relaxing & reviving creams & spritzes, she hit on the idea of a Pamper Party and when she mentioned it to Jayne, the lady from The Library Restaurant, Jayne suggested that Kathy get in touch with me (I'd previously worked with Jayne on Fly Me To The Moon, a fashion show we'd hosted at The Library in 2015) and a few emails later…we came up with A Night in The Boudoir – A Vintage Pyjama & Pamper Party! The answer to my prayers, a lovely & unique event where I could join up with some other fab local businesses.
As our idea evolved, we thought about what would make a great pamper party as well as Kathy's potions & hand massages, my vintage nightwear and Jayne's cocktails & canapes…hair & make-up of course! Kathy roped in her shop neighbour Laura Dossett to do some vintage make-up, I contacted Naomi from White & Rose who had done a fantastic job styling hair for us at Fly Me To The Moon last year and with the addition of my hubby Simon as artist & our very own boudoir photographer Simon Watson , not to mention my Fashion Week intern Bella…the Team was complete!
Cue lots of hard work, planning, promotion, misunderstandings, Goody Bag ideas, ticket selling, trying to communicate with people who were all too busy to meet-up, worrying whether anyone would turn up in a week when so many other events were going on….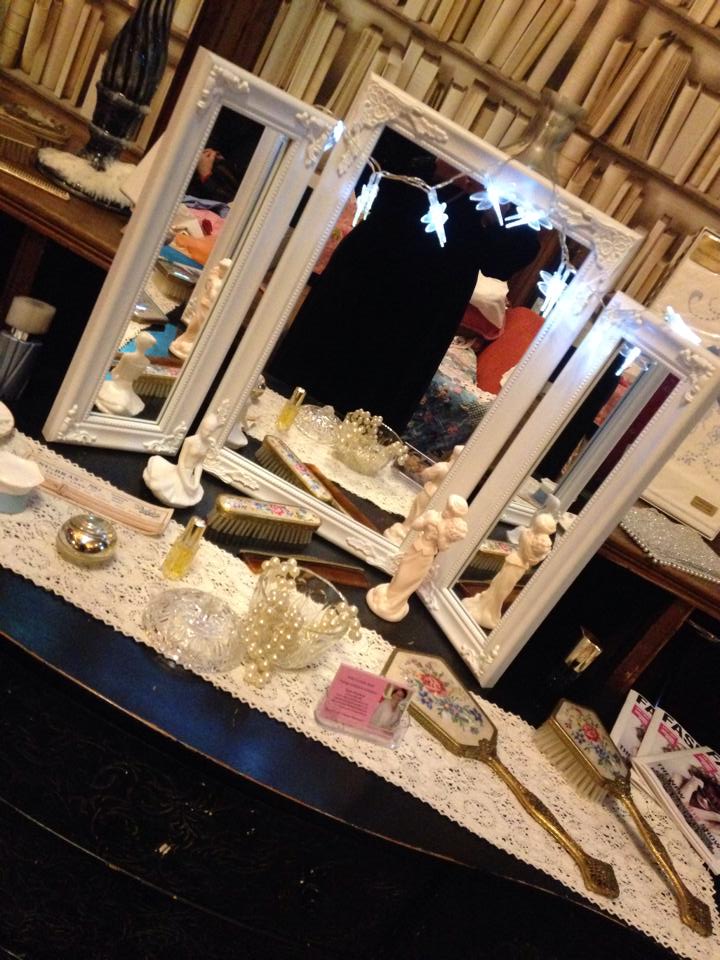 But it all turned out fine in the end! With a few props & a lot of imagination we turned the Library's Lounge area into a twinkly, cosy boudoir…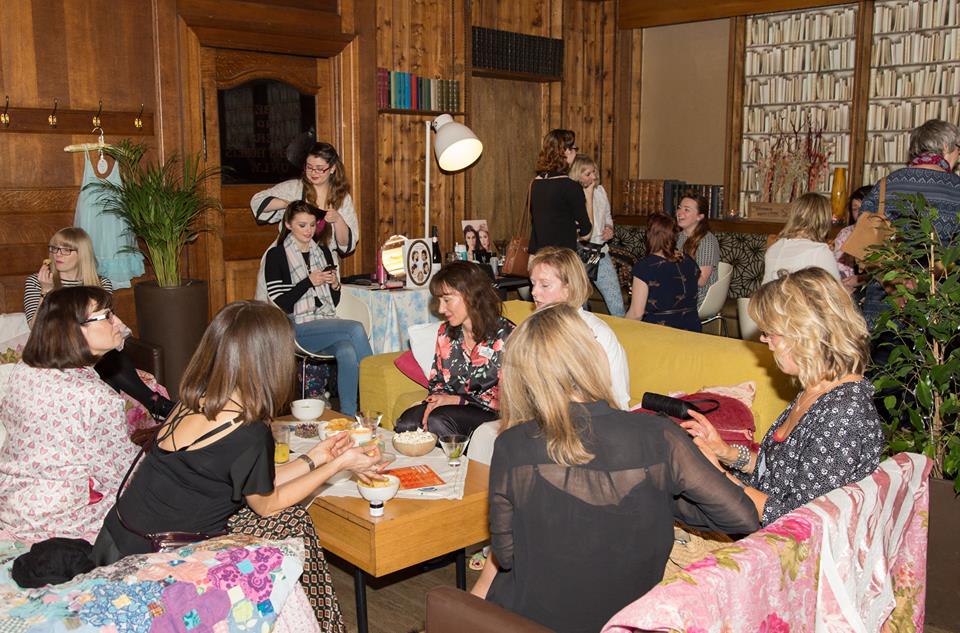 …and the only worry regarding numbers was whether we'd run out of places for people to sit & relax!
All our lovely guests stayed all night & took full advantage of everything that was on offer from browsing my rails of vintage nightwear & lingerie…
….to getting a vintage make-over by Laura
…and an up-do from Naomi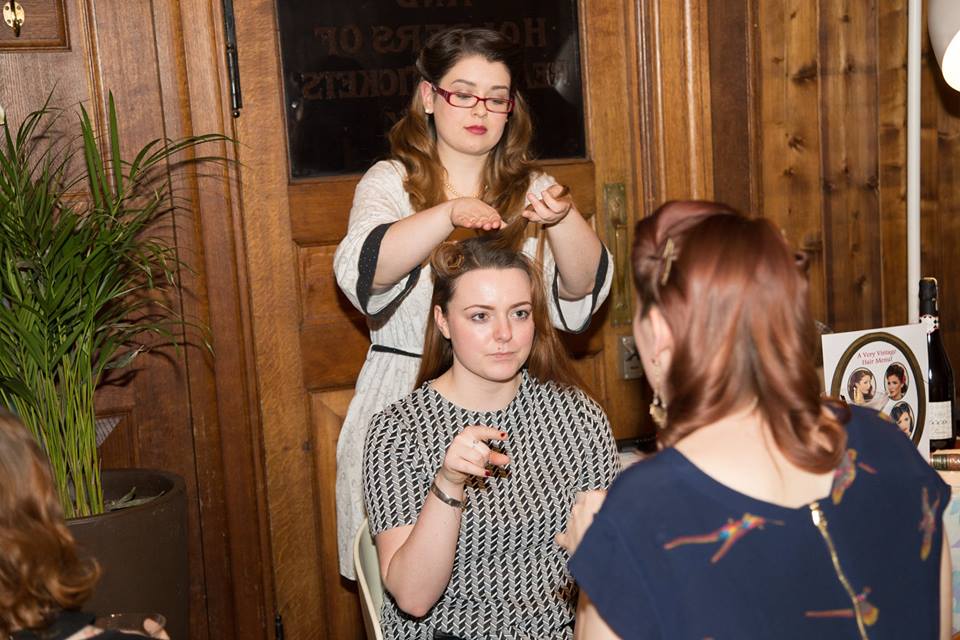 …how about a relaxing Palm & Sole hand massage
Not to mention digging into the dress-up trunk!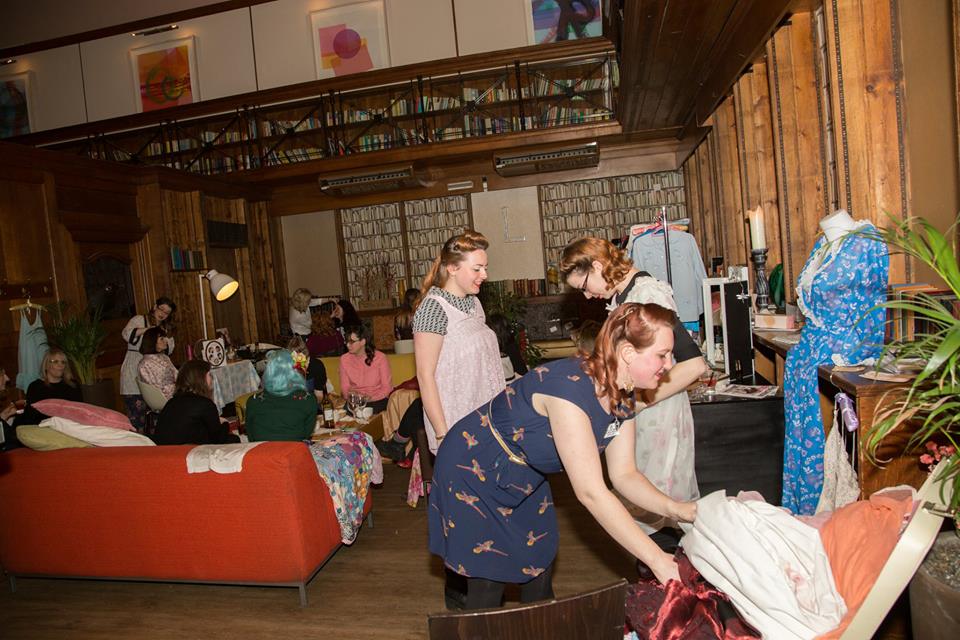 ..and just generally chilling out, chatting, drinking, nibbling & feeling pampered!
Happy faces all round, including ours! We knew it was a good idea, but when it's something you haven't done before, on an evening full of other Fashion Week events, we really couldn't be sure how it would turn out! Hence Kathy's great idea to offer Goody Bags to the first 10 lucky ticket buyers (we wanted some assurance that at least some people would turn up!)
Simon Watson captured the evening beautifully for us, and as a couple of our favourite models, Rachel & Maisie, were guests, it was only a matter of time before he whisked them away, armed with a camera & some nighties, for a mini-photo shoot upstairs!
    Did I mention that we all wore our robes & PJs?! As well as encouraging our guests to do the same…  (Going to work in one's PJs is a thing of mine that you will probably notice reoccurring throughout my stories…)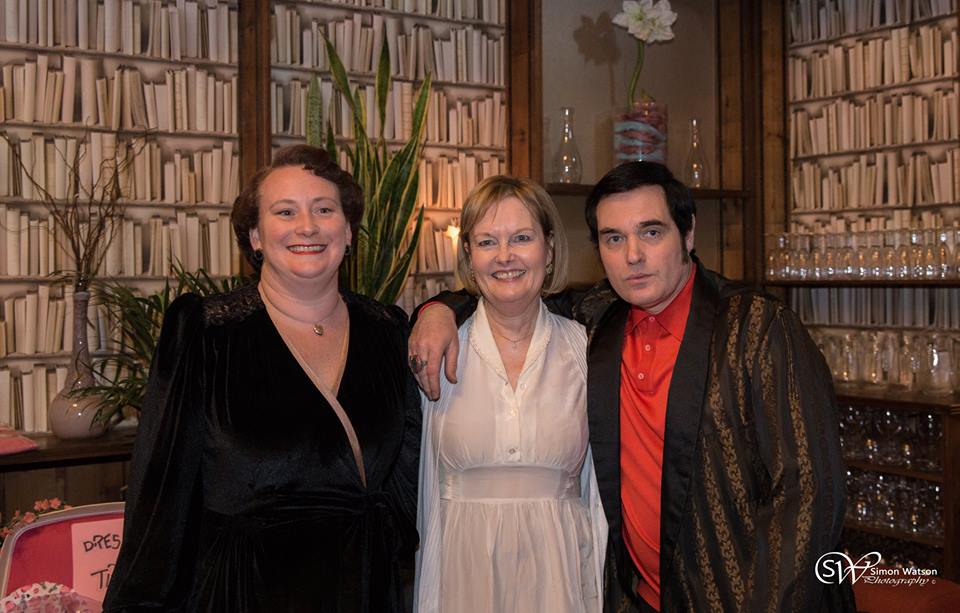 Me, Jayne & hubby Simon – I had chosen my Dita Von Teese robe for the evening, Jayne had gone full vintage with a beautiful nightdress & Simon had nicked a men's robe from my stock (again!)
The feedback we had was absolutely glowing from friends & from strangers (hey, they're just friends you haven't met yet!) who had just seen it advertised & liked the look of it, and everyone agreed how pampered they had been! So I'm sure we'll definitely team up again to do something similar, maybe even bigger & better, whether for Norwich Fashion Week or just because…
Watch this space, & I'll leave you with this…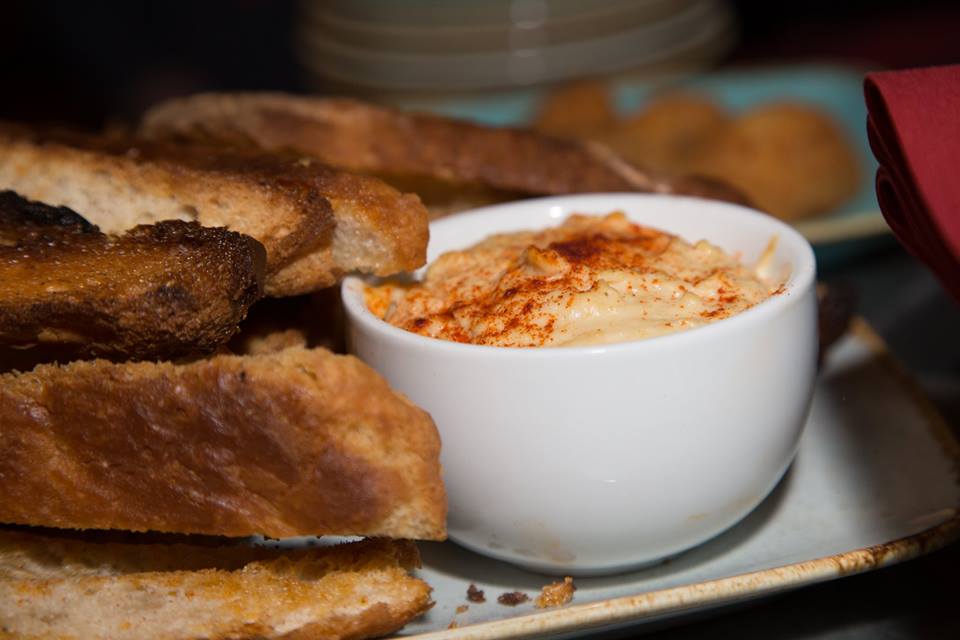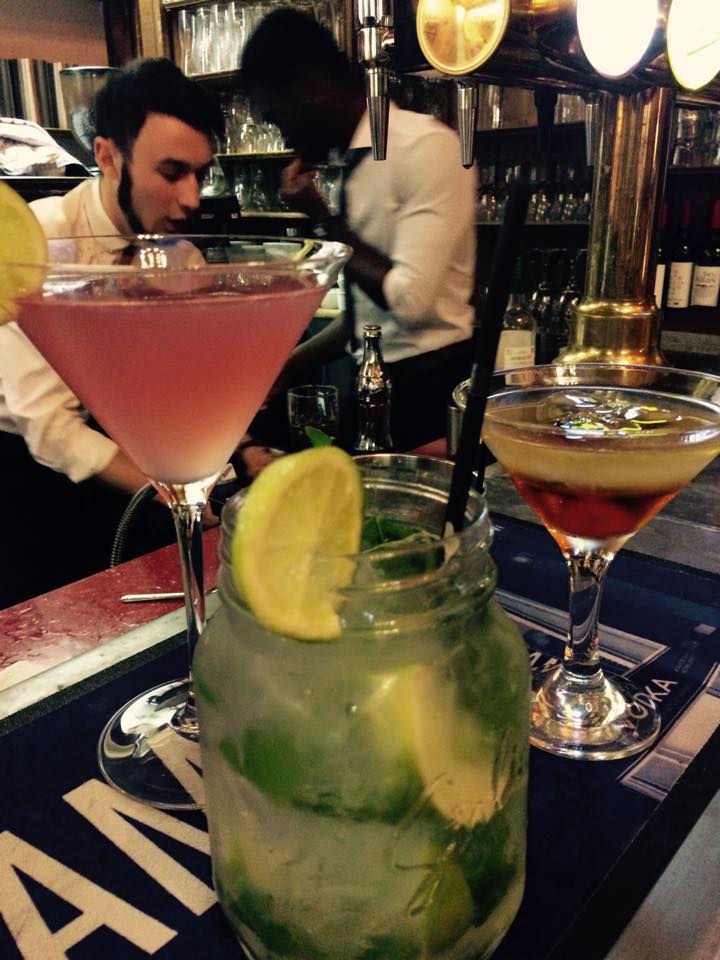 The food & drink in The Library is amazing!
Until next time, why not pamper yourself?! x