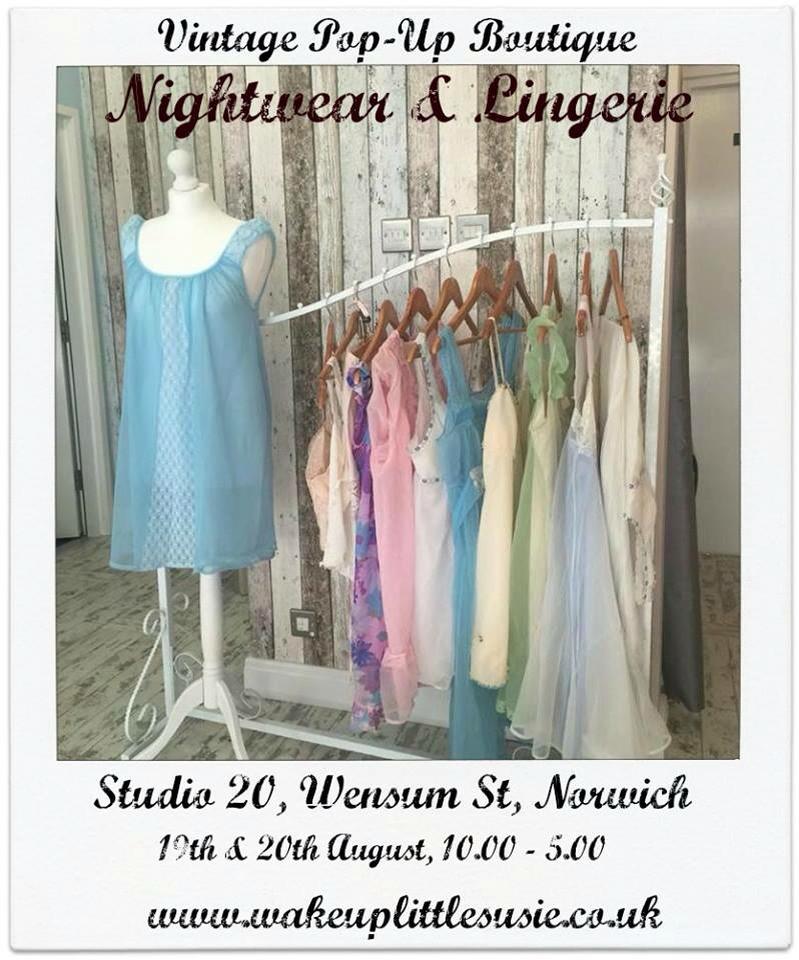 I'm always looking for new, enjoyable & creative ways to get my vintage stock 'out there' & in front of the right people, and having acquired a lot of lovely nightwear & lingerie recently I've been really keen this year to find a way to display it all together & draw attention to what I do.
I've been very lucky to accidentally find a stockist for some of my pretties: my friend Hannah who models as Ruby Winter also runs a fab retro & alternative shop in Warrington, called Dishonest Sole Ltd, and after modelling a few baby dolls for me fell in love with them & offered to stock them in her shop which has gone really well. The photos of the displays she has produced (that's one of them in the flyer above) made me feel more than ever that I'd like to create something similar for myself, here in Norwich.
There is never enough time or space to make a really good display at a vintage fair, and I am also concerned about more fragile lingerie items at certain events but I did come pretty close to the dream at the three Vintage Nightwear Parties I held at local coffee shop Olive's, and photographer Gary Yallop captured some great images for me at my summer 2014 event.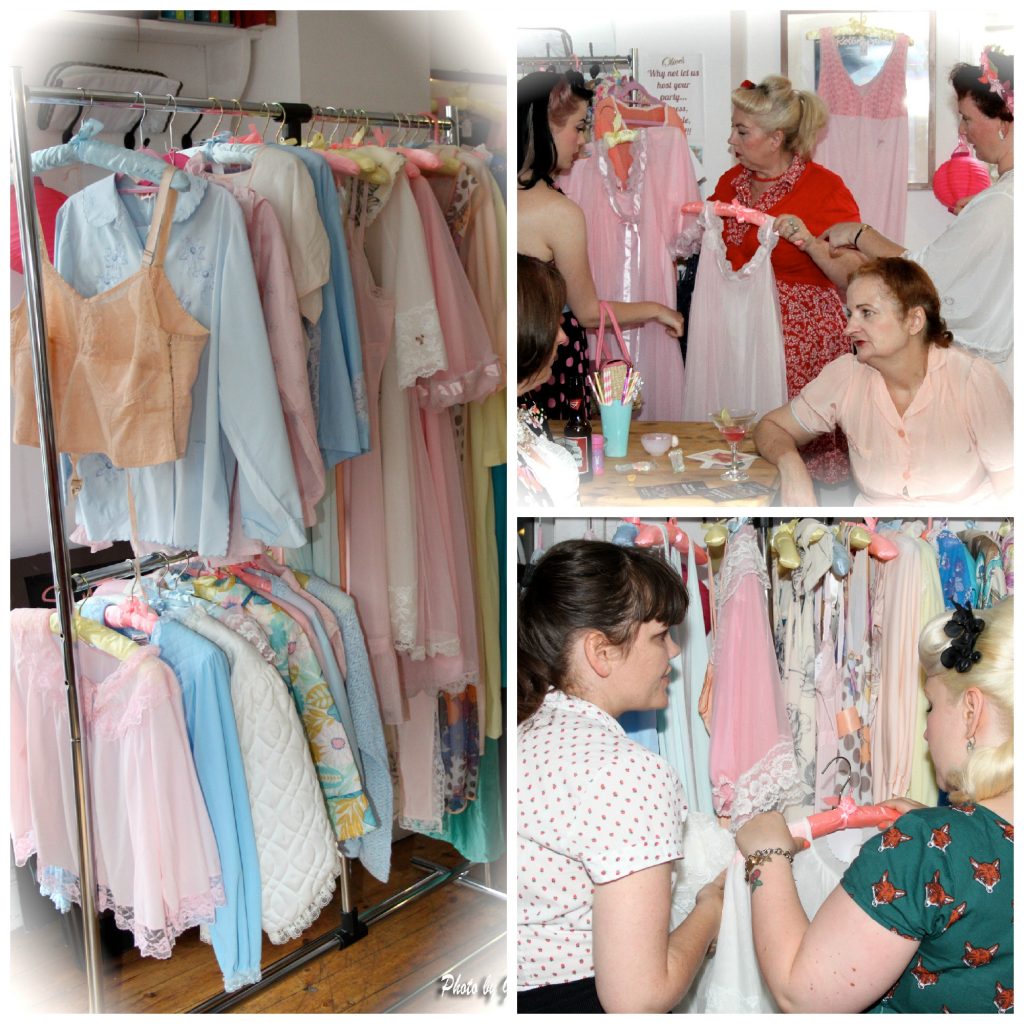 So, having acquired lots of lovely stock & having lots of lovely ideas (never short of them!) – what next? Finding a venue is always the hardest part; somewhere in the right location that's affordable & where you can do your own thing….still, I felt sure that a day time event where I could create my own 'shop' would be the way to go, & my prayers were answered when wandering around Norwich one day, I stopped & read a notice in a window, I had passed by Studio 20 before & spotted photo shoots taking place but on closer inspection, they also hired out their space for exhibitions and guess what? Pop-Up Shops! A quick look on their website, a couple of emails & a viewing later and it was done, all booked in for two whole days with the possibility of an evening event too!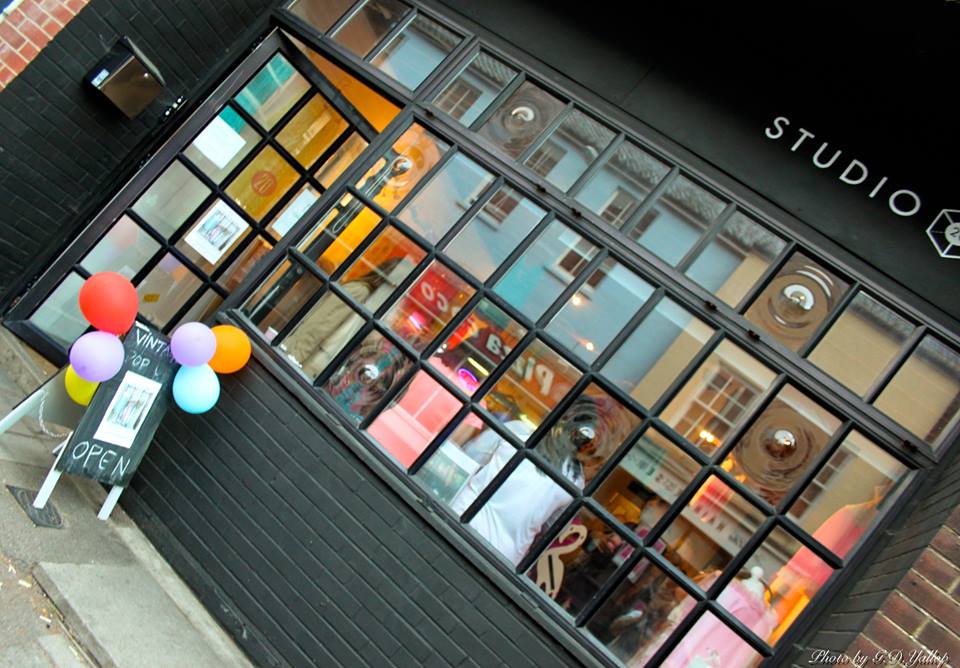 It was a lovely big, light space, a blank canvas to create my own vision, with fantastic windows! The folks at Studio 20 were great to deal with too, happy to let me get on with it & full of encouragement. All very exciting! So then, weeks of planning, hand-washing new stock, promotion, stressing (of course), sourcing out props & decorations, worrying if anyone would turn up, getting frustrated that no-one was replying to my attempts at promotion, working Social Media like mad, but mostly exciting!
Hooray! I was lucky to be able to set most of it up the previous day and that was the key for me – finally having enough time to create my own displays and to showcase my pieces in a creative, visual way rather than quickly cramming things on a couple of rails for a fair in the knowledge that in a few hours it will be time to pack away. A feeling of luxury to know this was mine for two whole days!
I tried to create different display with different themes & colour schemes around the room….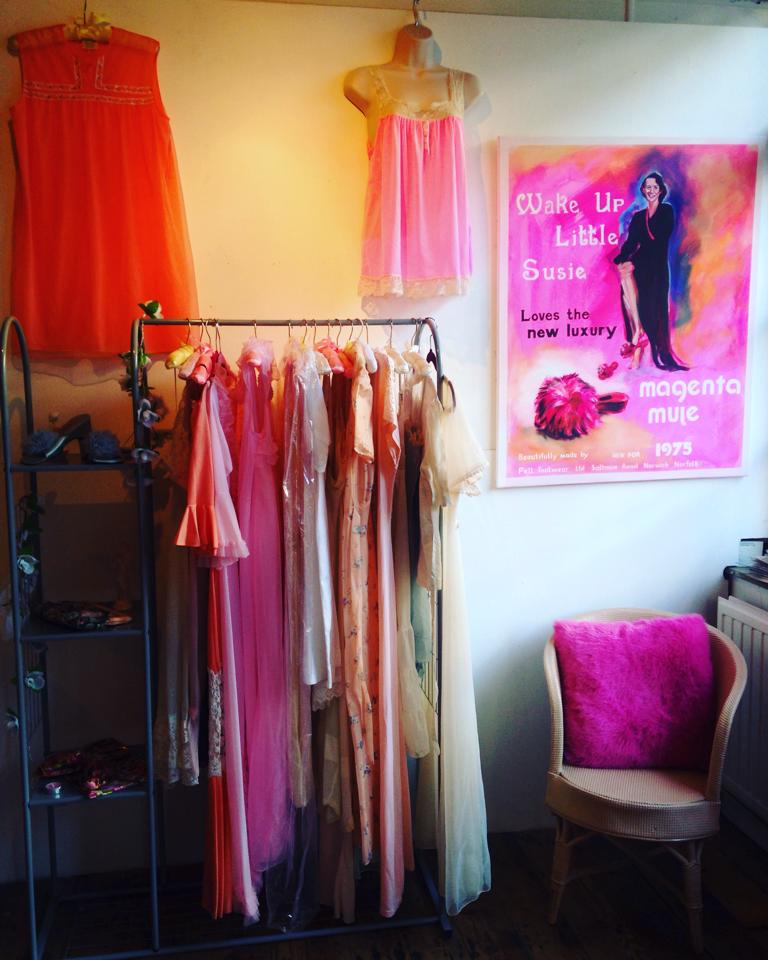 I particularly loved this corner where a piece of artwork created by my husband Simon for an exhibition at a local museum during Norwich Fashion Week really worked well with some of the coloured baby dolls plus a bedroom chair from a local charity shop & a cushion grabbed from our bedroom! It certainly caught the eye of passers by.
Then onto an area of soft pastels where I mocked up a dressing table with a mirror & fairy lights to enable me to display smaller items of lingerie and some dressing table accessories. Incidentally the beautiful blue '50s net petticoat sold quickly & was replaced with some baby blue French knickers for the following day!
I had been itching to get these amazing patterned and coloured vintage slips on display together, and they didn't disappoint!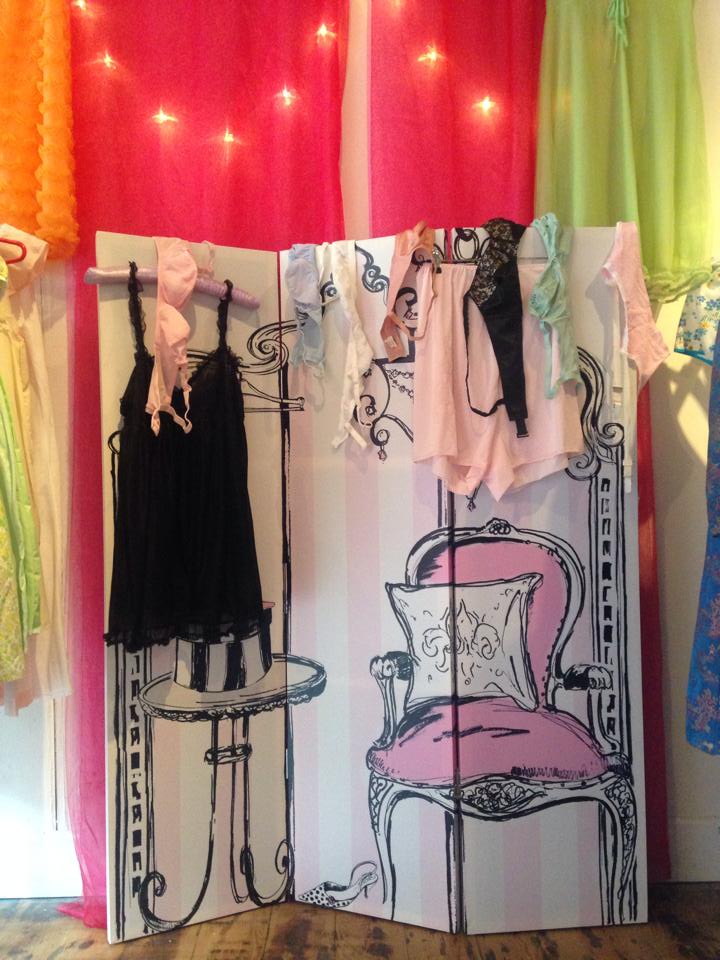 This 'boudoir' area was fun to create with a screen, some chiffon curtains & fairy lights, and made a nice spot for hubby to relax with his horror magazine….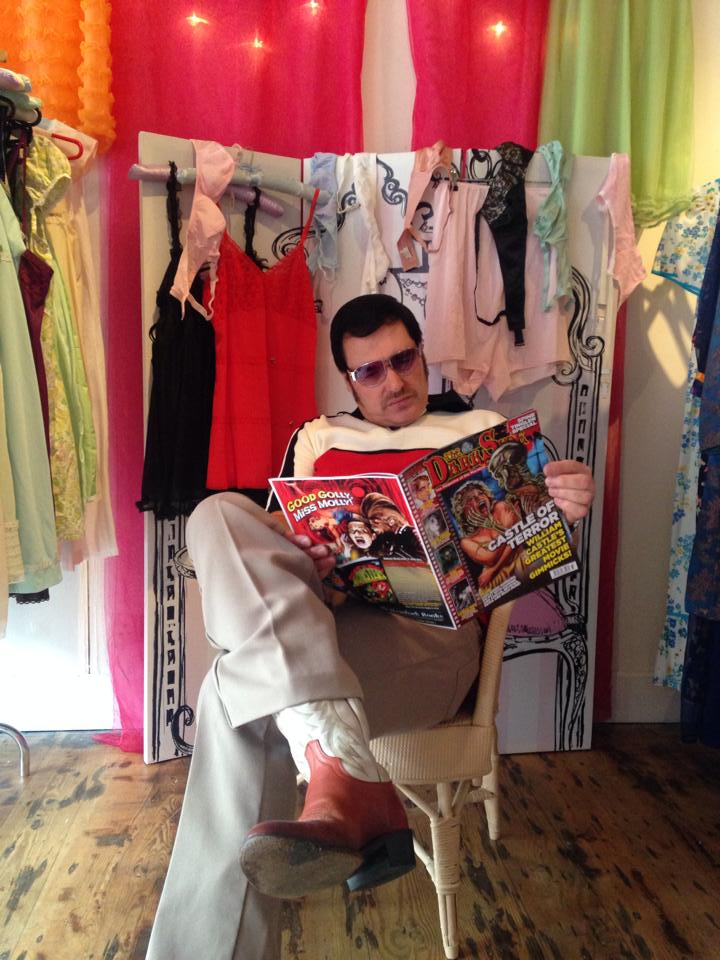 Some more vibrant colours too….
I just loved looking at the space & making it mine…

One of the best things!
Being able to suspend things from the beams! So excited about this, and it worked so well!
OK, I had the shop for Friday & Saturday and as it was 'mine' for that whole time, I had the option of an evening event on the Friday….I only decided to do this at the very last moment as I wasn't sure it would work….my previous evening parties had been fine but they were at a venue with a proper bar and chairs & tables, and would my stuff alone be enough to draw people in at night time? I went for it in the end & was pleased that my friends from local business Swingoramic were able to join me with a selection of their retro Americana goodies. I needn't have worried! My hubby took along some record decks & vinyl, I provided wine & nibbles and the people came, enjoyed, tried on & purchased! It was a lovely atmosphere & again, the venue worked just right.
The evening was captured for me by friend & photographer Gary Yallop (for loads more images check out his Facebook page)
I even turned my 'dressing table' into a bar!
Flamingo from Swingoramic!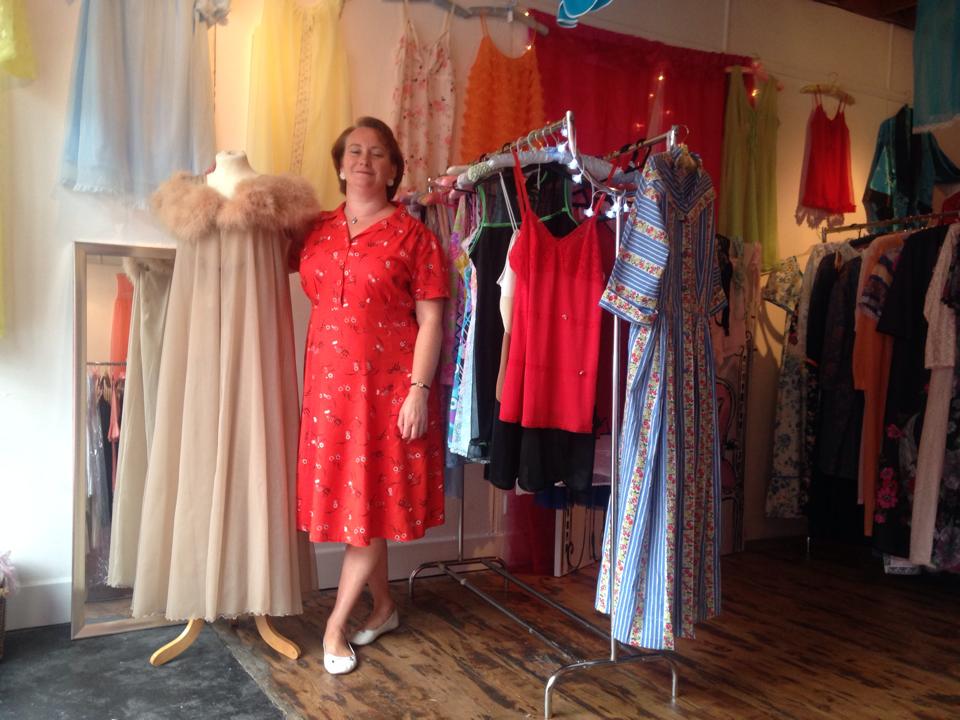 In conclusion, I was thrilled with how my first day time Vintage Nightwear & Lingerie Pop-Up Boutique went & will definitely be doing something similar again, hopefully at Studio 20 in Norwich before Christmas 2016 and for 2017, the sky's the limit!