As we head swiftly towards Norwich Fashion Week 2016 with all of the main shows moving onwards & upwards in a 'bigger & better' way to a new venue & myself getting more involved than ever before, I thought it would be nice to look back at the Week in previous years and it has been interesting to see how much has changed, in terms of my own involvement & contribution as well as how much the whole event has grown in a short space of time.
So, here's Part 1 from me, looking back to the heady days of 2011 & 2012 when Wake Up Little Susie  was in her infancy, as indeed was Norwich Fashion Week itself…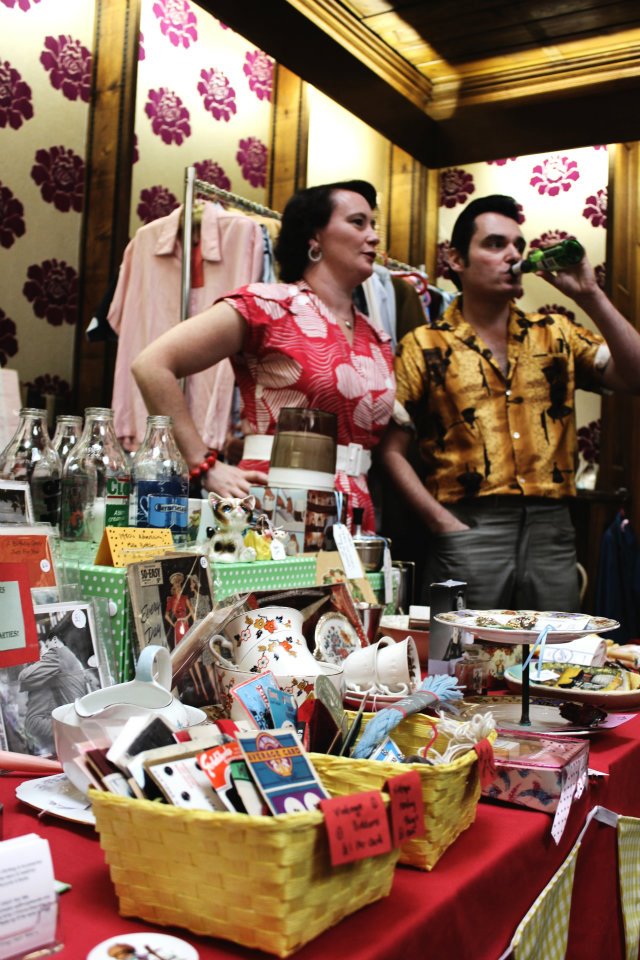 Here we are (young, carefree, drinking beer from bottles) back at the roots of Norwich Fashion Week at  The Library Restaurant in 2011, I believe the very first Norwich Fashion Week and at a venue that still has very strong links with vintage fashion (I should know, me & Sarah from The Wedding Shed hosted a big Fashion Show in this beautiful location just last year!)
For 2011 'Vintage' was represented with a Mad Hatters Tea Party themed vintage fair which I was really pleased to be asked, by organiser The Fabulous Miss K, to bring my stall along too as my own business had only kicked off in 2010 so I was keen to take part in exciting events like this to get my name on the map, and make connections with like-minded people.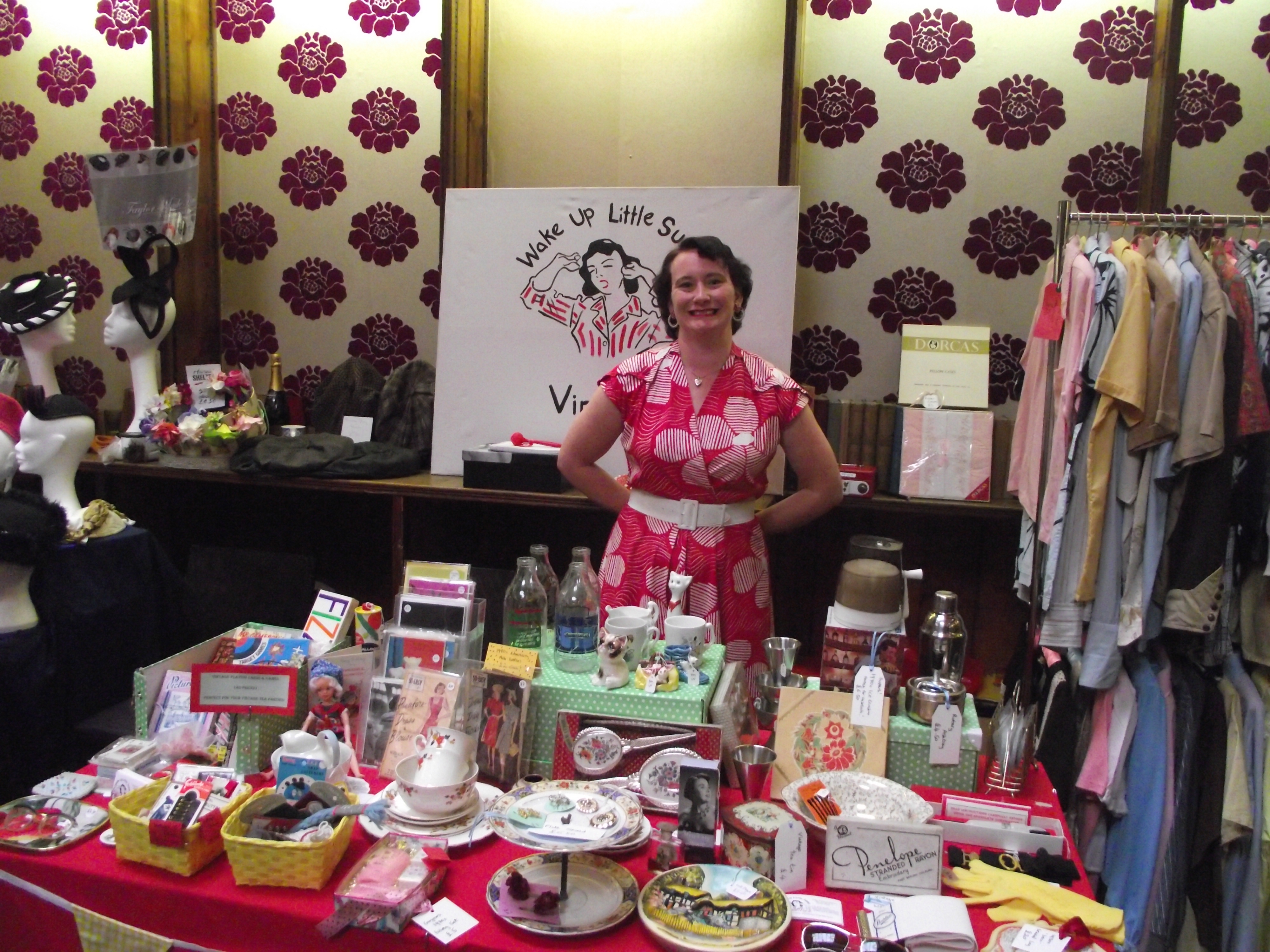 I recall my stall being a colourful mixture of clothes, accessories, home-ware, ephemera & all sorts of goodies when I started out & I can see this event was no exception! Practicing my 'photo smile' here (& I still am…)
This was definitely a fab networking day – my first time in the historic Library & happy to meet Jayne Raffles (the lady at The Library!) who I had a meeting with only the other day regarding an event for this year's Fashion Week…things have kind of come full circle!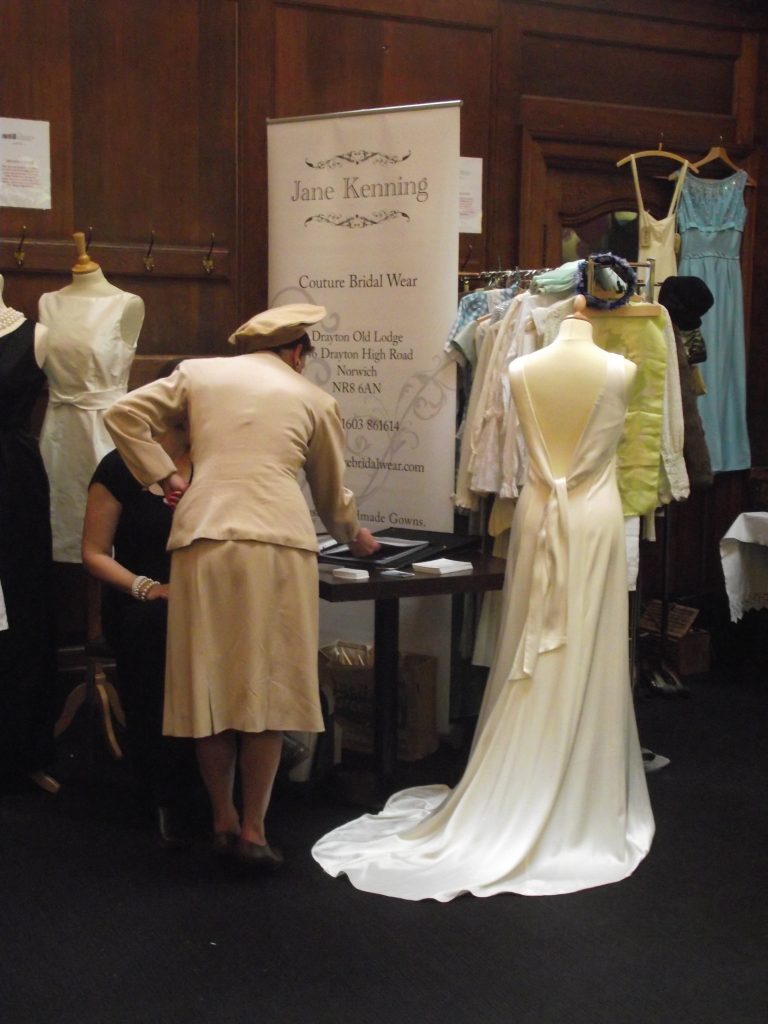 I was in very good company with the likes of Jane Kenning, a Norwich business that has gone from strength to strength, as well as other local retailers, and I recall this being the very first time I properly met and chatted to Gemma, aka Retro Chick and Siofra of Siofra Connor Millinery, both of whom feature greatly in my business & personal life now so a big thanks to the Norwich Vintage Scene for bringing me such great friends!
I know there was much more going on over the very first Norwich Fashion Week in September 2011, but that was the only bit I got involved with back then!
So, 2012 and back at The Library for a vintage fair and fashion show with a Royal theme, it being the Jubilee year. I was pleased to loan out some of my collection of Royal memorabilia to enhance the atmosphere…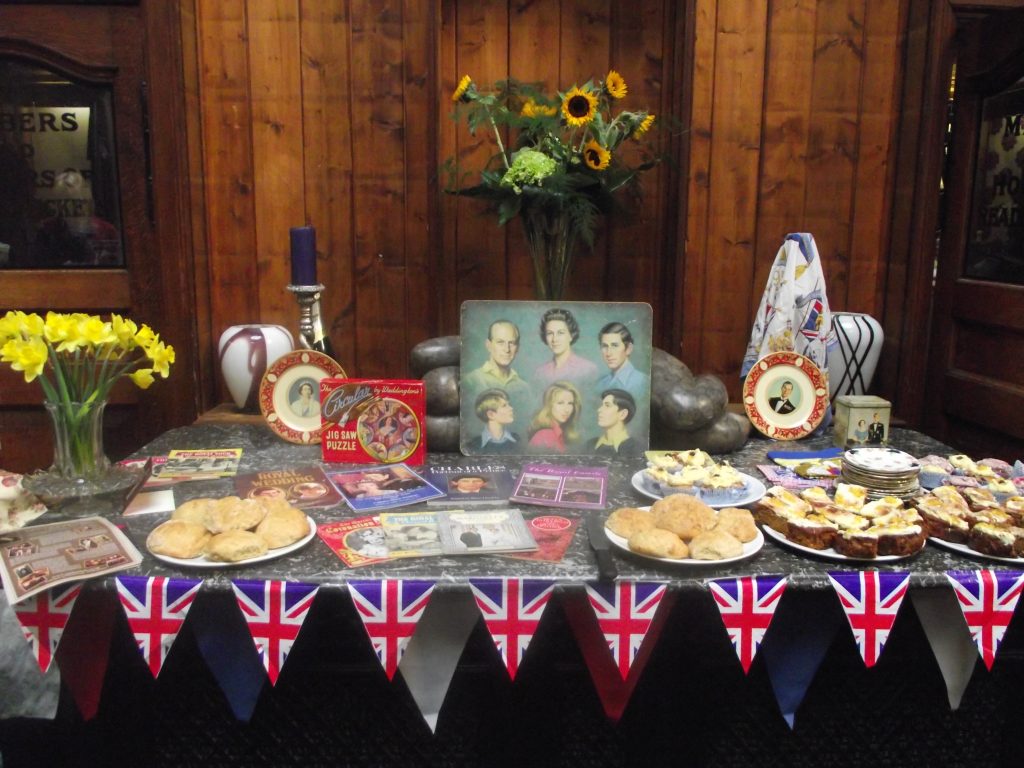 …and as attendees were being encouraged to come along dressed as 'Queen for a day', I decided to go for it with a full length sequined 1950s gown, faux fur (or more like faux faux fur) bolero, sparkly jewels & my 1953 Coronation brooch. I admire the enthusiasm I had for dressing the part! It really was great fun & a lovely day.
I think I'm trying to look regal here.
In good company again with other local clothing retailers, The Historical Sauces with hair demos & other goodies, and of course lots of well dressed guests!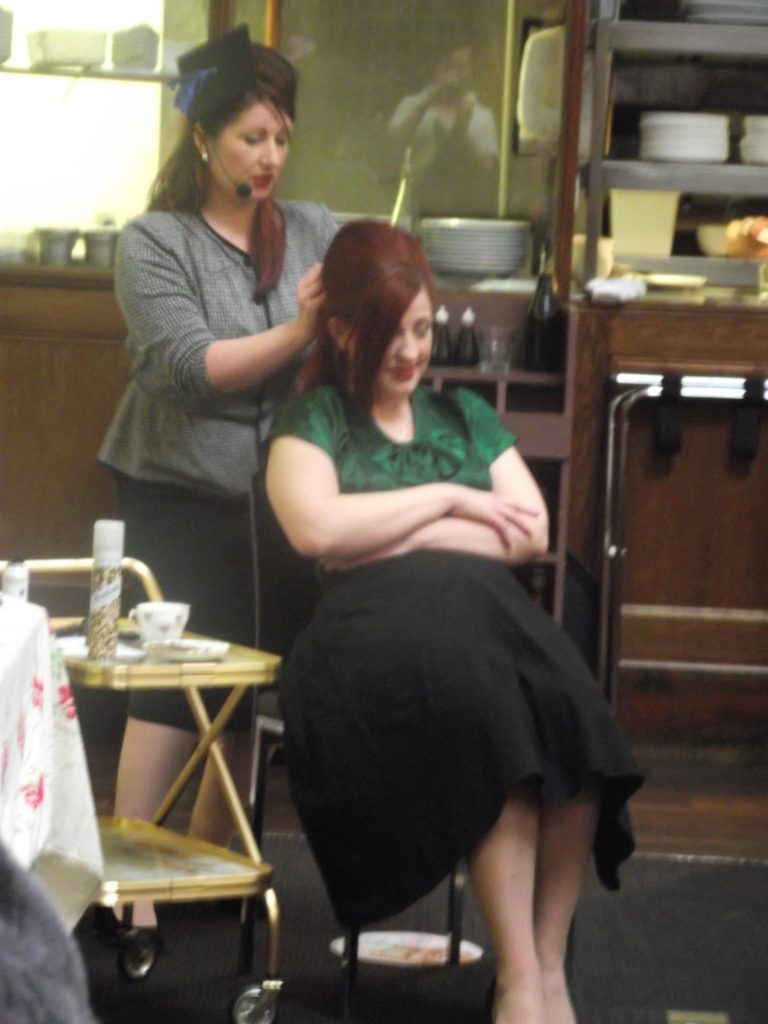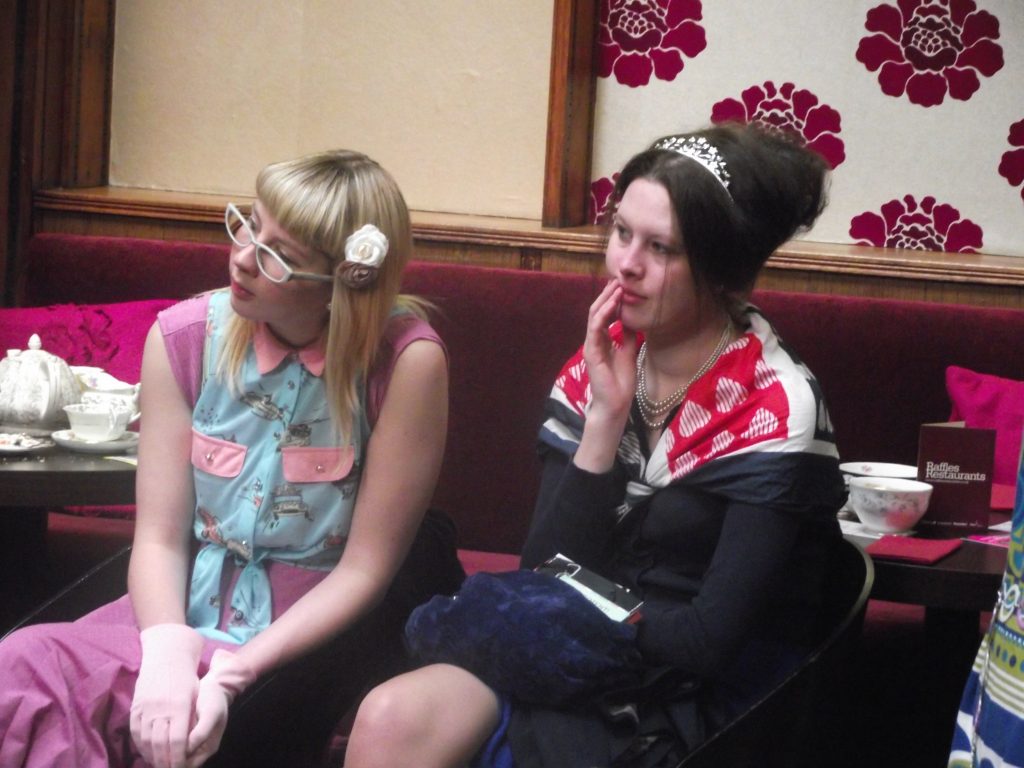 There was also a fashion show in 2012, which I guess my business wasn't well enough established to be invited to take part in at that time,  with the models walking around the mezzanine (as we had them doing at our show last year!) but I must have left the photography to the professionals…I do remember though that a couple of people looking through my rail said that my outfits would have looked lovely on the models & I thought to myself, 'next time…' so watch this space for what happened next time!
So, being Queen for a day was rounded off in the best way possible (probably just how the Queen rounds off a busy day herself) thanks to Cupcakes by Jess…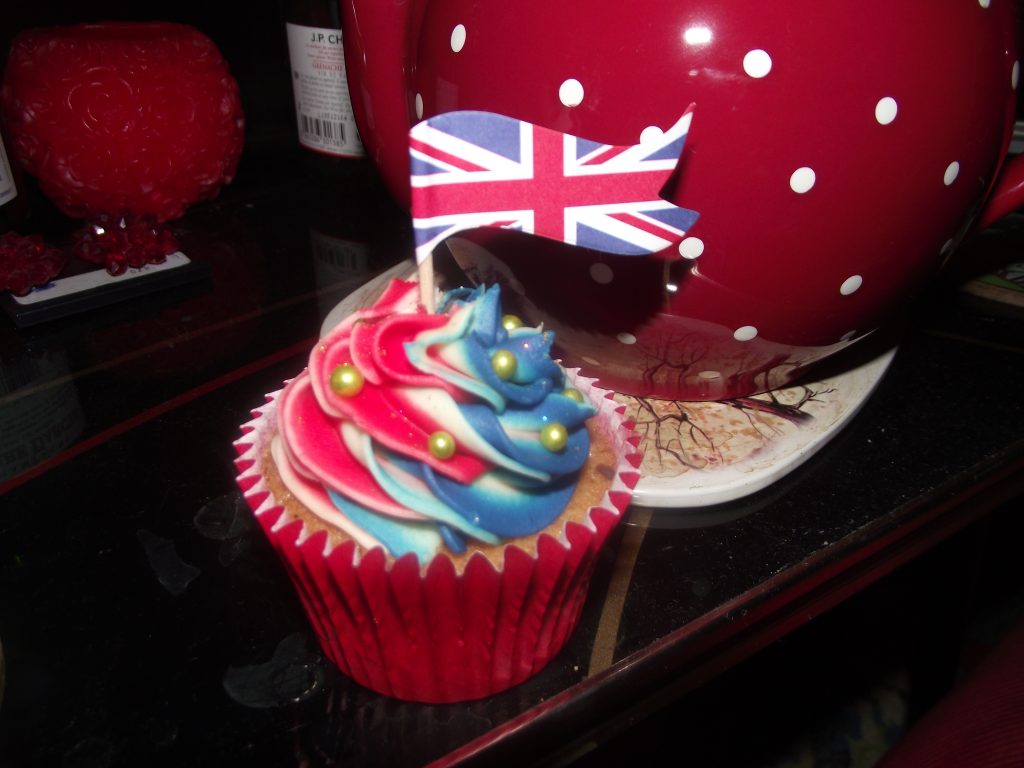 To see how things developed for Norwich Fashion Week and Wake Up Little Susie in 2013, watch this space!! xxx